Dave Sim continued to plough his comic book industry legacy into dungheap of Apis, without any sign of anything blooming yet with his Cerebus In Hell series of one shots. Even Ethan Van Sciver has deplatformed him. And for Sim's his latest Color In Your Own Cerebus In Hell oneshot for October, he has now released his longer, no less bizarre solicitation for its publication in October.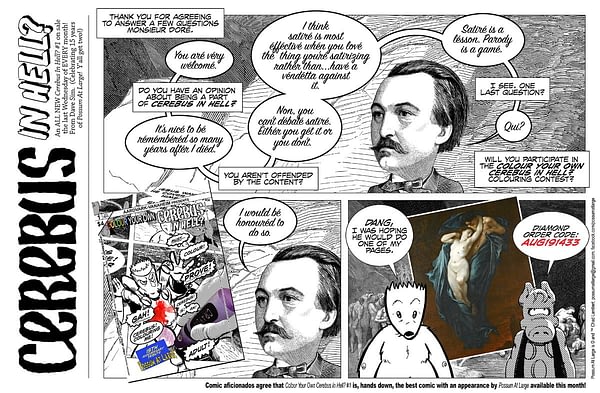 COLOUR YOUR OWN CEREBUS IN HELL? No.1
(W) Dave Sim, Benjamin Hobbs, David Birdsong (A) Joe Gravel, Dave Sim, Gustave Doré (CA) Joe Gravel, Dave Sim, Gustave Doré
It's the 15th Anniversary tribute to indy comics legends, POSSUM AT LARGE and FLYBOY and the First Aardvark-Vanaheim Adult Colouring Book!Featuring HOW TO COLOUR! Legal threat from Mark Zuckerburg! How to keep your vagina "kissing fresh"! SUPER­CEREBUS' Super-GPS! INFERNAL REALMS EISNER AWARDS! Cerebus declares himself a BLOCKCHAIN CRYPTO-CURRENCY! And writes a new book, The HandM.A.I.D.'s Tale! The Pre-Christian Philosophers' Union Local 658 discusses "High-Resolution Colour Photos of Botched Celebrity Boob Jobs"! The Sacred "Oracle of Omaha"! Pushing The Whore of Babylon's Inner Gwyneth Paltrow button! THE CONCUSSION GRENADE IN THE MINOTAUR'S SHOWER STALL!
B&W 24 pages ……………………………………. $4.00
Also includes the CEREBUS IN HELL? Colouring Contest!  Guaranteed to give you your money's worth! Drive yourself completely around the bend while trying to colour within all those tiny Gustave Doré lines, then bring yourself back to a place of serenity and tranquillity while trying to colour within all those tiny Gustave Doré lines! Years of fun for the whole family!
Available to order NOW through your local Comic Shop while quantities last! And remember to order at LEAST 3 copies: 1 to read, 1 to colour, and 1 to carry around with you to show up anyone who may be carrying an Adult Colouring Book put out by the competition!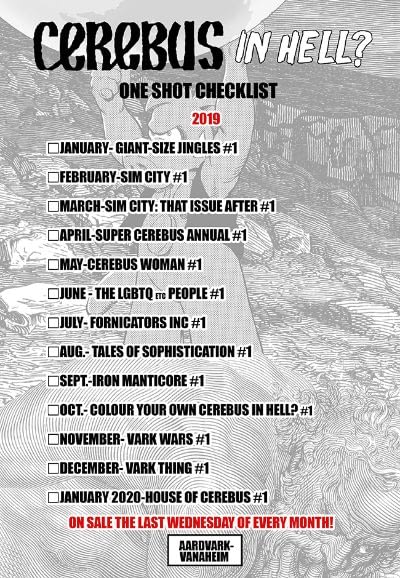 And we also get the list of recently published one shots and what is to come – including it seems, time for Jonathan Hickman and Pepe Larraz' Recent House Of X series for Marvel Comics, recreated as House Of Cerebus. Place your=r bets on which transphobic slur he'll use on the cover this time…
Enjoyed this article? Share it!