Do you remember when we had the great internet meme of Venom being better than Watchmen? With some people getting rather serious about it, and Marvel Comics trolling Venom writer Donny Cates by commissioning Dave Gibbons to draw a cover to Venom in the style of Watchmen? Of course you do.
And now with Absolute Carnage #1 hitting the stands tomorrow ad/or tonight, they haven't given up with this game. There are two fairly sizeable references to Watchmen, as well as a quick trip to Peter Parker's apartment, the number of which has added significance as the now-abandoned nomenclature of dimensions along the line of probability, as first designated for the Marvel Universe by a certain Alan Moore.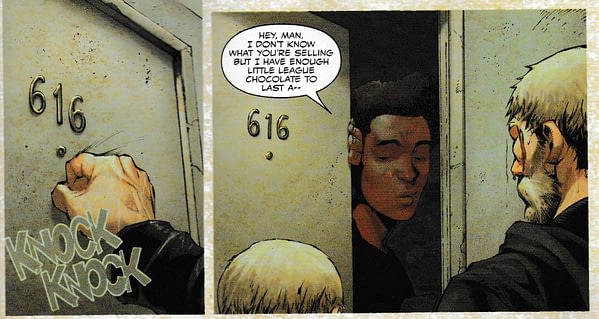 And this is now where he lives. Now Donny Cates has been lining all sorts of things up for Absolute Carnage over in Venom, including involvement by a certain Makeer, the Ultimate Universe version of Reed Richards who is usually up to no good, including over in House Of X where he is masquerading (possibly) as Professor X. And is happy to whip up a special de-symbioting machine for Eddie Brock. Indeed, he came up with it some time ago.
Thirty-five days ago… it can only refer to one classic moment…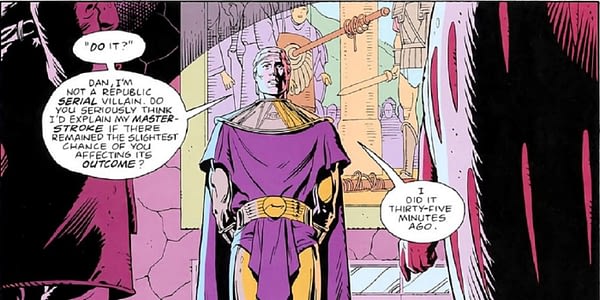 Because, yes, The Maker is totally a Republic serial villain. And the other reference?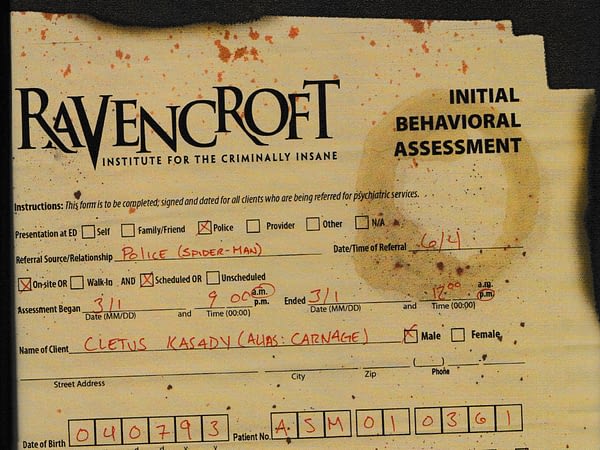 Backmatter in the issue that reflects similar psychoanalyst notes for Rorschach for Watchmen, also the place of Cletus Kasaday's birth and turning by Knull. A birthdate of the 7th of April, 1993 – a year after the origin issue of Carnage and the date of the beginning of the Maximum Carnage event. And speaking of which, a patient number that references Amazing Spider-Man Vol 1 #361… Carnage's first appearance from 1992.
Let us know what else you find – a number of stores will also be running Tuesday midnight openings for Absolute Carnage. Thanks to Marvel for providing an advance copy.
ABSOLUTE CARNAGE #1 (OF 5)
(W) Donny Cates (A/CA) Ryan Stegman
After turning Venom's world upside down a year ago, DONNY CATES and RYAN STEGMAN are about to put the Sinister Symbiote through hell again, only this time CARNAGE has come calling, and everyone who's ever worn a symbiote is dead in his sights! He's skirted the periphery of the Marvel Universe for months, but Cletus Kasady at last stands poised to make his grand return to New York in a blistering 60-PAGE story… and he wants to paint the town red!
Rated T+In Shops: Aug 07, 2019
SRP: $7.99