Blue Isle Studios announced this week that their upcoming game Citadel: Forged With Fire will be getting a proper release in October. The game has been around in Early Access and demo form for about two years now, but now we know the game will finally be released on Steam, PS4, and Xbox One on October 11th. We have some of the game's features for you here along with a new trailer, as it will be sold for $40 in the fall. And you can read our preview of Citadel: Forged With Fire from two years ago here.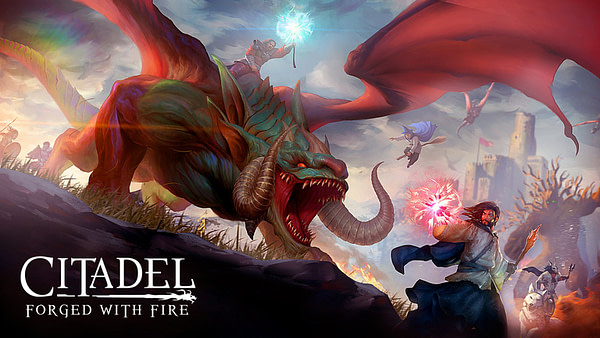 Spellcrafting Any Item: Enchant any wand or weapon, select the desired effect and add the elemental essence to craft amazing spells, aiding you in combat, beast taming and resource harvesting.
The Power of Flight: Why walk when you can fly? Use your Wizardly prowess to take to the skies and cast from above or travel throughout the world. Enjoy your custom-crafted broomstick, tame and mount dragons and giant eagles or use alchemy to levitate without the aid of beast or broom.
Build Breathtaking Castles: Construct your own medieval palace and enhance it with magical shields, attack towers, mana pools and respawn stones.
Rich Fantasy World: Sweeping plains, dense forests, craggy mountains, festering swamps, frozen tundra and dangerous caverns set in a 36 square km world.
Broomstick Sports: Gather your team and challenge players in aerial competitions proving you own the skies. Take a break from battle and compete in the official sport of Ignus.
Boss Dungeons: Experience the Forsaken Crypts and come face to face with challenging bosses that only the mightiest wizards can overcome.
Magical Creatures: A vast array of enemy creatures to fight, tame and mount such as direwolves, phoenixes, dragons, trolls and more.
Forge an Empire: Align with fellow players and create a House to dominate the world of Ignus.