On Friday I'll be taking the kids to the London Film & Comic Con. I even have a table, up in the Comics Zone, in full view of Rob Liefeld and Arthur Suydam. If need be, I will cower behind Mark Buckingham, who remains the nicest man in comic book Christendom.
But there's lots more going on. And London Film & Comic Con are dedicating a whole area to Star Wars. And our friends at FanthaTracks are trying to increase the attraction, ahead of D23, with Star Wars cosplayers, UK Garrison , Rebel Legion, Joker Squad and Mandalorian Mercs for the 20th anniversary of The Phantom Menace. It's taken that long for you to forget.
The show will be bringing in Alan Harris, Erin Kellyman, Daniel Mays, Pam Rose, Terry Francis, Bill Westley, John Cannon, Ron Hone, Grant Hall, Peter Ross, Derek Chafer, Eileen Roberts, Vic Gallucci, Derek Arnold, Tom Wilton, David Church, Syd Wragg, Steve Ismay, Hayden Christensen, Alan Fernandes, Andy Bradford, Neil Ellis, Barbara Frankland, Rusty Goffe, Ross Beadman, Peter House, Guy Henry, Quentin Pierre, Tony Allen, Tony Smart, Kieron Gillen,  Ian McDiarmid, Andy de la Tour, Gary Erskine, Jonathan Cohen, Julian Glover, David Roach, Peter Serafinowicz, Katie Purvis, Jessica Henwick, Paul Blake, Will Sliney, Jason Isaacs, Michael Carter, Billy Dee Williams, Corey Dee Williams and Ian Whyte to Olympia.
They'll be showcasing "The Phantom Toys of Episode One" an exhibition of the unproduced toys and ideas from Star Wars: The Phantom Menace.
Fantasy Flight's X-Wing Miniatures Game lets you pick your pilots, ships and proton torpedoes, then take to the skies in ship to ship combat. You can try out X-Wing Miniatures in The Star Wars Zone in their game demonstration area, headed up by the team at Asmodee UK to try your hand at Play Your Sabaac Right, The Kessel Run or The Carkoon Capers.
Available at the Star Wars Zone Merchandise Stand are a limited number of signed pieces for charity, including Rogue One Director Gareth Edwards signed posters and postcards, raising funds for Angelman Syndrome and Jeremy Bulloch-signed Hasbro Black Series Boba Fett Cardbacks, raising funds for Great Ormand Street Hospital.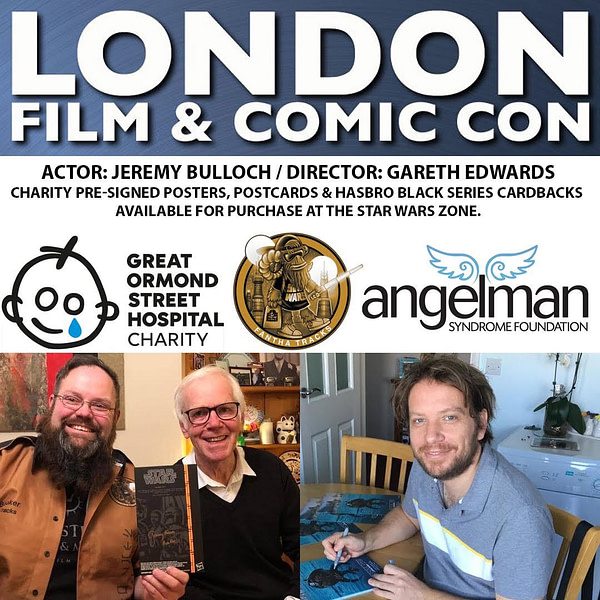 And  Fantha Tracks will also be hosting The Star Wars Zone Q&A Stage:
Friday
10.45am -11.15am – Rebel Legion Costuming Group
11.45am – 12.15pm – An Interview With Corey Dee Williams
12.45pm – 1.15pm – Future of the Force Panel
1.45pm – 2.15pm – UK Garrison Costuming Group
2.45pm – 3.15pm – An Interview With Nelson Hall
3.45pm – 4.15pm – Panel: 'What We Want From The Rise of Skywalker'
4.45pm – 5.15pm – Joker Squad Costuming Group
5.45pm – 6.15pm – An Interview With Annette Jones, Barbara Frankland & Rusty Goffe
Saturday
10.45am -11.15am – An Interview With Alan Fernandes
11.45am – 12.15pm – Joker Squad Costuming Group
12.45pm – 1.15pm – Making Tracks Podcast
1.45pm – 2.15pm – An Interview With Alan Harris
2.45pm – 3.15pm – Rebel Legion Costuming Group
3.45pm – 4.15pm – An Interview With Star Wars Insider Magazine
4.45pm – 5.15pm – An Interview With Steve Grad
5.45pm – 6.15pm – Panel: 'Star Wars and a galaxy of comic book adventures'
Sunday
10.45am -11.15am – UK Garrison  Costuming Group
11.45am – 12.15pm – An Interview With Neil Ellis
12.45pm – 1.15pm – Panel: 'Star Wars on the small screen: Disney Plus and more'
1.45pm – 2.15pm – An Interview With Topps Trading Cards
2.45pm – 3.15pm – An Interview With Derek Arnold
3.45pm – 4.15pm – Mando Mercs Costuming Group
4.45pm – 5.15pm – Panel: 'Galaxy's Edge: Star Wars right here on Earth'