Axe Cop creator and comics writer/artist Ethan Nicolle has been working on a passion-project warning against the dangers of all things ursine for years now, in the form of web comic Bearmageddon. In 2018, Nicolle launched a Kickstarter campaign to fund the creation of a book collecting of bear-themed memes, guidelines, and helpful PSAs he's made over the years to combat the Bear Menace. The Kickstarter was fully funded within a day, and the book, Bears Want to Kill You, was self-published this May.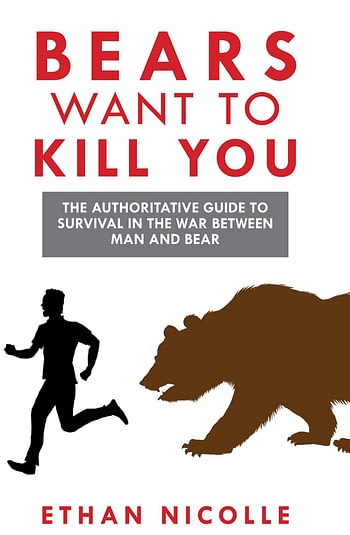 But when Nicolle started selling Bears on Amazon, he started encountering all sorts of issues. "Customer servers was basically nonexistent, when I had trouble there was no help," he said. "It's been a very strange experience. I self-published to get away from the gatekeepers in the publishing industry only to find Amazon is its own form of gatekeeper. At least if you have a publisher they'll, you know, answer emails and stuff."
The first big setback came when Nicolle called on his Kickstarter backers to leave good reviews for Bears on Amazon. The stream of positive reviews for the book apparently kicked up a firewall of sorts for submitting reviews for the book. "They stonewalled my reviews and ignored my emails proving the reviews were not fake," he said. "They cut me off and made is so only verified buyers could review the book, so my biggest fans and most dedicated and most willing reviewers were locked out and unable to review my book."
And then, just as he was set to launch his own self-funded book tour to promote the release, Nicolle got more bad news from the retailer. "Right as I was leaving for the east coast on my expensive trip, Amazon sent an automated message saying I was in some sort of violation. I tried to appeal and respond and tak care of it, but got no response."
Just after completing his final interview, and just as he was launching his book tour, Amazon took the paperback down from its site. "I spent hours on the phone because they had also cut me off from being able to contact customer service, disabling it in my account," Nicolle recalled. "About two weeks after my promotional tour, they sent a final email that was very cold and abrupt saying that my book would not be sold on Amazon and they would not be answering any further emails on the subject. They never gave an explanation why they took my book down."
Nicolle took a screenshot of the message and posted it on Twitter. The post got some traction, he said, and generated a couple of days of great book sales on his own website.
Then around a week or so later, out of the blue Nicolle said he got an email from Amazon saying that a paperback copy of Bears had sold. "I checked the site, and my book was back up on the store for sale," he said. "No explanation, no message from Amazon. The last message I got from them literally says they will never sell my book, and now it's being sold. I still don't know if I have interacted with a real human at any point in the process."
At this point, Bears is back up and available for sale via Amazon. But is that the end of it? Will the automated overlord of Amazon strike again? Hard to say. "That's the disheartening thing," said Nicolle. "Nobody has told me it is sorted out and I can rest easy. The book is selling steadily on Amazon now, but it's incalculable how many sales I lost because of the horrible timing that they took the book down. The book could be taken down at any moment. I really don't know what is going on. It's like being in a relationship with a manipulative controlling psycho."