At yesterday's Diamond Retailer Lunch at San Diego Comic-Con, Diamond awarded their Best Practice Awards for the Summer, to comic book retailers nominated or self-nominated for very specific categories.
You can see the list of nominations with each category link below, before the winning entry in bold. Congratulations all.
Best Free Comic Book Day Event
Dragon's Lair – Austin, TX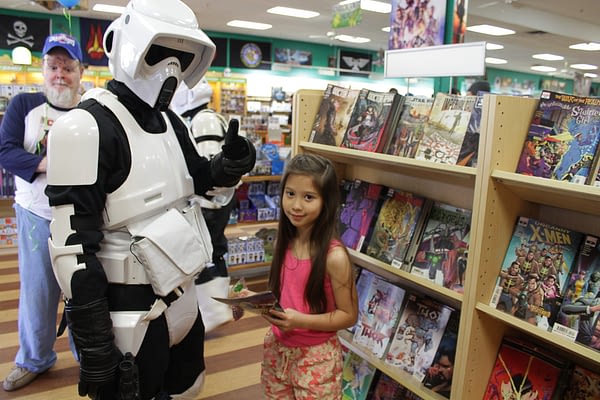 Dragon's Lair Comics & Fantasy® Austin has been hosting our Free Comic Book Day event since its beginning, and it's grown into a huge store-wide family-friendly event for all ages. This year we had dozens of volunteers and cosplayers, a little over 1100 guests through the door, and several thousand comics given away.

FCBD is always an exciting all-hands on deck event for our staff here, and everyone gets a role during one of our biggest days of the year.

From snow cones, to checkout, to comic re-stock, and line management, everyone plays a part! Outside we had a bouncy castle for kids and free snow cones for the families while they wait, with fans, chairs, and canopy tents for guests to stay cool in the Texas heat.

Our volunteers and cosplayers help throughout the day. Many of them are our own comic subscribers and frequent shoppers who love to come dressed as their favorite comic super heroes and talk with fellow comic fans in line while they wait. This year our line started in the wee-hours of the morning and wrapped around the building before we even opened the doors.

Once inside, guests may take one of every title we have available until they run out!

This year our FCBD celebration hosted a signing by Bill Williams, author of the FCBD Punchline comic. Inside we also had activities such as face painting with the Avengers logo, green dragon, and space galaxy being the most popular designs, Star Wars Trivia for Star Wars Day, a local artist with prints of comic, cartoon, anime, and movie characters, and representatives from the Greater Austin Comic Con, and CASA Super Hero Run.

Free Comic Book Day is always one of our biggest community events of the year, with lots of buildup and anticipation. It's a tradition for many local families, comic enthusiasts, and even a local comic creator or two to visit us each year, and we're always excited to have such a successful event in our store!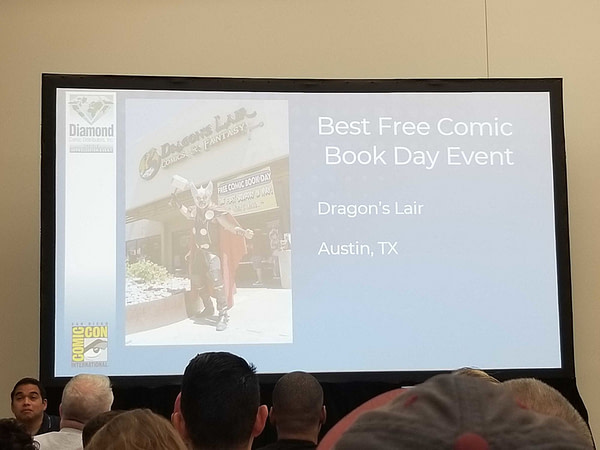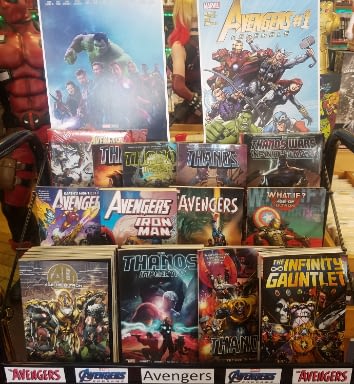 Comic Quest – Lake Forest, CA
We create a rotating display of movie related graphic novels, comics and related toys.  We display material for each upcoming movie.  Examples: Shazam, Captain Marvel, Pokemon, Avengers, Dark Phoenix, Spider-man, etc.

To help create fun & pizazz, we added a red carpet that runs from the front entrance to the display.  As well as theater style gold poles and velvet ropes.  These add to the theme and frame the entire display.

To connect the movie to the comics, we include in each display a poster from the actual movie, and a poster of a similar comic cover.  We incorporate logos from both the movie and from the comics.

While the top section promotes the movie material, the lower section includes other hot media tie-ins, to make it easier for new customers to find familiar products like Umbrella Academy, Sabrina, Happy, etc.

An artist on our staff paints our outside windows with movie related characters.  Each window is created before each movie to add to the promotional timing and anticipation. See pictures below.

To add to the display we used a rotating lighting unit.  The DJ style lightshow helped simulate a movie premiere style.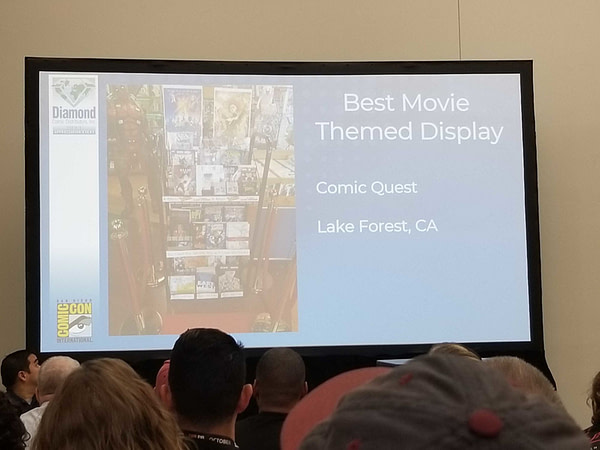 Packrat Comics – Hilliard, OH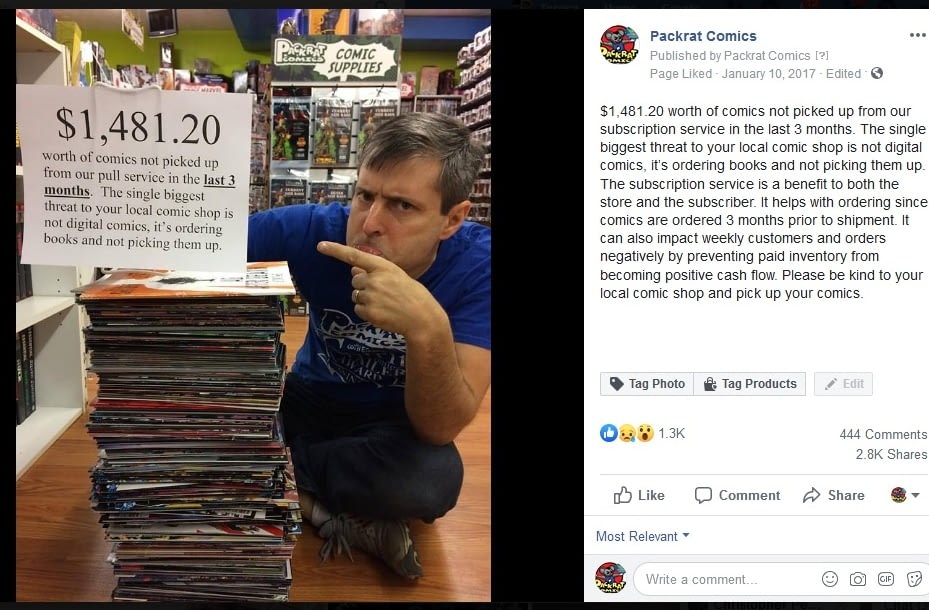 It was a cold January afternoon and we just finished doing pulls at Packrat.  It was that time of the year where we go through and remove any of the delinquent customers. While every store has their own risk tolerance for these types of accounts, we tend to make sure we do a quarterly cleaning.   After this particular deletion, and seeing so many online discussions about how digital comics would hurt the retailer, we thought we'd offer a different perspective.  It's those pull customers who suddenly become ghosts in your shop, leaving you with comics you ordered just for them. We thought we would simply share the idea that having the retailer tie up money in product your forgot hurts the retailer more than buying a digital version. We also planned on promoting the post as an ad on Facebook to get our locals into the shop and pick up more comics.  We weren't prepared for what happened next.  Thousands of comments, likes, shares and articles were written from that simple post. We quickly removed the boost option from the post as it wasn't necessary. We even had a podcaster come in from out of town to talk about it.   We heard from retailers around the world that shared the post and had the same positive feedback – delinquent customers picking up their comics or lost customers returning to just buy a few things.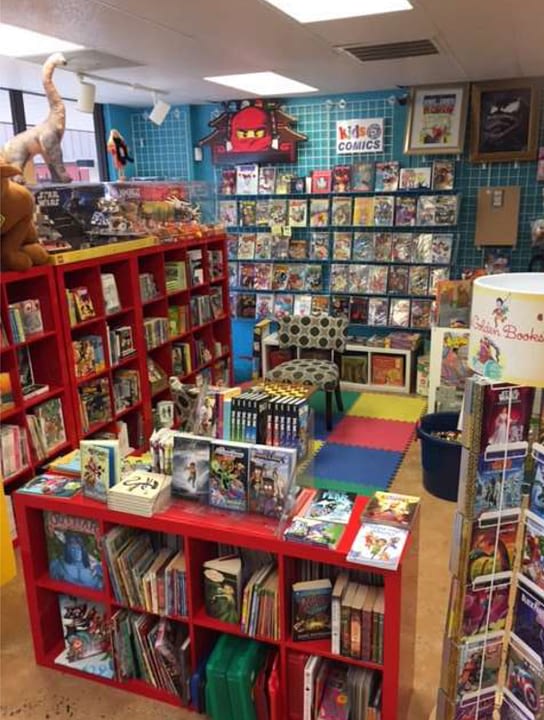 Space Cadets Collection Collection – Oak Ridge North, TX
Space Cadets Collection Collection has a huge 14′ x 10′ dedicated kids area. It houses 60 front facing all ages comic books, a huge assortment of kids manga, books and graphic novels as well as a chess/ checker board and items for kids to play with while their parents shop (Legos, tinker toys, Lincoln logs). We allow kids to sit and read freely in this area (which always turn into sales, as kids love to own books that they read many times over). We also have a glass case here where we sell Lego minifigures and small loose sets, which is very popular. We have soft foam squares on the floor that are comfortable to sit on and off in the corner below the Ninjago sign, there is a soft fur pillow for kids to sit and read if they need a quiet place. This section has seen a huge growth in sales since we have expanded it and we often see cute teenage couples sitting and having a chess date here.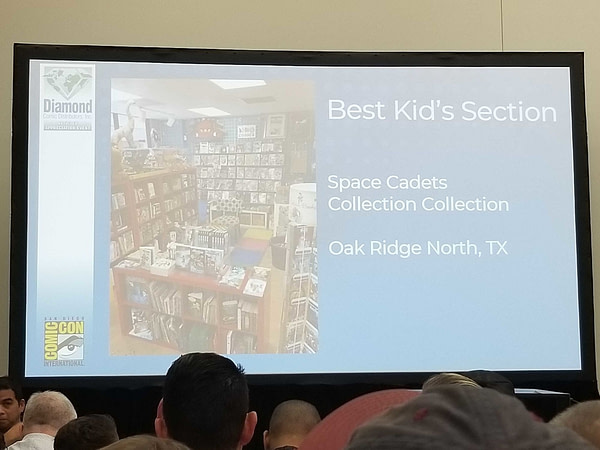 The Dave Hawksworth Award, a grant for which comic book retailers can apply to improve their stores, went to Pensacola Pop Comics, who plan to use the money to expand their kid's section, improve school library programmes and to reach out to their local community.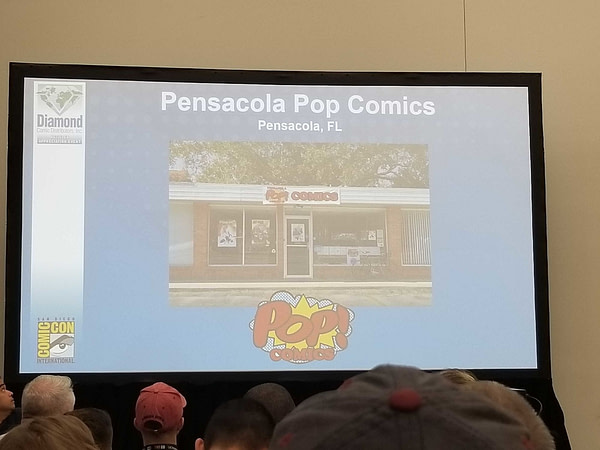 Congratulations all… here are the categories for the autumn if anyone wants to start preparing now…