Bleeding Cool has been reporting on DC Comics' increased returnability of their launch comic books. There's a lot more of it about right now but it generally entails retailers being able to order comics are a non-returnable direct market discount – but still get returnability. Enabling them to order less conservatively, order enough for potential sales and maybe discover that they could sell more of them than they thought they might. And help sales of issue 2 – which have been made somewhat returnable too.
Well at the Diamond Retailer Lunch yesterday, DC Comics announced a number of upcoming titles that would also be returnable.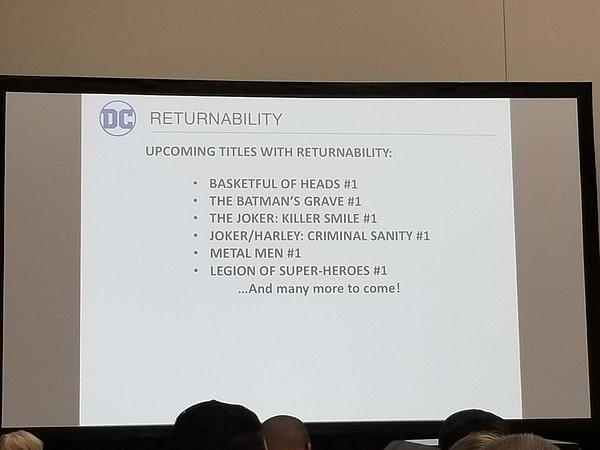 That's Joe Hill and Leomac's Basketful Of Heads, Warren Ellis and Bryan Hitch's The Batman's Grave, The Joker: Killer Smile by Jeff Lemire and Andrea Sorrentino, Joker/Harley: Criminal Insanity from Kami Garcia, Mike Mayhew and Mico Suayan, Metal Men from Dan DiDio and Shane Davis, and Legion Of Super-Heroes: Millennium #1 by Brian Bendis and Jim Lee.
Qualifying order numbers will be tiered to other ordered comics in the past – but there should be nothing but man-hours spent returning them at risk to participating retailers… and a lot more DC Comics titles all around the place.
Keep an eye on more from the Diamond Retailer Lunch at San Diego Comic-Con with this handy Bleeding Cool tag.