Dark Horse Comics has already published a number of Stranger Things comic books, spinning out of the Netflix TV show. Next year, they will publish the first original graphic novel from the show, Zombie Boys, by Planet Hulk writer Greg Pak who has his fair share of working with licensed comics, as well as drawn by Valeria Favoccia, best known for her Titan Comics work on Assassin's Creed and Doctor Who.
Here's the Amazon listing. Expect this to come up at San Diego Comic-Con…
Following the events of season one of Netflix's pop-culture sensation Stranger Things, our main characters struggle with returning to normal life after overcoming supernatural horror. School is back in session in the normally quiet town of Hawkins, Indiana. Mike, Lucas, Dustin, and Will are still grappling with the traumatic encounters with the Demogorgon and the Upside Down in season one of the hit Netflix series. As tensions rise and fractures begin to form in the group, a new kid shows up to AV club with a Betamax Camcorder and an idea. The new Spielberg-wannabe friend, Joey Kim, wants to make a horror movie about a local legend, but when he sees Will's drawings, he discovers that his new friends are local legends. Written by best-selling author Greg Pak (Mech Cadet Yu, The Incredible Hulk, Star Wars: Age of Rebellion) and drawn by Valeria Favoccia (Assassin Creed: Reflections, Doctor Who: The Tenth Doctor).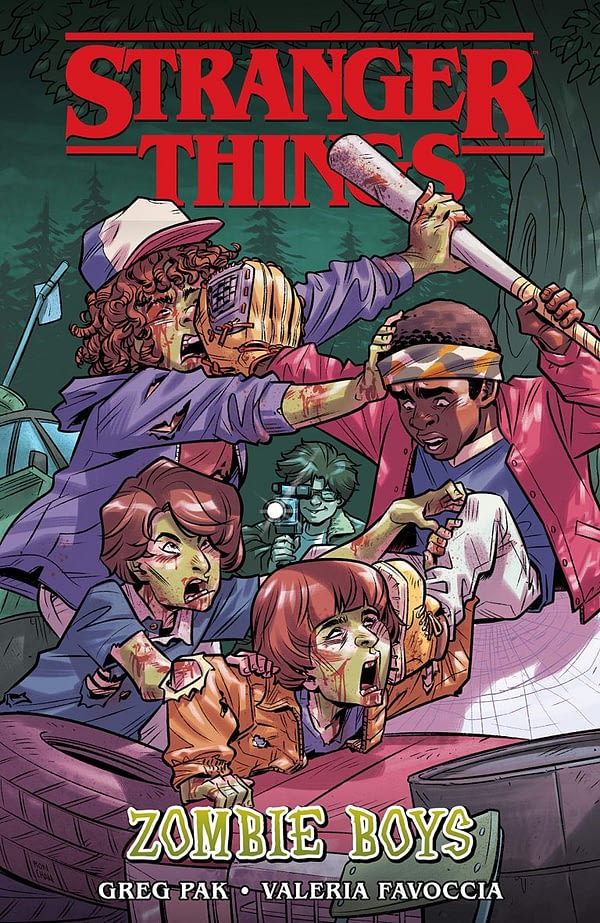 Enjoyed this article? Share it!