Trout: The Hollowest Knock continues Giuseppe's story with the mysterious baby he has sworn to protect, even crossing oceans to do so.  Picking up from his near-drowning and separation from Trout, the story opens with Giuseppe waking up in his very modified childhood home, much to the wicked delight of his sinister brother, Gasparo.
Trying his luck for a hopeful and helpful reunion, Giuseppe's request for a boat to search for Trout is met by nothing but betrayal from his brother, who instead shanghais him into the army as a condemned Gas-Man.  Sick with a cough and unrecognizable as the military officers shave his head, Giuseppe desperately cradles the cylinder containing the baby's ever-loving soul and pleas with the universe to keep them both safe.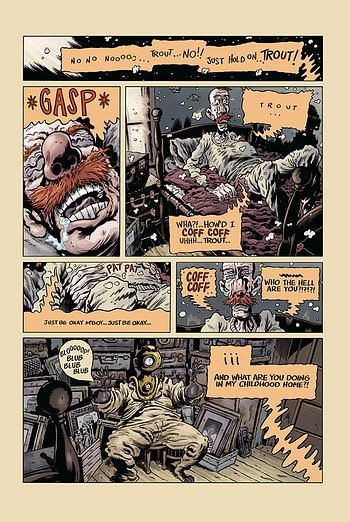 Meanwhile, Trout's own condition is dire; trapped in one of Lint's ocean factories with the mysterious entity who has caused most of the trouble for the two so far, the poor baby is forced to its endure tormenting and taunting.  With enough players on the field plotting against the strange protagonists, the only one who is seemingly in their corner is a mysterious shadow being living within a shark's egg and its oceanic allies.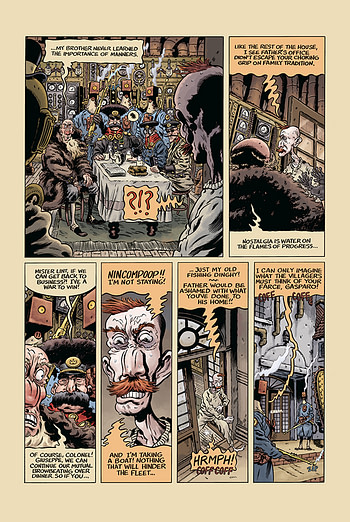 Troy Nixey once again creates a chaotic world of confusion and unease with his art style and story pacing.  Generally bouncing from character to character indicates an author incapable of developing a concise plot, but in this case it serves to keep readers on their toes just as much as the characters.  Enough action and movement in the artwork mirrors Nixey's stratagem, and multiple readings bring even more information to light.
Lucky for fans or curious readers, issue #3 doesn't come out until August, giving enough time to dissect Nixey's issues and pick up this story's predecessor, Bits & Bobs.  Although its unsure if we will get more backstory on the puzzling cast of Trout, we can at least home man and baby hopefully reunite and get to the bottom of the conspiracy against them.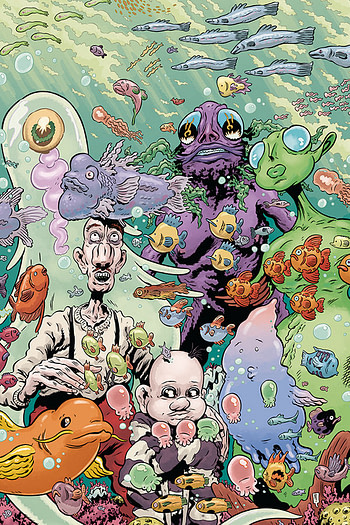 TROUT HOLLOWEST KNOCK #2 (OF 4)
MAY190286
(W) Troy Nixey (A/CA) Troy Nixey
Cast overboard, Trout disappears into the inky depths of the ocean. The next day Giuseppe wakes in his childhood home having barely escaped a similar fate and is confronted by another shock; his brother has transformed his childhood home into an oil refinery fueling a war. Giuseppe's world is falling apart.
In Shops: Jul 17, 2019
SRP: $3.99
Enjoyed this article? Share it!