Ever since she was first introduced in the second season of Arrow Sara Lance aka White Canary has been one of the heroes where she doesn't have a power. She's far from the only hero on Legends of Tomorrow that doesn't have a power but it sounds like that is very much going to change in the next season. Entertainment Weekly did a massive cover story on the Arrow-verse shows and Caity Lotz revealed that Sara is getting a power in the upcoming season.
"Sara will get a magical illness, which will turn into a superpower," says Lotz. "She'll learn how to make it a superhero power, which won't necessarily be a good thing. It's going to come with its challenges for sure."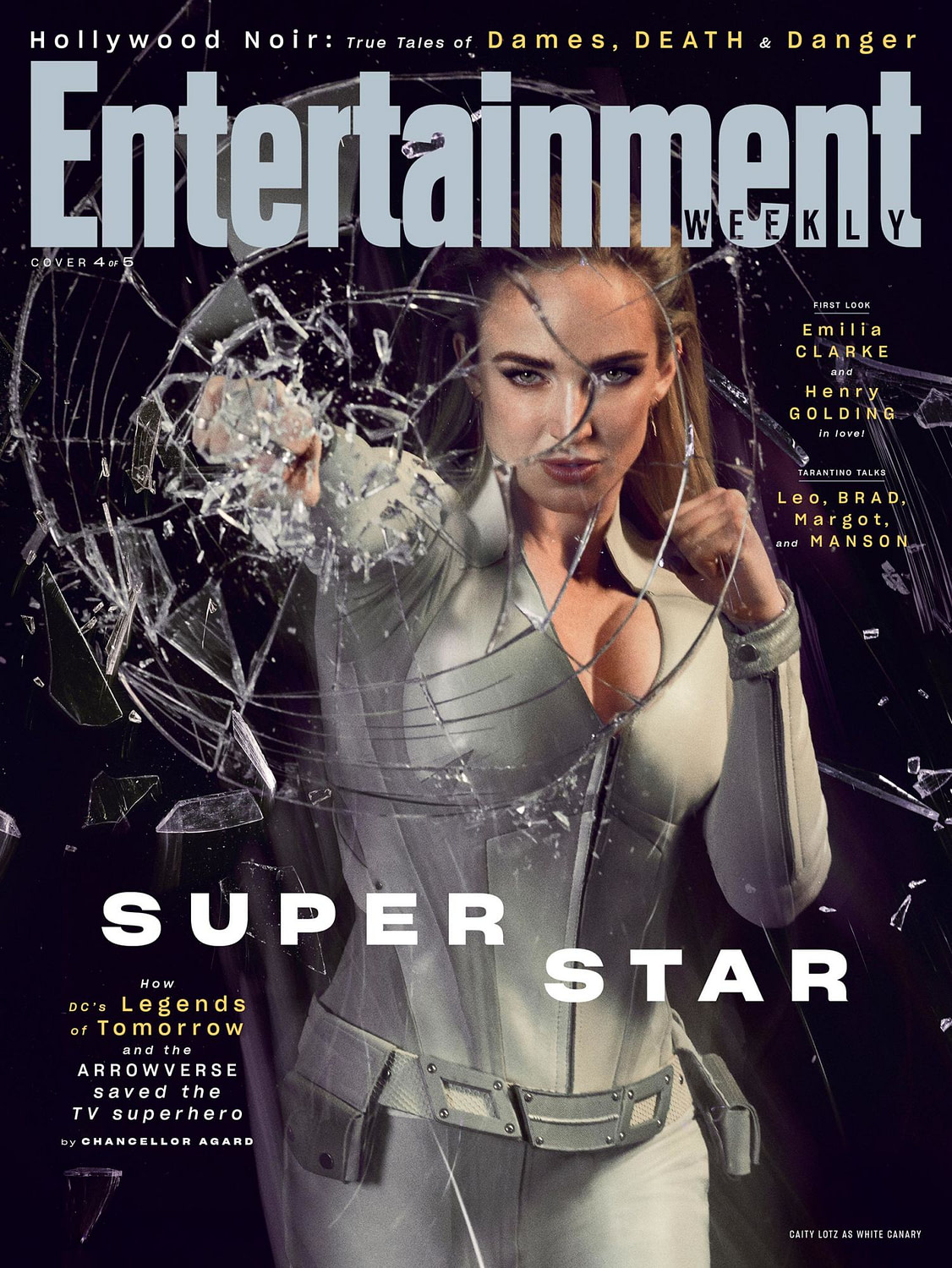 Lotz went on to say that is really excited to get a chance to explore superpowers on the show. She also goes on to explain how Sara goes about obtaining the powers.
"I'm just really excited about having a superpower. I'm on a superhero show, and then all my friends are like, 'What's your power?' I'm like, 'I'm really good at martial arts.' They're like, 'That's not a power.' 'Dammit, you're right. It's not a power.' So finally I get a power," she says. "It's something where it's kind of an illness and she's going to learn how to turn it into something positive, which I think is really cool — taking a setback, something that's difficult and challenging, and being able to kind of create alchemy with that and turn it into a positive. I think the negative part of the power [will affect] her personal life [more]."
Almost all of the characters in the original season of Legends of Tomorrow came from other Arrow-verse shows. Legends of Tomorrow started off trying to copy the tone of shows like Arrow but as the show went on it turned into its own thing. Lotz said that she had a hard time reconciling the two.
"I thought I was bringing over the exact same character [from Arrow to Legends]. I was like, 'Sara would never say that.' But then it was like, 'Oh, this is a different version of Sara. A way more lighthearted version,'" says Lotz. "It was a difficult balance at first to have it still be her and yet fit the new show." She continues, "It's really fun. I like this new version of her. It's fun to play the comedy instead of being so dark and tortured all of the time. This Sara gets to have a lot more fun."
The relationship between Sara and Ava has become one of the big ships and one of the most stable relationships in the entire show. There were a few ups and downs last season and Lotz says that Sara is going to continue to struggle with maintaining a relationship.
In somewhat related news: In season 5, Sara and her girlfriend Ava (Jes Macallan) will be living together on the Waverider, "which is going to prove to be very difficult for Sara," says Lotz. "It's going to be hard for her to get any personal time, but also a good opportunity for growth in the Avalance relationship."
Aside from her ongoing relationship with Sara Ava will also have some big changes coming in the next season. The Time Bureau no longer exists and that job has been her entire life since Ava was first introduced. This season is going to show Ava relearning her place in the world.
"She's like a showrunner who enters hiatus and it's just like, 'Ahh, I don't know what to do by myself,' and that's scary," says executive producer Phil Klemmer, with EP Keto Shimizu adding, "Part of her character is figuring out how she fits on the Waverider. We have some great stories with her, and we'll continue to watch her evolution. She's a character we love so much." Shimizu is looking forward to exploring how Ava "becomes ingrained in this family structure, not just through Sara but through her friendships with all of the other characters. She's this great, complicated person that everyone can have their own friendship with on the ship."
The Waverider is getting a little crowded these days which is likely going to make things all the tenser. There are a lot of big personalities on that ship and the interactions between the various characters has always been the best part of Legends of Tomorrow. We should expect plenty more of that in the upcoming season.
Summary: Time-travelling rogue Rip Hunter has to recruit a rag-tag team of heroes and villains to help prevent an apocalypse that could impact not only Earth, but all of time.
Legends of Tomorrow, created by Greg Berlanti, Marc Guggenheim, and Phil Klemmer, stars Brandon Routh, Caity Lotz, Dominic Purcell, Nick Zano, Tala Ashe, Jes Macallan, Matt Ryan, and Courtney Ford. It will return in 2020.