We've been scanning and collating the final one-page 'Everyone's A Target' teasers for Absolute Carnage… and have noticed a preponderance of vermin being Carnagised throughout. S few pigeons – but mostly rats. And so it is today with two pages, one from the rather-difficult-to-find Captain Marvel #8 and the 100& over-shipped-so-very-easy-to-find Invader #7. Each has their own Carnage-ised logo variant as well. And just because this is Monster Wednesday, we're not going to miss this one out…
The Captain Marvel #8 back page sees not just one Carnage-ised rat, but a bevvy of them. And her cat Chewie in hot pursuit.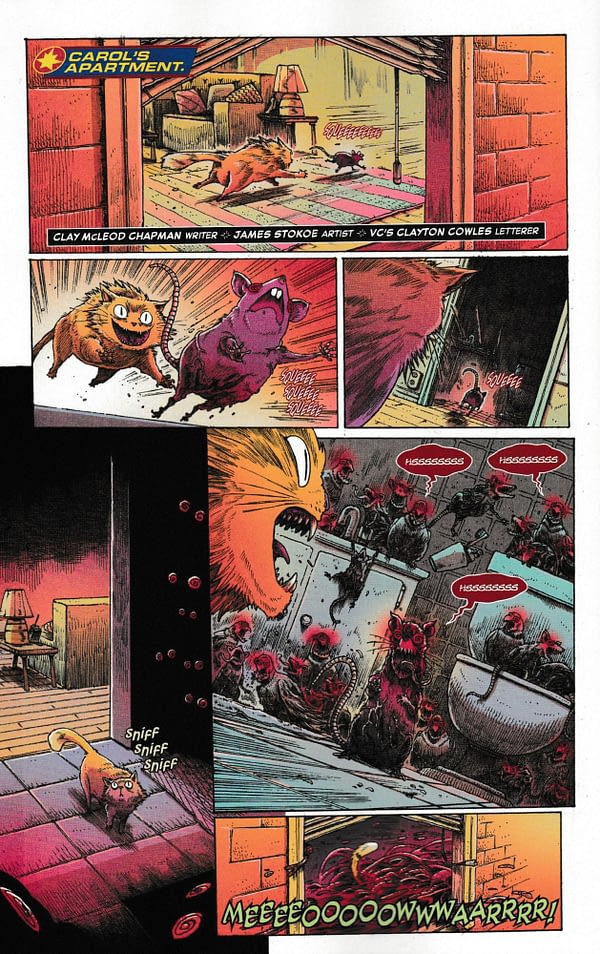 Don't worry, Chewie is a Flerken. That's a whole lot of dead Carnage rats as a result. i hope. unless Chewie gets Carnage-ised now… and it doesn't seem to stop Carnage. Who, over in Invaders #7, has a new target in mind.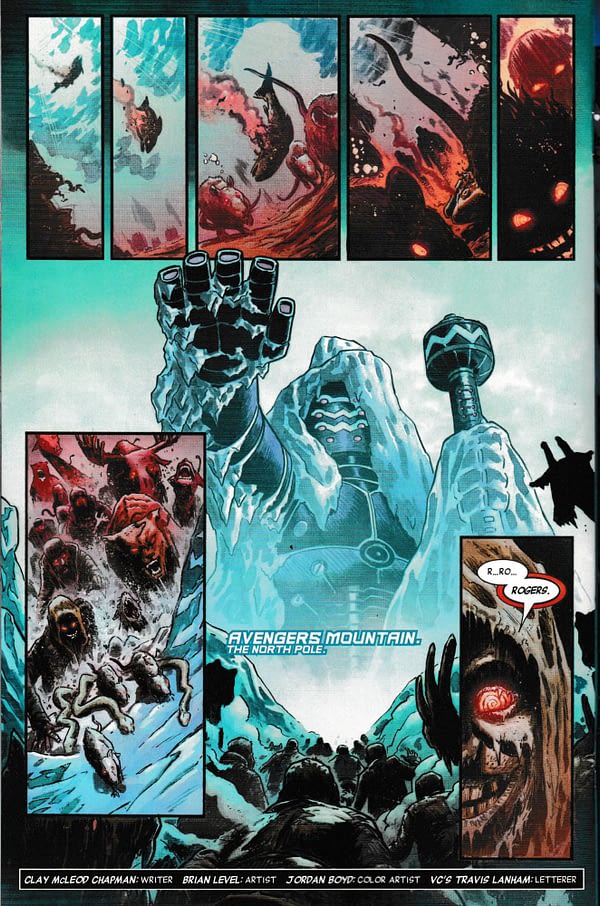 Captain America. With an army of rats and snakes – who can go underwater and everything…
CAPTAIN MARVEL #8
(W) Kelly Thompson (A) Carmen Nunez Carnero (CA) Amanda Conner
CAPTAIN MARVEL: FALLING STAR! From the moment she returned to full-time Avengers duty in New York City, Captain Marvel's life has been nonstop…and slightly weird. But she's about to take on a brand-new threat – and a very old one! When her Kree heritage is exposed to the world in dramatic fashion, Carol goes from most beloved hero to public enemy number one overnight – and it's pushing her to the darkest edge. Can she save the day even while the world turns on her? Does she want to?
Rated T+In Shops: Jul 17, 2019
SRP: $3.99

INVADERS #7
(W) Chip Zdarsky (A) Carlos Magno (A/CA) Butch Guice
DEAD IN THE WATER! The world is forever changed. The INVADERS are shattered. And NAMOR is the world's greatest threat!
Rated T+In Shops: Jul 17, 2019
SRP: $3.99