The middle week of July normally massively busy in comics due to San Diego Comic Con. Tomorrow we will have new Robins, Aquamarriages, major first appearances, and more besides, but this year, smaller publisher Keenspot has decided to join in the game with two comics, one of which has been making the rounds in all the hot title listings, X-Liefelds, and the other one, sneaking its way into stores, the Keenspot Spotlight 2019.
X-Liefelds #1, by Rob Potchak and Rob Nikolakakis is on most speculators' lists as they wonder if the non-Liefeld Robs will be sued for making fun of their favourite new GI JOE artist. But little to speculators' knowledge, the Spotlight issue has a "crossover" of sorts tying directly into X-Liefelds, as Potchak's other title, Junior High Horrors main characters attempt to purchase a copy of the comic, only to be sold the book by none other than a hooded Rob Liefeld himself. The difference is, the Spotlight has a fraction of the print run X-Liefelds did, and it ties directly in, meaning buyers should be trying to grab Spotlight copies with any of the four covers.
The Keenspot Spotlight 2019 was able to be ordered from Diamond, and carried a low cover price of $1.99, while offering the first glimpse at upcoming Keenspot books like The D-Ward by JHH alum, Billy Parker and Princeless artist, Alex Smith, Sister's Powers by Mario Wytch and Jeff McClelland, on top of the Junior High Horrors story from Potchak, regular series artist Eric Kent and Parker.
Both titles will be available in shops and this weekend beginning Wednesday at San Diego Comic Con, where the Keenspot booth, 2635, is located directly next to Marvel's booth, and sandwiched between IDW and Top Cow. Who can get the first shot of the booth?
KEENSPOT SPOTLIGHT 2019 CVR A JUNIOR HIGH HORRORS
(W) Rob Potchak, Mike Rosenzweig, Chris Crosby, Various (A) Billy Parker, Remy Eisu Mokhtar (A/CA) Eric Kent
Only $1.99! This value-priced all ages annual features all-new exclusive short stories from existing Keenspot series like Junior High Horrors and God Mode, in addition to sneak previews of exciting upcoming Keenspot titles. This issue will mark the first comic book appearances of many new characters that will be starring in their own Keenspot titles later this year. Includes a bonus centerfold pull-out poster!
In Shops: Jul 17, 2019 SRP: $1.99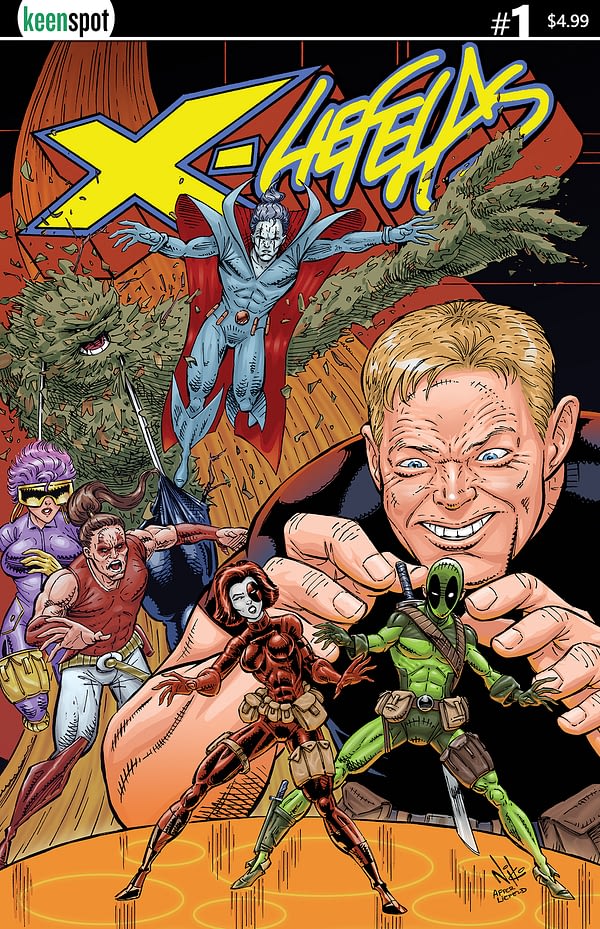 X LIEFELDS #1 CVR A NIKOLAKAKIS
(W) Rob Potchak (A/CA) Rob Nikolakakis
Rob Liefeld is beloved for creating some of comics' most memorable characters of the last quarter-century… but he also created some forgettable ones. In this twisted tale of spoofery from the creator of Junior High Horrors, Liefeld's rejected, forgotten creations find inspiration from their creator's own stories and travel back in time to jealously stop his greatest characters from ever becoming popular. Join BludStayn, Pytbull, Treadmill, Yardwaste, and X-Tra as they attempt to prevent Livestreme, Checker and the man known as Coax from achieving pop culture immortality. This parody is so Extreme, it's Awesome!In Shops: Jul 17, 2019
SRP: $4.99