Avengers: Endgame is coming to digital streaming on July 30th, and 4k blu ray and dvd and all that jazz on August 13. To celebrate, Marvel Studios is partnering with Best Buy, Funko, and more for the "WE Love You 3000" campaign, where MCU stars and directors Anthony and Joe Russo will meet with fans, sign autographs, and Funko Pops will be given out. Photo booths, giveaways, prints and more will all be available as well. The fun starts this week at SDCC, and multiple events are planned for Best Buy stores, a San Francisco Giants game, and Funko HQ. For the full schedule, including dates and locations, and more info, see below or click here.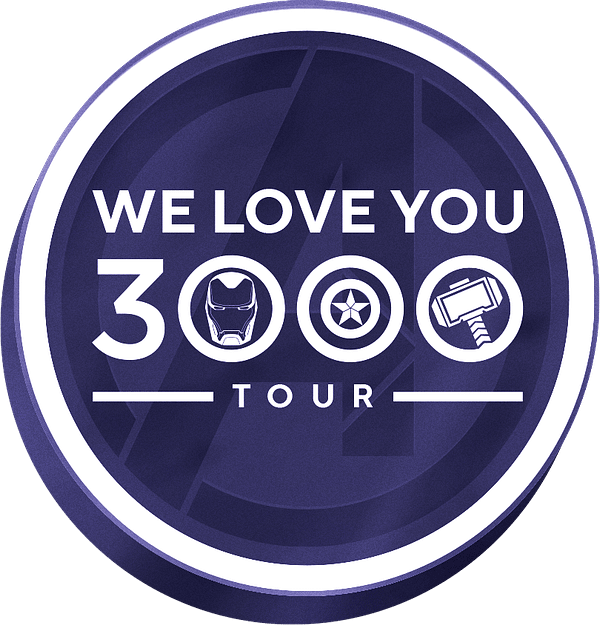 In celebration of the in-home release of "Avengers: Endgame," Marvel Studios and directors Anthony and Joe Russo have teamed up to launch the "We Love You 3000" Tour as a way to thank the fans who have invested so deeply in the Marvel Cinematic Universe (MCU), making it the single most successful franchise in film history.
 
Special guests from Marvel Studios and the MCU will visit nine U.S. cities — beginning in San Diego at Comic-Con International on July 20 and ending in Anaheim at D23 Expo 2019 the weekend of Aug. 23-25— greeting and treating fans at each tour stop.  A total of 3,000 MCU Funko Pop Vinyl Figures will be distributed to fans throughout the tour as well as additional giveaways ranging from exclusive "Avengers: Endgame" prints to McDonald's vouchers for a free Happy Meal® plus an Avengers: Endgame Happy Meal toy to a MCU inspired sundaes and recipe cards courtesy of Ben & Jerry's.
 
Best Buy will serve as the location for five "We Love You 3000" Tour stops, hosting in-store fan events to celebrate the nationwide release of Marvel Studios "Avengers: Endgame" on Blu-ray™ Aug. 13. Events will feature signings with Marvel Studios filmmakers and/or MCU talent; a special digital photo booth; specialty promotional giveaways, including MCU Funko Pop! Vinyl Figures and exclusive "Avengers: Endgame" prints; and much more.  Fans can also get their hands on the exclusive, limited edition "Avengers: Endgame" SteelBook and other collectable SteelBooks from the MCU at Best Buy stores across the country and on BestBuy.com.
July 20             SAN DIEGO, Comic-Con International – Directors Anthony & Joe Russo, Writers Christopher Markus & Stephen McFeely and a special guest from the MCU
July 30            EVERETT, WA, Funko HQ – to be announced
Aug. 8             SAN FRANCISCO, Giants vs. Phillies at Oracle Park – Directors Anthony & Joe Russo at the San Francisco Giants' Marvel Night
Aug. 13           MIAMI, Best Buy store – to be announced
Aug. 13           CHICAGO, Best Buy store – Directors Anthony & Joe Russo
Aug. 13           TORRANCE, CA, Best Buy store – to be announced
Aug. 14           MINNEAPOLIS, Best Buy store – Directors Anthony & Joe Russo
Aug. 20           CLEVELAND, Best Buy store – Directors Anthony & Joe Russo
Aug. 23-25      ANAHEIM, CA, D23 Expo 2019- to be announced