This is the Top Ten Bleeding Cool Bestseller List, as compiled by a number of comic stores from their sales on Wednesday and Thursday. It measures what are known as the "Wednesday Warriors", those who can't wait till the weekend to get this week's comics. We salute you, and the keenness you bring to your passion.
And a reprint enters the top ten with Batman Universe, as Batman tops the charts again, but with far less of a lead on its rivals as in the past. The launch of Reaver figures large, and last week's DCeased still makes it in one more time.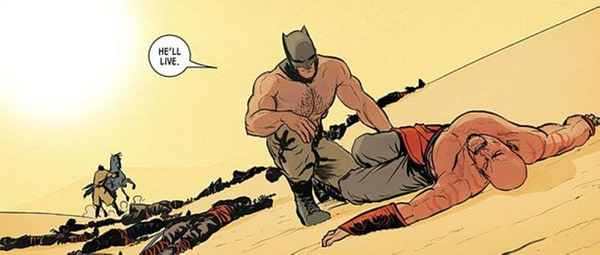 Top ten bestselling comics of the week
Batman #74
Event Leviathan #2
Detective Comics #1,007
Amazing Spider-Man #25
War of the Realms Omega #1
Superman #13
Reaver #1
Batman Universe #1
Avengers #21
DCeased #3
Thanks to the following retailers:
Brave New World Comics, Santa Clarita, California
Famous Faces & Funnies of West Melbourne, Florida.
Ssalefish Comics, Winston-Salem & Greensboro, North Carolina.
Fat Jack's Comicrypt, Philadelphia, Pennsylvania.
Comix Experience San Francisco, California.
Comix Experience Outpost, San Francisco, California.
Collector's Paradise Pasadena, California.
And this is what they have to say:
Great week for DC at FFF with the top three and five total spots in our Weekly Top Ten list going to something with either Batman or Superman in it. Event Leviathan has surpassed my expectations with reader interest as the book takes the #1 spot on our bestseller list this week. I was a little wary at first but people seem to be enjoying the book. Let's hope it can hold for four more issues. Two Bat books in one week is like Christmas in July as Batman and Detective Comics hit the #3 and #5 spots respectively. DCeased also maintains its numbers at the #2 spot this week. People seem to be looking for their zombie fix and a good amount have found that in DCeased. Speaking of zombies, Walking Dead #192 is still hot. It outsold EVERY Marvel book this week between the two covers. We're still getting new people looking for the last couple issues. We've been out of #193 since last weekend, but the buzz is still there. Amazing Spider-Man and Venom were the only Marvel books in our Top Ten and even then they placed low on the list. It's great to see ASM sell well since it was an $8 book, but I think Venom dipped a bit with the fill-in issues. I expect it to pick back up once people realize Donny Cates is back and pushing the Carnage story forward. Second Coming and Reaver were both indie darlings this week. Ahoy has been putting out some great books so it's great to see them with a hot book.
—-
On a week with no less than four Batman titles, Spider-Man managed to beat out all of them for our top spot in sales. Event Leviathan trailed closely behind, and Tom King's Batman only barely managed to take the 3rd spot on our list. Maybe people are finally falling out of love with King now that his stint is almost at its end. Catwoman and Venom sold more than usual, and Avengers sold less. Wolverine + Captain America Weapon Plus #1 sold out within a few hours, and I have to say, I'm surprised by the quality of art in the two Wolverine-centric one-shots that were out this week. Both had better art than half the current ongoings, frankly. Honorable mention to Invisible Woman #1, which sold about as many copies as Fantastic Four usually does – maybe more.
—-
Just about every Bat-book imaginable hit the shelves this week, and so we've got both BATMAN and DETECTIVE COMICS taking up space at the top half of our sales. Marvel showed up with a couple of strong sellers as well with both an oversized AMAZING SPIDER-MAN for its 25th issue and WAR OF THE REALMS OMEGA, an epilogue-of-sorts for WAR OF THE REALMS but really more of a collection of commercials for the upcoming spinoff books. The rest of the list is almost all DC, save for VENOM holding out near the bottom. EVENT LEVIATHAN seems to be holding folks' interest, while mainstays like FLASH, SUPERMAN, and CATWOMAN continue to be solid sellers.
—-
I have come to tell you about the books that have been sold this bast week. In first place is a DC title. Even so we are excited for new comics to start emerging.
—-
We took a big swing on The Walking Dead #193, but like every store, wish we went bigger. We ordered 33% more shelf units than subscription units — considering the events of #191-#192, and the incentives attached including #193, the messaging was there from Image to take a chance. We did, seeing it as a fresh entry point for lapsed readers, and figured #194 would be the beginning of whatever The Walking Dead became next. Thank you, Robert Kirkman, Charlie Adlard, and Image Comics for an epic run! Maybe Kirkman's next big thing will be guerrilla launched, matched to our TWD #194 & #195 numbers? Here's hoping!
Considering how solid the Conan launch has been, and our overall enjoyment of Savage Avengers, we're surprised at how difficult Savage Avengers #3 has been to upsell to Venom customers.
We sell a good number of Teenage Mutant Ninja Turtles, but more of a heads up something big was coming in #95 would have been good to know. We have been (continuously) handing out a large quantity of the TMNT FCBD 2019 issue to customers, setting the table for #100. Had we been able to hype something big coming in #95, we could have had a nice bullet to presell #93-#100 sets.
Fantastic Four #112 VF $225