Welcome to the pretty-much-mostly-daily Lying In The Gutters. A run around the day before and the day ahead. You can sign up to receive it as an e-mail here.
The 5 most-read stories yesterday
Happening today: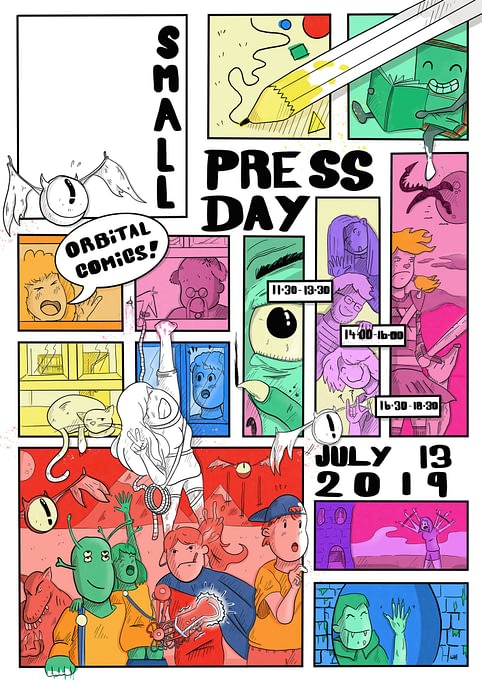 Neal Adams, Joel Adams, and Buzz sign at Crusty Bunkers' grand opening on Saturday, July 13th from 11 AM – 7 PM.
Kit Buss signing her exclusive retailer variant of the new Critical Role: Vox Machina Origins: Series II #1 for Forbidden Planet Megastore, 1pm
Teen Titans Raven Signing with Kami Garcia and Gabriel Picolo, CHALLENGERS Comics + Conversation, Chicago, Illinois, 4-7pm
Lab Raider Signing with Matt Miner, East Side Mags, Montclair, New Jersey, 1-5pm
Justin Jordan signing Sideways and Death of Love at Third Eye Comics, Annapolis, MD, 11am-1pm
Eve L. Ewing appears at First Aid Comics, Chicago, Illinois on to sign the first volume of IRONHEART, noon-2pm.
Comic Geek Out, Grand Rapids Public Library, Grand Rapids, Michigan, 10am-1pm
Meet Katie O'Neill + Mai K. Nguyen, Charlie's Corner, San Francisco, California, 3.30-4pm
Nick Dragotta's two-part comic book making workshop for adults in support of San José Public Library's Graphic Novel Making Contest. San Jose Public Library,  San José, California
Dave Wilkins signing Wolverine vs Blade, Comickaze – Liberty Station, San Diego, California, Noon-2pm
Marc Guggenheim signing Wolverine vs Blade #1, Arsenal Comics & Games, Newbury Park, 1-3pm
Power Rangers Signing with writer Sina Grace, Phat Collectibles, La Habra, California 2-4pm
WIP (Work In Progress Comics), Royal Festival Hall, South Bank, London 11.30am-3.30pm
Small Press Day, Orbital Comics, small press creator tables, London
Small Press Day: Gosh Comics, London
Small Press Day Zine Workshop, Dark Side Comics, Chelmsford

BloodMilk's ART BOOK FAIR with Becky Cloonan, Sphinx and Snakeskin, Philadelphia, Pennsylvania, noon-5pm.
Great Lakes Summer Expo, Trinity Lutheran Church, Clinton, MI.
Atlanta Comic Con, Georgia World Congress Center, Atlanta, Georgia, until Sunday.
ConnectiCon, Hartford, Connecticut until Sunday.
Blerd City Con, New Jersey, until Sunday.
Fanboy Expo, Knoxville Convention Center, Knoxville, Tennessee, until Sunday.
Anime Iowa – Coralville, IA until Sunday.
TFcon – Toronto, Ontario until Sunday.
Tokyo in Tulsa – Tulsa, Oklahoma until Sunday.
Congregate 4/DeepSouthCon 55 – High Point, North Carolina, until Sunday.
Shore Leave – Hunt Valley, MD until Sunday.
Plastic City Comic Con – Fitchburg, MA.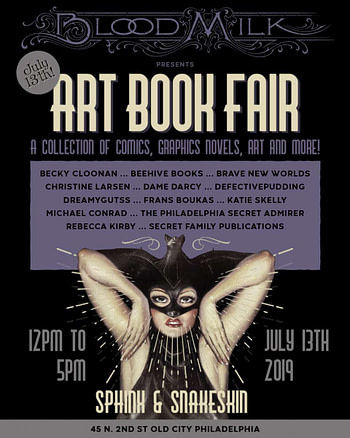 And a happy birthday to:
Tom Palmer, inker for Marvel Comics
Ernie Colon, co-creator of Arak, Amethyst, artist on The 9/11 Report: A Graphic Adaptation, After 9/11: America's War on Terror ,A Graphic Biography: Che and Anne Frank: The Anne Frank House Authorized Graphic Biography.
Mike Ploog, artist on Man-Thing, The Monster of Frankenstein, Ghost Rider and Werewolf by Night.
Mike Garland, comic book colourist for Marvel, Valiant, Boom.
Joe Slepski, Collections Specialist. Golden Apple Comics.
Gibson Quarter, artist on The War on Drugs, Undertow Comics
Ivan McCann, artist on Hallowscream
Scott Reed, writer of Realm of Kings: Son of Hulk, and Incredible Hulks: Enigma Force.
Subscribe to our LitG Daily Mailing List