Ryuko Vol 1
{{ reviewsOverall }} / 10
Users
(0 votes)
A father, in the midst of fighting against a military coup, negotiates the safety of his infant daughter, Valer, with the enemy Yakuza house.  Ryuko, the daughter of the Yakuza leader takes the young baby under the umbrella of her safety, kick-starting a legacy that opens up in the next chapter set eighteen years later.
Originally published in October, Eldo Yoshimutzu's manga masterpiece is slated to release in English for the first time this summer by Titan Comics.  Volume 1 is split into six chapters, each exploring the criminal underworld that touches on Ryuko's past and legacy.  Ryuko, taking the place of her criminal father, looks over orphaned girls who carry out the illegal whims of their female boss.  Valer, and her companion Sasori, are both unclear about their past other than crediting their nefarious skills with Ryuko bringing them into life in the underworld.  This lack of clarity is something they come to share with their leader, who learns that her long-assumed-dead mother Shoryuhi, may actually be alive and the acts that led her into Yakuza leadership are no longer so black and white.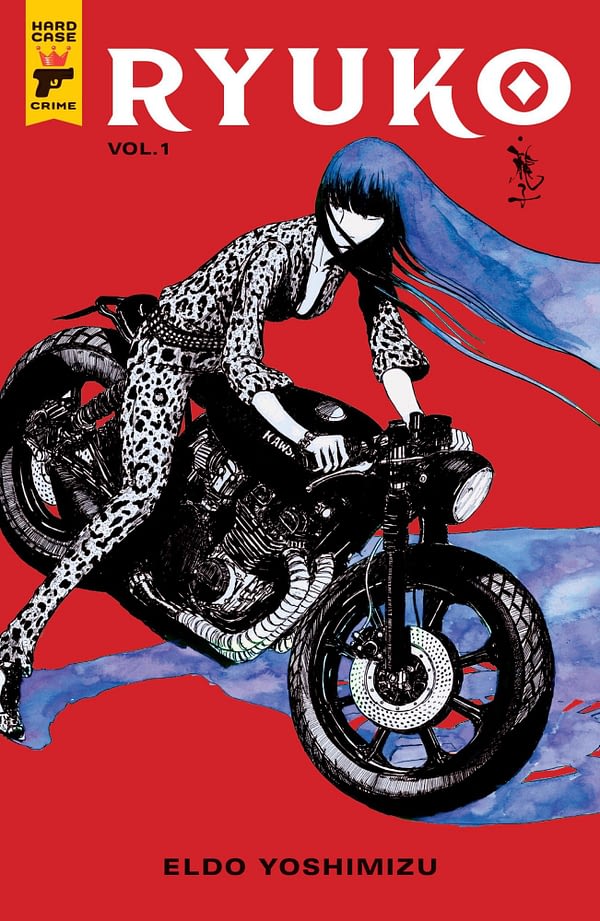 Each chapter explores Ryuko's past, including her father's real criminal intentions.  The title character has enough kills that span across the globe, but the hub of the action in Volume 1 takes place in Japan and the Middle East.  Rather than leading reader through a linear storyline, Yoshimutzu bounces back and forth between characters and their pasts to develop Ryuko's history with violence and crime.
Although Yoshimutzu started his career out as a sculptor, the art definition in this manga can feel muddied and cause some action to be missed.   Plenty of fight scenes featured heavy use of black with disconnected line work to facilitate movement, which led to the chaos and vibe of violence, but did create the need to slow down on those panels to determine what exactly was being looked at.   In true manga fashion, the character angles were dramatic and inconsistent, jumping from a close up of a character's eye to a far-shot of their silhouette running into battle.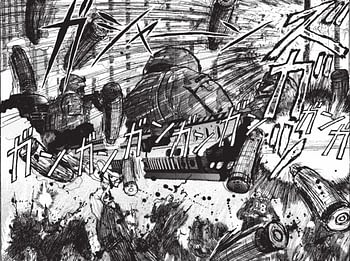 The artistic choices also brought some levity to the costuming of Ryuko and her consorts.  Valer and Sasori both do their work in bikini clad ensembles, the former rocking cowboy boots and a cowboy hat.  Although I have scoffed at the clothing choices that women wear in comics before, there was something generally entertaining about the notion of a worldly crime lord and her army of girls wearing underwear.  As a person who also works from home, I would be remiss to call out my fellow women for going to work in their drawers.  In any case, too much focus on the outfits of the characters would seriously distract from the outrageously entertaining violence and all-over-the-place backstories on these women, especially Ryuko and her adventures.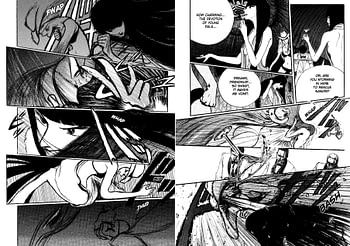 Fans of Kill Bill, Cowboy Bebop, or just gun-toting crime lords will find something to enjoy in this fast paced storyline.  Even though Yoshimutzu doesn't rely on typical chapter-ending cliffhangers, he successfully instills enough interest in Ryuko to keep the pages turning.  If you fall in love with this story in the translated English, you can expect Volume 2 to hit shelves this October.
---
Here's some preview pages from Titan:
Enjoyed this article? Share it!