It's a wonder what can be born out of a joke these days, as Razer has decided to capitalize on an old April Fool's Day joke and released a real Razer Respawn. The concept was a prank in 2010 where the company had made its own energy drink for gamers, a nod to the fad at the time that everything drink related was being targeted to an audience who desperately needed to be awake for 36-hours straight. Flash forward nine years later and the company has actually produced the product, complete with four different flavors for you to choose from. But how good is this? Razer was kind enough to send us everything we need to try it out, and after a few weeks of drinking them, we're ready to review.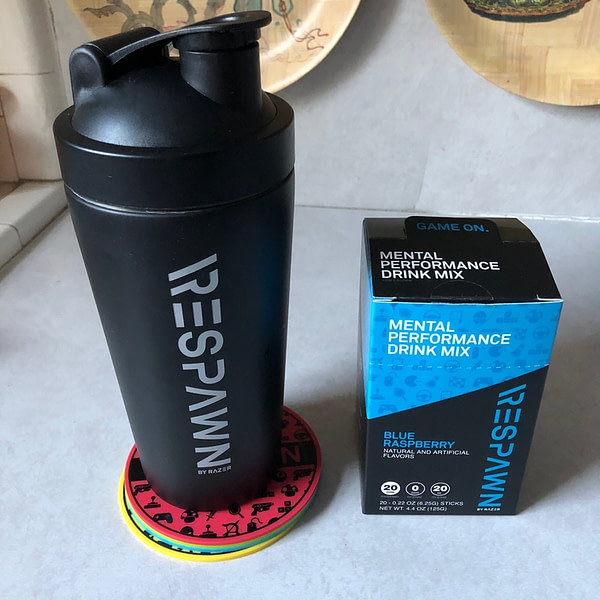 So we'll start with the primary part of this entire setup which is the mixing shaker. This is a stainless steel shaker that can hold up to 20 ounces of water, with a screw-top lid that comes with a snap top to drink out of directly or with a straw. I like this mixer compared to come other energy drink products I've tried out in the past as this feels like a genuine mixer I'd make cocktails in with a little extra heft. It also keeps whatever liquid you put in here pretty chill if it went in cold. But if you take it outside, the black exterior will attract the heat and get whatever you have inside warm in about 30 minutes. I didn't really experiment with hot liquids because its the summer, but considering the case you're using, it'll probably keep them warm as well.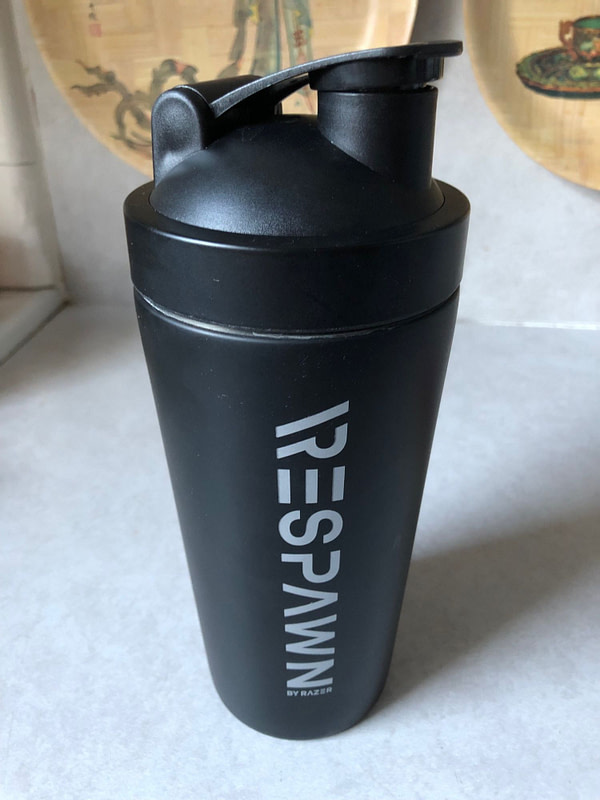 Razer Respawn's mix is a lot like other mixes. You get a choice of a few flavors. For the purposes of this review, we'll focus on the one I enjoyed the most, which was the Blue Raspberry. These are sold in boxes of 20, and as you can see by the design of the box and the way the cardboard is shaped, these are basically meant to be sold in convenience stores as something you could easily snag and throw into your water bottle. Or they're just here for convenient display on people's streams. Could be both.
The packets themselves are pretty standard, You get a 0.22 ounce worth of powder sealed up for you to pour into the drink. I kinda dig the packaging on this as it looks inviting and a little serious, while others we've messed with in the past always look like you're about to mix up some candy. The powder itself, which you can kinda see below, is about as simple as it gets. It's a blue-colored mix that you simply toss into the water and shake up to make the drink. It takes about 60 seconds of mixing to get it right and not have any kind of remaining residue on the sides or little chunks of the mix in the drink. But if you've ever made a cocktail, this is basically a walk in the park.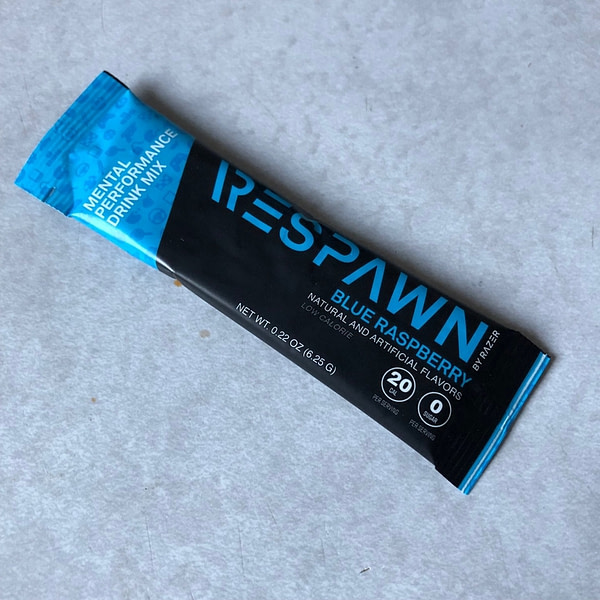 The flavor of the drink is actually quite good. It doesn't taste like a powder mix, but depending on how much water you put in (they recommend between 16-20 ounces) it can taste watered down. My first thought when I tried this out was that it tasted like Blueberry Kool-Aid, without the sugar. And if you think back to being a kid and making Kool-Aid by yourself or with your parents in a pitcher, that's basically what you've done is the adult version. But all kidding aside, it's not half bad. There's a quality to it that I haven't found in other drinks. Sometimes when I try drinks like this, they have a metallic or powdery taste to them, even after mixing them up for 2-3 minutes. Razer's Respawn actually tastes good, and that's a hell of a compliment when you think about all the others on the market.
As for whether it did the job or not… That's debatable. I was given four different flavors to try out. In order of taste, I would say the best was Blue Raspberry, followed by Green Apple, and Pomegranate Watermellon. While not terrible, I would say the worst is Tropical Pineapple. But hey, I'm also one of those people who believe pineapple has no place on pizza, so feel free to take that into consideration. But when it comes to the "mental performance" end of things, it's mixed results, pun intended. Drinking it gave me about the same kind of feeling I have whenever I try something like 5-Hour Energy. I get the sense it's doing something, but it's not like I can sit back and say "Wow, I'm awake right now, and I owe it all to this."
It does feel like it gave me a bit of a pickup in the middle of the day as I was working, but it's not like a miracle wake-up drug or anything like that. I even tried it out on a night I was feeling bushed and wanted to game a bit, and it did keep me going a little, but it wasn't like I was shrugging off being tired. Once I was done, I went right back to sleep. As a bit fo a bonus with the package I got, they gave me four different colored coasters. I assume in case I happen to be gaming with four different people, we have a coaster for each of our drinks in the room. Kinda cute to have some rubber coasters to use outside during the summer months of gaming.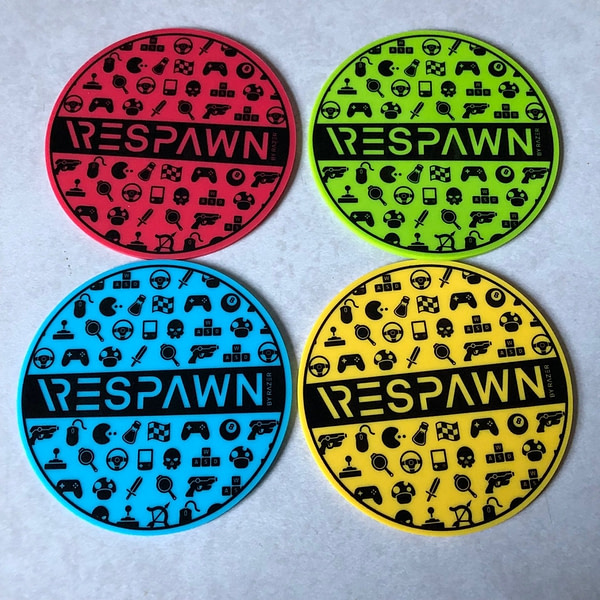 Overall, I would say the Razer Respawn was alright. Not the greatest drink I've ever sipped, but it was far from being bad. In fact, I would say it's better than some of the other major brands on the market. And while I do feel there's a bit of a kick to my energy levels when I drink it, I'm also not feeling it as a drink that improved my mental performance to any heightened degree. But that's just my personal taste, and I can acknowledge that other people's taste buds and body chemistry may have different results. If you're looking for an alternative to others and want to try something new, it's worth a shot. But I would recommend buying a flavor you know you would want to try first before getting anything else and giving it about a week to see if it does it for you.
Enjoyed this article? Share it!