The War of the Realms may be technically over following last week's release of the actual final issue of War of the Realms, but somewhere out there, it's still going on. And by somewhere, we mean in Canada. And by in Canada, we mean in the pages of Unbeatable Squirrel Girl #46, as seen in this preview as Squirrel Girl and Ratatoskr team up for a history lesson on the rat history of Alberta.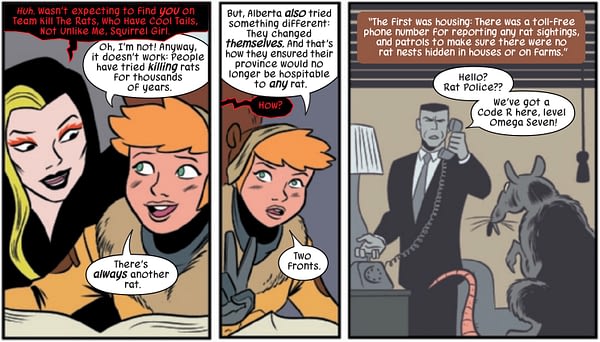 And this leads to an idea for how to beat the Frost Giants…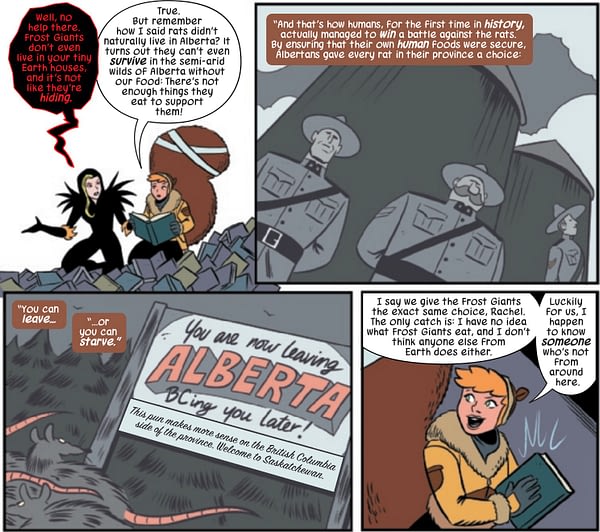 By hitting them where it really hurts: right in the stomach. Which is, come to think of it, how Daredevil and Loki handled Laufey in War of the Realms #6 as well. Well, not exactly the same, but close enough.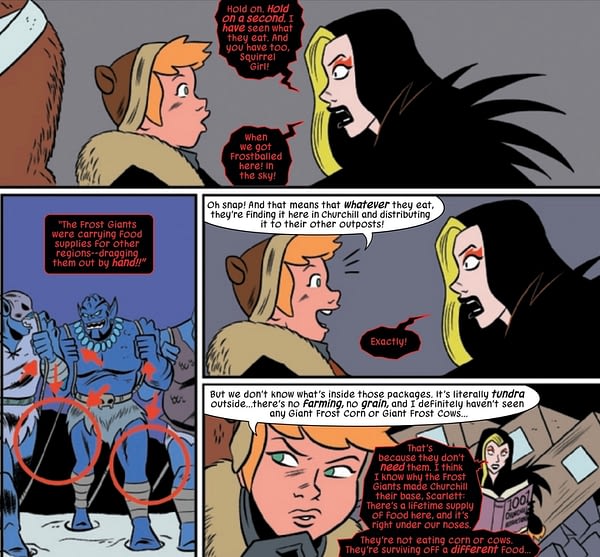 Starving the Frost Giants into submission? We've heard worse plans. Unbeatable Squirrel Girl #46 hits stores on Wednesday.
UNBEATABLE SQUIRREL GIRL #46 WR
MAY190890
(W) Ryan North (A) Derek Charm (CA) Erica Henderson
A WAR OF THE REALMS TIE-IN! The MOST squirrel-centric WAR OF THE REALMS tie-in reaches its conclusion! Only one woman stands between the invading army of the Frost Giants and utter disaster on Earth, and that woman is SQUIRREL GI- hold on… hold on, sorry. I'm getting word that not one but TWO women actually stand between the Giants and utter disaster on Earth, and one of them is…RATATOSKR?? It seems unlikely that the Norse god of gossip would be on Team Doreen, let alone a valuable member of it – but hey, stranger things have happened, right? I can't think of any off the top of my head, but they've probably happened. Can SQUIRREL GIRL team up with her SMACK-TALKING ENEMY? Can two people who couldn't be more different find a common ground in time to save everyone? And will BRAIN DRAIN make it back from the Negative Zone? You may THINK you know the answers to these questions, but only by purchasing and then reading this illustrated picto-narrative will your suspicions be confirmed or denied!
Rated T+
In Shops: Jul 03, 2019
SRP: $3.99
Enjoyed this article? Share it!