In an attempt to branch out from the traditional comic book direct market, Marvel Comics has announced a partnership with Samuel French to release a series of three Marvel plays to be performed in high school theaters. Dubbed Marvel Spotlight, the three plays include Hammered: A Thor and Loki Play, Squirrel Girl Goes to College: A Squirrel Girl Play, and Mirror of Most Value: A Ms. Marvel Play. The Hollywood Reporter featured a quote from noted internet troll Stephen Wacker about the project:
Over the last 80 years, the Marvel Universe has grown to inspire billions across the globe by telling relatable, personal stories reflecting the world outside our window. With these amazing plays and this uncanny group of talented playwrights, we hope to give the next generation of Marvel fans a chance to bring those stories to life and explore what it means to be a superhero right in their own backyard.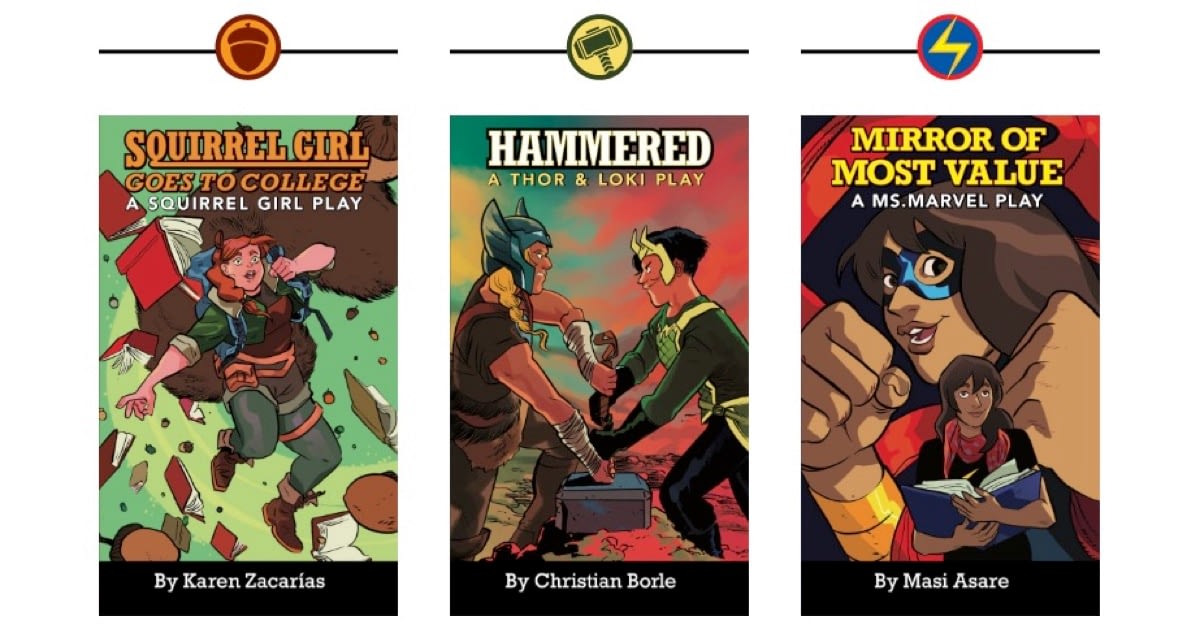 Marvel's most famous experience in the world of theater is the Broadway musical Spider-Man: Turn Off the Dark. The play, which had a $75 million budget and featured music written by U2's Bono and The Edge, was as dangerous as it was expensive. If Marvel's new plays are anything like Spider-Man: Turn Off the Dark, students might want to consider safer extra-curricular activities, such as full contact football or competitive knife throwing. Just look at the list of injuries suffered by cast membered from Wikipedia, which maintains an entire section just for that:
Six people were injured while working on Spider-Man.[29] After two stunt doubles were injured during various flying sequences in rehearsals,[66] safety inspectors from the New York State Department of Labor reviewed these scenes in the show[67] and, in February 2011, cited the show for two workplace safety violations. The United States Occupational Safety and Health Administration fined the show $12,600 in March 2011 for three serious safety violations.[68] The Actors' Equity Association also looked into the incidents.[67] One of the injuries occurred when Spider-Man stunt double Kevin Aubin broke both wrists.[69] Another actor "had broken [his] feet on the same move a month earlier."[70]

Natalie Mendoza, who was originally cast as Arachne, suffered a concussion during the first preview performance on November 28, 2010, when she was struck in the head by equipment in the wings. She did not report the accident to producers until November 30. She appeared in the second performance against her doctor's advice; the role involves several flying sequences, including one in which she is spun upside-down. Mendoza later felt ill, and America Olivo, her understudy, played the role during her nearly two-week absence. Mendoza returned to the show for the December 15 evening performance.[1] Following the preview of December 20, 2010, when Spider-Man stunt performer Christopher Tierney was injured and hospitalized, Mendoza suspended her performance, Olivo again filling in for her. On December 30, she announced her permanent withdrawal from the show. She was replaced by T. V. Carpio, with Olivo remaining as understudy.[71] When Carpio was injured in March 2011 and withdrew from the show for two weeks, Olivo performed the role again.[72]

In that December 20 preview, Tierney fell more than 20 feet (6.1 m) off a piece of scenery when his harness was not connected to the safety cord,[73] leaving him to freefall through the stage and into the orchestra pit. Tierney was hospitalized at Bellevue Hospital Center; he was released for rehabilitation on December 28.[74][75] The December 20 performance was ended prematurely.[76][77] After rehearsals for stricter safety procedures involving the harnesses, the show resumed with the evening performance on December 23.[78][79] Tierney was released from New York University's Rusk Institute of Rehabilitation Medicine on January 5, 2011.[74] He returned to the show for rehearsals on April 25, 2011[80] and performed in the show on opening night.[81] Carpio was injured during a March 16 performance, reportedly hurting her neck, and left the show for two weeks.[82]

On August 15, 2013, actor Daniel Curry was hurt by apparently being pinned under a piece of equipment and suffered leg trauma.[83]
Thankfully, Marvel appears to be at least attempting to take a safer approach, as a PDF offered on the Marvel Spotlight web page offers tips for performing Marvel stage combat safely.
Stage combat is also referred to as fight choreography because it needs to be as specific in movement as a choreographed dance would be. Traffic patterns (or tracks) must be replicable in order to keep your cast safe.

When blocking, walk through the movements in slow-motion first. This is the time to set very clear parameters using rehearsal props.
Never use real weapons or props with sharp points in your production.
Cast members should not change the established fight choreography, and should always ask permission before touching their castmates during rehearsal.
If underscoring is involved, consider how you can choreograph the fight to align with the music, just like a dance number.
For larger sequences, start small and add onto the action. For example, begin with two actors hitting only their key beats, then slowly add in more cast members until you are satisfied with the blocking. Finally, layer in details once your actors become comfortable and confident.
Both parties should be in control at all times, but the reactor, or receiver of an action, should be dictating the movement. The instigator of the action initiates the contact, but the reactor performs the follow through.
Schedule a fight call before every performance during which your actors can practice their specific fight choreography. Remind them that the adrenaline produced during live performance brings with it the possibility of mistakes, so it is important to work through these moments over and over directly before curtain.
Check out the descriptions of the plays below. Licensing starts at $75, and script run five bucks for a digital acting edition, ten bucks for a print acting addition, and twenty bucks for a stage manager version.
HAMMERED: A THOR & LOKI PLAY (MARVEL SPOTLIGHT)
by Christian Borle
Short Play, Comedy / 9m, 6f, 5 any gender

One is the Norse God of Thunder, Master of the Storm, Lord of the Living Lightning, and heir to the throne of eternal Asgard. The other born of a Frost Giant, but now the Norse God of Mischief. Yet they are brothers, and together they are… The Mighty Thor and Loki.

As Thor struggles with the stress of final exams, his brother Loki finds himself under a different sort of pressure. Neither are beneath pranks in the endless competition for their parents' favor. But underneath all the thunder and mischief, these two Princes of Asgard discover a bond that will last millennia.

MIRROR OF MOST VALUE: A MS. MARVEL PLAY (MARVEL SPOTLIGHT)
by Masi Asare
Short Play, Drama / 4m, 8f, 10 any gender

When a strange Terrigen Mist descended upon Jersey City, Kamala Khan was imbued with polymorphic powers. Her life was changed forever and so were the lives of her family and friends. Using her newfound abilities to fight evil and protect Jersey City, she became the all new Ms. Marvel!

Kamala attempts to boost Ms. Marvel's fledgling super hero profile by writing her own fan fiction. But when building a fandom becomes an obsession, Kamala's schoolwork and relationships begin to suffer. To become the Jersey City hero of her dreams, Kamala must learn to accept herself just as she is – imperfections and all.

SQUIRREL GIRL GOES TO COLLEGE: A SQUIRREL GIRL PLAY (MARVEL SPOTLIGHT)
by Karen Zacarías
Short Play, Comedy / 1m, 3f, 14 any gender

Doreen Green secretly possesses the powers and a squirrel… and the powers of a girl! She uses her amazing abilities to fight crime and to be as awesome as possible! You know her as the Unbeatable Squirrel Girl!

Doreen arrives at Empire State University to make new friends – and protect them from super villains – by keeping her super hero identity a secret. But when a beloved computer science professor suddenly disappears, can Doreen trust her friends with her inner squirrel so she can save the day?
Enjoyed this article? Share it!