Before we get into how Rick and Morty factor into all of this, a little backstory. When it comes to a series finale, our personal 1-10 scale has the following parameters: a "1" (the worst) would be something like Showtime's Dexter; a "10" (the best) would be something like AMC's Breaking Bad. All shows fall somewhere in-between – for example? CBS' How I Met Your Mother would get a "3," while ABC's Lost would get an "8.5." Which brings us to probably one of the most debated series finales we've seen in years: HBO's Game of Thrones.
For some? It was a fitting end that remained true to the spirit of the series.
For others? It was a rushed piece of jacked-up fanfic that spit in the face of what came before it.
For the sake of argument, we'll just say that out opinion falls somewhere between those two views…
Well, the fine folks over at Entertainment Weekly wanted to get some perspective from two people who know what it's like to firsthand suffer the slings and arrows of their own opinionated fanbase from time to time: Rick and Morty co-creators Dan Harmon and Justin Roiland. With work continuing on season 4 and beyond of the Adult Swim series (more on that below), the pair took a moment to share their thoughts on the HBO series wrapped up its run – and spoilers?
They're big fans… in fact, for a show he didn't want to see end? Harmon found the finale satisfying:
"I was afraid to watch it for a while because I didn't want it to end. I wanted to keep this soap opera in my life. But I knew it had to end, and I was as satisfied as I possibly could be watching a staple in my life wrap up and all of the characters taking each other out."
From the creative, behind-the-scenes standpoint, Harmon was impressed by just how much the GoT team was able to cover before the final credits rolled:
"As a showrunner, I was amazed at the amount they were able to accomplish — especially given the meta-reality of having run out of books to adapt. Watching The Hound fight The Mountain on the stairs, I was like, 'This is all great, man.' I was aware of the disappointment factor with [Daenerys Targaryen's] dark turn. I'm not going to say fans are too cynical and ungrateful, but I guess I did just say that."
Roiland seconded a number of Harmon's point, adding that he had a slightly different number in mind when it came to how many more seasons the series had left:
"I echo all of Dan's sentiments about the show. Structurally, I think it was great. I just selfishly wanted more episodes. I wanted to get to those plot points at a slower pace. I didn't want it to end either. I wished it was stepped out over three more seasons, or three of four more episodes."
For Roiland, while there might be another "event series" coming down the road – nothing will match what David Benioff and Dan Weiss (who are heading off to the Star Wars universe) were able to accomplish:
"There's not going to be another show that big. I shouldn't say that because there's always something potentially looming around the corner. But that show was a phenomenon. It was insanely big. Everybody was watching it. And I love [GoT showrunners David Benioff and Dan Weiss], they're f—ing awesome guys."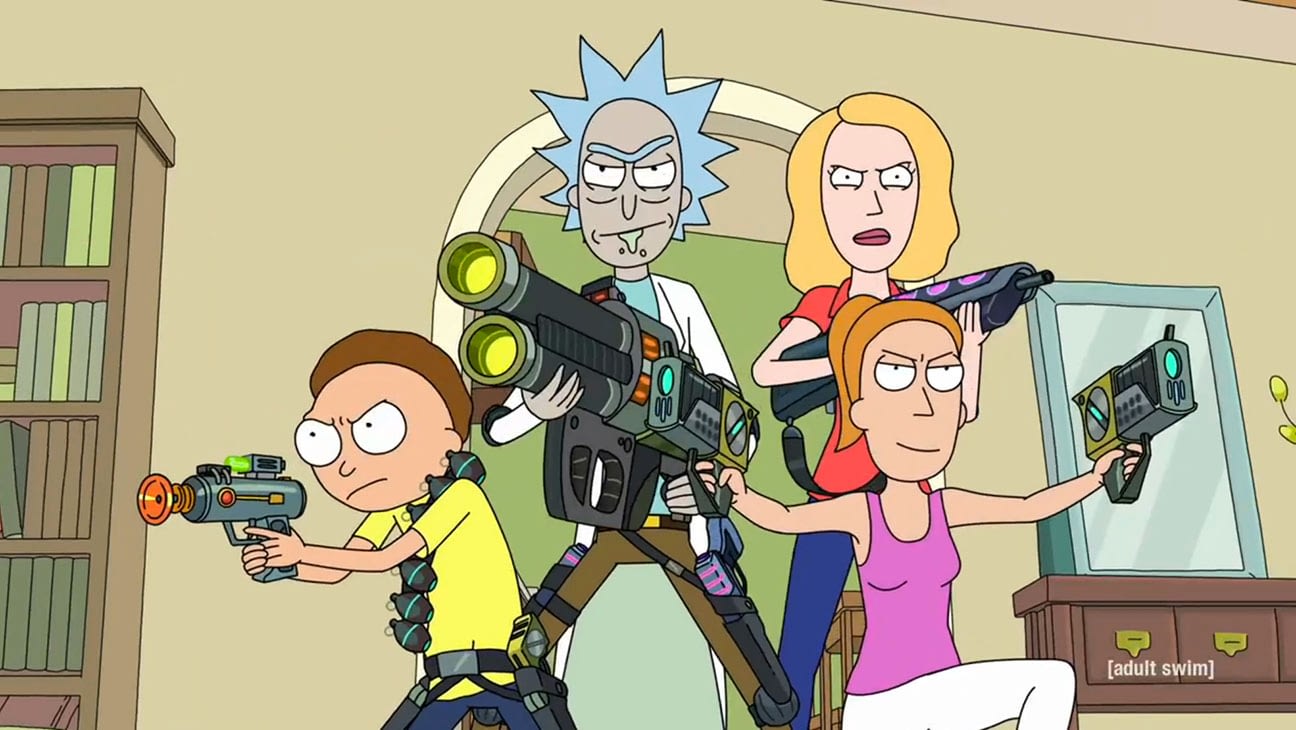 Speaking of "Rick and Morty" Season 4…
Here's a look at the official announcement video for the return of Rick and Morty for a fourth season:
In May 2018, Roiland took to Twitter to officially announce that the series had been renewed by Adult Swim – and what a renewal it was! We weren't talking ten… twenty… even fifty episodes. Oh no, this order was for a whopping seventy episodes– which increases the chances of there being a Noob Noob solo episode that much more.
More Rick and Morty coming. Looking forward to all the tweets asking where it is! #theydrawingit pic.twitter.com/KZild3B9rP

— Justin Roiland (@JustinRoiland) May 10, 2018
Not to be left out of the celebration, Harmon released his own shower-themed announcement and offered good tidings to the fans:
If anyone at the time thought Adult Swim had any doubts about their decision, the network cleared that up pretty quickly:
What Justin said #RickandMorty @danharmon @JustinRoiland https://t.co/mU0zFD0iFG

— [adult swim] (@adultswim) May 10, 2018
Enjoyed this article? Share it!