One of the games we were most excited to check out at E3 this year was Call Of Duty: Mobile, which Activision brought to the show for media to try out. We didn't get a ton of time, but myself and nine other members of different media outlets were all gathered for a short demo session to try the game out on various iOS and Android devices. So right off the bat, we already know there's crossplay between devices, which is awesome. We were shown a video of the battle royale mode, but we were told they weren't quite ready to show that off yet. So for the demo, we were put in Team Deathmatch for a classic 5-v-5 encounter. Surprisingly, this game handles really well. It has the same kind of control movement as PUBG Mobile to a degree but changed up to fit the CoD style and maneuverability. Aside from the fact I was touching the screen to move, it felt like I was playing Black Ops 4 with crystal clarity and no frame dropping.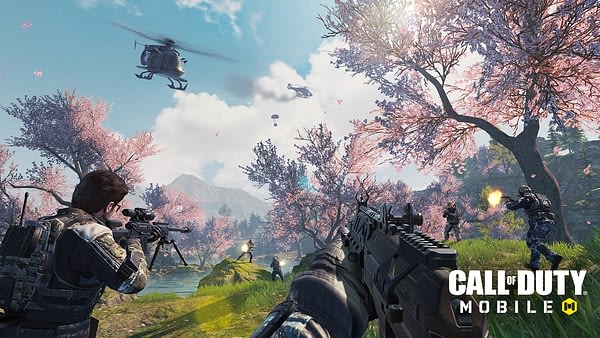 Switching weapons is pretty easy as well as taking shots at people. However, for those who are slightly uncoordinated, there is an auto-fire option. All you have to do is line up your target and whatever weapon you've selected will fire once the crosshairs focus and turn red. It's not a cheat like auto-aim where you can just fire at anything and hit a target, you need to be on the target to actually hit it. We played two rounds, one in Nuketown and the other on Hijacked, both look amazing and are killer throwbacks for people who love the franchise. The only issue I really had was that the phone we were using was starting to heat up quickly. We were told by the devs they were working on the game performance first and then would focus on the impact of the device so that it didn't overheat or drain your battery a ton. But the main goal of the game, aside giving mobile users a Call Of Duty game, is to give people quick matches they can jump into while waiting for things to happen.
I'm looking forward to seeing the final version of Call Of Duty: Mobile, which is currently pre-registering people to play when it's released. This is a game that is basically destined to be an esports title as well, it's just a matter of time for them to figure out how to incorporate it into World League. We don't have a definitive release date yet, but we're guessing it will happen this fall to coincide along with the release of Modern Warfare.
Enjoyed this article? Share it!