They solicit them at one price. But then, when they arrive in store, they are at a different price. Here are a few to watch out for in that regard.
Aquaman Vol 1: Unspoken Water, the first collection of Kelly Sue DeConnick and Robson Rocha's run on Aquaman, and getting a new volume 1 in the process was solicited at $17.99 and is now $24.99 – but that's also because it has jumped from a paperback to a hardcover volume…
No such excuse for Powers Vol 6 TPB by Brian Bendis and Michael Avon Oeming which, in getting a new edition, has jumped in price from $29.99 to $39.99. But what's a tenner between friends?
While from Marvel, the Star Wars Legends Epic Collection: The Menace Revealed TP Vol. 2 will have a new price of $39.99, rather than $34.99.
And the price of Legendary Comics' Trick R Treat Omnibus has also taken a similar jump, from $19.99 to $29.99. This hasn't been solicited yet, but presumably already printed in the upcoming Diamond Previews and so needs a correction…
Here are the new solicitations to prove the point…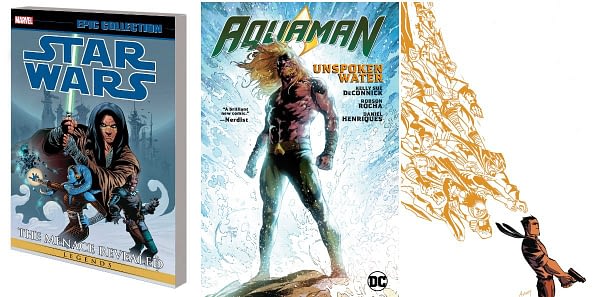 AQUAMAN HC VOL 01 UNSPOKEN WATER
(W) Kelly Sue DeConnick (A/CA) Robson Rocha, Daniel Henriques
In the wake of the epic "Drowned Earth," an amnesiac Arthur washes ashore on a remote island and ends up being cared for by a young woman named Caille, who's just a little too curious for comfort. And as a lifetime of horror movies has taught us, there's something strange going on in this island village. Aquaman needs to come to his senses quickly…or he might wind up sleeping with the fishes instead of just chatting with them. Collects AQUAMAN #43-47 by the new creative team of writer Kelly Sue DeConnick and artist Robson Rocha.In Shops: Aug 07, 2019
Final Orders Due: Jun 17, 2019
SRP: $24.99
POWERS TP BOOK 06 NEW ED (MR)
(W) Brian Michael Bendis (A/CA) Michael Avon Oeming
When the Power who murdered Hitler is found dead, it's up to Detectives Walker and Sunrise to dig into the secret history of Powers past to find the killer. A past that included the untold tale of Walker's world before he became one of the world's greatest superheroes. Also…God is dead! And Walker and Sunrise must investigate his murder. Oh, and Deena Pilgrim returns-and the how and why are going to surprise you! Plus, Retro Girl finds herself infected with a deadly alien virus. Collects POWERS (Vol. 3) #1-11.In Shops: Aug 07, 2019
Final Orders Due: Jun 17, 2019
SRP: $39.99
STAR WARS LEGENDS EPIC COLLECTION MENACE REVEALED TP VOL 02
(W) John Ostrander, Pat Mills, More (A) Ramon Bachs, More (A/CA) Jan Duursema
Lost memories, lost Padawan! Jedi Knight Quinlan Vos has lost his memory! Now he must rediscover his past while searching for his Padawan, Aayla Secura! But deadly gamblers, false Jedi, corrupt officials and the pull of the dark side all stand in his way! Then, lightsabers clash as the bounty hunter Aurra Sing arrives on Coruscant, slaying Jedi in the very shadow of the Temple! A number of Jedi Knights volunteer to take action – but do they seek justice or vengeance? And when a prison planet watched over by the Guardians comes under attack from a deadly enemy, the still-troubled Quinlan Vos investigates – but his newest assignment may be a suicide mission! Plus: More tales from the Republic era of Star Wars! Collecting STAR WARS (1998) #19-35 and material from DARK HORSE EXTRA #35-37, STAR WARS TALES #13 and DARK HORSE PRESENTS ANNUAL 2000.
Rated TIn Shops: Sep 18, 2019
SRP: $39.99
TRICK 'R TREAT OMNIBUS
SAM'S 10th ANNIVERSARY COLLECTION
From the deliciously dark imagination of Trick 'r Treat creator Michael Dougherty (writer/director of the upcoming Godzilla: King of the Monsters, the horror hit Krampus, and the screenwriter of X-Men 2 and Superman Returns), comes the definitive Trick 'r Treat comic book collection in celebration of the 10th anniversary of this beloved horror saga. For the first time, Legendary Comics brings fans the full compendium of twisted Halloween tales, brought to life by a top-notch team of creators including writers Zach Shields (Godzilla: KOTM, Krampus) and Todd Casey (Krampus), Eisner Award-winning writer Marc Andreyko (Batwoman), Eisner Award-winning artist Fiona Staples (SAGA), ZID (Skull Island: Birth of Kong; Lost in Space: Countdown To Danger), Stuart Sayger (Bram Stoker's Death Ship), Stephen Byrne (Green Arrow), Grant Bond (Supernatural), Mike Huddleston (Man Bat), and Christopher Gugliotti (Texas Chainsaw Massacre).
Trick 'r Treat, the graphic novel adaptation of the film, reveals 4 evocatively illustrated tales of horror interwoven into one unforgettable Halloween night as the unsettling figure known as Sam pays a visit to an unsuspecting community, wreaking havoc during the scariest night of the year.
And then in Days of the Dead, franchise icon Sam takes readers on a journey back through Halloween history with 4 chilling new Trick 'r Treat tales. Discover old-world lovers whose romance takes a chilling turn and Western pioneers who discover the dark side of the frontier. Travel to 1950s Los Angeles for a tale of pure horror noir and into the heart of small-town America to see some pranksters taught a lesson they'll never forget. Across centuries of Halloween horror, wherever fear lies, Sam will be waiting…
This new deluxe edition features all-new cover art, and brings all of Sam's stories together into one collection for the first time. No tricks, just treat after treat for horror fans!
Enjoyed this article? Share it!