Yesterday, Marvel Comics had six comics part of The War Of The Realms storyline, in which the various realms associated with Norse mythology have invaded Earth and divvied it up, under the leadership of Malekith, the Dark Elf. Bleeding Cool checked in with all of them… with special focus as to food. They say an army marches on its stomach, so what are the various armies eating? We asked the questions.
The hottest comic has probably been War Of The Realms: New Agents Of Atlas, launcing new character Wave, and kicking off new Agents Of Atlas ongoing series with teams new and old. Though War Of The Realms: New Agents Of Atlas #3 is less about launching and more about lunching. With spam all round in a multitude of fashions, Monty Python-style. No spam fritters though…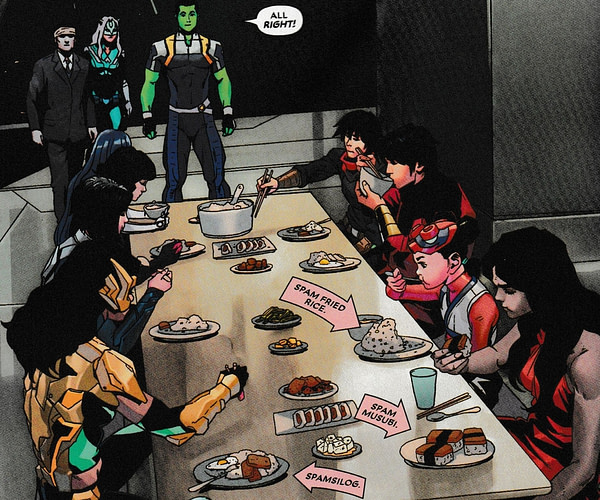 While the plans of hellish demons seek to usurp Malekith's plans for their own. Why settle for Asia when they can see the world burn?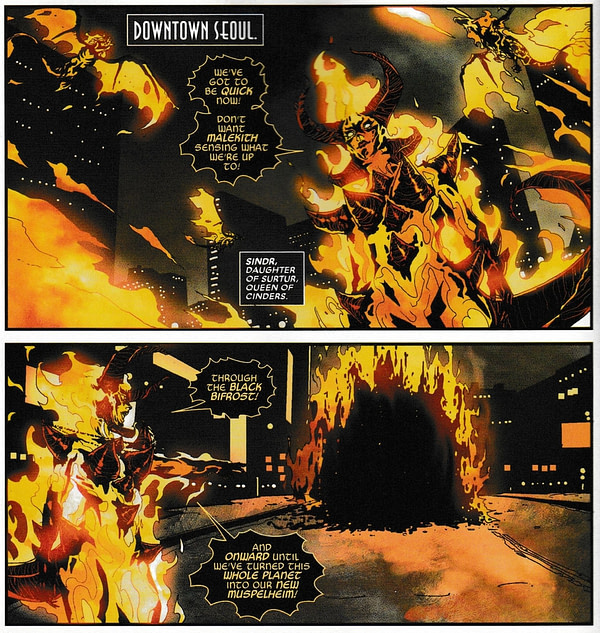 While over in the main title, War Of The Realms #5, Thor is also getting a little toasty in the heart of the sun… and doesn't look like he's getting any food either, which is a shame, as it would make for quite the barbeque.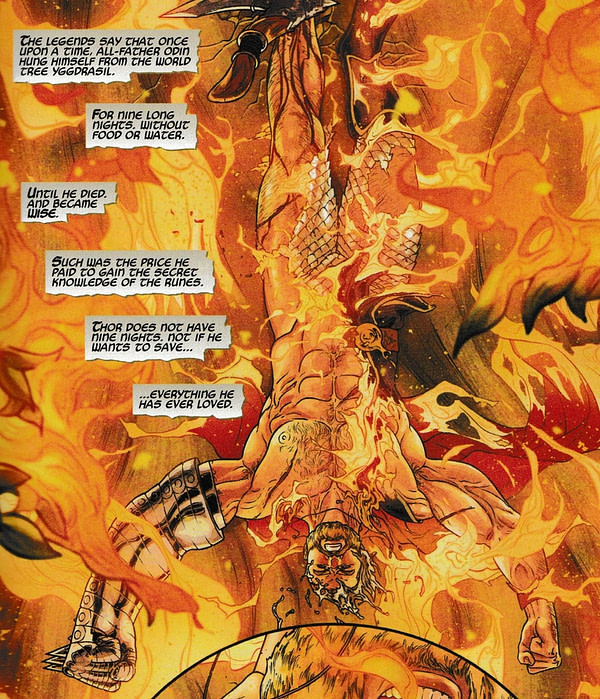 While in Deadpool #13 by Skottie Young and Nic Klein which, surprisingly, is not the most jokey War Of The Realms book on the stands today, it's Deadpool rendition of Captain Marvel's request of him, in just those terms that set up the crossover.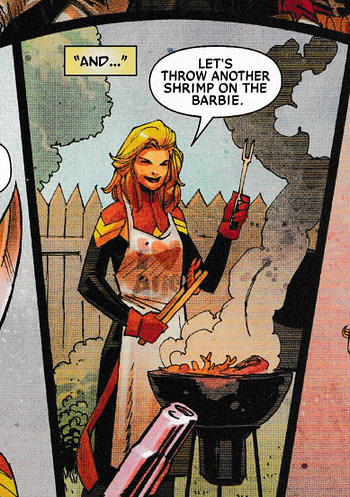 Even as Deadpool/Skottie Young reminds all that Jason Aaron, writer of The War Of The Realms also wrote Original Sin, when Marvel gave away promotional eyeballs.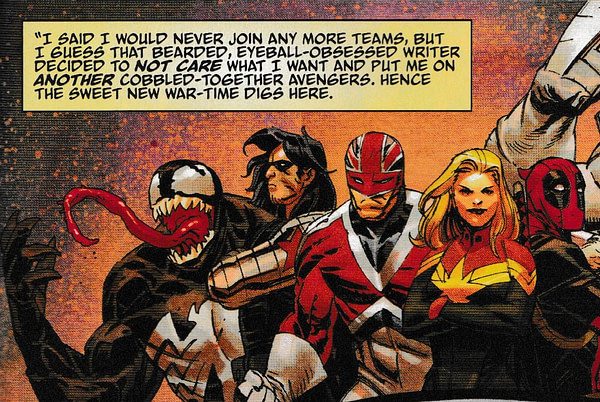 But soon having Deadpool sent to Australia, to take care of the trolls. That's what they say, It may have been, Golgafrinchan-syle, to get rid of him. As it turns out the Trolls were quite happy in the Outback and were leaving the populated cities alone. Though they did have an idea of what they would like to add to their war rations.

May be less like Game Of Thrones and more like The Hobbit, there. We also meet three new Australian superheroes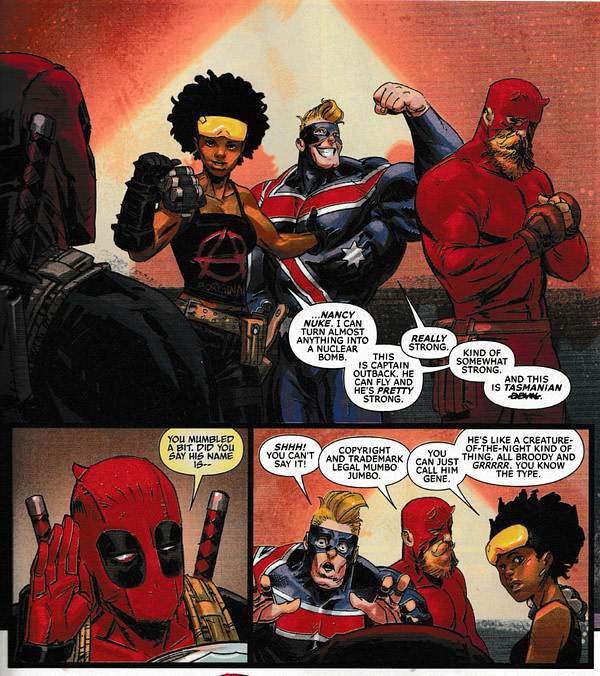 Nancy Nuke, Captain Outback and Tasmanian Devil. Hang on, couldn't Nancy Nuke just end this War Of The Realms really easily with a power like that? Pop up to Stonhenge…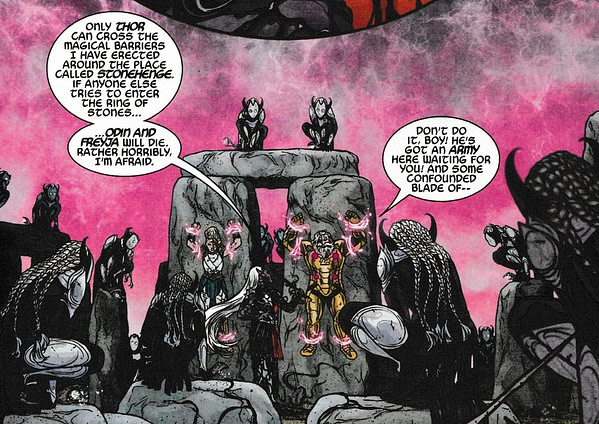 …turn Malekith into a nuclear bomb, blow up Salisbury, job done. We also catch up with Deadpool's Australian adventures in War Of The Realms #5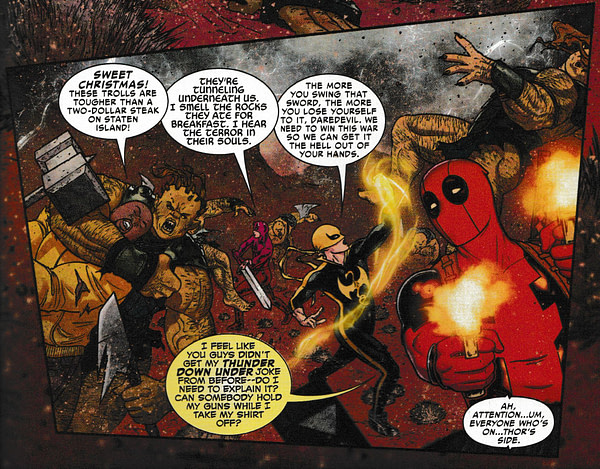 Where he picked up a few new friends. And where Nick Cage's 'Sweet Christmas' is slightly more welcome than Captain Britain's equivalent in the same issue.
As to more food choices, Tony Stark: Iron Man #12 by Gail Simone and Paolo Villanelli is set before the first War Of The Realms issue and has Malekith mess with Tony Stark… just because. Maybe he knows where Odion's new armour came from.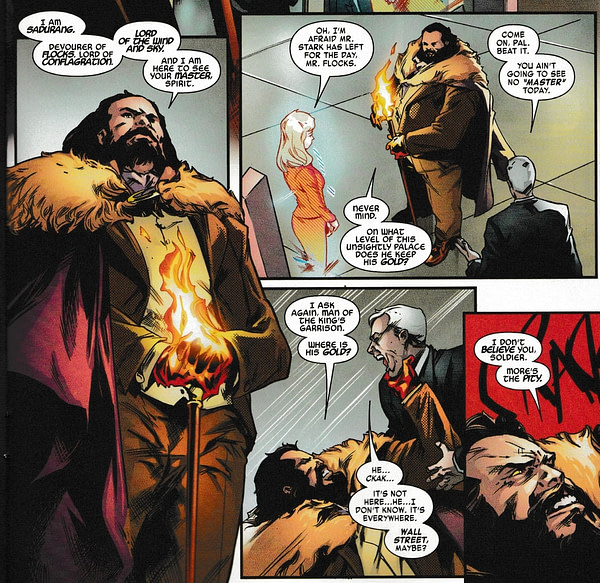 But has dragon in human form attack Stark Industries for all their gold… hang on, this really is like The Hobbt isn't it? Anyway, rations-wise, he seems to have a similar take to the Trolls.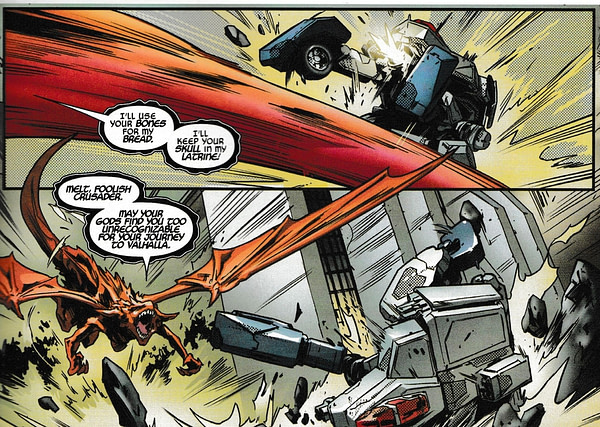 War Of The Realms: Journey Into Mystery #4 manages to avoid as much of the War Of The Realms as possible, as the henchmen of the Marvel Universe take all the conflagration to host their own trade conference and convention.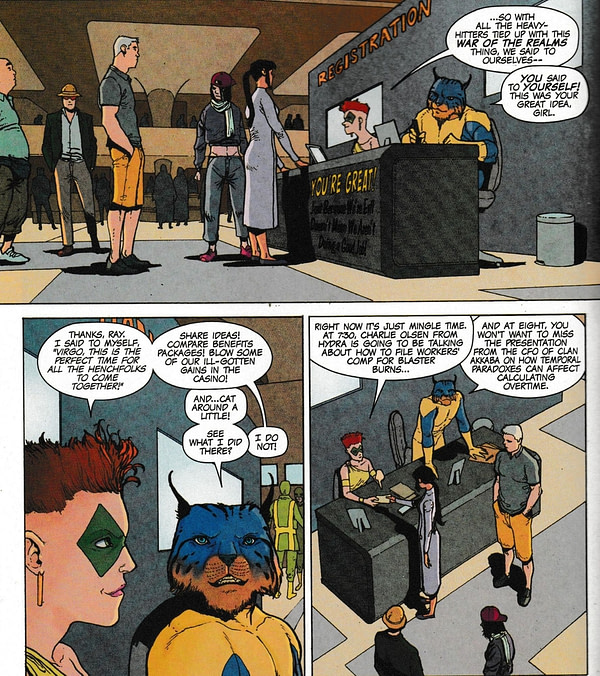 And they have got all their rations ready for conference go-ers as well.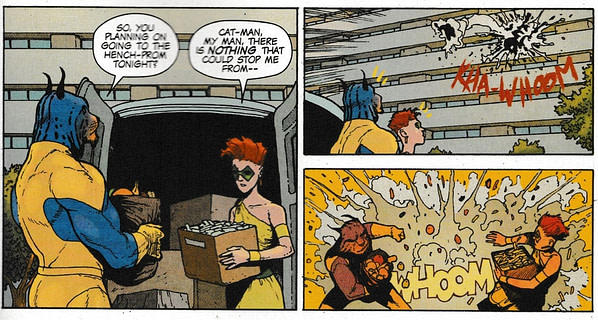 Or rather they did. While Captain Marvel #6 also avoids Lord Of The Rings, The Hobbit and Game Of Thrones comparisons…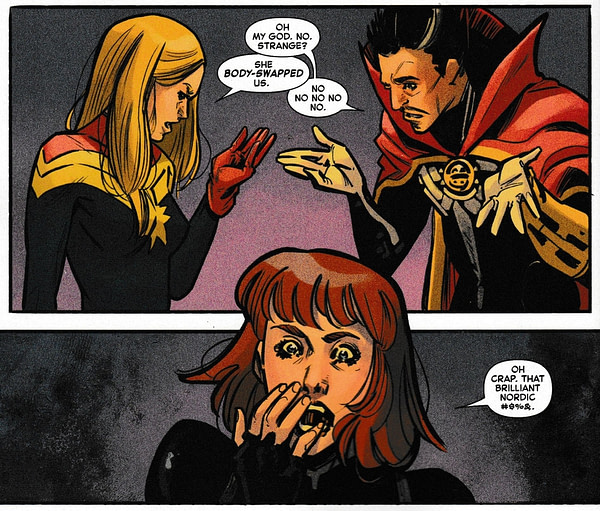 …by going for Freaky Friday instead. Oh that Enchantress. Maybe she's been reading recent issues of Marvel Team-Up? Present or past Ms Marvels seem to be most at risk…
DEADPOOL #13 WR
(W) Skottie Young (A/CA) Nic Klein
WAR OF THE REALMS TIE-IN! DEADPOOL GOES DOWN UNDER!
•  As the War of the Realms rages, Deadpool is sent to Australia to take care of a pesky troll problem!
•  No, not those obnoxious internet nerds. REAL TROLLS!
•  How many didgeridoo jokes can one comic book make? Let's find out together!
Parental Advisory In Shops: Jun 05, 2019 SRP: $3.99
TONY STARK IRON MAN #12 WR
(W) Gail Simone (A) Paolo Villanelli (CA) Alexander Lozano
WAR OF THE REALMS TIE-IN!
A war needs weapons – but Tony Stark once vowed that he'd never build weapons again!
So why's he hunkered down with Screwbeard the Dwarf in Avengers Mountain? And what is he making?
Rated T+In Shops: Jun 05, 2019 SRP: $3.99
WAR OF REALMS #5 (OF 6) WR
(W) Jason Aaron (A) Russell Dauterman (CA) Arthur Adams
MIDGARD'S LAST STAND
Malekith's army gets a whole new crop of recruits – the dead! As Midgard transforms under the rule of Malekith and his allies, the dead rise up to form a new Niffleheim! The Black Panther calls in every hero on his roster to fight for Earth, from Spider-Man and the Spiders of Hel to Ghost Rider and Balder the Brave. But if there's any hope for the Ten Realms, it'll come from the skies…
Rated T+  In Shops: Jun 05, 2019
SRP: $4.99
WAR OF REALMS JOURNEY INTO MYSTERY #4 (OF 5) WR
(W) Clint McElroy, Justin McElroy, More (A) Andre Araujo (CA) Valerio Schiti
PLACE YOUR BETS – ON SURVIVAL!
When Balder the Brave's unofficial babysitter's club runs out of cash in Nevada, they hit on a foolproof plan: a casino heist! They just have to disguise a few famous heroes, a cyborg, an Asgardian god and a talking dog to do it. With the luck of baby Laussa on their side, nothing could go wrong! Unless of course they stumble upon…a convention of SUPER VILLAINS? What the heck, Nevada. Looks like the heroes will need a miracle in the desert to get out of this one!
Rated T+In Shops: Jun 05, 2019
SRP: $3.99
WAR OF REALMS NEW AGENTS OF ATLAS #3 (OF 4) WR
(W) Greg Pak (A) Lim, Gang Hyuk (CA) Woo Dae Shim
BURN, BABY, BURN!
•  AMADEUS CHO has always been the cocky rebel, bucking authority to do the right thing.
•  But now he's the authority – the de facto leader of a disparate group of heroes from all over the Pacific – each of whom has their own idea of the best way to free their countries from the fiery rule of the QUEEN OF CINDERS!
•  Can Amadeus pull these NEW AGENTS OF ATLAS together – or will QUEEN SINDR succeed in her ultimate plan to drive north and turn all of Earth into NEW MUSPELHEIM?
Rated T+In Shops: Jun 05, 2019
SRP: $3.99
CAPTAIN MARVEL #6 WR
(W) Kelly Thompson (A) Annapaola Martello (CA) Amanda Conner
WAR OF THE REALMS TIE-IN!
The Dark Elf King Malekith and his allies have conquered Earth! At least, they THINK they have – and they've divided the spoils accordingly, with the Enchantress raising an army of the dead and staking her claim on South America. But if the Enchantress is expecting a royal welcome, she's forgotten what she's dealing with – Earth isn't going down without a fight. And as Captain Marvel leads DOCTOR STRANGE and BLACK WIDOW into the land of the dead, nothing about this mission will be what our heroes expect.
Rated T+In Shops: Jun 05, 2019 SRP: $3.99