We are still reeling from the wealth of Annie Leibovitz images Vanity Fair released from their upcoming summer Star Wars: The Rise of Skywalker issue. There were first glimpses of new characters, a tease of a possible BIG character returning in some capacity, and more Rey vs. Kylo Ren action.
There were ALSO some pretty fabulous behind-the-scenes shots from the set in Jordan which will be the planet Pasaana, including Mr. Anthony Daniels as the golden droid C-3PO. How about a stunt being filmed?! Looks like Chewbacca (Joonas Suotamo), Rey (Daisy Ridley) and BB8 are on the move. Director JJ Abrams and his crew line up the next shot. BUT WHERE ARE THE DAMN PINK SHORTS, GUYS?!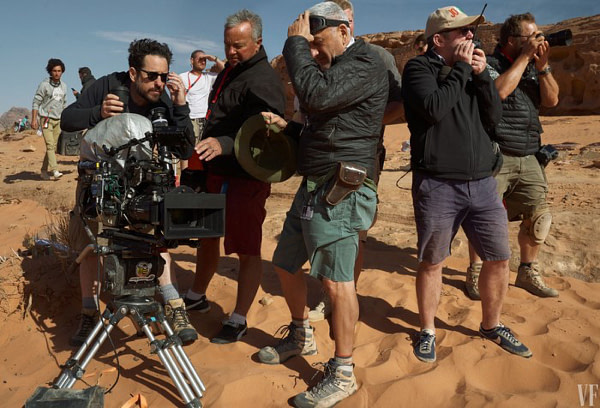 There was a better look at one of the new races of alien we'll be meeting; the Aki-Aki, natives of the planet Pasaana, played by Jordanian locals. And, a big piece of the Star Wars galaxy, composer John Williams. Again, all these photos (and the others from Vanity Fair) are by the incomparable Annie Leibovitz.
Star Wars: The Rise of Skywalker is set to hit theaters on December 20th 2019. We will of course keep up updated with any additional photos, news, and trailers as they get released.