On Wednesday, Jabba the Hutt gets his own comic! Of course, it's just a one-shot, part of Marvel's Star Wars: Age of Rebellion line of comics set during the period of the original Star Wars trilogy, but it's a Jabba comic nonetheless. Unfortunately, or perhaps expectedly, it starts off a little bit gross, as we see wealthy patrons of a space-establishment enjoying an expensive new drink called Tusken Wind, one which costs 10,000 credits per cup. Though there's a good reason, as we see in this preview of Star Wars: Age of Rebellion: Jabba the Hutt #1…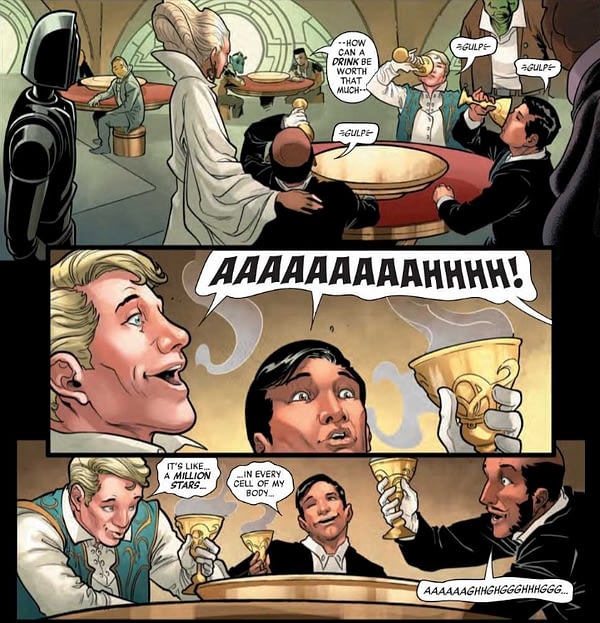 Ok, that does seem like a pretty good drink, and one that might even be worth its hefty price tag. Unfortunately, the establishment is all out…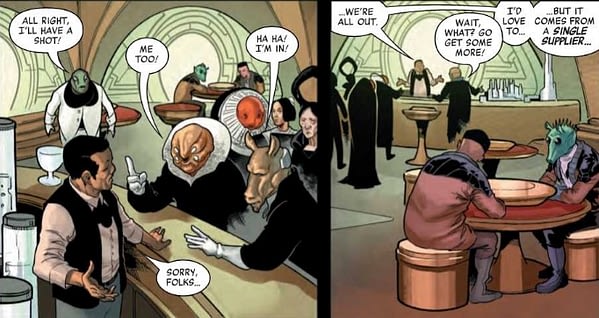 And the supplier, of course, is a certain Jabba the Hutt. But when asked about the Tusken Wind, Jabba has a bit of a laugh.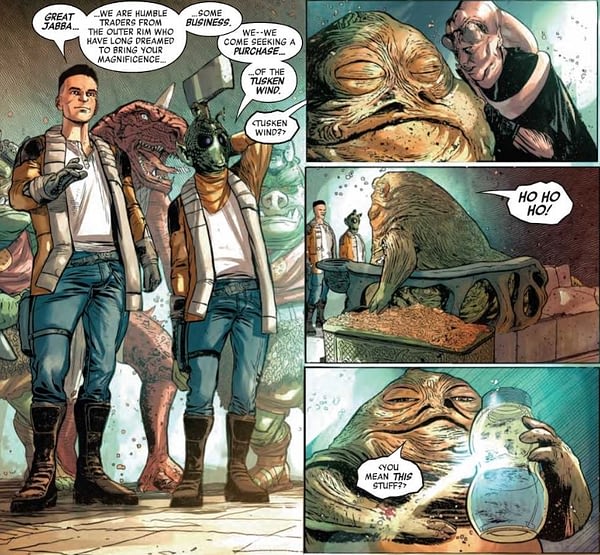 So what are the odds Tusken Wind comes from Jabba's butt? Of course, Hutt Butt Juice is definitely not a drink one would pay 10,000 credits for, so a clever marketing ploy was clearly needed. We'll find out if we're right soon enough.
Star Wars: Age of Rebellion: Jabba the Hutt #1 hits stores on Wednesday. Check out the full preview below.
Star Wars: Age of Rebellion: Jabba the Hutt #1
(W) Greg Pak (A) Emilio Laiso, Marco Turini, Roland Boschi (CA) Rachel Dodson, Terry Dodson
IT'S GREAT TO BE JABBA!
• Across the galaxy, Imperials, rebels and scoundrels alike speak in hushed tones of JABBA THE HUTT, the greatest gangster in the OUTER RIM.
• Discover what makes the name of Jabba so feared, in a crime story that stretches from the casinos of CANTO BIGHT to the deserts of TATOOINE!
Rated T
In Shops: May 22, 2019
SRP: $3.99