We, along with pretty much every single outlet on the internet, have lots of opinions on this 8th and final season of Game of Thrones HBO has given us. Some range from peace to outright thermonuclear war in their feelings on the recent shift in power on the show, but, we can all agree that it's been a hell of a ride.
It was kind of a no-brainer that following season 8 episode 5, "The Bells", there would be some kind of "fan" push from the various reactions we'd been seeing.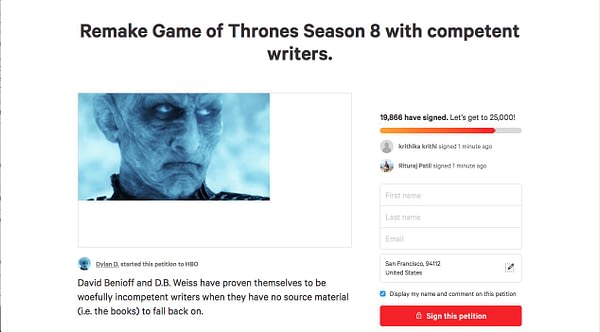 Taking a page from the very vocal haters of Star Wars: The Last Jedi, a group of non-fans have started a petition to remake the season "with competent writers."
The petition on Change.org reads:
"David Benioff and D.B. Weiss have proven themselves to be woefully incompetent writers when they have no source material (i.e. the books) to fall back on. This series deserves a final season that makes sense. Subvert my expectations and make it happen, HBO!"
With almost 20,000 signatures at the time of this article, it's likely nothing will come of this. Nice try, though.
The final episode of Game of Thrones will air this coming Sunday on HBO.
Enjoyed this article? Share it!