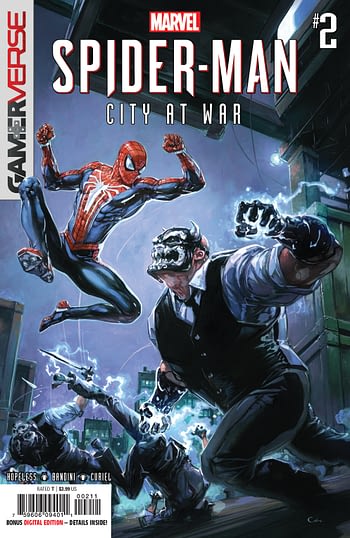 Here's the big list, the top 500 most-ordered comics and graphic novels through Diamond Comic Distributors in North American comic book stores in April 2019.
We already did a little examination with the Top 10 and Top 100 but this doubles down. So while some have pointed out that Marvel Comics only got half the marketshare with twice as many comics as DC, here we can see that a chunk of that were from the low-selling reprint True Believers reprint line – take the reprints out and Marvel would still be doing pretty much the same with fewer titles…
You can see the effect of limited Marvel overshipping on Spider-Man: City Of War #2, 29th in 'sales', 60th in revenue raised, similar on Marvel Team-Up #1 and Magnificent Ms Marvel #2, but you can also see the effect on limited discounts, returnability across the statistics.
You can see that most visibly with Bronze Age Boogie #1 from Ahoy Comics, placing 198th on sales but 333rd on revenue, surrounded by Silencer #16 placing 197th and 192nd, and Wonder Woman #67 on 199th and 197th respectively.
Time to dig down:
Top 500 Most-Ordered Comics in April 2019
| | | | | | |
| --- | --- | --- | --- | --- | --- |
| Unit Rank | Dollar Rank | Index | Publication | Price | Publisher |
| 1 | 1 | 211.86 | WAR OF REALMS #1 | $5.99 | MARVEL COMICS |
| 2 | 2 | 187.04 | SYMBIOTE SPIDER-MAN #1 | $4.99 | MARVEL COMICS |
| 3 | 3 | 116.89 | BATMAN WHO LAUGHS #4 | $4.99 | DC COMICS |
| 4 | 7 | 101.85 | IMMORTAL HULK #16 | $3.99 | MARVEL COMICS |
| 5 | 8 | 100.00 | BATMAN #69 | $3.99 | DC COMICS |
| 6 | 9 | 98.75 | BATMAN #68 | $3.99 | DC COMICS |
| 7 | 6 | 91.76 | THANOS #1 | $4.99 | MARVEL COMICS |
| 8 | 12 | 89.68 | HEROES IN CRISIS #8 | $3.99 | DC COMICS |
| 9 | 5 | 87.66 | WEB OF VENOM CULT OF CARNAGE #1 | $4.99 | MARVEL COMICS |
| 10 | 11 | 86.73 | AMAZING SPIDER-MAN #20 | $3.99 | MARVEL COMICS |
| 11 | 13 | 83.48 | AMAZING SPIDER-MAN #19 | $3.99 | MARVEL COMICS |
| 12 | 10 | 79.74 | WAR OF REALMS #2 | $4.99 | MARVEL COMICS |
| 13 | 14 | 75.27 | DETECTIVE COMICS #1001 | $3.99 | DC COMICS |
| 14 | 15 | 68.81 | DETECTIVE COMICS #1002 | $3.99 | DC COMICS |
| 15 | 17 | 63.26 | JUSTICE LEAGUE #22 | $3.99 | DC COMICS |
| 16 | 18 | 62.31 | JUSTICE LEAGUE #21 | $3.99 | DC COMICS |
| 17 | 19 | 62.31 | AVENGERS #18 | $3.99 | MARVEL COMICS |
| 18 | 20 | 58.78 | VENOM #13 | $3.99 | MARVEL COMICS |
| 19 | 21 | 58.73 | AMAZING SPIDER-MAN #18.HU | $3.99 | MARVEL COMICS |
| 20 | 22 | 58.46 | AMAZING SPIDER-MAN #19.HU | $3.99 | MARVEL COMICS |
| 21 | 23 | 57.60 | FANTASTIC FOUR #9 | $3.99 | MARVEL COMICS |
| 22 | 24 | 55.55 | GREEN LANTERN #6 | $3.99 | DC COMICS |
| 23 | 25 | 55.04 | SUPERMAN #10 | $3.99 | DC COMICS |
| 24 | 26 | 54.32 | UNCANNY X-MEN #15 | $3.99 | MARVEL COMICS |
| 25 | 27 | 54.32 | UNCANNY X-MEN #16 | $3.99 | MARVEL COMICS |
| 26 | 4 | 51.58 | DETECTIVE COMICS #1000 | $9.99 | DC COMICS |
| 27 | 29 | 48.68 | STAR WARS #64 | $3.99 | MARVEL COMICS |
| 28 | 16 | 48.58 | MAJOR X #1 | $4.99 | MARVEL COMICS |
| 29 | 60 | 48.53 | SPIDER-MAN CITY AT WAR #2 | $3.99 | MARVEL COMICS |
| 30 | 31 | 47.73 | ACTION COMICS #1010 | $3.99 | DC COMICS |
| 31 | 30 | 47.57 | WALKING DEAD #190 (MR) | $3.99 | IMAGE COMICS |
| 32 | 32 | 46.98 | GUARDIANS OF THE GALAXY #4 | $3.99 | MARVEL COMICS |
| 33 | 33 | 46.08 | CATWOMAN #10 | $3.99 | DC COMICS |
| 34 | 34 | 46.01 | THOR #12 | $3.99 | MARVEL COMICS |
| 35 | 74 | 44.99 | MARVEL TEAM-UP #1 | $3.99 | MARVEL COMICS |
| 36 | 28 | 43.46 | SPIDER-MAN LIFE STORY #2 | $4.99 | MARVEL COMICS |
| 37 | 36 | 42.93 | FLASH #68 | $3.99 | DC COMICS |
| 38 | 39 | 42.91 | CAPTAIN AMERICA #9 | $3.99 | MARVEL COMICS |
| 39 | 37 | 42.49 | WONDER WOMAN #68 | $3.99 | DC COMICS |
| 40 | 38 | 42.28 | FLASH #69 | $3.99 | DC COMICS |
| 41 | 41 | 40.81 | CONAN THE BARBARIAN #5 | $3.99 | MARVEL COMICS |
| 42 | 42 | 39.46 | WONDER WOMAN #69 | $3.99 | DC COMICS |
| 43 | 43 | 38.86 | STAR WARS VADER DARK VISIONS #3 | $3.99 | MARVEL COMICS |
| 44 | 75 | 38.77 | SPAWN #296 | $2.99 | IMAGE COMICS |
| 45 | 44 | 38.17 | STAR WARS AOR PRINCESS LEIA #1 | $3.99 | MARVEL COMICS |
| 46 | 46 | 37.64 | DAREDEVIL #4 | $3.99 | MARVEL COMICS |
| 47 | 45 | 37.43 | DEADPOOL #11 | $3.99 | MARVEL COMICS |
| 48 | 48 | 36.81 | COSMIC GHOST RIDER DESTROYS MARVEL HISTORY #2 | $3.99 | MARVEL COMICS |
| 49 | 47 | 36.59 | JUSTICE LEAGUE DARK #10 | $3.99 | DC COMICS |
| 50 | 35 | 36.21 | AVENGERS NO ROAD HOME #10 | $4.99 | MARVEL COMICS |
| 51 | 50 | 36.02 | WAR OF REALMS UNCANNY X-MEN #1 | $3.99 | MARVEL COMICS |
| 52 | 51 | 35.32 | YOUNG JUSTICE #4 | $3.99 | DC COMICS |
| 53 | 52 | 35.15 | AVENGERS NO ROAD HOME #9 | $3.99 | MARVEL COMICS |
| 54 | 54 | 34.85 | STAR WARS TIE FIGHTER #1 | $3.99 | MARVEL COMICS |
| 55 | 55 | 34.74 | WAR OF REALMS JOURNEY INTO MYSTERY #1 | $3.99 | MARVEL COMICS |
| 56 | 56 | 34.46 | AVENGERS NO ROAD HOME #8 | $3.99 | MARVEL COMICS |
| 57 | 57 | 33.98 | STAR WARS GALAXYS EDGE #1 | $3.99 | MARVEL COMICS |
| 58 | 40 | 33.07 | STAR WARS AGE REBELLION SPECIAL #1 | $4.99 | MARVEL COMICS |
| 59 | 59 | 32.89 | TONY STARK IRON MAN #10 | $3.99 | MARVEL COMICS |
| 60 | 58 | 32.67 | HARLEY QUINN #60 | $3.99 | DC COMICS |
| 61 | 62 | 32.02 | MILES MORALES SPIDER-MAN #5 | $3.99 | MARVEL COMICS |
| 62 | 61 | 31.88 | BATGIRL #34 | $3.99 | DC COMICS |
| 63 | 63 | 31.75 | MAJOR X #2 | $3.99 | MARVEL COMICS |
| 64 | 64 | 31.27 | WOLVERINE INFINITY WATCH #3 | $3.99 | MARVEL COMICS |
| 65 | 67 | 31.12 | STAR WARS AOR GRAND MOFF TARKIN #1 | $3.99 | MARVEL COMICS |
| 66 | 68 | 30.97 | WAR OF REALMS PUNISHER #1 | $3.99 | MARVEL COMICS |
| 67 | 69 | 30.93 | CAPTAIN MARVEL #4 | $3.99 | MARVEL COMICS |
| 68 | 70 | 30.74 | SAVAGE SWORD OF CONAN #4 | $3.99 | MARVEL COMICS |
| 69 | 71 | 30.68 | DEAD MAN LOGAN #6 | $3.99 | MARVEL COMICS |
| 70 | 66 | 30.61 | TEEN TITANS #29 | $3.99 | DC COMICS |
| 71 | 73 | 30.07 | SUPERIOR SPIDER-MAN #5 | $3.99 | MARVEL COMICS |
| 72 | 77 | 29.69 | FRIENDLY NEIGHBORHOOD SPIDER-MAN #5 | $3.99 | MARVEL COMICS |
| 73 | 114 | 29.52 | MAGNIFICENT MS MARVEL #2 | $3.99 | MARVEL COMICS |
| 74 | 78 | 29.46 | DOCTOR STRANGE #13 | $3.99 | MARVEL COMICS |
| 75 | 76 | 29.38 | DEATHSTROKE #42 | $3.99 | DC COMICS |
| 76 | 49 | 28.93 | HULKVERINES #3 | $4.99 | MARVEL COMICS |
| 77 | 79 | 28.69 | AQUAMAN #47 | $3.99 | DC COMICS |
| 78 | 65 | 27.89 | BUFFY THE VAMPIRE SLAYER #4 | $3.99 | BOOM! STUDIOS |
| 79 | 53 | 27.88 | WAR OF REALMS WAR SCROLLS #1 | $4.99 | MARVEL COMICS |
| 80 | 81 | 27.87 | RED HOOD OUTLAW #33 | $3.99 | DC COMICS |
| 81 | 82 | 27.83 | NIGHTWING #59 | $3.99 | DC COMICS |
| 82 | 83 | 27.38 | X-23 #11 | $3.99 | MARVEL COMICS |
| 83 | 72 | 27.01 | ASCENDER #1 (MR) [*] | $3.99 | IMAGE COMICS |
| 84 | 85 | 26.92 | SPIDER-GWEN GHOST SPIDER #7 | $3.99 | MARVEL COMICS |
| 85 | 87 | 26.65 | X-FORCE #6 | $3.99 | MARVEL COMICS |
| 86 | 84 | 26.50 | JUSTICE LEAGUE ODYSSEY #8 | $3.99 | DC COMICS |
| 87 | 88 | 26.26 | AMAZING SPIDER-MAN #252 FACSIMILE EDITION | $3.99 | MARVEL COMICS |
| 88 | 80 | 25.94 | FIREFLY #5 | $3.99 | BOOM! STUDIOS |
| 89 | 89 | 25.79 | PUNISHER #10 | $3.99 | MARVEL COMICS |
| 90 | 90 | 24.83 | STAR WARS DOCTOR APHRA #31 | $3.99 | MARVEL COMICS |
| 91 | 91 | 24.19 | TITANS #36 | $3.99 | DC COMICS |
| 92 | 92 | 23.20 | BLACK PANTHER #11 | $3.99 | MARVEL COMICS |
| 93 | 93 | 23.18 | AGE OF CONAN BELIT #2 | $3.99 | MARVEL COMICS |
| 94 | 94 | 22.05 | SUPERGIRL #29 | $3.99 | DC COMICS |
| 95 | 96 | 21.99 | ASGARDIANS OF THE GALAXY #8 WR | $3.99 | MARVEL COMICS |
| 96 | 99 | 21.98 | DIE #5 (MR) | $3.99 | IMAGE COMICS |
| 97 | 95 | 21.75 | NAOMI #4 | $3.99 | DC COMICS |
| 98 | 100 | 21.39 | DOMINO HOTSHOTS #2 | $3.99 | MARVEL COMICS |
| 99 | 97 | 21.26 | OBLIVION SONG BY KIRKMAN & DE FELICI #14 (MR) | $3.99 | IMAGE COMICS |
| 100 | 98 | 21.13 | PUNK MAMBO #1 [*] | $3.99 | VALIANT ENTERTAINMENT LLC |
| 101 | 101 | 20.95 | ADVENTURES OF THE SUPER SONS #9 | $3.99 | DC COMICS |
| 102 | 104 | 20.75 | AVENGERS EDGE OF INFINITY #1 | $3.99 | MARVEL COMICS |
| 103 | 102 | 20.74 | HAWKMAN #11 | $3.99 | DC COMICS |
| 104 | 103 | 20.59 | PAPER GIRLS #27 | $3.99 | IMAGE COMICS |
| 105 | 254 | 20.55 | TRUE BELIEVERS AVENGERS THANOS VS MARVEL UNIVERSE#1 | $1.00 | MARVEL COMICS |
| 106 | 107 | 20.39 | AGE OF X-MAN MARVELOUS X-MEN #3 | $3.99 | MARVEL COMICS |
| 107 | 108 | 20.18 | AGE OF X-MAN PRISONER X #2 | $3.99 | MARVEL COMICS |
| 108 | 110 | 19.89 | SPIDER-MAN DEADPOOL #49 | $3.99 | MARVEL COMICS |
| 109 | 111 | 19.49 | BATMAN BEYOND #31 | $3.99 | DC COMICS |
| 110 | 115 | 19.46 | AGE OF X-MAN APOCALYPSE AND X-TRACTS #2 | $3.99 | MARVEL COMICS |
| 111 | 113 | 19.12 | WONDER TWINS #3 | $3.99 | DC COMICS |
| 112 | 117 | 18.69 | AGE OF X-MAN AMAZING NIGHTCRAWLER #3 | $3.99 | MARVEL COMICS |
| 113 | 118 | 18.66 | OLD MAN QUILL #4 | $3.99 | MARVEL COMICS |
| 114 | 119 | 18.56 | INVADERS #4 | $3.99 | MARVEL COMICS |
| 115 | 106 | 18.40 | MARVEL ACTION BLACK PANTHER #1 [*] | $3.99 | IDW PUBLISHING |
| 116 | 120 | 18.39 | WOLVERINE LONG NIGHT ADAPTATION #4 | $3.99 | MARVEL COMICS |
| 117 | 105 | 18.39 | FAITHLESS #1 (MR) | $3.99 | BOOM! STUDIOS |
| 118 | 121 | 18.30 | CHAMPIONS #4 | $3.99 | MARVEL COMICS |
| 119 | 122 | 18.08 | AGE OF X-MAN X-TREMISTS #3 | $3.99 | MARVEL COMICS |
| 120 | 123 | 18.03 | AGE OF X-MAN NEXTGEN #3 | $3.99 | MARVEL COMICS |
| 121 | 281 | 17.66 | TRUE BELIEVERS AVENGERS THANOS FINAL BATTLE #1 | $1.00 | MARVEL COMICS |
| 122 | 124 | 17.62 | MR AND MRS X #10 | $3.99 | MARVEL COMICS |
| 123 | 125 | 17.20 | GIDEON FALLS #12 (MR) | $3.99 | IMAGE COMICS |
| 124 | 297 | 16.74 | TRUE BELIEVERS AVENGERS ENDGAME #1 | $1.00 | MARVEL COMICS |
| 125 | 126 | 16.46 | TERRIFICS #15 | $3.99 | DC COMICS |
| 126 | 300 | 16.39 | TRUE BELIEVERS STAR WARS ORIGINAL MARVEL YEARS #107 | $1.00 | MARVEL COMICS |
| 127 | 128 | 16.25 | DREAMING #8 (MR) | $3.99 | DC COMICS |
| 128 | 131 | 15.87 | CRIMINAL #4 (MR) | $3.99 | IMAGE COMICS |
| 129 | 305 | 15.79 | TRUE BELIEVERS AVENGERS ROCKET RACCOON #1 | $1.00 | MARVEL COMICS |
| 130 | 112 | 15.78 | MARVEL COMICS PRESENTS #4 | $4.99 | MARVEL COMICS |
| 131 | 134 | 15.32 | LITTLE BIRD #2 (MR) | $3.99 | IMAGE COMICS |
| 132 | 137 | 15.18 | BLACK WIDOW #4 | $3.99 | MARVEL COMICS |
| 133 | 139 | 14.95 | WEST COAST AVENGERS #10 | $3.99 | MARVEL COMICS |
| 134 | 319 | 14.93 | TRUE BELIEVERS AVENGERS FOREVER #1 | $1.00 | MARVEL COMICS |
| 135 | 318 | 14.87 | TRUE BELIEVERS STAR WARS DARTH VADER #1 | $1.00 | MARVEL COMICS |
| 136 | 130 | 14.62 | RED SONJA #3 | $3.99 | DYNAMITE |
| 137 | 127 | 14.60 | PRODIGY #5 (MR) [*] | $3.99 | IMAGE COMICS |
| 138 | 141 | 14.54 | DIAL H FOR HERO #2 | $3.99 | DC COMICS |
| 139 | 140 | 14.43 | FAIRLADY #1 | $3.99 | IMAGE COMICS |
| 140 | 129 | 14.29 | STAR TREK YEAR FIVE #1 [*] | $3.99 | IDW PUBLISHING |
| 141 | 143 | 14.27 | FREEDOM FIGHTERS #5 | $3.99 | DC COMICS |
| 142 | 109 | 14.21 | FAITHLESS #1 LOTAY EROTICA VAR (MR) | $4.99 | BOOM! STUDIOS |
| 143 | 144 | 14.12 | BOOKS OF MAGIC #7 (MR) | $3.99 | DC COMICS |
| 144 | 330 | 14.07 | TRUE BELIEVERS AVENGERS THANOS AND GAMORA #1 | $1.00 | MARVEL COMICS |
| 145 | 147 | 13.88 | STAR WARS SOLO ADAPTATION #7 | $3.99 | MARVEL COMICS |
| 146 | 336 | 13.79 | TRUE BELIEVERS AVENGERS STORMBREAKER #1 | $1.00 | MARVEL COMICS |
| 147 | 135 | 13.79 | MIGHTY MORPHIN POWER RANGERS #38 | $3.99 | BOOM! STUDIOS |
| 148 | 149 | 13.66 | WINTER SOLDIER #5 | $3.99 | MARVEL COMICS |
| 149 | 146 | 13.66 | LUCIFER #7 (MR) | $3.99 | DC COMICS |
| 150 | 133 | 13.63 | NEIL GAIMAN AMERICAN GODS MOMENT OF STORM #1 (MR) [*] | $3.99 | DARK HORSE COMICS |
| 151 | 148 | 13.52 | HIT-GIRL SEASON TWO #3 (MR) | $3.99 | IMAGE COMICS |
| 152 | 136 | 13.51 | SHARKEY BOUNTY HUNTER #3 (MR) [*] | $3.99 | IMAGE COMICS |
| 153 | 338 | 13.49 | TRUE BELIEVERS STAR WARS SKYWALKER STRIKES #1 | $1.00 | MARVEL COMICS |
| 154 | 86 | 13.35 | MARVEL TALES THANOS #1 | $7.99 | MARVEL COMICS |
| 154 | 145 | 13.35 | TMNT ONGOING #93 | $3.99 | IDW PUBLISHING |
| 156 | 151 | 13.30 | SHURI #7 | $3.99 | MARVEL COMICS |
| 157 | 142 | 13.19 | JUGHEAD HUNGER VS VAMPIRONICA #1 (MR) | $3.99 | ARCHIE COMIC PUBLICATIONS |
| 158 | 341 | 13.03 | TRUE BELIEVERS AVENGERS NEBULA #1 | $1.00 | MARVEL COMICS |
| 159 | 152 | 12.89 | KICK-ASS #13 (MR) | $3.99 | IMAGE COMICS |
| 160 | 154 | 12.81 | MIDDLEWEST #6 (MR) | $3.99 | IMAGE COMICS |
| 160 | 138 | 12.81 | TRANSFORMERS #3 [*] | $3.99 | IDW PUBLISHING |
| 162 | 155 | 12.80 | WILD STORM #22 | $3.99 | DC COMICS |
| 163 | 156 | 12.66 | IRONHEART #5 | $3.99 | MARVEL COMICS |
| 164 | 349 | 12.65 | TRUE BELIEVERS AVENGERS GATHERERS SAGA #1 | $1.00 | MARVEL COMICS |
| 165 | 157 | 12.38 | EAST OF WEST #42 | $3.99 | IMAGE COMICS |
| 166 | 158 | 12.35 | FEMALE FURIES #3 | $3.99 | DC COMICS |
| 167 | 355 | 12.05 | TRUE BELIEVERS AVENGERS RONIN #1 | $1.00 | MARVEL COMICS |
| 168 | 161 | 11.66 | SCOOBY APOCALYPSE #36 | $3.99 | DC COMICS |
| 169 | 160 | 11.61 | SECTION ZERO #1 | $3.99 | IMAGE COMICS |
| 170 | 165 | 11.50 | UNBEATABLE SQUIRREL GIRL #43 | $3.99 | MARVEL COMICS |
| 171 | 164 | 11.45 | HOUSE OF WHISPERS #8 (MR) | $3.99 | DC COMICS |
| 172 | 132 | 11.42 | BATMAN WHO LAUGHS #1 | $4.99 | DC COMICS |
| 173 | 166 | 11.39 | MEET THE SKRULLS #3 | $3.99 | MARVEL COMICS |
| 174 | 189 | 10.96 | ASSASSIN NATION #2 (MR) | $3.99 | IMAGE COMICS |
| 175 | 159 | 10.83 | RICK & MORTY #49 | $3.99 | ONI PRESS INC. |
| 176 | 167 | 10.73 | BLACK HAMMER 45 FROM WORLD OF BLACK HAMMER #2 | $3.99 | DARK HORSE COMICS |
| 177 | 171 | 10.70 | MARVEL RISING #2 | $3.99 | MARVEL COMICS |
| 178 | 162 | 10.65 | RONIN ISLAND #2 | $3.99 | BOOM! STUDIOS |
| 179 | 170 | 10.62 | PEARL #8 (MR) | $3.99 | DC COMICS |
| 180 | 163 | 10.53 | XENA WARRIOR PRINCESS #1 | $3.99 | DYNAMITE |
| 181 | 379 | 10.53 | TRUE BELIEVERS STAR WARS ASHES OF JEDHA #1 | $1.00 | MARVEL COMICS |
| 182 | 176 | 10.43 | SPIDER-MAN FAR FROM HOME PRELUDE #2 | $3.99 | MARVEL COMICS |
| 183 | 177 | 10.42 | RUNAWAYS #20 | $3.99 | MARVEL COMICS |
| 184 | 173 | 10.35 | ALIENS RESISTANCE #3 | $3.99 | DARK HORSE COMICS |
| 185 | 153 | 10.31 | SUICIDE SQUAD BLACK FILES #6 | $4.99 | DC COMICS |
| 186 | 180 | 10.05 | WICKED & DIVINE #43 (MR) | $3.99 | IMAGE COMICS |
| 187 | 172 | 9.93 | STAR WARS ADVENTURES #20 | $3.99 | IDW PUBLISHING |
| 188 | 181 | 9.81 | FIGHT CLUB 3 #4 (MR) | $3.99 | DARK HORSE COMICS |
| 189 | 168 | 9.76 | GO GO POWER RANGERS #19 | $3.99 | BOOM! STUDIOS |
| 190 | 183 | 9.64 | FARMHAND #7 (MR) | $3.99 | IMAGE COMICS |
| 191 | 116 | 9.55 | MIGHTY THOR 3D #1 POLYBAGGED | $7.99 | MARVEL COMICS |
| 192 | 187 | 9.32 | DAMAGE #16 | $3.99 | DC COMICS |
| 193 | 188 | 9.32 | LOW #21 (MR) | $3.99 | IMAGE COMICS |
| 194 | 175 | 9.23 | INVISIBLE KINGDOM #2 [*] | $3.99 | DARK HORSE COMICS |
| 195 | 179 | 9.22 | ELVIRA SHAPE OF ELVIRA #2 | $3.99 | DYNAMITE |
| 196 | 185 | 8.93 | STAR TREK Q CONFLICT #3 | $3.99 | IDW PUBLISHING |
| 197 | 192 | 8.91 | SILENCER #16 | $3.99 | DC COMICS |
| 198 | 333 | 8.89 | BRONZE AGE BOOGIE #1 | $3.99 | AHOY COMICS |
| 199 | 197 | 8.76 | WONDER WOMAN #67 | $3.99 | DC COMICS |
| 200 | 150 | 8.69 | WHITE WIDOW #1 | $4.99 | RED GIANT ENTERTAINMENT |
| 201 | 186 | 8.54 | JIM HENSON STORYTELLER SIRENS #1 | $3.99 | BOOM! STUDIOS |
| 202 | 202 | 8.24 | MAN-EATERS #8 | $3.99 | IMAGE COMICS |
| 203 | 182 | 8.14 | MARY SHELLEY MONSTER HUNTER #1 [*] | $3.99 | AFTERSHOCK COMICS |
| 204 | 193 | 8.04 | DARK RED #2 | $3.99 | AFTERSHOCK COMICS |
| 205 | 205 | 7.96 | HIGH LEVEL #3 (MR) | $3.99 | DC COMICS |
| 206 | 207 | 7.93 | MSH ADVENTURES SPIDER-MAN WEB DESIGNERS #1 | $3.99 | MARVEL COMICS |
| 207 | 195 | 7.93 | BETTIE PAGE #3 | $3.99 | DYNAMITE |
| 208 | 203 | 7.72 | MAGIC THE GATHERING CHANDRA #2 | $3.99 | IDW PUBLISHING |
| 209 | 199 | 7.66 | X-O MANOWAR (2017) #26 | $3.99 | VALIANT ENTERTAINMENT LLC |
| 210 | 201 | 7.58 | BLOSSOMS 666 #3 | $3.99 | ARCHIE COMIC PUBLICATIONS |
| 211 | 208 | 7.27 | GI JOE A REAL AMERICAN HERO #260 | $3.99 | IDW PUBLISHING |
| 212 | 191 | 7.24 | BATMAN WHO LAUGHS #2 | $4.99 | DC COMICS |
| 213 | 209 | 7.18 | GI JOE A REAL AMERICAN HERO #261 | $3.99 | IDW PUBLISHING |
| 214 | 217 | 7.12 | RAT QUEENS SPEC SWAMP ROMP (ONE-SHOT) (MR) | $3.99 | IMAGE COMICS |
| 215 | 213 | 7.11 | DICK TRACY FOREVER #1 | $3.99 | IDW PUBLISHING |
| 216 | 218 | 7.07 | REDNECK #19 (MR) | $3.99 | IMAGE COMICS |
| 217 | 210 | 7.03 | BLOODSHOT RISING SPIRIT #6 | $3.99 | VALIANT ENTERTAINMENT LLC |
| 218 | 223 | 6.95 | MURDER FALCON #7 | $3.99 | IMAGE COMICS |
| 219 | 184 | 6.93 | ZOMBIE TRAMP ONGOING #58 (MR) | $4.99 | ACTION LAB – DANGER ZONE |
| 220 | 224 | 6.88 | NAOMI #1 | $3.99 | DC COMICS |
| 221 | 211 | 6.80 | KISS END #1 | $3.99 | DYNAMITE |
| 222 | 225 | 6.77 | BPRD DEVIL YOU KNOW #15 | $3.99 | DARK HORSE COMICS |
| 223 | 212 | 6.76 | JAMES BOND ORIGIN #8 | $3.99 | DYNAMITE |
| 224 | 215 | 6.69 | INVADER ZIM #42 | $3.99 | ONI PRESS INC. |
| 225 | 216 | 6.65 | VAMPIRELLA REANIMATOR #4 | $3.99 | DYNAMITE |
| 226 | 204 | 6.60 | BATMAN WHO LAUGHS #3 | $4.99 | DC COMICS |
| 227 | 206 | 6.51 | ELECTRIC BLACK #1 | $3.99 | SCOUT COMICS |
| 228 | 196 | 6.51 | QUEEN OF BAD DREAMS #1 (MR) [*] | $3.99 | VAULT COMICS |
| 229 | 219 | 6.49 | JAMES BOND 007 #6 | $3.99 | DYNAMITE |
| 230 | 232 | 6.43 | IMMORTAL HULK #2 | $3.99 | MARVEL COMICS |
| 231 | 221 | 6.42 | DOCTOR WHO 13TH #6 | $3.99 | TITAN COMICS |
| 232 | 194 | 6.41 | LIFE & DEATH OF TOYO HARADA #2 | $4.99 | VALIANT ENTERTAINMENT LLC |
| 233 | 233 | 6.29 | UNSTOPPABLE WASP #6 | $3.99 | MARVEL COMICS |
| 234 | 235 | 6.19 | MOON GIRL AND DEVIL DINOSAUR #42 | $3.99 | MARVEL COMICS |
| 235 | 226 | 6.09 | ROCKOS MODERN AFTERLIFE #1 | $3.99 | BOOM! STUDIOS |
| 236 | 237 | 6.07 | NAOMI #2 | $3.99 | DC COMICS |
| 237 | 228 | 6.00 | ROBOTECH #19 | $3.99 | TITAN COMICS |
| 238 | 229 | 5.98 | WALK THROUGH HELL #9 | $3.99 | AFTERSHOCK COMICS |
| 239 | 190 | 5.96 | LADY DEATH APOCALYPTIC ABYSS #2 (MR) | $4.99 | COFFIN COMICS |
| 240 | 241 | 5.84 | GODDESS MODE #5 (MR) | $3.99 | DC COMICS |
| 241 | 230 | 5.82 | INCURSION #3 | $3.99 | VALIANT ENTERTAINMENT LLC |
| 242 | 372 | 5.77 | RETURN OF WOLVERINE #1 | $4.99 | MARVEL COMICS |
| 243 | 242 | 5.76 | AMERICAN CARNAGE #6 (MR) | $3.99 | DC COMICS |
| 243 | 244 | 5.76 | NAOMI #3 | $3.99 | DC COMICS |
| 245 | 220 | 5.73 | DOOMSDAY CLOCK #1 | $4.99 | DC COMICS |
| 246 | 243 | 5.68 | REALM #13 (MR) | $3.99 | IMAGE COMICS |
| 247 | 246 | 5.65 | ELECTRIC WARRIORS #6 | $3.99 | DC COMICS |
| 248 | 247 | 5.64 | DISNEY INCREDIBLES 2 SECRET IDENTITIES #1 | $3.99 | DARK HORSE COMICS |
| 249 | 234 | 5.56 | ARMY OF DARKNESS BUBBA HOTEP #3 | $3.99 | DYNAMITE |
| 250 | 214 | 5.56 | GI JOE SIERRA MUERTE #3 | $4.99 | IDW PUBLISHING |
| 251 | 227 | 5.52 | ORPHAN AGE #1 | $3.99 | AFTERSHOCK COMICS |
| 252 | 238 | 5.47 | FORGOTTEN QUEEN #3 | $3.99 | VALIANT ENTERTAINMENT LLC |
| 253 | 236 | 5.47 | GHOST TREE #1 | $3.99 | IDW PUBLISHING |
| 254 | 240 | 5.37 | LIVEWIRE #5 | $3.99 | VALIANT ENTERTAINMENT LLC |
| 255 | 250 | 5.30 | OLIVER #3 | $3.99 | IMAGE COMICS |
| 256 | 245 | 5.28 | DUCKTALES #20 | $3.99 | IDW PUBLISHING |
| 257 | 284 | 5.19 | DIE #1 (MR) | $3.99 | IMAGE COMICS |
| 258 | 257 | 5.19 | IMMORTAL HULK #14 | $3.99 | MARVEL COMICS |
| 259 | 248 | 5.14 | GHOSTBUSTERS 35TH ANNIV GHOSTBUSTERS | $3.99 | IDW PUBLISHING |
| 260 | 231 | 5.13 | SHAZAM #1 | $4.99 | DC COMICS |
| 261 | 258 | 4.98 | OUTER DARKNESS #6 (MR) | $3.99 | IMAGE COMICS |
| 262 | 259 | 4.96 | WITCHBLADE #13 (MR) | $3.99 | IMAGE COMICS |
| 263 | 261 | 4.95 | SKYWARD #12 | $3.99 | IMAGE COMICS |
| 264 | 264 | 4.90 | PORT OF EARTH #9 | $3.99 | IMAGE COMICS |
| 265 | 316 | 4.89 | SCOOBY DOO WHERE ARE YOU #98 | $2.99 | DC COMICS |
| 266 | 169 | 4.86 | STAR TREK WAYPOINT SPECIAL 2019 | $7.99 | IDW PUBLISHING |
| 267 | 239 | 4.81 | DOOMSDAY CLOCK #2 | $4.99 | DC COMICS |
| 268 | 275 | 4.77 | IMMORTAL HULK #12 | $3.99 | MARVEL COMICS |
| 269 | 174 | 4.74 | MONSTER SIZED CHILLING ADVENTURES OF SABRINA #1 (MR) | $7.99 | ARCHIE COMIC PUBLICATIONS |
| 270 | 251 | 4.70 | SHE COULD FLY LOST PILOT #1 (MR) [*] | $3.99 | DARK HORSE COMICS |
| 271 | 271 | 4.68 | DISNEY FROZEN REUNION ROAD #2 | $3.99 | DARK HORSE COMICS |
| 272 | 278 | 4.65 | IMMORTAL HULK #15 | $3.99 | MARVEL COMICS |
| 273 | 274 | 4.61 | CURSE WORDS SPRING HAS SPRUNG SPEC (ONE-SHOT) | $3.99 | IMAGE COMICS |
| 274 | 269 | 4.53 | GHOSTBUSTERS 35TH ANNIV REAL GHOSTBUSTERS | $3.99 | IDW PUBLISHING |
| 275 | 266 | 4.46 | TUROK #3 | $3.99 | DYNAMITE |
| 276 | 265 | 4.45 | BLOODBORNE #11 (MR) | $3.99 | TITAN COMICS |
| 277 | 268 | 4.45 | BETTY & VERONICA #4 | $3.99 | ARCHIE COMIC PUBLICATIONS |
| 278 | 249 | 4.45 | OZ HEART OF MAGIC #1 | $3.99 | ZENESCOPE ENTERTAINMENT INC |
| 279 | 198 | 4.44 | DANGER GIRL DANGEROUS VISIONS 3-D | $6.99 | IDW PUBLISHING |
| 280 | 286 | 4.38 | IMMORTAL HULK #11 | $3.99 | MARVEL COMICS |
| 281 | 260 | 4.36 | DARK RED #1 | $3.99 | AFTERSHOCK COMICS |
| 282 | 276 | 4.35 | GHOSTBUSTERS 35TH ANNIV EXTREME GHOSTBUSTERS | $3.99 | IDW PUBLISHING |
| 283 | 288 | 4.34 | IMMORTAL HULK #10 | $3.99 | MARVEL COMICS |
| 284 | 289 | 4.32 | IMMORTAL HULK #9 | $3.99 | MARVEL COMICS |
| 285 | 272 | 4.31 | HACK SLASH VS CHAOS #4 (MR) | $3.99 | DYNAMITE |
| 286 | 290 | 4.30 | IMMORTAL HULK #6 | $3.99 | MARVEL COMICS |
| 287 | 292 | 4.27 | IMMORTAL HULK #4 | $3.99 | MARVEL COMICS |
| 288 | 293 | 4.25 | IMMORTAL HULK #8 | $3.99 | MARVEL COMICS |
| 289 | 253 | 4.22 | HELLCHILD BLOOD MONEY #1 | $3.99 | ZENESCOPE ENTERTAINMENT INC |
| 290 | 277 | 4.14 | SIX MILLION DOLLAR MAN #2 | $3.99 | DYNAMITE |
| 291 | 302 | 4.13 | IMMORTAL HULK #5 | $3.99 | MARVEL COMICS |
| 292 | 263 | 4.11 | GRIMM FAIRY TALES #27 | $3.99 | ZENESCOPE ENTERTAINMENT INC |
| 293 | 299 | 4.07 | SAVAGE DRAGON #243 (MR) | $3.99 | IMAGE COMICS |
| 294 | 262 | 4.03 | DOOMSDAY CLOCK #5 | $4.99 | DC COMICS |
| 295 | 285 | 4.01 | GHOSTBUSTERS 35TH ANNIV ANSWER CALL GHOSTBUSTERS | $3.99 | IDW PUBLISHING |
| 296 | 287 | 4.01 | AMBER BLAKE #1 | $3.99 | IDW PUBLISHING |
| 297 | 279 | 3.98 | CODA #11 | $3.99 | BOOM! STUDIOS |
| 298 | 267 | 3.98 | DOOMSDAY CLOCK #6 | $4.99 | DC COMICS |
| 299 | 280 | 3.97 | RIVERDALE SEASON 3 #2 | $3.99 | ARCHIE COMIC PUBLICATIONS |
| 300 | 270 | 3.93 | DOOMSDAY CLOCK #7 | $4.99 | DC COMICS |
| 301 | 273 | 3.92 | LIFE & DEATH OF TOYO HARADA #1 | $4.99 | VALIANT ENTERTAINMENT LLC |
| 302 | 313 | 3.81 | HEROES IN CRISIS #4 | $3.99 | DC COMICS |
| 303 | 317 | 3.77 | HEROES IN CRISIS #3 | $3.99 | DC COMICS |
| 304 | 296 | 3.77 | PETER CANNON THUNDERBOLT #4 | $3.99 | DYNAMITE |
| 305 | 301 | 3.77 | UNCLE SCROOGE #43 | $3.99 | IDW PUBLISHING |
| 306 | 310 | 3.75 | GIRL IN THE BAY #3 (MR) | $3.99 | DARK HORSE COMICS |
| 307 | 294 | 3.73 | STEVEN UNIVERSE ONGOING #27 | $3.99 | BOOM! STUDIOS |
| 308 | 315 | 3.70 | SELF MADE #5 (MR) | $3.99 | IMAGE COMICS |
| 309 | 325 | 3.69 | HEROES IN CRISIS #2 | $3.99 | DC COMICS |
| 309 | 304 | 3.69 | TANGLED THE SERIES HAIR & NOW #1 | $3.99 | IDW PUBLISHING |
| 311 | 255 | 3.66 | VAMPBLADE SEASON 3 #12 (MR) | $4.99 | ACTION LAB – DANGER ZONE |
| 312 | 303 | 3.65 | ANIMOSITY #20 (MR) | $3.99 | AFTERSHOCK COMICS |
| 313 | 283 | 3.58 | NIGHTMARE BEFORE CHRISTMAS ZEROS JOURNEY #8 | $3.99 | TOKYOPOP |
| 314 | 320 | 3.58 | WITCHER #4 OF FLESH & FLAME | $3.99 | DARK HORSE COMICS |
| 315 | 326 | 3.55 | HARDCORE #5 (MR) | $3.99 | IMAGE COMICS |
| 316 | 345 | 3.54 | DIE #2 (MR) | $3.99 | IMAGE COMICS |
| 317 | 308 | 3.49 | ADVENTURE TIME MARCY & SIMON #4 | $3.99 | BOOM! STUDIOS |
| 318 | 331 | 3.47 | REDLANDS #12 (MR) | $3.99 | IMAGE COMICS |
| 319 | 334 | 3.44 | RUMBLE #11 (MR) | $3.99 | IMAGE COMICS |
| 320 | 314 | 3.41 | BLACK BADGE #9 | $3.99 | BOOM! STUDIOS |
| 321 | 298 | 3.41 | STREET FIGHTER WRESTLEPALOOZA #1 | $3.99 | UDON ENTERTAINMENT INC |
| 322 | 337 | 3.37 | INFINITE DARK #5 | $3.99 | IMAGE COMICS |
| 323 | 354 | 3.34 | DIE #3 (MR) | $3.99 | IMAGE COMICS |
| 324 | 346 | 3.27 | AVENGERS NO ROAD HOME #5 | $3.99 | MARVEL COMICS |
| 325 | 343 | 3.21 | SHAZAM #2 | $3.99 | DC COMICS |
| 326 | 306 | 3.20 | ROBYN HOOD OUTLAW #3 | $3.99 | ZENESCOPE ENTERTAINMENT INC |
| 327 | 309 | 3.16 | SPIDER-MAN LIFE STORY #1 | $4.99 | MARVEL COMICS |
| 328 | 311 | 3.14 | VAN HELSING SWORD OF HEAVEN #6 (MR) | $3.99 | ZENESCOPE ENTERTAINMENT INC |
| 329 | 312 | 3.10 | NIGHTMARE BEFORE CHRISTMAS ZEROS JOURNEY #9 | $3.99 | TOKYOPOP |
| 330 | 322 | 3.02 | GRETEL #2 (MR) | $3.99 | ZENESCOPE ENTERTAINMENT INC |
| 331 | 339 | 3.02 | STRONGHOLD #3 | $3.99 | AFTERSHOCK COMICS |
| 332 | 295 | 2.99 | VAMPBLADE SEASON 3 #11 (MR) | $4.99 | ACTION LAB – DANGER ZONE |
| 333 | 329 | 2.92 | PLANET OF THE NERDS #1 | $3.99 | AHOY COMICS |
| 334 | 342 | 2.92 | LUMBERJANES #61 | $3.99 | BOOM! STUDIOS |
| 334 | 222 | 2.92 | MEGA MAN MASTERMIX #4 | $7.99 | UDON ENTERTAINMENT INC |
| 336 | 358 | 2.91 | CALAMITY KATE #2 | $3.99 | DARK HORSE COMICS |
| 336 | 361 | 2.91 | LITTLE BIRD #1 (MR) | $3.99 | IMAGE COMICS |
| 338 | 344 | 2.89 | EMPTY MAN #6 | $3.99 | BOOM! STUDIOS |
| 339 | 363 | 2.85 | ASTRO HUSTLE #2 | $3.99 | DARK HORSE COMICS |
| 340 | 335 | 2.84 | GUARDIANS OF THE GALAXY #1 | $4.99 | MARVEL COMICS |
| 341 | 362 | 2.83 | ANTHEM #2 | $3.99 | DARK HORSE COMICS |
| 342 | 370 | 2.82 | GUARDIANS OF THE GALAXY #2 | $3.99 | MARVEL COMICS |
| 343 | 353 | 2.81 | AMBER BLAKE #2 | $3.99 | IDW PUBLISHING |
| 344 | 373 | 2.79 | COSMIC GHOST RIDER DESTROYS MARVEL HISTORY #1 | $3.99 | MARVEL COMICS |
| 345 | 351 | 2.79 | LODGER #4 | $3.99 | IDW PUBLISHING |
| 346 | 374 | 2.77 | VENOM #11 | $3.99 | MARVEL COMICS |
| 347 | 200 | 2.75 | WHITE WIDOW #1 CVR C | $9.99 | RED GIANT ENTERTAINMENT |
| 348 | 375 | 2.75 | AMAZING SPIDER-MAN #16.HU | $3.99 | MARVEL COMICS |
| 349 | 352 | 2.75 | FATHOM VOL 7 #8 | $3.99 | ASPEN MLT INC |
| 350 | 367 | 2.74 | BAD LUCK CHUCK #2 | $3.99 | DARK HORSE COMICS |
| 351 | 368 | 2.74 | WARNING #6 (MR) | $3.99 | IMAGE COMICS |
| 352 | 366 | 2.73 | HALO LONE WOLF #4 | $3.99 | DARK HORSE COMICS |
| 353 | 359 | 2.64 | COLD BLOOD SAMURAI #1 | $3.99 | ACTION LAB ENTERTAINMENT |
| 354 | 360 | 2.64 | OBEY ME #1 (MR) | $3.99 | DYNAMITE |
| 355 | 378 | 2.60 | GUNNING FOR HITS #4 (MR) | $3.99 | IMAGE COMICS |
| 356 | 382 | 2.59 | DAREDEVIL #2 | $3.99 | MARVEL COMICS |
| 357 | 364 | 2.59 | RELAY #5 | $3.99 | AFTERSHOCK COMICS |
| 358 | 328 | 2.57 | TMNT SHREDDER IN HELL #1 DIRECTORS CUT | $4.99 | IDW PUBLISHING |
| 359 | 380 | 2.56 | ECLIPSE #14 | $3.99 | IMAGE COMICS |
| 360 | 350 | 2.55 | AMAZING SPIDER-MAN #17 | $4.99 | MARVEL COMICS |
| 361 | 307 | 2.55 | ZODIAC #3 | $4.99 | ZENESCOPE ENTERTAINMENT INC |
| 362 | 371 | 2.49 | OBERON #3 | $3.99 | AFTERSHOCK COMICS |
| 363 | 356 | 2.46 | ACHILLES INC #1 (MR) | $3.99 | SOURCE POINT PRESS |
| 364 | 357 | 2.44 | AMAZING SPIDER-MAN #16 | $4.99 | MARVEL COMICS |
| 365 | 386 | 2.41 | VINDICATION #3 (MR) | $3.99 | IMAGE COMICS |
| 366 | 377 | 2.38 | MOON MAID #1 | $3.99 | AMERICAN MYTHOLOGY PRODUCTIONS |
| 367 | 388 | 2.35 | SAVAGE SWORD OF CONAN #2 | $3.99 | MARVEL COMICS |
| 368 | 365 | 2.32 | NEON FUTURE #2 (MR) | $3.99 | IMPACT THEORY, LLC |
| 369 | 547 | 2.31 | X-O MANOWAR (2017) #1 DOLLAR DEBUT | $1.00 | VALIANT ENTERTAINMENT LLC |
| 370 | 548 | 2.30 | DIVINITY #1 DOLLAR DEBUT | $1.00 | VALIANT ENTERTAINMENT LLC |
| 371 | 369 | 2.29 | AVENGERS NO ROAD HOME #6 | $4.99 | MARVEL COMICS |
| 371 | 291 | 2.29 | STILETTO #1 OFFICER DOWN [*] | $5.99 | LION FORGE |
| 373 | 348 | 2.26 | BLACK BETTY #8 (MR) | $4.99 | ACTION LAB – DANGER ZONE |
| 374 | 391 | 2.25 | OUTPOST ZERO #9 | $3.99 | IMAGE COMICS |
| 375 | 385 | 2.22 | MORNING IN AMERICA #2 | $3.99 | ONI PRESS INC. |
| 376 | 376 | 2.21 | RISE #2 | $3.99 | SCOUT COMICS |
| 377 | 323 | 2.20 | DISNEY AFTERNOON GIANT #4 | $5.99 | IDW PUBLISHING |
| 378 | 396 | 2.17 | WOLVERINE INFINITY WATCH #1 | $3.99 | MARVEL COMICS |
| 379 | 397 | 2.09 | TOM CLANCYS DIVISION EXTREMIS MALIS #3 | $3.99 | DARK HORSE COMICS |
| 380 | 398 | 2.09 | DIE #4 (MR) | $3.99 | IMAGE COMICS |
| 381 | 496 | 2.09 | FANTASTIC FOUR #1 | $5.99 | MARVEL COMICS |
| 382 | 384 | 2.06 | SOURCE #3 | $3.99 | SCOUT COMICS |
| 383 | 383 | 2.05 | DAREDEVIL #1 | $4.99 | MARVEL COMICS |
| 383 | 393 | 2.05 | GIANT DAYS #49 | $3.99 | BOOM! STUDIOS |
| 385 | 394 | 2.04 | DEAD KINGS #4 | $3.99 | AFTERSHOCK COMICS |
| 386 | 402 | 2.02 | EVOLUTION #16 (MR) | $3.99 | IMAGE COMICS |
| 387 | 403 | 1.95 | UMBRELLA ACADEMY HOTEL OBLIVION #1 | $3.99 | DARK HORSE COMICS |
| 388 | 387 | 1.95 | KNIGHTS OF THE GOLDEN SUN #6 | $3.99 | MAD CAVE STUDIOS |
| 389 | 406 | 1.93 | UMBRELLA ACADEMY HOTEL OBLIVION #5 | $3.99 | DARK HORSE COMICS |
| 390 | 502 | 1.90 | BLOOD REALM VOL 2 #1 (MR) | $1.50 | ALTERNA COMICS |
| 391 | 410 | 1.90 | AVENGERS NO ROAD HOME #4 | $3.99 | MARVEL COMICS |
| 392 | 433 | 1.84 | BETTY & VERONICA FRIENDS FOREVER PETS | $2.99 | ARCHIE COMIC PUBLICATIONS |
| 393 | 256 | 1.83 | DITKO MONSTERS | $9.99 | IDW PUBLISHING |
| 394 | 411 | 1.83 | MILES MORALES SPIDER-MAN #3 | $3.99 | MARVEL COMICS |
| 395 | 408 | 1.82 | UMBRELLA ACADEMY HOTEL OBLIVION #4 | $3.99 | DARK HORSE COMICS |
| 396 | 404 | 1.81 | ATOMIC ROBO & DAWN OF NEW ERA #4 | $3.99 | IDW PUBLISHING |
| 396 | 413 | 1.81 | CONAN THE BARBARIAN #4 | $3.99 | MARVEL COMICS |
| 398 | 395 | 1.78 | CARSON OF VENUS FLAMES BEYOND #3 | $3.99 | AMERICAN MYTHOLOGY PRODUCTIONS |
| 399 | 400 | 1.72 | ZORRO SWORDS OF HELL #4 | $3.99 | AMERICAN MYTHOLOGY PRODUCTIONS |
| 400 | 399 | 1.72 | STAR WARS VADER DARK VISIONS #1 | $4.99 | MARVEL COMICS |
| 401 | 412 | 1.72 | UMBRELLA ACADEMY HOTEL OBLIVION #2 | $3.99 | DARK HORSE COMICS |
| 402 | 401 | 1.70 | UNCANNY X-MEN ANNUAL #1 | $4.99 | MARVEL COMICS |
| 403 | 407 | 1.70 | BETTIE PAGE DYNAMITE COVERS | $3.99 | DYNAMITE |
| 404 | 381 | 1.70 | MIRROR #10 | $5.99 | IMAGE COMICS |
| 405 | 321 | 1.65 | GIANT SUPER CEREBUS ANNUAL #1 | $8.00 | AARDVARK VANAHEIM |
| 406 | 422 | 1.64 | GASOLINA #17 (MR) | $3.99 | IMAGE COMICS |
| 407 | 327 | 1.62 | GIANTKILLERS | $7.99 | IDW PUBLISHING |
| 408 | 519 | 1.59 | AMAZING SPIDER-MAN #800 | $9.99 | MARVEL COMICS |
| 408 | 431 | 1.59 | INCREDIBLE HULK #181 FACSIMILE EDITION | $3.99 | MARVEL COMICS |
| 410 | 424 | 1.59 | UMBRELLA ACADEMY HOTEL OBLIVION #6 | $3.99 | DARK HORSE COMICS |
| 411 | 332 | 1.57 | REPLACER GRAPHIC NOVELLA | $7.99 | AFTERSHOCK COMICS |
| 412 | 421 | 1.55 | NIGHT MOVES #4 | $3.99 | IDW PUBLISHING |
| 413 | 417 | 1.55 | WIZARD BEACH #5 | $3.99 | BOOM! STUDIOS |
| 414 | 429 | 1.53 | JUSTICE LEAGUE #20 | $3.99 | DC COMICS |
| 415 | 420 | 1.52 | PUNKS NOT DEAD LONDON CALLING #3 | $3.99 | IDW PUBLISHING |
| 416 | 427 | 1.51 | STARCRAFT SOLDIERS #4 | $3.99 | DARK HORSE COMICS |
| 417 | 409 | 1.51 | HONOR AND CURSE #3 | $3.99 | MAD CAVE STUDIOS |
| 418 | 434 | 1.50 | LIGHTSTEP #5 | $3.99 | DARK HORSE COMICS |
| 419 | 532 | 1.47 | AMAZING SPIDER-MAN #1 | $5.99 | MARVEL COMICS |
| 420 | 425 | 1.46 | LOLLIPOP KIDS #5 | $3.99 | AFTERSHOCK COMICS |
| 421 | 414 | 1.44 | FEARSCAPE #5 (MR) | $3.99 | VAULT COMICS |
| 422 | 436 | 1.44 | AUNTIE AGATHAS HOME FOR WAYWARD RABBITS #6 | $3.99 | IMAGE COMICS |
| 423 | 444 | 1.43 | UNCANNY X-MEN #12 | $3.99 | MARVEL COMICS |
| 424 | 416 | 1.41 | ZORRO LEGENDARY ADVENTURES BOOK 2 #1 | $3.99 | AMERICAN MYTHOLOGY PRODUCTIONS |
| 425 | 440 | 1.41 | UMBRELLA ACADEMY HOTEL OBLIVION #3 | $3.99 | DARK HORSE COMICS |
| 426 | 418 | 1.40 | ROCKY BULLWINKLE BEST BORIS NATASHA #1 | $3.99 | AMERICAN MYTHOLOGY PRODUCTIONS |
| 427 | 419 | 1.40 | SINK #8 (MR) | $3.99 | COMIXTRIBE |
| 428 | 432 | 1.39 | BY NIGHT #10 | $3.99 | BOOM! STUDIOS |
| 429 | 390 | 1.38 | STILETTO #2 INSIDE JOB | $5.99 | LION FORGE |
| 430 | 541 | 1.38 | UNCANNY X-MEN #1 | $7.99 | MARVEL COMICS |
| 431 | 441 | 1.37 | DIE DIE DIE #7 (MR) | $3.99 | IMAGE COMICS |
| 432 | 552 | 1.36 | ACTUAL ROGER #2 | $1.50 | ALTERNA COMICS |
| 433 | 535 | 1.35 | LIFE OF CAPTAIN MARVEL #1 | $4.99 | MARVEL COMICS |
| 434 | 448 | 1.35 | HEROES IN CRISIS #7 | $3.99 | DC COMICS |
| 435 | 423 | 1.34 | STAR BASTARD #2 | $3.99 | SCOUT COMICS |
| 435 | 553 | 1.34 | UNIT 44 #2 | $1.50 | ALTERNA COMICS |
| 437 | 555 | 1.34 | FEAST OR FAMINE #3 | $1.50 | ALTERNA COMICS |
| 438 | 437 | 1.32 | GOLD DIGGER #262 | $3.99 | ANTARCTIC PRESS |
| 439 | 439 | 1.31 | CRACKDOWN #2 | $3.99 | DYNAMITE |
| 440 | 426 | 1.29 | HATCHET VENGEANCE #2 (MR) | $3.99 | AMERICAN MYTHOLOGY PRODUCTIONS |
| 441 | 471 | 1.28 | IMMORTAL HULK #1 | $4.99 | MARVEL COMICS |
| 442 | 347 | 1.28 | LADY DEATH (ONGOING) #25 (MR) | $8.99 | BOUNDLESS COMICS |
| 443 | 430 | 1.27 | ONCE OUR LAND BOOK TWO #3 | $3.99 | SCOUT COMICS |
| 444 | 392 | 1.25 | KNIGHTS OF THE DINNER TABLE #264 | $5.99 | KENZER & COMPANY |
| 444 | 465 | 1.25 | TRANSFORMERS #1 | $3.99 | IDW PUBLISHING |
| 446 | 648 | 1.23 | TRUE BELIEVERS INFINITY GAUNTLET #1 | $1.00 | MARVEL COMICS |
| 447 | 178 | 1.23 | RICK & MORTY VS D&D BOX SET | $29.99 | IDW PUBLISHING |
| 448 | 462 | 1.22 | GUARDIANS OF THE GALAXY #3 | $3.99 | MARVEL COMICS |
| 449 | 435 | 1.21 | DOOMSDAY CLOCK #9 | $4.99 | DC COMICS |
| 450 | 527 | 1.21 | CAPTAIN AMERICA #1 | $4.99 | MARVEL COMICS |
| 451 | 438 | 1.19 | HOUDINI MASTER DETECTIVE #1 ONE SHOT (MR) | $3.99 | ANTARCTIC PRESS |
| 452 | 469 | 1.17 | AVENGERS NO ROAD HOME #3 | $3.99 | MARVEL COMICS |
| 453 | 443 | 1.15 | PUNCHLINE #1 | $3.99 | ANTARCTIC PRESS |
| 454 | 445 | 1.14 | JOHN CARPENTER TALES OF SCI FI TWITCH #5 (MR) | $3.99 | STORM KING PRODUCTIONS, INC |
| 455 | 452 | 1.14 | AVANT-GUARDS #4 | $3.99 | BOOM! STUDIOS |
| 456 | 447 | 1.13 | ZORRO LEGENDARY ADVENTURES BOOK 2 #2 | $3.99 | AMERICAN MYTHOLOGY PRODUCTIONS |
| 457 | 468 | 1.13 | DIE DIE DIE #8 (MR) | $3.99 | IMAGE COMICS |
| 458 | 474 | 1.12 | DOMINO HOTSHOTS #1 | $3.99 | MARVEL COMICS |
| 459 | 449 | 1.12 | SABRINA TEENAGE WITCH #1 | $3.99 | ARCHIE COMIC PUBLICATIONS |
| 460 | 442 | 1.11 | NEON FUTURE #1 (MR) | $3.99 | IMPACT THEORY, LLC |
| 461 | 482 | 1.07 | FRIENDLY NEIGHBORHOOD SPIDER-MAN #4 | $3.99 | MARVEL COMICS |
| 462 | 450 | 1.06 | APPALACHIAN APOCALYPSE #4 | $3.99 | CAVE PICTURES PUBLISHING |
| 463 | 484 | 1.06 | JOHNNY THE HOMICIDAL MANIAC #2 | $3.50 | AMAZE INK (SLAVE LABOR GRAPHICS) |
| 463 | 467 | 1.06 | SMOOTH CRIMINALS #5 | $3.99 | BOOM! STUDIOS |
| 465 | 486 | 1.05 | CAPTAIN AMERICA #6 | $3.99 | MARVEL COMICS |
| 465 | 451 | 1.05 | KNIGHTS OF THE GOLDEN SUN #1 | $3.99 | MAD CAVE STUDIOS |
| 467 | 479 | 1.05 | SHAZAM #4 | $3.99 | DC COMICS |
| 468 | 487 | 1.04 | CAPTAIN AMERICA #7 | $3.99 | MARVEL COMICS |
| 469 | 488 | 1.03 | AVENGERS NO ROAD HOME #2 | $3.99 | MARVEL COMICS |
| 470 | 454 | 1.03 | WULFBORNE #3 | $3.99 | SCOUT COMICS |
| 471 | 563 | 1.02 | PUNISHER #3 | $3.99 | MARVEL COMICS |
| 472 | 491 | 1.01 | JOHNNY THE HOMICIDAL MANIAC #3 | $3.50 | AMAZE INK (SLAVE LABOR GRAPHICS) |
| 473 | 459 | 1.00 | SHADOWPLAY #3 | $3.99 | SCOUT COMICS |
| 474 | 494 | 0.98 | SPIDER-MAN CITY AT WAR #1 | $3.99 | MARVEL COMICS |
| 475 | 477 | 0.98 | TRANSFORMERS #2 | $3.99 | IDW PUBLISHING |
| 476 | 466 | 0.98 | CAVEWOMAN LOST #1 (MR) | $3.99 | AMRYL ENTERTAINMENT |
| 477 | 480 | 0.96 | INFINITY 8 #11 (MR) | $3.99 | LION FORGE |
| 478 | 481 | 0.95 | POWERS IN ACTION #2 | $3.99 | ACTION LAB ENTERTAINMENT |
| 479 | 492 | 0.95 | DIE DIE DIE #5 (MR) | $3.99 | IMAGE COMICS |
| 480 | 497 | 0.94 | THOR #11 | $3.99 | MARVEL COMICS |
| 481 | 464 | 0.93 | IRONHEART #1 | $4.99 | MARVEL COMICS |
| 482 | 500 | 0.92 | MEET THE SKRULLS #1 | $3.99 | MARVEL COMICS |
| 483 | 501 | 0.92 | ZIGGY PIG SILLY SEAL COMICS #1 | $3.99 | MARVEL COMICS |
| 484 | 490 | 0.90 | MAE VOL 2 #6 | $3.99 | LION FORGE |
| 485 | 545 | 0.89 | IMMORTAL HULK #7 | $3.99 | MARVEL COMICS |
| 486 | 470 | 0.89 | BATMAN WHO LAUGHS THE GRIM KNIGHT #1 | $4.99 | DC COMICS |
| 487 | 476 | 0.88 | PUNCHLINE #5 | $3.99 | ANTARCTIC PRESS |
| 488 | 493 | 0.88 | FIREFLY #4 | $3.99 | BOOM! STUDIOS |
| 489 | 611 | 0.87 | DEADPOOL #1 | $4.99 | MARVEL COMICS |
| 490 | 506 | 0.86 | AGE OF CONAN BELIT #1 | $3.99 | MARVEL COMICS |
| 491 | 507 | 0.86 | JOHNNY THE HOMICIDAL MANIAC #1 | $3.50 | AMAZE INK (SLAVE LABOR GRAPHICS) |
| 492 | 495 | 0.85 | NULL FAERIES #3 (MR) | $3.99 | ACTION LAB – DANGER ZONE |
| 493 | 508 | 0.84 | OLD MAN QUILL #2 | $3.99 | MARVEL COMICS |
| 494 | 478 | 0.84 | WEED MAGIC VOL 03 (MR) | $4.20 | BLISS ON TAP |
| 495 | 509 | 0.82 | HEROES IN CRISIS #6 | $3.99 | DC COMICS |
| 496 | 589 | 0.82 | CAPTAIN AMERICA #4 | $3.99 | MARVEL COMICS |
| 497 | 586 | 0.81 | MARVEL KNIGHTS 20TH #1 | $4.99 | MARVEL COMICS |
| 498 | 707 | 0.80 | ICYMI #3 | $0.99 | ALTERNA COMICS |
| 499 | 603 | 0.80 | UNSTOPPABLE WASP #1 | $3.99 | MARVEL COMICS |
| 500 | 763 | 0.79 | IMAGE FIRSTS PAPER GIRLS #1 | $1.00 | IMAGE COMICS |
Top 500 Most-Ordered Graphic Novels in April 2019
| | | | | | |
| --- | --- | --- | --- | --- | --- |
| Unit Rank | Dollar Rank | Index | Publication | Price | Publisher |
| 1 | 3 | 5.35 | MAGIC ORDER TP VOL 01 (MR) | $19.99 | IMAGE COMICS |
| 2 | 7 | 4.25 | VENOM BY DONNY CATES TP VOL 02 | $17.99 | MARVEL COMICS |
| 3 | 9 | 4.24 | GIDEON FALLS TP VOL 02 ORIGINAL SINS (MR) | $16.99 | IMAGE COMICS |
| 4 | 11 | 3.10 | UMBRELLA ACADEMY TP VOL 01 APOCALYPSE SUITE | $17.99 | DARK HORSE COMICS |
| 5 | 15 | 3.07 | CATWOMAN TP VOL 01 COPYCATS | $16.99 | DC COMICS |
| 6 | 14 | 3.04 | STAR WARS TP VOL 10 ESCAPE | $17.99 | MARVEL COMICS |
| 7 | 21 | 2.66 | BATMAN DETECTIVE COMICS TP VOL 09 DEFACE THE FACE | $16.99 | DC COMICS |
| 8 | 19 | 2.54 | UMBRELLA ACADEMY TP VOL 02 DALLAS | $17.99 | DARK HORSE COMICS |
| 9 | 23 | 2.47 | UNNATURAL TP VOL 02 (MR) | $16.99 | IMAGE COMICS |
| 10 | 20 | 2.42 | JESSICA JONES MPGN TP PURPLE DAUGHTER | $19.99 | MARVEL COMICS |
| 11 | 26 | 2.37 | ADVENTURES OF THE SUPER SONS TP VOL 01 ACTION DETECTIVE | $16.99 | DC COMICS |
| 12 | 18 | 2.21 | FIREFLY UNIFICATION WAR HC VOL 01 | $19.99 | BOOM! STUDIOS |
| 13 | 32 | 2.18 | WONDER WOMAN TP VOL 08 DARK GODS | $16.99 | DC COMICS |
| 14 | 8 | 2.15 | PAPER GIRLS DLX ED HC VOL 02 | $34.99 | IMAGE COMICS |
| 15 | 45 | 2.07 | SHURI TP VOL 01 SEARCH FOR BLACK PANTHER | $15.99 | MARVEL COMICS |
| 16 | 17 | 2.06 | INFINITY GAUNTLET TP | $24.99 | MARVEL COMICS |
| 17 | 53 | 2.00 | MARVELS AVENGERS TP ENDGAME PRELUDE | $14.99 | MARVEL COMICS |
| 18 | 44 | 1.99 | TEEN TITANS TP VOL 01 FULL THROTTLE | $16.99 | DC COMICS |
| 19 | 58 | 1.96 | STAR WARS ADVENTURES TALES FROM VADERS CASTLE TP | $12.99 | IDW PUBLISHING |
| 20 | 69 | 1.93 | BATMAN & THE JUSTICE LEAGUE MANGA TP VOL 02 | $12.99 | DC COMICS |
| 21 | 37 | 1.82 | MARVEL UNIVERSE TP THE END | $19.99 | MARVEL COMICS |
| 22 | 47 | 1.80 | MILES MORALES ULTIMATE SPIDER-MAN TP VOL 01 REVIVAL | $17.99 | MARVEL COMICS |
| 23 | 51 | 1.79 | SUPERGIRL TP VOL 01 THE KILLERS OF KRYPTON | $16.99 | DC COMICS |
| 24 | 88 | 1.72 | QUICK & EASY GUIDE TO QUEER & TRANS IDENTITIES | $9.99 | ONI PRESS INC. |
| 25 | 13 | 1.72 | NEIL GAIMAN AMERICAN GODS HC VOL 02 MY AINSEL | $29.99 | DARK HORSE COMICS |
| 26 | 55 | 1.72 | PLASTIC MAN TP | $16.99 | DC COMICS |
| 27 | 63 | 1.71 | SPIDER-MAN DEADPOOL TP VOL 08 ROAD TRIP | $15.99 | MARVEL COMICS |
| 28 | 64 | 1.56 | SPAWN DARK HORROR TP | $16.99 | IMAGE COMICS |
| 29 | 57 | 1.56 | KICK-ASS NEW GIRL TP VOL 02 (MR) | $17.99 | IMAGE COMICS |
| 30 | 61 | 1.56 | LITTLE GIRLS TP | $17.99 | IMAGE COMICS |
| 31 | 28 | 1.52 | FINAL CRISIS DC ESSENTIAL EDITION TP | $24.99 | DC COMICS |
| 32 | 1 | 1.47 | INFINITY WAR OMNIBUS HC | $125.00 | MARVEL COMICS |
| 33 | 91 | 1.47 | SPIDEY GN TP FRESHMAN YEAR | $12.99 | MARVEL COMICS |
| 34 | 67 | 1.45 | RUNAWAYS BY ROWELL AND ANKA TP VOL 03 THAT WAS YESTERDAY | $17.99 | MARVEL COMICS |
| 35 | 71 | 1.44 | EXORSISTERS TP VOL 01 | $16.99 | IMAGE COMICS |
| 36 | 68 | 1.43 | MARVEL KNIGHTS 20TH TP | $17.99 | MARVEL COMICS |
| 37 | 108 | 1.43 | MARVEL ACTION AVENGERS TP BOOK 01 NEW DANGER | $9.99 | IDW PUBLISHING |
| 38 | 39 | 1.42 | MISTER MIRACLE TP (MR) | $24.99 | DC COMICS |
| 39 | 43 | 1.39 | SUPERMAN ACTION COMICS HC VOL 01 INVISIBLE MAFIA | $24.99 | DC COMICS |
| 40 | 59 | 1.39 | DARK NIGHTS METAL TP | $19.99 | DC COMICS |
| 41 | 42 | 1.38 | INJUSTICE VS MASTERS OF THE UNIVERSE HC | $24.99 | DC COMICS |
| 42 | 25 | 1.37 | JUSTICE LEAGUE AQUAMAN DROWNED EARTH HC | $29.99 | DC COMICS |
| 43 | 75 | 1.37 | INJUSTICE 2 TP VOL 04 | $16.99 | DC COMICS |
| 44 | 30 | 1.36 | JOHN WICK HC VOL 01 | $24.99 | DYNAMITE |
| 45 | 80 | 1.33 | BLACK ORDER TP WARMASTERS OF THANOS | $15.99 | MARVEL COMICS |
| 46 | 99 | 1.29 | ATTACK ON TITAN GN VOL 27 (MR) | $10.99 | KODANSHA COMICS |
| 47 | 6 | 1.25 | MMW AVENGERS HC VOL 19 | $75.00 | MARVEL COMICS |
| 48 | 50 | 1.23 | DECADES MARVEL 70S TP LEGION OF MONSTERS | $24.99 | MARVEL COMICS |
| 48 | 52 | 1.23 | HELLBOY OMNIBUS TP VOL 01 SEED OF DESTRUCTION | $24.99 | DARK HORSE COMICS |
| 50 | 73 | 1.21 | WATCHMEN TP | $19.99 | DC COMICS |
| 51 | 122 | 1.21 | DISNEY PIXAR TOY STORY ADVENTURES TP VOL 01 | $10.99 | DARK HORSE COMICS |
| 52 | 38 | 1.20 | SUPERMANS PAL JIMMY OLSEN BY JACK KIRBY TP | $29.99 | DC COMICS |
| 53 | 86 | 1.17 | SCARLET TP VOL 01 (MR) | $16.99 | DC COMICS |
| 54 | 74 | 1.16 | SANDMAN TP VOL 07 BRIEF LIVES 30TH ANNIV ED (MR) | $19.99 | DC COMICS |
| 55 | 161 | 1.15 | DISNEY PRINCESS HC ARIEL AND SEA WOLF (YOUNG READERS) | $7.99 | DARK HORSE COMICS |
| 56 | 96 | 1.12 | BERSERK TP FLAME DRAGON KNIGHT | $14.99 | DARK HORSE COMICS |
| 57 | 22 | 1.12 | AVENGERS EPIC COLLECTION TP FEAR THE REAPER | $39.99 | MARVEL COMICS |
| 58 | 36 | 1.08 | COMPLETE LIFE & TIMES SCROOGE MCDUCK HC VOL 01 ROSA | $29.99 | FANTAGRAPHICS BOOKS |
| 59 | 24 | 1.07 | IRON MAN EPIC COLLECTION TP MAN WHO KILLED TONY STARK | $39.99 | MARVEL COMICS |
| 60 | 126 | 1.07 | SHAZAM ORIGINS TP | $12.99 | DC COMICS |
| 61 | 46 | 1.06 | BATMAN NOIR GOTHAM BY GASLIGHT HC | $29.99 | DC COMICS |
| 62 | 116 | 1.06 | SAGA TP VOL 09 (MR) | $14.99 | IMAGE COMICS |
| 63 | 66 | 1.06 | ULTIMATE SPIDER-MAN ULTIMATE COLLECTION TP VOL 01 | $24.99 | MARVEL COMICS |
| 64 | 166 | 1.06 | SAGA TP VOL 01 (MR) | $9.99 | IMAGE COMICS |
| 65 | 95 | 1.06 | SEX TP VOL 06 WORLD HUNGER (MR) | $16.99 | IMAGE COMICS |
| 66 | 56 | 1.05 | TRANSFORMERS UNICRON TP | $24.99 | IDW PUBLISHING |
| 67 | 182 | 1.05 | DEADLY CLASS TP VOL 01 REAGAN YOUTH (MR) | $9.99 | IMAGE COMICS |
| 68 | 2 | 1.01 | DEATH & RETURN OF SUPERMAN OMNIBUS HC | $150.00 | DC COMICS |
| 69 | 40 | 1.00 | ELSEWORLDS SUPERMAN TP VOL 02 | $34.99 | DC COMICS |
| 70 | 410 | 0.98 | ISOLA TP VOL 01 | $9.99 | IMAGE COMICS |
| 71 | 27 | 0.97 | SPIDER-MAN 2099 VS VENOM 2099 TP | $39.99 | MARVEL COMICS |
| 72 | 278 | 0.97 | EAST OF WEST TP VOL 01 THE PROMISE | $16.99 | IMAGE COMICS |
| 73 | 31 | 0.96 | STAR WARS LEGENDS EPIC COLLECTION EMPIRE TP VOL 05 | $39.99 | MARVEL COMICS |
| 74 | 33 | 0.95 | CONAN CHRONICLES EPIC COLLECTION TP HEART YAG-KOSHA | $39.99 | MARVEL COMICS |
| 75 | 112 | 0.95 | ANIMOSITY TP VOL 04 WALLED CITY | $14.99 | AFTERSHOCK COMICS |
| 76 | 103 | 0.94 | ICEMAN AND HIS AMAZING FRIENDS TP | $17.99 | MARVEL COMICS |
| 77 | 41 | 0.93 | ALIENS HC DEAD ORBIT | $34.99 | DARK HORSE COMICS |
| 78 | 48 | 0.92 | DOCTOR STRANGE BY DONNY CATES HC | $34.99 | MARVEL COMICS |
| 79 | 186 | 0.92 | MONSTRESS TP VOL 01 (MR) | $9.99 | IMAGE COMICS |
| 80 | 102 | 0.91 | GO GO POWER RANGERS TP VOL 03 | $16.99 | BOOM! STUDIOS |
| 80 | 141 | 0.91 | UNSTOPPABLE WASP GIRL POWER GN TP | $12.99 | MARVEL COMICS |
| 82 | 83 | 0.91 | IS THIS HOW YOU SEE ME HC LOVE & ROCKETS | $19.99 | FANTAGRAPHICS BOOKS |
| 83 | 97 | 0.90 | MAGE TP VOL 06 HERO DENIED BOOK THREE (PART TWO) | $19.99 | IMAGE COMICS |
| 84 | 65 | 0.89 | DETECTIVE COMICS 80 YEARS OF BATMAN DLX ED HC | $29.99 | DC COMICS |
| 84 | 109 | 0.89 | BATMAN THE KILLING JOKE SPECIAL ED HC | $17.99 | DC COMICS |
| 86 | 124 | 0.87 | UNSTOPPABLE WASP TP UNLIMITED FIX EVERYTHING | $15.99 | MARVEL COMICS |
| 87 | 120 | 0.87 | STEVEN UNIVERSE ORIGINAL GN VOL 04 CAMP PINING PLAY | $14.99 | BOOM! STUDIOS |
| 88 | 90 | 0.85 | INVADER ZIM TP VOL 07 | $19.99 | ONI PRESS INC. |
| 89 | 171 | 0.85 | NOW #6 NEW COMICS ANTHOLOGY (MR) | $9.99 | FANTAGRAPHICS BOOKS |
| 90 | 82 | 0.84 | SHIELD BY HICKMAN & WEAVER TP HUMAN MACHINE | $24.99 | MARVEL COMICS |
| 91 | 105 | 0.82 | MY LITTLE PONY FRIENDSHIP IS MAGIC TP VOL 16 | $17.99 | IDW PUBLISHING |
| 92 | 60 | 0.81 | BATMAN DETECTIVE REBIRTH DLX COLL HC BOOK 04 | $34.99 | DC COMICS |
| 93 | 123 | 0.81 | ROSE TP VOL 03 | $16.99 | IMAGE COMICS |
| 94 | 84 | 0.81 | KAMANDI CHALLENGE TP | $24.99 | DC COMICS |
| 95 | 54 | 0.79 | SPACE BATTLESHIP YAMATO CLASSIC COLLECTION GN | $29.99 | SEVEN SEAS ENTERTAINMENT LLC |
| 96 | 87 | 0.79 | INJUSTICE 2 HC VOL 05 | $24.99 | DC COMICS |
| 97 | 4 | 0.79 | INFINITY BY STARLIN & HICKMAN OMNIBUS HC | $125.00 | MARVEL COMICS |
| 98 | 49 | 0.78 | AVENGING SPIDER-MAN TP COMPLETE COLLECTION | $39.99 | MARVEL COMICS |
| 99 | 107 | 0.77 | BART SIMPSON BREAKS OUT TP | $16.99 | HARPER DESIGN |
| 100 | 12 | 0.77 | LEAGUE OF EXTRAORDINARY GENTLEMEN JUBILEE ED HC | $75.00 | DC COMICS |
| 101 | 34 | 0.75 | BATMAN & THE OUTSIDERS HC VOL 03 | $49.99 | DC COMICS |
| 102 | 130 | 0.75 | DICK TRACY DEAD OR ALIVE TP | $15.99 | IDW PUBLISHING |
| 103 | 132 | 0.74 | SEPTEMBER MOURNING COMP TP VOL 01 (MR) | $16.99 | IMAGE COMICS |
| 104 | 106 | 0.74 | RICK AND MORTY VS DUNGEONS & DRAGONS TP | $19.99 | IDW PUBLISHING |
| 105 | 10 | 0.74 | BATMAN SUPERMAN SILVER AGE OMNIBUS HC VOL 02 | $99.99 | DC COMICS |
| 105 | 210 | 0.74 | MY HERO ACADEMIA GN VOL 01 | $9.99 | VIZ MEDIA LLC |
| 107 | 146 | 0.72 | SHATTERSTAR TP REALITY STAR | $15.99 | MARVEL COMICS |
| 108 | 135 | 0.72 | WARNING TP VOL 01 (MR) | $16.99 | IMAGE COMICS |
| 109 | 143 | 0.70 | WALKING DEAD TP VOL 31 (MR) | $16.99 | IMAGE COMICS |
| 110 | 140 | 0.70 | DAMAGE TP VOL 02 SCORCHED EARTH | $16.99 | DC COMICS |
| 111 | 76 | 0.69 | STRANGERS IN PARADISE XXV OMNIBUS SC | $29.99 | ABSTRACT STUDIOS |
| 112 | 162 | 0.68 | PILU OF THE WOODS GN | $12.99 | ONI PRESS INC. |
| 113 | 142 | 0.68 | WITCHBLADE TP VOL 02 (MR) | $16.99 | IMAGE COMICS |
| 114 | 147 | 0.68 | SHAZAM TP VOL 01 (N52) | $16.99 | DC COMICS |
| 115 | 246 | 0.66 | PAPER GIRLS TP VOL 01 | $9.99 | IMAGE COMICS |
| 116 | 184 | 0.66 | SHEETS GN | $12.99 | LION FORGE |
| 117 | 104 | 0.66 | SUPERMAN WORLD AGAINST SUPERMAN TP | $24.99 | DC COMICS |
| 118 | 137 | 0.66 | WHEN I ARRIVED AT CASTLE GN | $15.00 | KOYAMA PRESS |
| 119 | 217 | 0.64 | BALLAD OF YAYA GN VOL 01 FUGUE | $9.99 | LION FORGE |
| 120 | 134 | 0.64 | STRAY BULLETS SUNSHINE & ROSES TP VOL 04 (MR) | $19.99 | IMAGE COMICS |
| 121 | 145 | 0.64 | SUPERMAN RED SON TP NEW EDITION | $17.99 | DC COMICS |
| 122 | 93 | 0.63 | SPIDER-MAN MAXIMUM CARNAGE TP | $29.99 | MARVEL COMICS |
| 123 | 221 | 0.63 | LIVEWIRE TP VOL 01 FUGITIVE | $9.99 | VALIANT ENTERTAINMENT LLC |
| 124 | 133 | 0.62 | SANDMAN TP VOL 01 PRELUDES & NOCTURNES 30TH ANNIV ED | $19.99 | DC COMICS |
| 125 | 114 | 0.61 | SPIDER-GEDDON TP | $24.99 | MARVEL COMICS |
| 126 | 167 | 0.61 | WITCH HAT ATELIER GN VOL 01 | $12.99 | KODANSHA COMICS |
| 127 | 195 | 0.59 | SAGA TP VOL 08 (MR) | $14.99 | IMAGE COMICS |
| 128 | 117 | 0.59 | BATMAN HUSH COMPLETE TP | $24.99 | DC COMICS |
| 129 | 197 | 0.58 | SAGA TP VOL 02 (MR) | $14.99 | IMAGE COMICS |
| 130 | 215 | 0.58 | D DAY FROM PAGES OF COMBAT ONE SHOT | $9.99 | IT'S ALIVE |
| 131 | 77 | 0.58 | SPIDER-MAN TP LIGHT IN DARKNESS | $39.99 | MARVEL COMICS |
| 132 | 98 | 0.58 | CANNABIS ILLEGALIZATION OF WEED IN AMERICA HC GN (MR) | $24.99 | :01 FIRST SECOND |
| 133 | 178 | 0.57 | MONSTRESS TP VOL 03 (MR) | $16.99 | IMAGE COMICS |
| 133 | 238 | 0.57 | DEADLY CLASS TP VOL 02 KIDS OF THE BLACK HOLE (NEW PTG) (MR) | $16.99 | IMAGE COMICS |
| 135 | 185 | 0.56 | LIFE OF CAPTAIN MARVEL TP | $15.99 | MARVEL COMICS |
| 136 | 225 | 0.56 | PHOEBE & HER UNICORN GN VOL 09 UNICORN BOWLING | $9.99 | AMP! COMICS FOR KIDS |
| 137 | 148 | 0.56 | BATMAN WHITE KNIGHT TP | $19.99 | DC COMICS |
| 138 | 89 | 0.56 | X-MEN BY MILLIGAN TP VOL 01 DANGEROUS LIAISONS | $34.99 | MARVEL COMICS |
| 139 | 163 | 0.55 | VENOM BY DONNY CATES TP VOL 01 REX | $17.99 | MARVEL COMICS |
| 140 | 188 | 0.55 | COSMIC GHOST RIDER TP BABY THANOS MUST DIE | $15.99 | MARVEL COMICS |
| 141 | 196 | 0.55 | FORTUNE & GLORY A TRUE HOLLYWOOD COMIC BOOK STORY TP | $14.99 | DC COMICS |
| 142 | 176 | 0.55 | GARFIELD ORIGINAL GN VOL 06 MONDAY WOULDNT END | $14.99 | BOOM! STUDIOS |
| 142 | 191 | 0.55 | AMAZING SPIDER-MAN BY NICK SPENCER TP VOL 01 BACK BASICS | $15.99 | MARVEL COMICS |
| 144 | 79 | 0.55 | DESPICABLE DEADPOOL HC | $39.99 | MARVEL COMICS |
| 145 | 128 | 0.55 | HELLBOY OMNIBUS TP VOL 02 STRANGE PLACES | $24.99 | DARK HORSE COMICS |
| 146 | 92 | 0.54 | FLASH GREEN LANTERN BRAVE & THE BOLD DLX ED HC | $34.99 | DC COMICS |
| 147 | 72 | 0.54 | STRANGERS IN PARADISE XXV OMNIBUS HC | $39.99 | ABSTRACT STUDIOS |
| 148 | 29 | 0.54 | MMW DAREDEVIL HC VOL 13 | $75.00 | MARVEL COMICS |
| 149 | 165 | 0.53 | TAMAMO THE FOX MAIDEN AND OTHER ASIAN STORIES GN | $15.00 | IRON CIRCUS COMICS |
| 150 | 129 | 0.53 | DARK NIGHTS METAL DARK KNIGHTS RISING TP | $24.99 | DC COMICS |
| 151 | 322 | 0.52 | MY HERO ACADEMIA GN VOL 02 | $9.99 | VIZ MEDIA LLC |
| 152 | 85 | 0.51 | AVENGERS WORLD TP COMPLETE COLLECTION | $39.99 | MARVEL COMICS |
| 153 | 189 | 0.51 | ADVENTURE TIME TP VOL 17 | $14.99 | BOOM! STUDIOS |
| 154 | 115 | 0.51 | INFINITY WAR TP | $29.99 | MARVEL COMICS |
| 155 | 201 | 0.51 | IMMORTAL HULK TP VOL 01 OR IS HE BOTH | $15.99 | MARVEL COMICS |
| 156 | 180 | 0.51 | LADY MECHANIKA TP VOL 01 MYSTERY OF MECHANICAL CORPSE | $19.99 | BENITEZ PRODUCTIONS |
| 157 | 101 | 0.51 | THOR BY GILLEN COMPLETE COLLECTION TP | $34.99 | MARVEL COMICS |
| 158 | 206 | 0.50 | TO LOVE RU DARKNESS GN VOL 10 (MR) | $12.99 | GHOST SHIP |
| 159 | 457 | 0.50 | ICE CREAM MAN TP VOL 01 RAINBOW SPRINKLES | $16.99 | IMAGE COMICS |
| 160 | 187 | 0.50 | WALKING DEAD TP VOL 30 NEW WORLD ORDER (MR) | $16.99 | IMAGE COMICS |
| 161 | 329 | 0.50 | SEVEN TO ETERNITY TP VOL 01 | $9.99 | IMAGE COMICS |
| 162 | 131 | 0.49 | BATMAN THE COURT OF OWLS SAGA ESSENTIAL EDITION TP | $24.99 | DC COMICS |
| 163 | 202 | 0.49 | MONSTRESS TP VOL 02 (MR) | $16.99 | IMAGE COMICS |
| 164 | 139 | 0.49 | CIVIL WAR TP | $24.99 | MARVEL COMICS |
| 165 | 198 | 0.48 | HOT LUNCH SPECIAL TP VOL 01 | $14.99 | AFTERSHOCK COMICS |
| 166 | 121 | 0.48 | CAPTAIN MARVEL EARTHS MIGHTIEST HERO TP VOL 01 | $29.99 | MARVEL COMICS |
| 166 | 341 | 0.48 | MY HERO ACADEMIA GN VOL 03 | $9.99 | VIZ MEDIA LLC |
| 168 | 127 | 0.48 | FULL BLEED COMICS & CULTURE QUARTERLY HC VOL 03 | $25.00 | IDW PUBLISHING |
| 169 | 160 | 0.48 | SABRINA CHILLING ADVENTURES TP VOL 01 (MR) | $17.99 | ARCHIE COMIC PUBLICATIONS |
| 170 | 231 | 0.48 | SAGA TP VOL 03 (MR) | $14.99 | IMAGE COMICS |
| 171 | 224 | 0.48 | UNDERFOOT GN VOL 01 MIGHTY DEEP | $12.99 | LION FORGE |
| 171 | 226 | 0.48 | SAGA TP VOL 07 (MR) | $14.99 | IMAGE COMICS |
| 171 | 239 | 0.48 | DEADPOOL VS THANOS TP | $16.99 | MARVEL COMICS |
| 171 | 325 | 0.48 | AVENGERS ASSEMBLE GN TP LIVING LEGENDS | $9.99 | MARVEL COMICS |
| 175 | 354 | 0.47 | WICKED & DIVINE TP VOL 01 THE FAUST ACT (MR) | $9.99 | IMAGE COMICS |
| 176 | 94 | 0.47 | IRON MAN HEROES RETURN COMPLETE COLLECTION TP VOL 01 | $39.99 | MARVEL COMICS |
| 176 | 237 | 0.47 | SAGA TP VOL 04 (MR) | $14.99 | IMAGE COMICS |
| 178 | 204 | 0.46 | BACKSTAGERS TP VOL 03 | $14.99 | BOOM! STUDIOS |
| 179 | 179 | 0.46 | THANOS WINS BY DONNY CATES TP | $19.99 | MARVEL COMICS |
| 180 | 159 | 0.46 | YE TP | $19.99 | IDW PUBLISHING |
| 181 | 306 | 0.45 | JIM HENSONS FRAGGLE ROCK ROUGH SIDE OF ROCK HC | $9.99 | BOOM! STUDIOS |
| 182 | 153 | 0.44 | HELLBOY OMNIBUS TP VOL 03 THE WILD HUNT | $24.99 | DARK HORSE COMICS |
| 183 | 16 | 0.44 | SAVAGE SWORD CONAN HC ORIG MARVEL YRS OMNIBUS VOL 01 | $125.00 | MARVEL COMICS |
| 184 | 232 | 0.44 | YOKAI GIRLS GN VOL 07 (MR) | $12.99 | GHOST SHIP |
| 185 | 164 | 0.44 | KISS AOD TP | $19.99 | DYNAMITE |
| 186 | 213 | 0.43 | MOTH & WHISPER TP VOL 01 | $14.99 | AFTERSHOCK COMICS |
| 187 | 78 | 0.43 | EC ARCHIVES TWO-FISTED TALES HC VOL 04 | $49.99 | DARK HORSE COMICS |
| 188 | 151 | 0.43 | ADVENTURE ZONE GN VOL 01 HERE THERE BE GERBLINS | $19.99 | :01 FIRST SECOND |
| 188 | 192 | 0.43 | KINGDOM COME TP | $19.99 | DC COMICS |
| 188 | 350 | 0.43 | I HATE FAIRYLAND TP VOL 01 MADLY EVER AFTER (MR) | $9.99 | IMAGE COMICS |
| 191 | 118 | 0.43 | INFINITY GAUNTLET TP DELUXE EDITION | $34.99 | MARVEL COMICS |
| 192 | 243 | 0.42 | LUMBERJANES TP VOL 01 | $14.99 | BOOM! STUDIOS |
| 193 | 177 | 0.41 | RED SONJA BALLAD RED GODDESS HC | $19.99 | DYNAMITE |
| 194 | 259 | 0.41 | UNCLE SCROOGE TP TREASURE ABOVE THE CLOUDS | $12.99 | IDW PUBLISHING |
| 195 | 255 | 0.41 | RISING OF THE SHIELD HERO GN VOL 10 MANGA | $11.95 | ONE PEACE BOOKS |
| 196 | 327 | 0.40 | ONE PUNCH MAN GN VOL 01 | $9.99 | VIZ MEDIA LLC |
| 197 | 125 | 0.40 | MILES MORALES ULT SPIDER-MAN ULT COLL TP BOOK 01 | $34.99 | MARVEL COMICS |
| 197 | 364 | 0.40 | INVINCIBLE TP VOL 01 FAMILY MATTERS | $12.99 | IMAGE COMICS |
| 199 | 260 | 0.40 | PAPER GIRLS TP VOL 05 | $14.99 | IMAGE COMICS |
| 199 | 270 | 0.40 | SAGA TP VOL 05 (MR) | $14.99 | IMAGE COMICS |
| 201 | 149 | 0.40 | CREDO ROSE WILDER LANE STORY HC | $22.95 | DRAWN & QUARTERLY |
| 202 | 230 | 0.40 | SPIDER-GWEN TP VOL 00 MOST WANTED | $16.99 | MARVEL COMICS |
| 202 | 407 | 0.40 | DISNEY DUMBO (LIVE ACTION) FRIENDS IN HIGH PLACES TP VOL 01 | $10.99 | DARK HORSE COMICS |
| 204 | 293 | 0.40 | BLACK HAMMER TP VOL 01 SECRET ORIGINS | $14.99 | DARK HORSE COMICS |
| 205 | 203 | 0.40 | SHAZAM THE MONSTER SOCIETY OF EVIL TP NEW ED | $19.99 | DC COMICS |
| 205 | 442 | 0.40 | DESCENDER TP VOL 01 TIN STARS (MR) | $9.99 | IMAGE COMICS |
| 207 | 220 | 0.39 | SPIDER-GWEN TP VOL 01 GREATER POWER | $17.99 | MARVEL COMICS |
| 208 | 400 | 0.39 | PLAGUE DOKTOR GN (MR) | $7.99 | SOURCE POINT PRESS |
| 209 | 113 | 0.39 | MIGHTY AVENGERS BY SLOTT TP COMPLETE COLLECTION | $39.99 | MARVEL COMICS |
| 210 | 144 | 0.39 | WOLVERINE OLD MAN LOGAN TP | $29.99 | MARVEL COMICS |
| 210 | 421 | 0.39 | MY HERO ACADEMIA GN VOL 17 | $9.99 | VIZ MEDIA LLC |
| 212 | 252 | 0.39 | SPIDER-MAN MILES MORALES TP VOL 01 | $15.99 | MARVEL COMICS |
| 212 | 299 | 0.39 | MAN-EATERS TP VOL 01 | $12.99 | IMAGE COMICS |
| 214 | 110 | 0.38 | LEAVING RICHARDS VALLEY HC | $32.95 | DRAWN & QUARTERLY |
| 215 | 284 | 0.38 | SAGA TP VOL 06 (MR) | $14.99 | IMAGE COMICS |
| 216 | 62 | 0.37 | ABSOLUTE SCARLET HC (MR) | $75.00 | DC COMICS |
| 216 | 324 | 0.37 | PAPER GIRLS TP VOL 02 | $12.99 | IMAGE COMICS |
| 218 | 248 | 0.37 | VENOM TP LETHAL PROTECTOR | $16.99 | MARVEL COMICS |
| 219 | 136 | 0.37 | UZUMAKI 3IN1 DLX ED HC JUNJI ITO (MR) | $27.99 | VIZ MEDIA LLC |
| 219 | 434 | 0.37 | MY HERO ACADEMIA GN VOL 04 | $9.99 | VIZ MEDIA LLC |
| 221 | 242 | 0.37 | PRISM STALKER TP VOL 01 (NEW PTG) | $16.99 | IMAGE COMICS |
| 222 | 150 | 0.37 | POWERS TP BOOK 04 NEW EDITION (MR) | $29.99 | DC COMICS |
| 223 | 174 | 0.37 | BATMAN THE LONG HALLOWEEN TP | $24.99 | DC COMICS |
| 223 | 211 | 0.37 | V FOR VENDETTA NEW EDITION TP (MR) | $19.99 | DC COMICS |
| 225 | 262 | 0.37 | DINING WITH EMIYA FAMILY GN VOL 01 | $12.95 | DENPA |
| 226 | 258 | 0.36 | WICKED & DIVINE TP VOL 08 OLD IS THE NEW NEW (MR) | $17.99 | IMAGE COMICS |
| 227 | 250 | 0.36 | SEVEN TO ETERNITY TP VOL 03 | $16.99 | IMAGE COMICS |
| 228 | 214 | 0.36 | Y THE LAST MAN TP BOOK 01 (MR) | $19.99 | DC COMICS |
| 228 | 222 | 0.36 | DISNEY DESCENDANTS EVIES WICKED RUNWAY TP VOL 01 | $15.99 | TOKYOPOP |
| 230 | 100 | 0.36 | SPIDER-VERSE TP | $50.00 | MARVEL COMICS |
| 231 | 218 | 0.36 | DARK KNIGHT RETURNS TP | $19.99 | DC COMICS |
| 232 | 444 | 0.35 | SNOTGIRL TP VOL 01 GREEN HAIR DONT CARE | $9.99 | IMAGE COMICS |
| 233 | 138 | 0.35 | MILES MORALES ULT SPIDER-MAN ULT COLL TP BOOK 02 | $34.99 | MARVEL COMICS |
| 234 | 168 | 0.35 | PLANET OF THE APES ARTIST TRIBUTE HC | $24.99 | BOOM! STUDIOS |
| 234 | 193 | 0.35 | HELLBOY OMNIBUS TP VOL 04 HELLBOY IN HELL | $24.99 | DARK HORSE COMICS |
| 234 | 462 | 0.35 | MY HERO ACADEMIA GN VOL 05 | $9.99 | VIZ MEDIA LLC |
| 237 | 261 | 0.35 | FLASHPOINT TP | $16.99 | DC COMICS |
| 238 | 205 | 0.34 | GODZILLA RAGE ACROSS TIME TP | $19.99 | IDW PUBLISHING |
| 238 | 296 | 0.34 | BATMAN YEAR ONE DELUXE SC | $14.99 | DC COMICS |
| 240 | 286 | 0.34 | AMAZING SPIDER-MAN BY NICK SPENCER TP VOL 02 | $15.99 | MARVEL COMICS |
| 241 | 257 | 0.34 | LADY KILLER TP VOL 01 | $17.99 | DARK HORSE COMICS |
| 241 | 477 | 0.34 | MY HERO ACADEMIA GN VOL 16 | $9.99 | VIZ MEDIA LLC |
| 243 | 283 | 0.34 | PLUS SIZED ELF GN VOL 02 (MR) | $12.99 | SEVEN SEAS ENTERTAINMENT LLC |
| 244 | 228 | 0.33 | PREACHER TP BOOK 01 (MR) | $19.99 | DC COMICS |
| 244 | 315 | 0.33 | DEADPOOL KILLS MARVEL UNIVERSE TP | $14.99 | MARVEL COMICS |
| 246 | 290 | 0.33 | SCIENCE COMICS WILD WEATHER SC GN | $12.99 | :01 FIRST SECOND |
| 247 | 264 | 0.33 | AVENGERS BY JASON AARON TP VOL 01 FINAL HOST | $17.99 | MARVEL COMICS |
| 248 | 249 | 0.32 | STAR WARS DARTH VADER DARK LORD SITH TP VOL 04 FORTRESS VADE | $19.99 | MARVEL COMICS |
| 249 | 319 | 0.32 | TOKYO GHOUL GN VOL 01 | $12.99 | VIZ MEDIA LLC |
| 250 | 272 | 0.32 | SPIDER-MAN DEADPOOL TP VOL 01 ISNT IT BROMANTIC | $17.99 | MARVEL COMICS |
| 251 | 280 | 0.32 | DISNEY DESCENDANTS ROTTEN TO THE CORE COMPLETE TP | $15.99 | TOKYOPOP |
| 251 | 302 | 0.32 | GOBLIN SLAYER GN VOL 05 (MR) | $13.00 | YEN PRESS |
| 251 | 526 | 0.32 | BLACK SCIENCE TP VOL 01 HOW TO FALL FOREVER (MR) | $9.99 | IMAGE COMICS |
| 254 | 275 | 0.31 | LADY MECHANIKA TP VOL 02 TABLET OF DESTINIES | $19.99 | BENITEZ PRODUCTIONS |
| 254 | 289 | 0.31 | MERA TIDEBREAKER TP DC INK | $16.99 | DC COMICS |
| 256 | 170 | 0.31 | CANNONBALL GN (MR) | $24.95 | UNCIVILIZED BOOKS |
| 256 | 281 | 0.31 | BLACK HAMMER TP VOL 03 AGE OF DOOM PART I | $19.99 | DARK HORSE COMICS |
| 256 | 490 | 0.31 | RED SONJA WORLDS AWAY TP VOL 01 | $19.99 | DYNAMITE |
| 259 | 223 | 0.31 | GODZILLA OBLIVION TP | $19.99 | IDW PUBLISHING |
| 259 | 531 | 0.31 | MY HERO ACADEMIA VIGILANTES GN VOL 01 | $9.99 | VIZ MEDIA LLC |
| 261 | 156 | 0.31 | INFINITY WARS TP | $34.99 | MARVEL COMICS |
| 262 | 279 | 0.31 | STAR WARS DARTH VADER DARK LORD SITH TP VOL 01 IMPERIAL MACH | $17.99 | MARVEL COMICS |
| 263 | 254 | 0.31 | JOKER HC | $19.99 | DC COMICS |
| 263 | 303 | 0.31 | MECH CADET YU TP VOL 03 | $14.99 | BOOM! STUDIOS |
| 263 | 320 | 0.31 | O MAIDENS IN YOUR SAVAGE SEASON GN VOL 01 | $12.99 | KODANSHA COMICS |
| 266 | 294 | 0.30 | BATMAN TP VOL 01 I AM GOTHAM (REBIRTH) | $16.99 | DC COMICS |
| 267 | 446 | 0.30 | CLYDE GN | $9.99 | IDW PUBLISHING |
| 268 | 157 | 0.30 | JUSTICE LEAGUE BY CHRISTOPHER PRIEST DLX ED HC | $34.99 | DC COMICS |
| 268 | 253 | 0.30 | SAGA OF THE SWAMP THING TP BOOK 01 (MR) | $19.99 | DC COMICS |
| 270 | 287 | 0.30 | SPENCER AND LOCKE TP VOL 01 | $14.99 | ACTION LAB – DANGER ZONE |
| 270 | 307 | 0.30 | JUSTICE LEAGUE DARK TP VOL 01 THE LAST AGE OF MAGIC | $16.99 | DC COMICS |
| 272 | 312 | 0.30 | PATIENCE CONVICTION REVENGE TP VOL 01 | $14.99 | AFTERSHOCK COMICS |
| 273 | 500 | 0.30 | SPIDER-MAN SPIDER-VERSE GN TP MILES MORALES | $9.99 | MARVEL COMICS |
| 274 | 291 | 0.30 | RETURN OF WOLVERINE TP | $17.99 | MARVEL COMICS |
| 275 | 308 | 0.30 | DOOM PATROL TP VOL 01 BRICK BY BRICK (MR) | $16.99 | DC COMICS |
| 276 | 334 | 0.29 | DEADLY CLASS TP VOL 04 DIE FOR ME (NEW PTG) | $16.99 | IMAGE COMICS |
| 277 | 219 | 0.29 | X-MEN DARK PHOENIX SAGA TP | $24.99 | MARVEL COMICS |
| 278 | 745 | 0.29 | PATRICIA BRIGGS MERCY THOMPSON MOON CALLED TP VOL 01 | $16.99 | DYNAMITE |
| 279 | 605 | 0.29 | LADY MECHANIKA TP VOL 04 CLOCKWORK ASSASSIN | $9.99 | BENITEZ PRODUCTIONS |
| 279 | 1536 | 0.29 | CHARLAINE HARRIS GRAVE SIGHT GN VOL 01 | $7.99 | DYNAMITE |
| 281 | 575 | 0.28 | LOW TP VOL 01 THE DELIRIUM OF HOPE (MR) | $9.99 | IMAGE COMICS |
| 282 | 337 | 0.28 | SUNSTONE OGN VOL 06 (MR) | $16.99 | IMAGE COMICS |
| 283 | 81 | 0.28 | PHANTOM COMP DAILIES HC VOL 15 1957-1958 | $60.00 | HERMES PRESS |
| 283 | 640 | 0.28 | SHADOW 1941 HITLERS ASTROLOGER HC | $19.99 | DYNAMITE |
| 283 | 763 | 0.28 | LA BANKS VAMPIRE HUNTRESS TP VOL 01 | $16.99 | DYNAMITE |
| 286 | 274 | 0.28 | STAR WARS DARTH VADER TP VOL 01 VADER | $19.99 | MARVEL COMICS |
| 286 | 309 | 0.28 | SONIC THE HEDGEHOG TP VOL 02 FATE DR EGGMAN | $15.99 | IDW PUBLISHING |
| 286 | 346 | 0.28 | SEVEN TO ETERNITY TP VOL 02 | $16.99 | IMAGE COMICS |
| 286 | 814 | 0.28 | SOLAR MAN OF ATOM TP VOL 01 NUCLEAR FAMILY | $16.99 | DYNAMITE |
| 290 | 349 | 0.28 | CAPTAIN HARLOCK DIMENSIONAL VOYAGE GN VOL 08 | $12.99 | SEVEN SEAS ENTERTAINMENT LLC |
| 290 | 528 | 0.28 | GIDEON FALLS TP VOL 01 BLACK BARN (MR) | $9.99 | IMAGE COMICS |
| 290 | 929 | 0.28 | PROJECT SUPERPOWERS MASQUERADE TP VOL 01 | $14.99 | DYNAMITE |
| 293 | 154 | 0.28 | UNCANNY X-MEN TP VOL 01 X-MEN DISASSEMBLED | $39.99 | MARVEL COMICS |
| 293 | 384 | 0.28 | DEADLY CLASS TP VOL 03 THE SNAKE PIT (MR) | $14.99 | IMAGE COMICS |
| 295 | 285 | 0.27 | KITARO GN VOL 06 YOKAI BATTLES | $15.95 | DRAWN & QUARTERLY |
| 296 | 70 | 0.27 | THANOS WARS INFINITY ORIGIN OMNIBUS HC | $100.00 | MARVEL COMICS |
| 296 | 333 | 0.27 | BATMAN TP VOL 09 THE TYRANT WING | $16.99 | DC COMICS |
| 296 | 551 | 0.27 | DC SUPER HERO GIRLS SEARCH FOR ATLANTIS TP | $9.99 | DC COMICS |
| 296 | 827 | 0.27 | DOCTOR SPEKTOR TP VOL 01 | $16.99 | DYNAMITE |
| 300 | 233 | 0.27 | DMC GN #3 | $19.99 | DARRYL MAKES COMICS |
| 300 | 467 | 0.27 | DRAGON BALL SUPER GN VOL 01 | $9.99 | VIZ MEDIA LLC |
| 302 | 688 | 0.27 | KEVIN SMITH GREEN HORNET TP VOL 01 SINS O/T FATHER | $19.99 | DYNAMITE |
| 303 | 535 | 0.27 | RAT QUEENS TP VOL 01 SASS & SORCERY (MR) | $9.99 | IMAGE COMICS |
| 303 | 956 | 0.27 | BATTLESTAR GALACTICA CYLON WAR TP | $14.99 | DYNAMITE |
| 305 | 572 | 0.27 | SPIDER-MAN SPIDER-VERSE GN TP SPIDER-GWEN | $9.99 | MARVEL COMICS |
| 306 | 256 | 0.27 | ALIENATION GN (MR) | $19.99 | FANTAGRAPHICS BOOKS |
| 306 | 395 | 0.27 | WALKING DEAD TP VOL 01 DAYS GONE BYE | $14.99 | IMAGE COMICS |
| 308 | 288 | 0.27 | DARK DAYS ROAD TO METAL TP | $19.99 | DC COMICS |
| 309 | 374 | 0.26 | OTHERWORLDLY IZAKAYA NOBU TP VOL 03 | $12.99 | UDON ENTERTAINMENT INC |
| 309 | 618 | 0.26 | MY HERO ACADEMIA GN VOL 14 | $9.99 | VIZ MEDIA LLC |
| 311 | 244 | 0.26 | REVENGE OF WONDERLAND TP | $19.99 | ZENESCOPE ENTERTAINMENT INC |
| 311 | 616 | 0.26 | MY HERO ACADEMIA GN VOL 15 | $9.99 | VIZ MEDIA LLC |
| 313 | 363 | 0.26 | FISSURE TP VOL 01 (MR) | $15.99 | VAULT COMICS |
| 314 | 35 | 0.25 | SANDMAN OMNIBUS HC VOL 03 (MR) | $150.00 | DC COMICS |
| 315 | 194 | 0.25 | DOLL GN (A) | $15.00 | FANTAGRAPHICS BOOKS |
| 315 | 339 | 0.25 | FLASH TP VOL 01 LIGHTNING STRIKES TWICE (REBIRTH) | $17.99 | DC COMICS |
| 315 | 357 | 0.25 | BATMAN TP VOL 01 THE COURT OF OWLS (N52) | $16.99 | DC COMICS |
| 315 | 481 | 0.25 | CLASSIC ILLUSTRATED TP THROUGH LOOKING GLASS | $9.95 | CLASSICS ILLUSTRATED |
| 319 | 429 | 0.25 | UNDEAD MESSIAH MANGA GN VOL 01 | $10.99 | TOKYOPOP |
| 320 | 152 | 0.25 | SAGA DLX ED HC VOL 01 | $49.99 | IMAGE COMICS |
| 321 | 292 | 0.25 | FRAGMENTS OF HORROR HC JUNJI ITO (MR) | $17.99 | VIZ MEDIA LLC |
| 322 | 647 | 0.25 | MY HERO ACADEMIA GN VOL 06 | $9.99 | VIZ MEDIA LLC |
| 323 | 234 | 0.25 | SHIVER HC JUNJI ITO | $22.99 | VIZ MEDIA LLC |
| 323 | 344 | 0.25 | YOUNG MOZART HC | $14.95 | HUMANOIDS INC |
| 325 | 391 | 0.25 | MUSHOKU TENSEI ROXY GETS SERIOUS GN VOL 01 | $12.99 | SEVEN SEAS ENTERTAINMENT LLC |
| 325 | 399 | 0.25 | IMMORTAL HULK TP VOL 02 GREEN DOOR | $15.99 | MARVEL COMICS |
| 325 | 617 | 0.25 | VENOM VS CARNAGE TP | $9.99 | MARVEL COMICS |
| 328 | 181 | 0.24 | BPRD HELL ON EARTH HC VOL 05 | $34.99 | DARK HORSE COMICS |
| 328 | 336 | 0.24 | WWE NXT TAKEOVER TP | $16.99 | BOOM! STUDIOS |
| 328 | 389 | 0.24 | BLACK PANTHER VS DEADPOOL TP | $15.99 | MARVEL COMICS |
| 328 | 475 | 0.24 | MS MARVEL GN-TP KAMALA KHAN | $12.99 | MARVEL COMICS |
| 328 | 690 | 0.24 | MY HERO ACADEMIA GN VOL 09 | $9.99 | VIZ MEDIA LLC |
| 333 | 316 | 0.24 | SANDMAN TP VOL 02 THE DOLLS HOUSE 30TH ANNIV ED (MR) | $19.99 | DC COMICS |
| 333 | 653 | 0.24 | DISNEY FROZEN TP BREAKING BOUNDARIES | $10.99 | DARK HORSE COMICS |
| 335 | 268 | 0.24 | SABAN POWER RANGERS SOUL DRAGON ORIGINAL GN | $19.99 | BOOM! STUDIOS |
| 335 | 935 | 0.24 | LADY MECHANIKA TP VOL 03 LOST BOYS OF WEST ABBEY | $7.99 | BENITEZ PRODUCTIONS |
| 337 | 371 | 0.24 | RAT QUEENS TP VOL 05 COLOSSAL MAGIC NOTHING (MR) | $16.99 | IMAGE COMICS |
| 338 | 362 | 0.24 | STAR WARS DOCTOR APHRA TP VOL 01 APHRA | $17.99 | MARVEL COMICS |
| 338 | 405 | 0.24 | BLAME MOVIE ED GN | $12.95 | VERTICAL COMICS |
| 340 | 119 | 0.24 | WALT & SKEEZIX HC VOL 07 1933 – 1934 | $49.95 | DRAWN & QUARTERLY |
| 340 | 199 | 0.24 | CIVIL WAR II TP | $34.99 | MARVEL COMICS |
| 340 | 455 | 0.24 | WICKED & DIVINE TP VOL 02 FANDEMONIUM (MR) | $14.99 | IMAGE COMICS |
| 343 | 332 | 0.24 | BATMAN TP VOL 04 THE WAR OF JOKES & RIDDLES (REBIRTH) | $19.99 | DC COMICS |
| 343 | 387 | 0.24 | BLACK PANTHER TP BOOK 01 NATION UNDER OUR FEET | $16.99 | MARVEL COMICS |
| 343 | 438 | 0.24 | PAPER GIRLS TP VOL 04 | $14.99 | IMAGE COMICS |
| 343 | 659 | 0.24 | MARVEL SUPER HERO ADVENTURES GN TP CAPTAIN MARVEL | $9.99 | MARVEL COMICS |
| 347 | 263 | 0.23 | AMAZING FANTASTIC INCREDIBLE MARVELOUS MEMOIR TP | $19.99 | GALLERY 13 |
| 348 | 335 | 0.23 | DISNEY MANGA NIGHTMARE CHRISTMAS ZEROS JOURNEY TP VOL 01 | $15.99 | TOKYOPOP |
| 349 | 216 | 0.23 | LUCIFER TP VOL 01 (MR) | $29.99 | DC COMICS |
| 349 | 377 | 0.23 | OBLIVION SONG BY KIRKMAN & DE FELICI TP VOL 02 | $16.99 | IMAGE COMICS |
| 349 | 379 | 0.23 | THOR TP VOL 01 GOD OF THUNDER REBORN | $17.99 | MARVEL COMICS |
| 349 | 707 | 0.23 | MY HERO ACADEMIA GN VOL 07 | $9.99 | VIZ MEDIA LLC |
| 349 | 715 | 0.23 | SEX CRIMINALS TP VOL 01 (MR) | $9.99 | IMAGE COMICS |
| 354 | 340 | 0.23 | STAR WARS DARTH VADER DARK LORD SITH TP VOL 03 BURNING SEAS | $19.99 | MARVEL COMICS |
| 354 | 380 | 0.23 | DEATH NOTE BLACK ED TP VOL 01 | $14.99 | VIZ MEDIA LLC |
| 356 | 419 | 0.23 | NICO BRAVO & HOUND OF HADES SC GN | $12.99 | :01 FIRST SECOND |
| 356 | 525 | 0.23 | PAPER GIRLS TP VOL 03 | $12.99 | IMAGE COMICS |
| 358 | 304 | 0.23 | LOCKE & KEY TP VOL 01 WELCOME TO LOVECRAFT | $19.99 | IDW PUBLISHING |
| 359 | 229 | 0.23 | CRISIS ON INFINITE EARTHS TP | $29.99 | DC COMICS |
| 359 | 445 | 0.23 | SNOTGIRL TP VOL 02 CALIFORNIA SCREAMING | $15.99 | IMAGE COMICS |
| 361 | 420 | 0.23 | MARVEL 100TH ANNIVERSARY TP | $16.99 | MARVEL COMICS |
| 361 | 652 | 0.23 | CHEW TP VOL 01 (MR) | $9.99 | IMAGE COMICS |
| 363 | 207 | 0.22 | SECRET WARS TP | $34.99 | MARVEL COMICS |
| 363 | 508 | 0.22 | MOON GIRL AND DEVIL DINOSAUR GN TP VOL 01 BEGINNING | $12.99 | MARVEL COMICS |
| 365 | 770 | 0.22 | WYTCHES TP VOL 01 (MR) | $9.99 | IMAGE COMICS |
| 366 | 209 | 0.22 | AVENGERS VS X-MEN TP AVX | $34.99 | MARVEL COMICS |
| 366 | 267 | 0.22 | BATMAN TEENAGE MUTANT NINJA TURTLES II HC | $24.99 | DC COMICS |
| 366 | 403 | 0.22 | DOOM PATROL TP VOL 02 NADA (MR) | $16.99 | DC COMICS |
| 369 | 396 | 0.22 | CAPTAIN AMERICA TP VOL 01 WINTER IN AMERICA | $17.99 | MARVEL COMICS |
| 370 | 298 | 0.22 | RICK & MORTY TP VOL 01 | $19.99 | ONI PRESS INC. |
| 370 | 488 | 0.22 | SAILOR MOON TP KODANSHA ED VOL 01 | $10.99 | KODANSHA COMICS |
| 370 | 642 | 0.22 | LEGEND OF KORRA TP VOL 01 TURF WARS PT 1 | $10.99 | DARK HORSE COMICS |
| 373 | 175 | 0.22 | KNIGHTS OF SIDONIA MASTER ED GN VOL 01 | $34.95 | VERTICAL COMICS |
| 374 | 601 | 0.21 | ONE PUNCH MAN GN VOL 02 | $9.99 | VIZ MEDIA LLC |
| 375 | 240 | 0.21 | INJUSTICE GODS AMONG US YEAR FOUR COMPLETE COLL TP | $29.99 | DC COMICS |
| 376 | 367 | 0.21 | HELLBLAZER TP VOL 01 ORIGINAL SINS NEW ED (MR) | $19.99 | DC COMICS |
| 377 | 295 | 0.21 | BATMAN A DEATH IN THE FAMILY TP | $24.99 | DC COMICS |
| 377 | 497 | 0.21 | DEADLY CLASS TP VOL 05 CAROUSEL (MR) | $14.99 | IMAGE COMICS |
| 379 | 212 | 0.21 | BOYS OMNIBUS TP VOL 01 (MR) | $29.99 | DYNAMITE |
| 379 | 276 | 0.21 | HELLBOY COMPLETE SHORT STORIES TP VOL 01 | $24.99 | DARK HORSE COMICS |
| 379 | 301 | 0.21 | CHERRY GALS GN VOL 01 (A) | $19.95 | FAKKU BOOKS |
| 382 | 437 | 0.21 | AMULET SC VOL 01 STONEKEEPER | $12.99 | GRAPHIX |
| 382 | 452 | 0.21 | DEADLY CLASS TP VOL 07 LOVE LIKE BLOOD (MR) | $16.99 | IMAGE COMICS |
| 384 | 428 | 0.21 | BLACK HAMMER TP VOL 02 THE EVENT | $19.99 | DARK HORSE COMICS |
| 384 | 483 | 0.21 | SHUTTER TP VOL 01 WANDERLOST (NEW PTG) (MR) | $14.99 | IMAGE COMICS |
| 386 | 423 | 0.20 | STAR WARS DARTH VADER DARK LORD SITH TP VOL 02 LEGACYS END | $17.99 | MARVEL COMICS |
| 387 | 469 | 0.20 | IF ITS FOR MY DAUGHTER DEFEAT DEMON LORD GN VOL 03 | $12.99 | SEVEN SEAS ENTERTAINMENT LLC |
| 387 | 470 | 0.20 | HIMOUTO UMARI CHAN GN VOL 05 | $12.99 | SEVEN SEAS ENTERTAINMENT LLC |
| 387 | 609 | 0.20 | CLASSIC ILLUSTRATED TP ADV TOM SAWYER | $9.95 | CLASSICS ILLUSTRATED |
| 390 | 743 | 0.20 | SUPER SONS THE POLARSHIELD PROJECT TP DC ZOOM | $9.99 | DC COMICS |
| 390 | 831 | 0.20 | MY HERO ACADEMIA GN VOL 11 | $9.99 | VIZ MEDIA LLC |
| 392 | 471 | 0.20 | CLASSIC ILLUSTRATED REPLICA ED HC JOURNEY TO CENTER OF EARTH | $12.95 | CLASSICS ILLUSTRATED |
| 392 | 824 | 0.20 | BITCH PLANET TP VOL 01 EXTRAORDINARY MACHINE (MR) | $9.99 | IMAGE COMICS |
| 394 | 313 | 0.20 | DARK NIGHTS METAL THE RESISTANCE TP | $24.99 | DC COMICS |
| 394 | 383 | 0.20 | PILU OF THE WOODS HC | $17.99 | ONI PRESS INC. |
| 396 | 321 | 0.20 | GRACE BASED ON JEFF BUCKLEY STORY GN | $19.99 | :01 FIRST SECOND |
| 396 | 626 | 0.20 | VINCENT GN BOOK 01 GUIDE TO LOVE MAGIC & RPG | $9.99 | PAPERCUTZ |
| 398 | 5 | 0.20 | AVENGERS EARTH MIGHTIEST BOX SET SLIPCASE | $500.00 | MARVEL COMICS |
| 398 | 345 | 0.20 | AMAZING SPIDER-MAN TP VOL 03 SPIDER-VERSE | $24.99 | MARVEL COMICS |
| 398 | 360 | 0.20 | BLOODBORNE TP VOL 01 (MR) | $16.99 | TITAN COMICS |
| 398 | 480 | 0.20 | GETTER ROBO DEVOLUTION GN VOL 03 (MR) | $12.99 | SEVEN SEAS ENTERTAINMENT LLC |
| 398 | 485 | 0.20 | SPIDER-GWEN TP VOL 02 WEAPON OF CHOICE | $15.99 | MARVEL COMICS |
| 398 | 570 | 0.20 | HEROIC LEGEND OF ARSLAN GN VOL 10 | $10.99 | KODANSHA COMICS |
| 398 | 775 | 0.20 | DC SUPER HERO GIRLS OUT OF THE BOTTLE TP | $9.99 | DC COMICS |
| 405 | 200 | 0.20 | TOMIE COMPLETE DLX ED HC JUNJI ITO (MR) | $34.99 | VIZ MEDIA LLC |
| 405 | 245 | 0.20 | AKIRA KODANSHA ED GN VOL 01 (MR) | $24.99 | KODANSHA COMICS |
| 405 | 482 | 0.20 | WONDERLAND GN VOL 02 | $12.99 | SEVEN SEAS ENTERTAINMENT LLC |
| 405 | 860 | 0.20 | MY HERO ACADEMIA GN VOL 13 | $9.99 | VIZ MEDIA LLC |
| 409 | 376 | 0.19 | LEGEND OF ZELDA LEGENDARY ED GN VOL 01 OCARINA TIME | $17.99 | VIZ MEDIA LLC |
| 409 | 585 | 0.19 | CROWDED TP VOL 01 | $12.99 | IMAGE COMICS |
| 411 | 265 | 0.19 | DARK NIGHTS METAL DELUXE ED HC | $29.99 | DC COMICS |
| 411 | 466 | 0.19 | AMULET SC GN VOL 08 SUPERNOVA | $12.99 | GRAPHIX |
| 411 | 786 | 0.19 | DC SUPER HERO GIRLS TP VOL 01 FINALS CRISIS | $9.99 | DC COMICS |
| 414 | 459 | 0.19 | BATMAN TMNT TP VOL 01 | $16.99 | DC COMICS |
| 414 | 854 | 0.19 | MY HERO ACADEMIA GN VOL 12 | $9.99 | VIZ MEDIA LLC |
| 416 | 241 | 0.19 | CAPTAIN MARVEL CAROL DANVERS TP VOL 01 MS MARVEL YEARS | $34.99 | MARVEL COMICS |
| 416 | 857 | 0.19 | MOONSTRUCK TP VOL 01 | $9.99 | IMAGE COMICS |
| 418 | 370 | 0.19 | IN THE WILDERNESS GN (MR) | $10.00 | FANTAGRAPHICS BOOKS |
| 418 | 484 | 0.19 | WICKED & DIVINE TP VOL 07 MOTHERING INVENTION (MR) | $17.99 | IMAGE COMICS |
| 418 | 783 | 0.19 | SKYWARD TP VOL 01 MY LOW-G LIFE | $9.99 | IMAGE COMICS |
| 421 | 408 | 0.19 | TRANSMETROPOLITAN TP BOOK 01 (MR) | $19.99 | DC COMICS |
| 422 | 454 | 0.19 | AVENGERS BY JASON AARON TP VOL 02 WORLD TOUR | $17.99 | MARVEL COMICS |
| 423 | 269 | 0.19 | DOOM PATROL TP BOOK 01 (MR) | $29.99 | DC COMICS |
| 423 | 502 | 0.19 | GO WITH CLOUDS NORTH BY NORTHWEST GN VOL 01 | $12.95 | VERTICAL COMICS |
| 423 | 512 | 0.19 | MS MARVEL TP VOL 01 NO NORMAL | $15.99 | MARVEL COMICS |
| 423 | 884 | 0.19 | MY HERO ACADEMIA GN VOL 10 | $9.99 | VIZ MEDIA LLC |
| 427 | 172 | 0.18 | SAGA DLX ED HC VOL 02 (MR) | $49.99 | IMAGE COMICS |
| 427 | 310 | 0.18 | FRANKENSTEIN HC JUNJI ITO STORY COLLECTION | $22.99 | VIZ MEDIA LLC |
| 427 | 449 | 0.18 | HEAD LOPPER TP VOL 01 ISLAND OR A PLAGUE OF BEASTS (MR) | $19.99 | IMAGE COMICS |
| 427 | 510 | 0.18 | SORRY FOR MY FAMILIAR GN VOL 04 | $12.99 | SEVEN SEAS ENTERTAINMENT LLC |
| 431 | 509 | 0.18 | CLASSIC ILLUSTRATED REPLICA ED HC TIME MACHINE | $12.95 | CLASSICS ILLUSTRATED |
| 431 | 879 | 0.18 | MY HERO ACADEMIA GN VOL 08 | $9.99 | VIZ MEDIA LLC |
| 433 | 282 | 0.18 | SCOTT PILGRIM COLOR HC VOL 01 | $24.99 | ONI PRESS INC. |
| 433 | 433 | 0.18 | HELLBOY TP VOL 01 SEED OF DESTRUCTION (NEW PTG) | $17.99 | DARK HORSE COMICS |
| 433 | 703 | 0.18 | DRAGON BALL SUPER GN VOL 03 | $9.99 | VIZ LLC |
| 436 | 516 | 0.18 | DRAGON QUEST MONSTERS PLUS GN VOL 02 | $12.99 | SEVEN SEAS ENTERTAINMENT LLC |
| 436 | 712 | 0.18 | DRAGON BALL SUPER GN VOL 02 | $9.99 | VIZ MEDIA LLC |
| 438 | 348 | 0.18 | COMPLETE ELFQUEST TP VOL 01 ORIGINAL QUEST | $24.99 | DARK HORSE COMICS |
| 438 | 424 | 0.18 | MIGHTY MORPHIN POWER RANGERS TP VOL 07 | $16.99 | BOOM ENTERTAINMENT |
| 438 | 479 | 0.18 | I HATE FAIRYLAND TP VOL 04 (MR) | $16.99 | IMAGE COMICS |
| 438 | 550 | 0.18 | TOKYO GHOUL GN VOL 02 | $12.99 | VIZ MEDIA LLC |
| 442 | 425 | 0.18 | Y THE LAST MAN TP BOOK 02 (MR) | $19.99 | DC COMICS |
| 443 | 353 | 0.18 | INJUSTICE GODS AMONG US YEAR ONE COMPLETE COLL TP | $24.99 | DC COMICS |
| 443 | 530 | 0.18 | HOW TO TREAT MAGICAL BEASTS GN VOL 03 | $12.99 | SEVEN SEAS ENTERTAINMENT LLC |
| 443 | 595 | 0.18 | ATTACK ON TITAN GN VOL 01 | $10.99 | KODANSHA COMICS |
| 446 | 547 | 0.18 | VENOMVERSE TP | $15.99 | MARVEL COMICS |
| 447 | 155 | 0.18 | PRE CODE CLASSICS TALES OF HORROR HC VOL 02 | $44.99 | PS ARTBOOKS |
| 447 | 432 | 0.18 | BLACKEST NIGHT TP | $19.99 | DC COMICS |
| 447 | 533 | 0.18 | DEADLY CLASS TP VOL 06 (MR) | $16.99 | IMAGE COMICS |
| 447 | 427 | 0.18 | SANDMAN TP VOL 03 DREAM COUNTRY 30TH ANNIV ED (MR) | $19.99 | DC COMICS |
| 451 | 190 | 0.17 | INFINITY TP | $49.99 | MARVEL COMICS |
| 451 | 361 | 0.17 | MELTY GAZE GN VOL 01 (A) | $19.95 | FAKKU BOOKS |
| 451 | 468 | 0.17 | JESUSFREAK HC | $17.99 | IMAGE COMICS |
| 451 | 576 | 0.17 | MOONSTRUCK TP VOL 02 | $14.99 | IMAGE COMICS |
| 455 | 412 | 0.17 | TRUE LIVES OF FABULOUS KILLJOYS TP | $19.99 | DARK HORSE COMICS |
| 455 | 491 | 0.17 | I HATE FAIRYLAND TP VOL 03 GOOD GIRL (MR) | $16.99 | IMAGE COMICS |
| 455 | 1091 | 0.17 | ANIMOSITY TP VOL 01 (MR) | $14.99 | AFTERSHOCK COMICS |
| 458 | 520 | 0.17 | BELZEBUBS HC | $14.99 | IDW PUBLISHING |
| 459 | 443 | 0.17 | STAR WARS TP VOL 01 SKYWALKER STRIKES | $19.99 | MARVEL COMICS |
| 459 | 556 | 0.17 | LAND OF THE LUSTROUS GN VOL 08 | $12.99 | KODANSHA COMICS |
| 459 | 721 | 0.17 | CLASSICS ILLUSTRATED TP AENEID | $9.95 | CLASSICS ILLUSTRATED |
| 462 | 158 | 0.17 | PRE CODE CLASSICS WEB OF MYSTERY HC VOL 05 | $44.99 | PS ARTBOOKS |
| 462 | 356 | 0.17 | SUPERMAN HC VOL 01 THE UNITY SAGA | $24.99 | DC COMICS |
| 462 | 499 | 0.17 | EAST OF WEST TP VOL 08 | $16.99 | IMAGE COMICS |
| 462 | 843 | 0.17 | LEGEND OF KORRA TP VOL 02 TURF WARS PT 2 | $10.99 | DARK HORSE COMICS |
| 466 | 1096 | 0.17 | UNNATURAL TP VOL 01 AWAKENING (MR) | $9.99 | IMAGE COMICS |
| 467 | 565 | 0.17 | MAIDEN RAILWAYS GN | $12.95 | DENPA |
| 467 | 571 | 0.17 | FANTASTIC FOUR TP VOL 01 FOUREVER | $15.99 | MARVEL COMICS |
| 467 | 694 | 0.17 | TEEN TITANS GO TP VOL 01 PARTY PARTY | $12.99 | DC COMICS |
| 470 | 406 | 0.17 | COMICS EASY AS ABC HC | $16.95 | TOON BOOKS |
| 470 | 563 | 0.17 | DRAGON GOES HOUSE HUNTING GN VOL 02 | $12.99 | SEVEN SEAS ENTERTAINMENT LLC |
| 472 | 501 | 0.17 | JUSTICE LEAGUE TP VOL 01 THE TOTALITY TP | $17.99 | DC COMICS |
| 473 | 111 | 0.16 | AVENGERS OMNIBUS HC VOL 04 | $100.00 | MARVEL COMICS |
| 473 | 511 | 0.16 | THANOS TP VOL 01 THANOS RETURNS | $17.99 | MARVEL COMICS |
| 473 | 597 | 0.16 | I HATE FAIRYLAND TP VOL 02 FLUFF MY LIFE | $14.99 | IMAGE COMICS |
| 473 | 723 | 0.16 | MOB PSYCHO 100 TP VOL 02 | $11.99 | DARK HORSE COMICS |
| 473 | 871 | 0.16 | INVINCIBLE TP VOL 02 EIGHT IS ENOUGH | $12.99 | IMAGE COMICS |
| 473 | 1033 | 0.16 | LAZARUS TP VOL 01 (MR) | $9.99 | IMAGE COMICS |
| 479 | 453 | 0.16 | BLACK MONDAY MURDERS TP VOL 01 ALL HAIL GOD MAMMON (MR) | $19.99 | IMAGE COMICS |
| 479 | 589 | 0.16 | RAT QUEENS TP VOL 04 HIGH FANTASIES (MR) | $14.99 | IMAGE COMICS |
| 479 | 755 | 0.16 | MUTTS SUMMER DIARIES TP | $9.99 | AMP! COMICS FOR KIDS |
| 482 | 541 | 0.16 | RED HOOD & THE OUTLAWS TP VOL 01 DARK TRINITY (REBIRTH) | $16.99 | DC COMICS |
| 482 | 544 | 0.16 | CAPTAIN MARVEL TP VOL 01 HIGHER FURTHER FASTER MORE | $17.99 | MARVEL COMICS |
| 482 | 747 | 0.16 | SCAR SC | $8.00 | FANTAGRAPHICS BOOKS |
| 482 | 799 | 0.16 | LEGEND OF ZELDA TWILIGHT PRINCESS GN VOL 01 | $9.99 | VIZ MEDIA LLC |
| 486 | 247 | 0.16 | AMAZING SPIDER-MAN EPIC COLLECTION GREAT RESPONSIBILITY TP | $39.99 | MARVEL COMICS |
| 486 | 677 | 0.16 | WICKED & DIVINE TP VOL 03 (MR) | $14.99 | IMAGE COMICS |
| 486 | 894 | 0.16 | LEGEND OF KORRA TP VOL 03 TURF WARS PT 3 | $10.99 | DARK HORSE COMICS |
| 486 | 1052 | 0.16 | PRETTY DEADLY TP VOL 01 (MR) | $9.99 | IMAGE COMICS |
| 490 | 727 | 0.16 | FABLES TP VOL 01 LEGENDS IN EXILE (MR) | $12.99 | DC COMICS |
| 491 | 328 | 0.16 | CAPTAIN MARVEL EARTHS MIGHTIEST HERO TP VOL 02 | $29.99 | MARVEL COMICS |
| 491 | 447 | 0.16 | FIGHT CLUB 2 TP (MR) | $19.99 | DARK HORSE COMICS |
| 491 | 591 | 0.16 | TOKYO TARAREBA GIRLS GN VOL 06 | $12.99 | KODANSHA COMICS |
| 491 | 596 | 0.16 | WILLIAM LAST TP VOL 01 | $12.99 | ANTARCTIC PRESS |
| 491 | 692 | 0.16 | DIFFERENTLY MORPHOUS HC | $12.99 | DARK HORSE COMICS |
| 491 | 1062 | 0.16 | MY HERO ACADEMIA VIGILANTES GN VOL 02 | $9.99 | VIZ MEDIA LLC |
| 497 | 318 | 0.16 | WOMAN WORLD GN (MR) | $24.95 | DRAWN & QUARTERLY |
| 497 | 937 | 0.16 | OBLIVION SONG BY KIRKMAN & DE FELICI TP VOL 01 (MR) | $9.99 | IMAGE COMICS |
| 499 | 394 | 0.16 | BATMAN VS DEATHSTROKE HC | $24.99 | DC COMICS |
| 499 | 415 | 0.16 | MIGHTY MORPHIN POWER RANGERS TP VOL 01 | $19.99 | BOOM! STUDIOS |
| 499 | 519 | 0.16 | WEATHERMAN TP VOL 01 (MR) | $17.99 | IMAGE COMICS |