I think ABC's Holey Moley will take the world by storm when it drops on this June. Trust me on this- I predicted that The Masked Singer would be a runaway hit, so I must be an expert on this stuff.
What is Holey Moley? It's mini-golf meets American Ninja Warrior. Mini golf enthusiasts go head to head on some of the most elaborate courses ever developed. I don't think there are flame-throwers involved, but a boy has to dream, right?
Entertainment Weekly just published an interview with Holey Moley's sideline correspondent, Jennie Mai, who had the following to say about the show:
"There's some ridiculous challenges, for example at one point we tee off from a three story hole that's floating above a huge freezing cold pond of water and the person who misses the hole plummets to their demise into the pond!" Another hole sees contestants running through moving windmills. "Let me tell you these windmills knocked human beings over in front of my very own eyes!" warns Mai. "It's ferocious; it wasn't an easy thing to watch."
Mai is talking about one of Holey Moley's course, called "Dutch Courage". It's a field filled with giant fake tulips, and windmills that contestants will have to navigate through. And those windmill blades are made of foam, to keep contestants safe. Still, someone is going to get knocked over, and I'm so ready to take this in.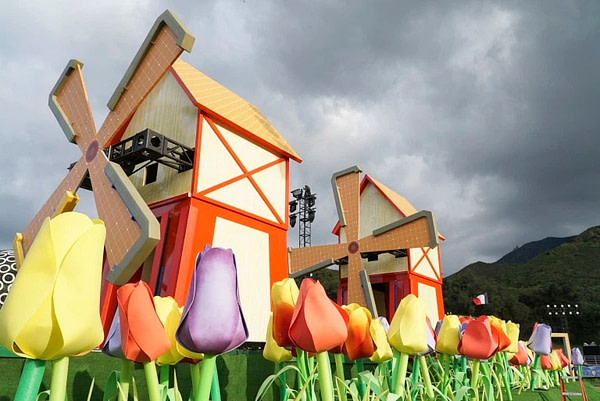 Then there's the "Arc de Trigolf", where contestants have to putt up a curved ramp, then work through an obstacle course to get to the next green. While there aren't any sharks in the pool, I'm still excited for the sheer wackiness of this show. June can't get here any sooner!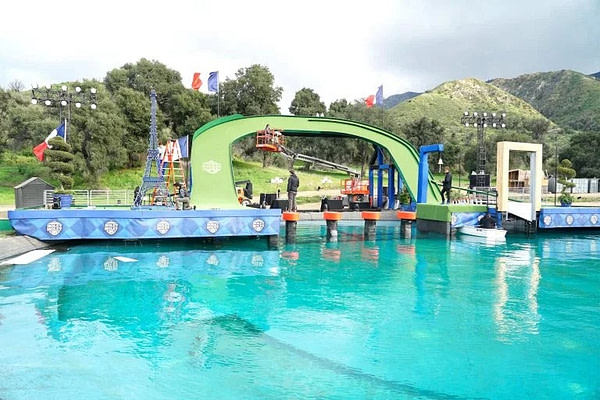 Entertainment Weekly has quite a few more photos available, as well as who's behind the scenes on the show. All I know is that June 20th is going to be a great time for extreme mini golf fans!
Here's the info directly from ABC:
Holey Moley." The first-of-its-kind, 10-episode mini-golf competition will showcase self-proclaimed mini-golf lovers from around the country as they compete head-to-head through an unparalleled, epic obstacle golf course. NBA superstar Stephen Curry will serve as executive producer, resident golf pro of the "Holey Moley" course and appear in every episode. Rounding out the on-camera talent is color commentator Rob Riggle, play-by-play commentator Joe Tessitore and sideline correspondent Jeannie Mai. Be sure to watch on the ABC app from your smartphone and tablet (iOS and Android), computer on ABC.com and connected devices (Roku, AppleTV and Amazon Fire TV).

"Holey Moley" will focus on the family-favorite game of mini-golf with a twist. In each episode, 12 contestants will put their miniature golf—and physical—skills to the test and face off in never-before-seen challenges on a larger-than-life course. Mini-golf experts of all ages and backgrounds will try their luck on "Holey Moley"'s supersized holes. Every episode will consist of three rounds of golf, culminating with three finalists taking on the daunting "Mt. Holey Moley" in a three-way contest. Ultimately, one winner per episode will take home the $25,000 prize, along with "The Golden Putter" trophy and coveted "Holey Moley" plaid jacket. Uniquely themed holes will be featured every week, along with special celebrity guest appearances and other surprises along the way.