Proving you can't keep a good fallen angel down forever, Tom Ellis' "Deeevulll!" is ready to rise from the ashes of cancellation this week, as Lucifer tunes up its 10-episode fourth season gospel for Netflix starting Wednesday, May 8th. To help get fans back into a devilish mood, the streaming service has reunited the cast to discuss how the show's shenanigans behind the scenes correlate with the "Nine Circles of Hell."
This is Lucifer, people – you knew some kind of "confession" would have to be involved…
"I'll say this is without a doubt our strongest season that we've done, for many reasons. A lot of it has to do with where we left our story and how we pick it up, and what we deal with this season is stuff we've never really dealt with before because there was always this conceit that no one believes Lucifer is the devil. But now that is common knowledge amongst some of our major characters."

– Tom Ellis
Now here's a look at the official trailer for the upcoming season, as well as a season overview and a look at the currently available episode titles/synopses:
Reeling from the aftermath of Chloe seeing his devil face, Lucifer faces a new challenge: Eve, the original sinner herself, is back. Does she want revenge for when he tempted her out of Eden oh so many years ago… or something else entirely? Lucifer Season 4 premieres May 8 only on Netflix.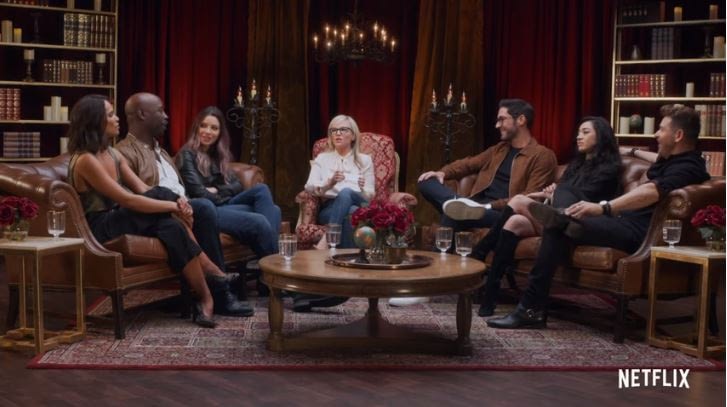 Lucifer Season 4, Episode 1 "Everything's Okay": While investigating a beekeepers murder with Lucifer, Chloe insists that she's completely fine with his devilish revelation, thank you very much.

Lucifer Season 4, Episode 2 "Somebody's Been Reading Dante's Inferno": Chloe and Lucifer look into a murder on the set of a reality show. Father Kinley presses forward with a plan. Amenadiel reconsiders his idea of home.

Lucifer Season 4, Episode 3 "O Ye of Little Faith, Father": An ex-gang member's murder may mask an even darker crime. Lucifer catches Chloe in a lie. Dan and Maze go rogue. Linda braces for looming motherhood.

Lucifer Season 4, Episode 4 "All About Eve": When a jewelry designer is murdered, Lucifer and Chloe strive to solve the case without each other's help. Also, Lucifer reconnects with an old flame.

Lucifer Season 4, Episode 5 "Expire Erect": After a collector of classic cars is killed, Lucifer and Chloe search for the culprit – as well as some closure to their relationship.

Lucifer Season 4, Episode 6 "Orgy Pants to Work": While Lucifer and Chloe search for a connection between a murdered auditor and a nudist colony, Amenadiel plays host to an unexpected visitor.

Lucifer Season 4, Episode 7 "Devil Is as Devil Does"

Lucifer Season 4, Episode 8 "Super Bad Boyfriend"

Lucifer Season 4, Episode 9 "Save Lucifer"

Lucifer Season 4, Episode 10 "King of Hell"
Thankfully, it appears Lucifer fans will get a resolution to a major season 3 cliffhanger that found Detective Chloe Decker (Lauren German) discovering her partner's literal true, devilish side. From the official synopsis above, we can tell that the revelation will have an impact from the start of the new season – though it looks like one of The Book of Genesis' leads is going to complicate things for everyone: is she looking for revenge – or does she have bigger plans at play?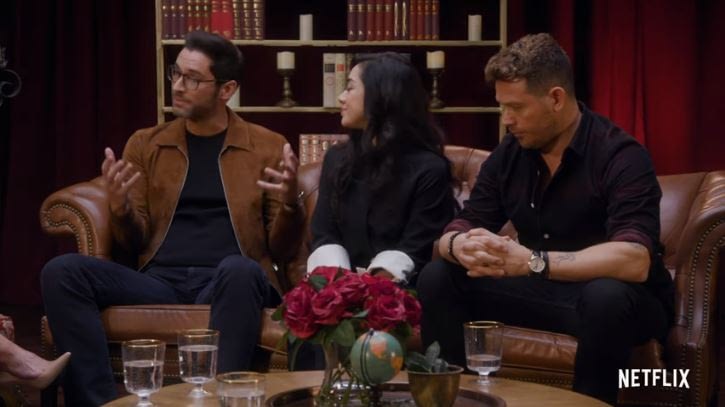 Lucifer fans can look forward to having a number of their lingering questions answered – with a whole bunch of new ones to take their place, we're sure – when the fourth season premieres on Netflix on Wednesday, May 8th.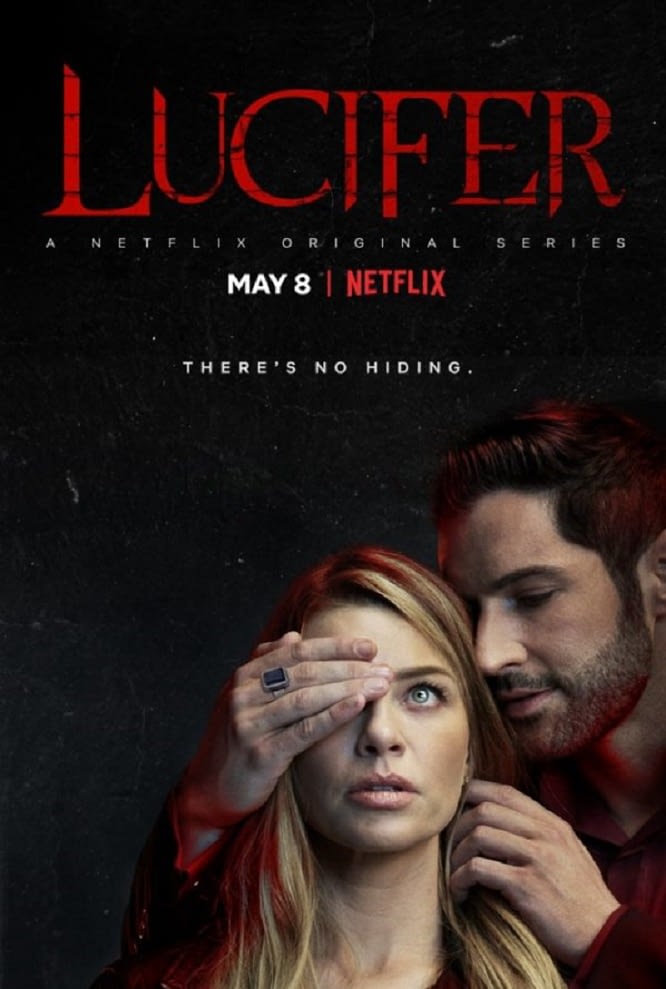 Enjoyed this article? Share it!