A Writer's Commentary: David Avallone on Bettie Page #3, on sale now from Dynamite Entertainment.
As always, the usual warning: if you plan to read the comic… go read the issue and come back. SO MANY spoilers ahead.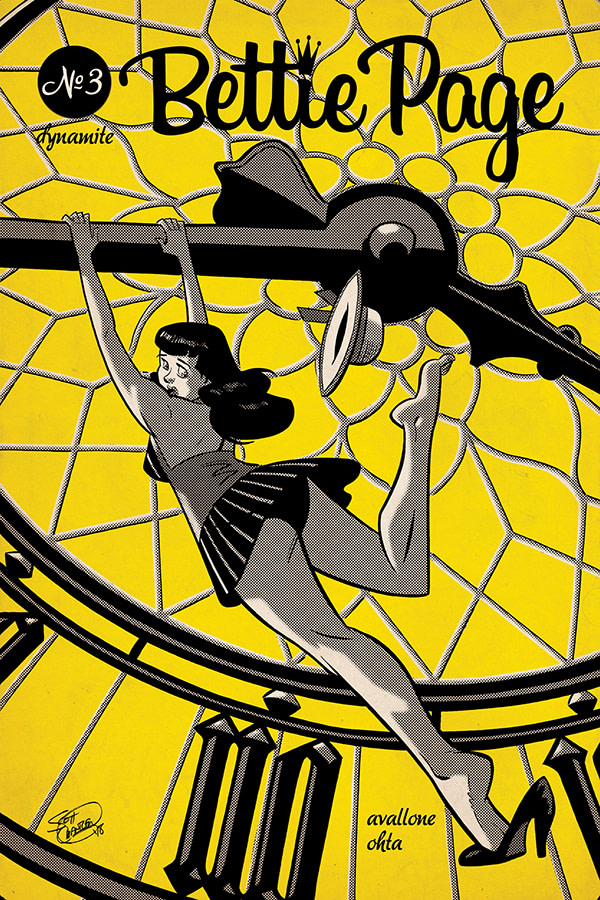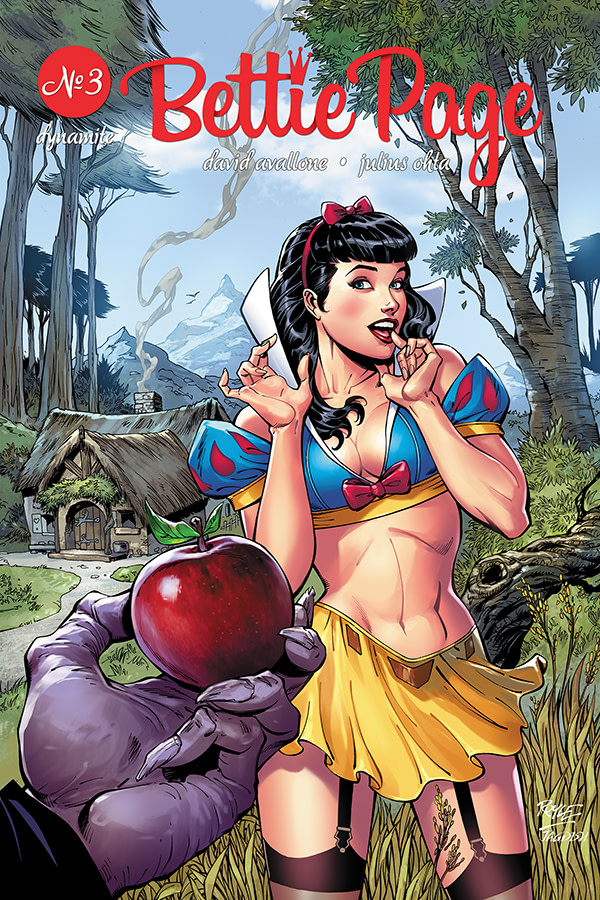 Covers:
A fantastic set of covers. This time, John Royle's fairy tale is Snow White Bettie. (Bettie White?) I don't remember ever seeing Snow White's abs in the Disney version. David Williams brings us Circus Bettie and Julius Ohta provides a moody Royal Bettie. Last but never least is Scott Chantler, who usually asks for my input. This time I said something about having Bettie hanging off Big Ben, like Harold Lloyd in "Safety Last". I hope she can get that missing shoe back…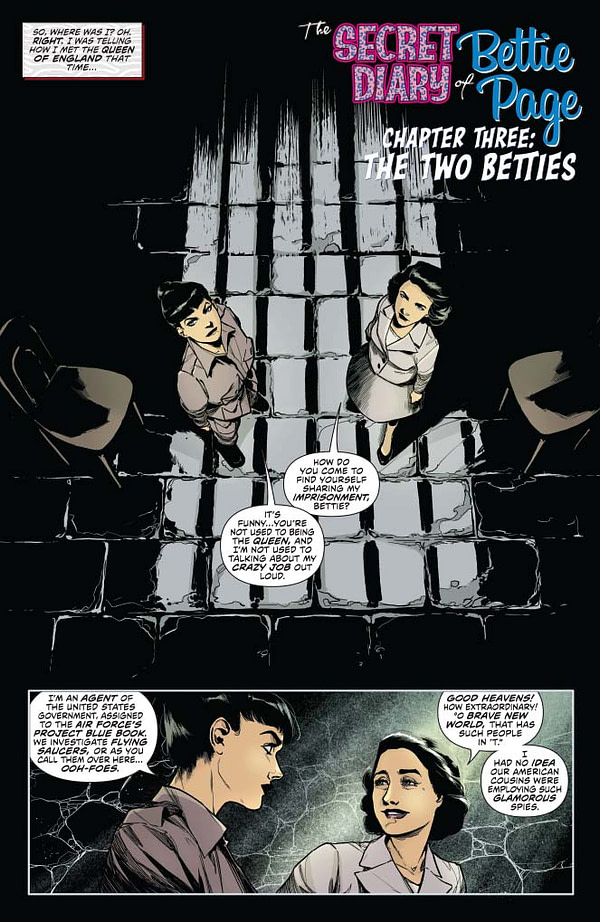 Page 1: The inspiration for this series came from discovering, via my research, that Bettie and Elizabeth Windsor were roughly the same age. I thought it would be great fun to bring them together and see these two women – both tougher and smarter than anyone ever gave them credit for – fighting side-by-side. Here, artist Julius Ohta brings his incredible talent for facial expression and "acting" to liven up a couple of pages of exposition and character building.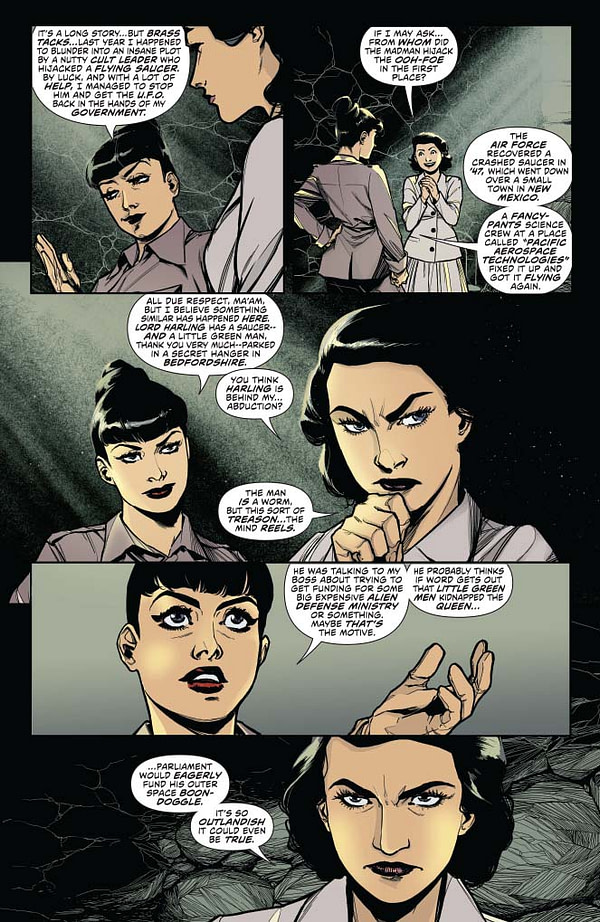 Page 2: Bettie very briefly recaps the events of her first story arc ("Bettie In Hollywood": order the trade from Amazon!) and makes a connection between Roswell and her present situation. "Pacific AeroSpace Technologies" is our fictional version of the Jet Propulsion Laboratory. For what it's worth… the Bedfordshire U.F.O. sighting near the Royal Aircraft Establishment is a real thing from British history.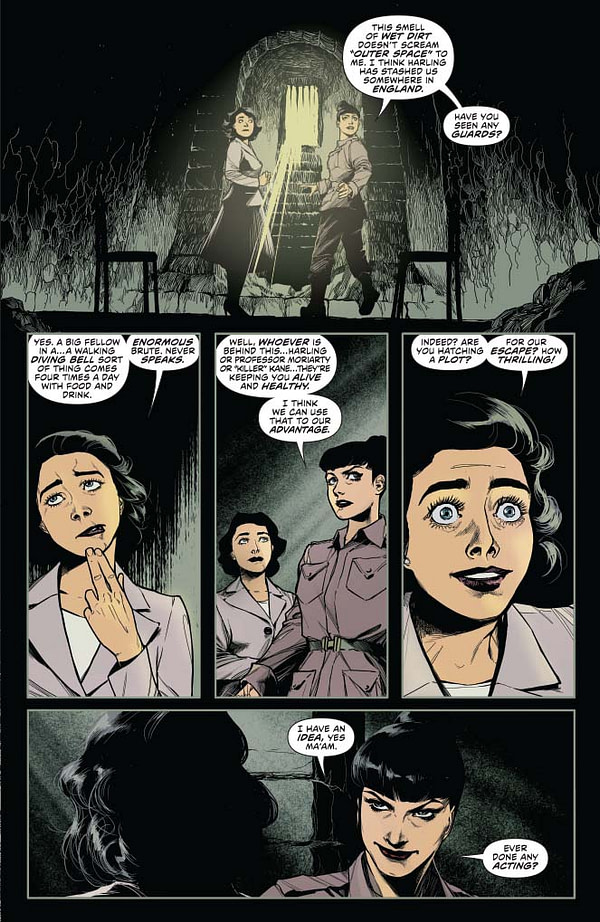 Page 3: Great color work from Ellie Wright throughout, but I particularly like the hazy sunshine cutting through the gloom of the cell here. Queen Elizabeth the 2nd doesn't strike me as a big science fiction fan, so "diving bell" is the closest approximation she has to "space suit." Bettie is more of a consumer of pop culture, and jokingly name checks Professor Moriarty (Sherlock Holmes' archenemy) and "Killer" Kane (a Buck Rogers supervillain.)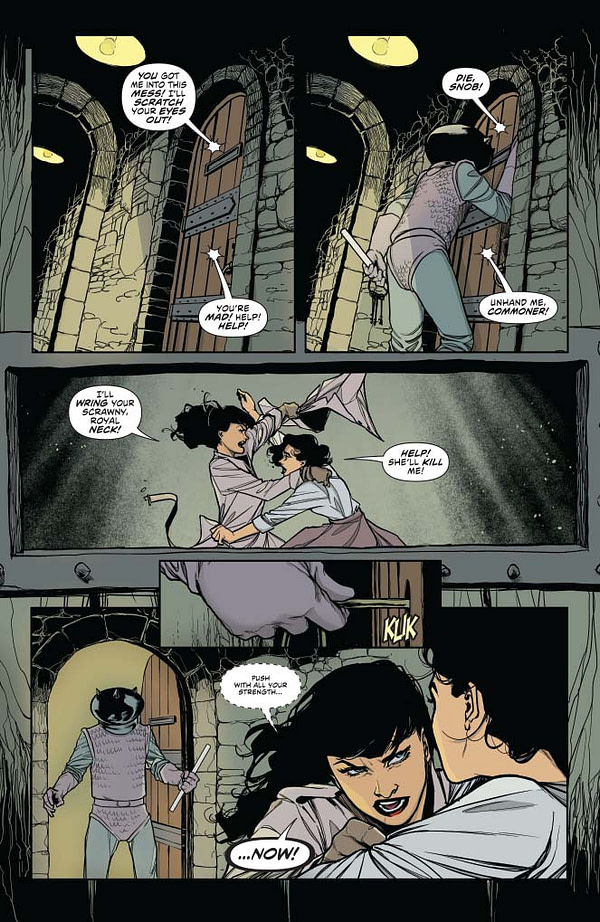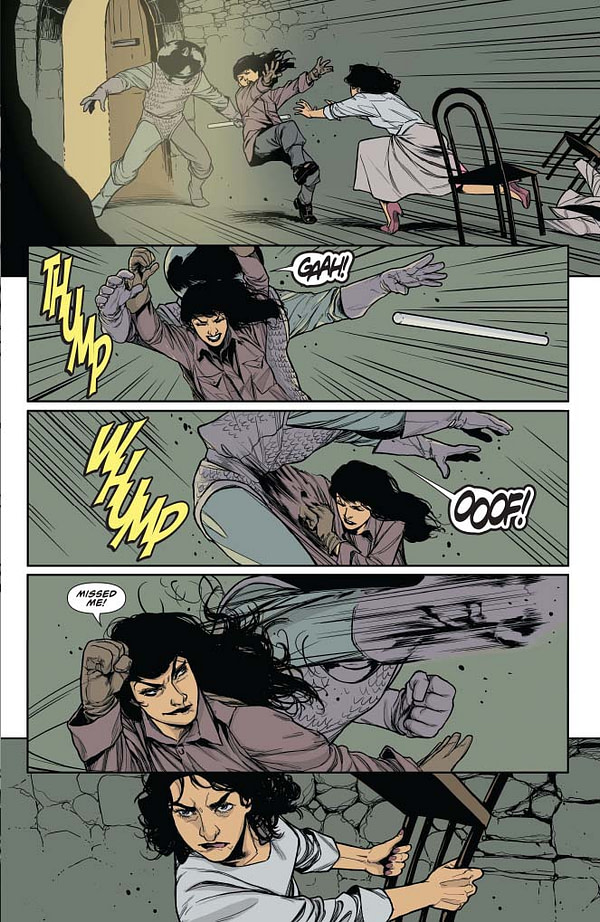 Pages 4, 5, 6 & 7: The old "fake fight" trick. Maybe it was new in 1952. Here you see Julius flair for clear, exciting action and as always, the character stuff makes it sing. Bettie's satisfaction when the guard misses her, Elizabeth's angry determination when she picks up the chair, and my favorite touch… Bettie's fists in the air as she gets out of the way of the falling guard. "Strewth!" is short for "God's Truth!" and is a less common expression today than in 1952, I imagine. It is an "expression of surprise or dismay." In this case, I think the gentleman having his femur cracked by Bettie Page is feeling both surprise AND dismay. This whole sequence is also a fine showcase for the talents of letterer Taylor Esposito, whose sound effects really help make a scene like this work.
Page 8: Obviously, "Aren't you a little short for a spaceman?" is the kind of thing royalty says to you when you're rescuing them, and you just have to let it roll off your back. When I was planning the series, I had a few ideas about where Harling would stash Elizabeth. (For a long time, it was going to be inside the clock tower of Big Ben, but she'd recognize the sound.)
Page 9: What are these British soldiers talking about? Well… in the 1950s, there was an enormously popular radio program in England called THE GOON SHOW. It's where Peter Sellers got his start, and it was an enormous influence on MONTY PYTHON'S FLYING CIRCUS (and me too, for what it's worth.) I really wanted these guys talking about a Goon Show episode… but it was off the air in October/November 1952. But when I dug into it, I discovered that there was actually a Goon Show movie in British theaters in late October of '52. Eccles is the big dumb character in the cast (played by the show's brilliant writer, the late Spike Milligan.) And thanks to Julius, the trooper in the space suit does look quite a bit like Eccles. (Dirk Bogarde, by contrast, was a very suave and handsome leading man.) That's Eccles on the far right (both in panel one, and in the poster below.)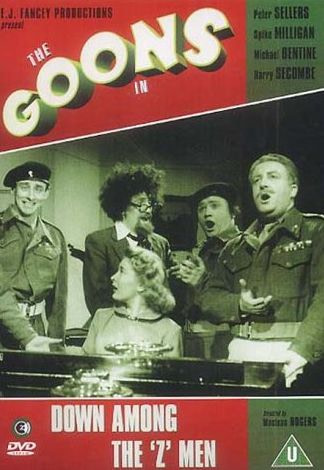 Page 10: Speaking of Monty Python, that's probably where I learned that "What's all this, then?" is the opening phrase of a British policeman who has caught you. Again, in my research, I found out that it was a stock phrase in British comedy going back at least as far as 1900. Bettie's reply works for her about as well as it worked when Han and Luke tried it on the Death Star.
Page 11: "A butcher's at your boat" is Cockney rhyming slang for "a look at your face." Butcher's hook = look. Boat race = face. No, it doesn't make a lot of sense. But it is authentic.
Pages 12 – 13: This page showcases, once again, Julius' talent for facial expression and acting… and also likeness. Bettie is always Bettie… but I notice that Julius can't help walking a thin line between Elizabeth looking like the real Elizabeth Windsor at 27… and looking more like her recent portrayer, Claire Foy. Panel one is definitely shading towards Claire. Panel five is tilted a little bit more towards Elizabeth. It works and I love it. But back to the expressions. This scene only works if you can see Elizabeth's resolve, Bettie's surprise, and the soldiers' confusion and reluctance.
Page 14: Another real location, the grounds of the Tower of London, rendered perfectly. "Tommy" is an American expression from the World Wars for "British Soldier." As Bettie has noticed, the sub-machine guns in their hands are Sten Guns. The Helicopter, if anyone cares, is a Bell '47. When Elizabeth refers to "Bettie Davis in a Warner Brothers historical picture," she's probably thinking of the movie ELIZABETH AND ESSEX, in which she played Elizabeth the First. In the art, I draw your attention to the fantastic details. The soldier in panel three who seems concerned the copter backwash is about to blow his beret off. Harling buttoning his coat, like a proper gentleman, even greeting the Queen he's betrayed and kidnapped.
Page 15: Of course, I researched forms of address for the Royal Family. The first thing you call the Queen at the beginning of an interaction is "your majesty" (see the last page) and if the conversation continues you can call her "ma'am" (first panel here.)
Page 16: Harling in close-up. I had Julius base him on Terry-Thomas, a beloved British comedian from my childhood, and he's perfectly captured here. The space between the teeth was, believe it or not, iconic. If I was making this movie in 1958, he would have been perfect casting. And of course the murderous gentleman in the copter, with the cruel smile, would have been a certain famous Scotsman. The callous murders here are the most brutal thing I've put in any of these Bettie issues, but it was the only way the scene played out. Thomas Byrne wasn't going to leave these witnesses alive. And after all… he has a license to kill.
Page 17: The traitor revealed. Elizabeth guesses that Byrne isn't interested in Harling's paranoia about alien invasions. But he's an anti-Royalist at heart, in it for the money, but also the sheer joy of striking a blow against the Monarchy. It looks like Harling didn't really know this about him.
Page 18: Byrne makes our second "Buck Rogers" reference of the issue. I guess he shares Bettie's love of pulp science fiction. The reference to "space force nonsense" was not planned in advance as a shot at our current administration… but if the shoe fits. The "space force" Harling has planned is a reference to a 1960s TV series, but you'll have to figure out which one yourself. Byrne fires shots five and six from his silenced Walther PPK in panel five. Did he have one in the chamber?
Pages 19: Seems like he did! But now he's out.
Page 20: I love Taylor's very Maurice-Binder-esque use of the British Flag backdrop to the "next" title. (Which I changed after we went to print: chapter four is actually called "I'm Her Majesty's Secret Service.) And so we head into that last issue of this arc with Bettie and Queen Elizabeth, over the Thames, faced off against a flying saucer in a flimsy Bell '47 helicopter. Exciting! Stay tuned!