On our last day at PAX East, I decided to mosey on over to the tabletop area and pay our friends at Wyrmwood a visit to see what they had to show off. The company was showing off all of the tables on the main floor that they currently had for sale to show that you could have an elegant dining table of various sizes for day-to-day home life, but when it was game time, you could transform your dining table into one of the most glorious game tables imaginable and not even ruin the top.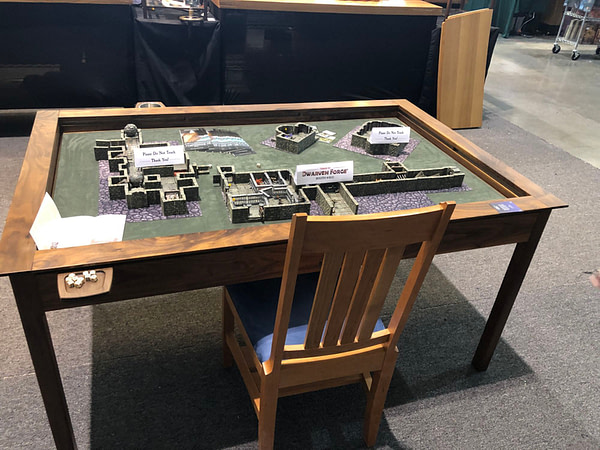 One of the coolest aspects were the cup holders and item trays that they had as a custom addition to each table. Both on the inside and along the outside there's a metal beam that has been magnetized. As you can see from pictures I took on the floor, they fit perfectly into the slot so you can hold a drink in one of the tin cups or you can remove it to fit anything from a soda can to a Big Gulp inside the circle. These can withstand 50 lbs of pressure, so shy of you slamming your fist down on them, they'll hold in place on whatever side of the bar you use it on.
I enjoyed looking at the crank system as you can have a tabletop finish one monent, then after removing the panels on top, you can raise and lower the game table underneath as you see fit. It's a cool design that I saw one person only take three minutes to set up properly. Wyrmwood went out of their way to make sure that you had space to work with when you needed to set up a game, and if you so choose, you can leave your game as-is under the table until the next time you play.
The company is also working with another crafting company in Pennsylvania to create these awesome chairs with storage in the bottom. Much like a piano seat where people would store all of their music for the next time they were ready to play, you can toss a bunch of gaming items into these chairs and have them ready to go once you're set to play.
It was awesome looking over the versions of tables Wyrmwood had at their disposal. When the day comes that I have a dining room big enough to store some gaming gear, these are the guys I'll turn to to look it over.