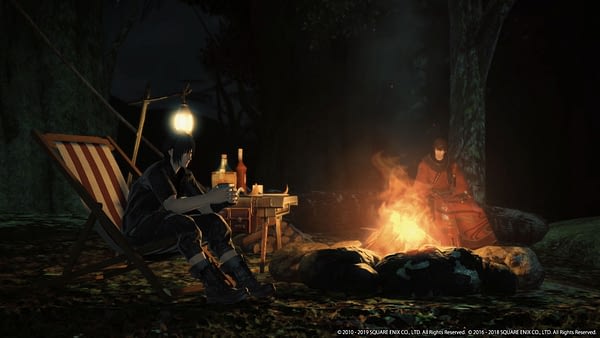 The long awaited second-half of the Final Fantasy XIV and Final Fantasy XV collaboration has arrived in FFXIV today. The first half of the collaboration saw Final Fantasy XIV's Empress of Birds appear in Final Fantasy XV as a special boss encounter.
FFXIV players can join the event by undertaking the quest "The Man in Black" as long as they have a level 50 Disciple of War or Magic and have completed the main scenario quest "The Ultimate Weapon." The quest can be picked up in Ul'Dah, at the Steps of Nald (x8.5, y9.7). Or you can just find the clump of people standing next to Kipih Jakkya near the Ul'Dahn Aetheryte. Either way, the quest starts off with Kipih telling players the story of a certain Lucian Prince, and coming across a very frustrated and lonely Noct sitting in the middle of Thanalan.
The collaboration's various rewards include Final Fantasy XIV's first four-player mount, The Regalia, Noctis attire and hairstyles, as well as a Noctis Lucis Caelum triple triad card and six Orchestrion rolls so you can jam out to your favorite FFXV tunes in your free company house.
The event will run from today through May 27, 2019 at 7:59am PDT.
As Bleeding Cool's resident FFXIV addict with insomnia, naturally I've already completed everything the event has to offer, which is comprised of two solo duties and fate to farm for the various event items. And it is possibly the best crossover event the game has ever had. The FFXIV team did a fantastic job with Noct's warp animations, armiger, and even capturing his stoic emo attitude in the text-only dialogue. Yes, before you ask, you push the Regalia through the desert of Thanalan.
At the very least, this crossover is up there with the Final Fantasy XIII Lightning Strikes event as far as Final Fantasy crossovers go.
Unfortunately, the major drawback to the event is that you need 230,000 Maderville Gold Saucer coins to purchase the hair style, triple triad card, and mount. The Regalia alone is 200,000 MGP. Which is cheap in comparison to many of the Gold Saucer mounts, but farming that much MGP from mini games and triple triad during the event period might be a bit tough.
Unless, of course, you want to farm the fate for a very, very rare mount drop. In which case, have at it. Still means you need to drop some MGP to get all the rewards, but 30,000 MGP is far more reasonable for the average player.
Enjoyed this article? Share it!