West Coast Avengers is ending with West Coast Avengers #10, in stores this week, by Kelly Thompson and Moy R. And it's ending far too soon, without a doubt, as the comic, with its misfit heroes thrown together and forced to film a reality show to finance their heroic efforts, is possibly the most charming comic published by Marvel right now. But though we'd read West Coast Avengers for another thousand issues, one thing that has clearly gone on too long is the leeway Kate has been giving to her mother since she mysteriously reappeared in this most recent story arc, apparently working with Madame Masque.
Kate's mom has insisted that she is truly on Kate's side, but at the end of last issue, she sunk her vampire fangs (yes, she is a vampire now too) into Miss America. And in this preview of West Coast Avengers #10, mom tries to explain…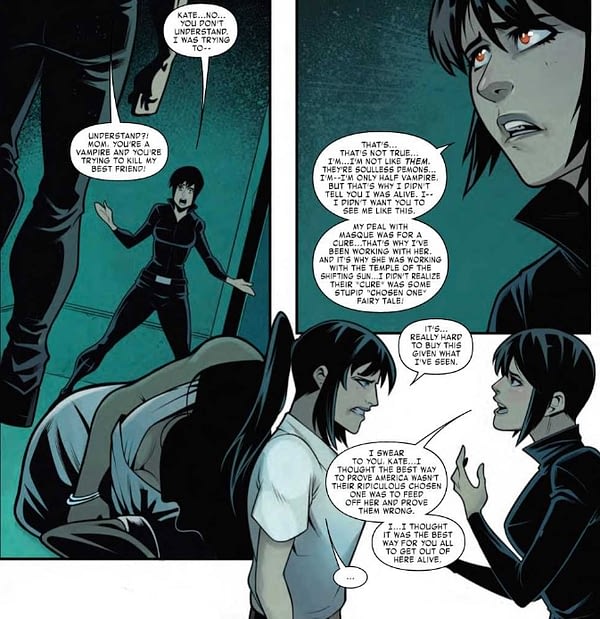 A likely story…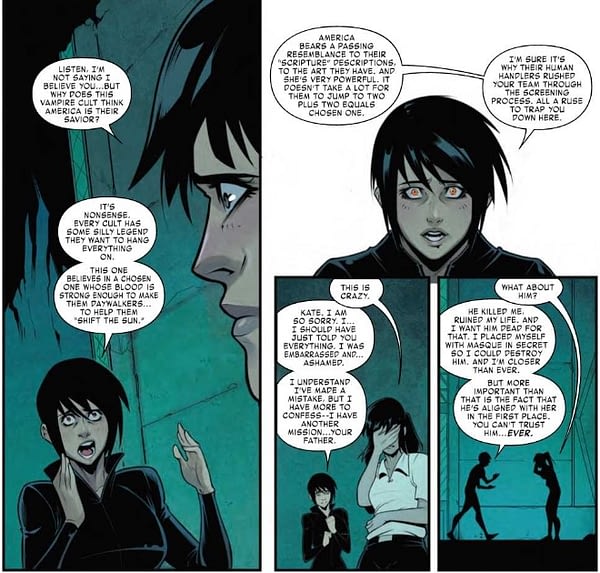 Really? Is she in any position to give advice on who to trust?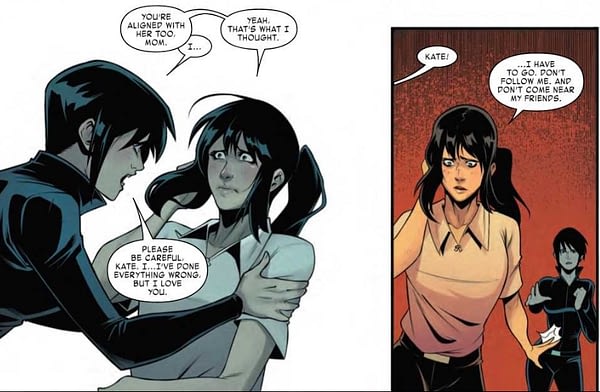 At least Kate seems to finally be getting the picture…
West Coast Avengers #10 hits stores on Wednesday.
West Coast Avengers #10
(W) Kelly Thompson (A) Moy R. (CA) Lim, Gang Hyuk
THE GOOD, THE BAD & THE BEAUTIFUL CONCLUDES!
• HAWKEYE and HAWKEYE lead the fight to save AMERICA CHAVEZ from a cult that believes she's their prophesized chosen one who will lead them into the light – and also into victory – as they attempt a takeover of Los Angeles.
• But just as things look darkest, the team is joined by a mysterious and powerful new ally.
• Amid flying arrows and punching fists, relationships are both blossoming and being torn apart – what does it all mean for the future of the West Coast Avengers?!
Rated T+
In Shops: Apr 17, 2019
SRP: $3.99