It looks like Mickey Milkovich will be returning (in some capacity) to SHOWTIME's Shameless for season 10. At least, that's sure what it looks like with the Mickey takeover of the show's Twitter account, which now sports a "Bring Back Mickey!" banner, a new name, and a profile photo all featuring Noel Fisher, who plays Mickey.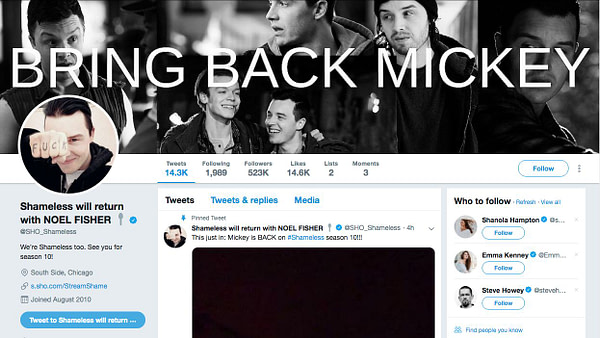 There was also a NSFW video featuring Mickey trying to tunnel his way out of the last place we saw him- prison.
This just in: Mickey is BACK on #Shameless season 10!!! pic.twitter.com/Tv6DMFLaSX

— Shameless on Showtime (@SHO_Shameless) April 12, 2019
We already knew that Cameron Monaghan who plays Ian Gallagher (Mickey's lover) on the series was returning for season 10. We're pretty tickled to know he'll get at least some more screen time with Mickey.
Season 9 saw the last episode of series star Emmy Rossum, who left the show to pursue other opportunities. Both Rossum and series producers say it's not outside the realm of possibility that we'll see character Fiona Gallagher return in some capacity.
Shameless will return for season 10 on SHOWTIME.