An iconic comic book character has gotten a new look in the latest issue of Unbeatable Squirrel Girl, by Ryan North and Derek Charm. Squirrel Girl's original look was first designed by legendary Spider-Man co-creator Steve Ditko in the pages of Marvel Super Heroes #8 way back in 1991.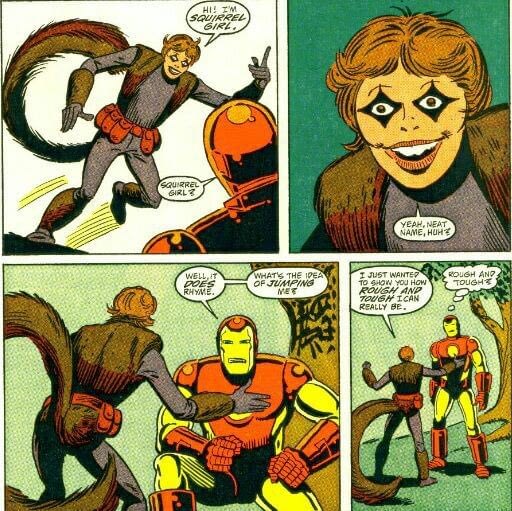 And she more or less retained that same look through the 2005 GLA series by Dan Slott and Paul Pelletier.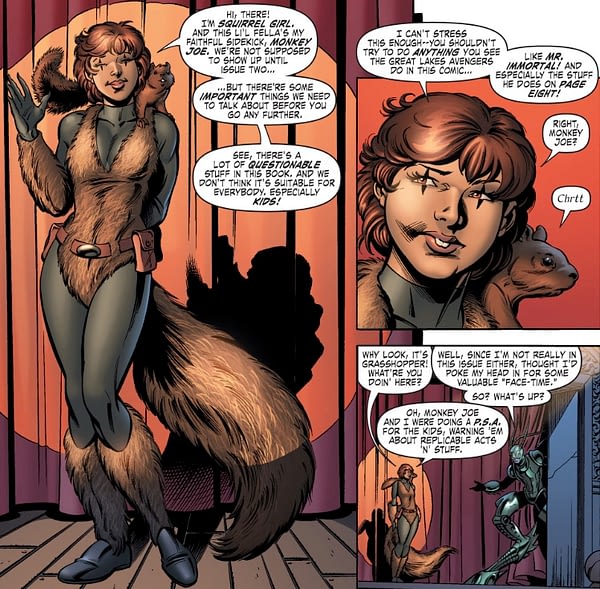 But it was the first Unbeatable Squirrel-Girl series launched in 2015 by Ryan North and Erica Henderson that redefined Squirrel-Girl's look for a new generation and also propelled the character to new levels of popularity.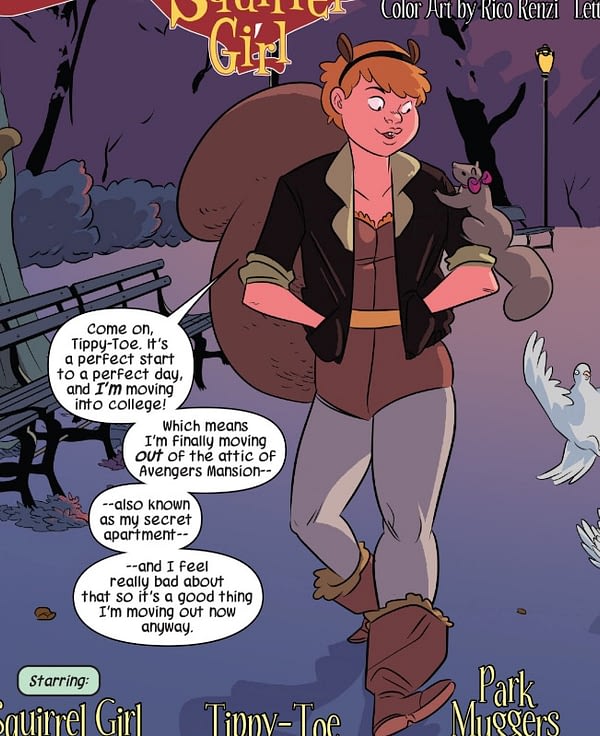 Henderson continued as the artist on Squirrel Girl through that first 8-issue volume and through 31 issues of Unbeatable Squirrel Girl vol. 2 before ceding the artistic reigns to Derek Charm. But Charm has waited until this week's Unbeatable Squirrel Girl #43 to unveil a radically different new costume for Squirrel Girl.
In Unbeatable Squirrel Girl #43, Doreen heads to her parents home in Canada after receiving a tip from Loki that she can find the home base of the Frost Giants currently invading North America as part of War of the Realms there.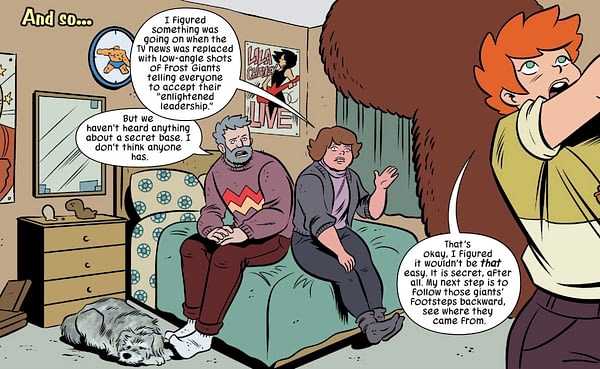 Looking for something more suited for the Northern climate, Squirrel Girl searches her closet for her Arctic Adventure variant uniform. Unfortunately, her mom got rid of it. But she has a surprise for Squirrel Girl: a brand new costume.
It's a huge departure from the now-iconic look designed by Henderson, but Squirrel Girl seems to love it.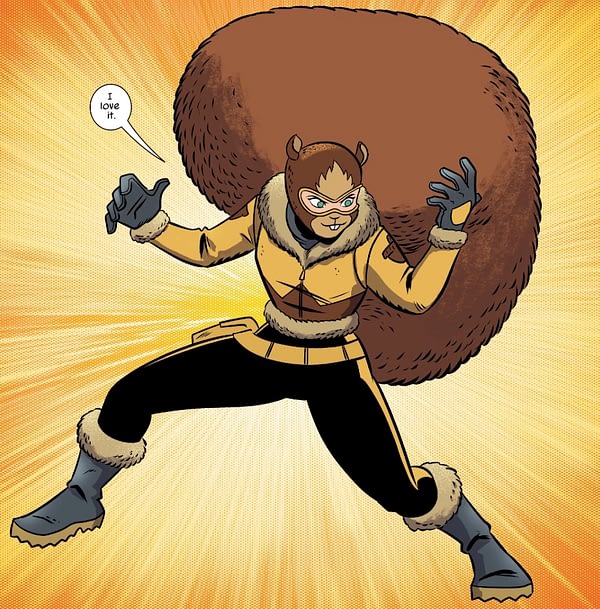 Do you agree? Unbeatable Squirrel Girl #43 is in stores now.
Unbeatable Squirrel Girl #43
(W) Ryan North (A) Derek Charm (CA) Erica Henderson
WAR OF THE REALMS TIE-IN!
• You know how Squirrel Girl has stayed out of most Marvel events? Turns out, that was only because THOSE events didn't involve her good pal LOKI LAUFEYSON!
• When Earth is attacked as part of the WAR OF THE REALMS, Squirrel Girl is called back from her Negative Zone vacation, and Loki recruits her as part of a secret mission!
• Is Loki running a scheme? Probably. Is he playing a trick? Almost certainly. But he NEVER lies about the safety of his good friend (and Cat Thor creator) Nancy Whitehead, and that puts him and Doreen on the same side.
• It's Squirrel Girl's first BIG EVENT CROSSOVER… but it's still the start of a stand-alone epic that you can still enjoy even if you only read SQUIRREL GIRL!
• Also if you're reading this because you're thinking, "Hmm I'm big into WAR OF THE REALMS but do I really need to see what happens in SQUIRREL GIRL" then let me say WOW DO YOU EVER, THERE'S A REVEAL ON THIS LAST PAGE THAT'S BEEN IN THE WORKS FOR YEARS!
Rated T
In Shops: Apr 10, 2019
SRP: $3.99
Enjoyed this article? Share it!