It's hard to keep track but Savage Sword of Conan is one of four books starring Conan the Barbarian at Marvel Comics. And in this preview of this week's issue, Savage Sword of Conan #4, we see the titular barbarian, alongside his friends Suty and Menes in a tough spot, being chased by an army of the dead and facing a bottomless chasm in front of them.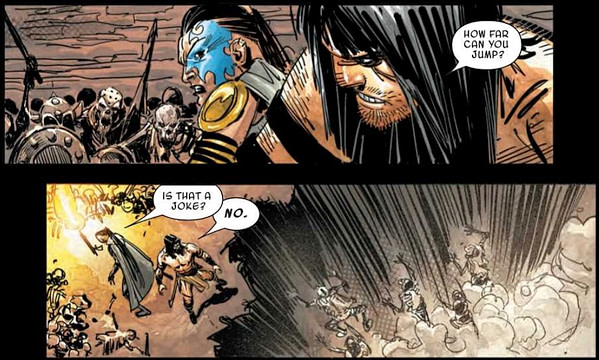 What to do? Well, Conan needs to help his friends, but his treatment appears to differ by gender. For Menes, Conan leaves her no choice, picking her up and tossing her across the chasm.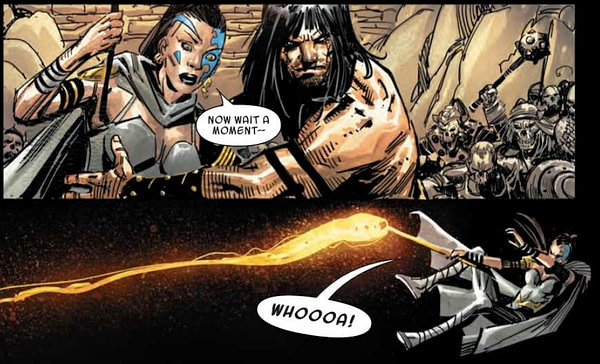 While Suty is given the chance to leap himself, with a little assist from Conan.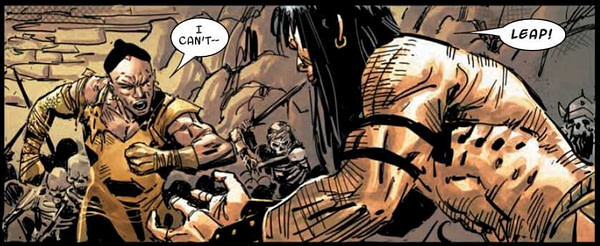 What's the problem, Conan? Didn't they have gender equality in ancient Stygia? Actually, come to think of it, they probably didn't.
Savage Sword of Conan #4 hits stores on Wednesday.
Savage Sword of Conan #4
(W) Gerry Duggan (A) Ron Garney (CA) Alex Ross
THE BATTLE FOR STYGIA!
• CONAN descends into a hidden labyrinth protected by an undead army and does battle with the forces of KOGA THUN!
• At stake – the fate of Stygia!
• Conan's friend SUTY begins a shocking transformation as he discovers what MENES has been hiding about the mysterious treasure they've been hunting…
• PLUS: The next chapter in the all-new CONAN novella "THE SHADOW OF VENGEANCE", begun in issue #1 of SAVAGE SWORD!
Parental Advisory
In Shops: Apr 10, 2019
SRP: $3.99