Bleeding Cool ran a few DCeased#1 spoilers the other day. Now we get to see a preview for the first issue from the middle of the book.
And yes, that's the Anti-Life Equation coming to Earth via Cyborg – his technology now in the New 52 being formed from Fourth World technology and the perfect conduit from one world's technology to another… kidnapped by Darkseid and then returned to Earth, becoming part of the very Anti-Life Equation itself.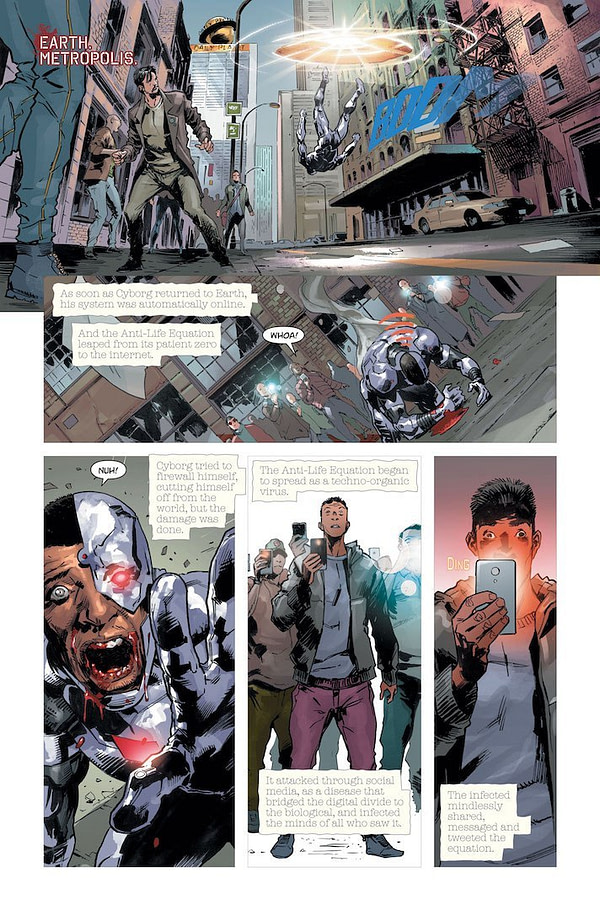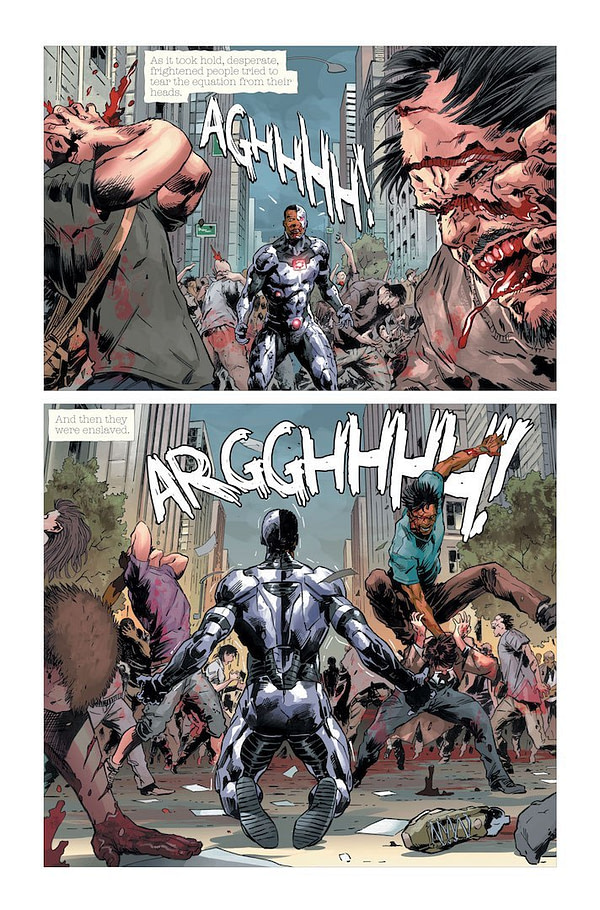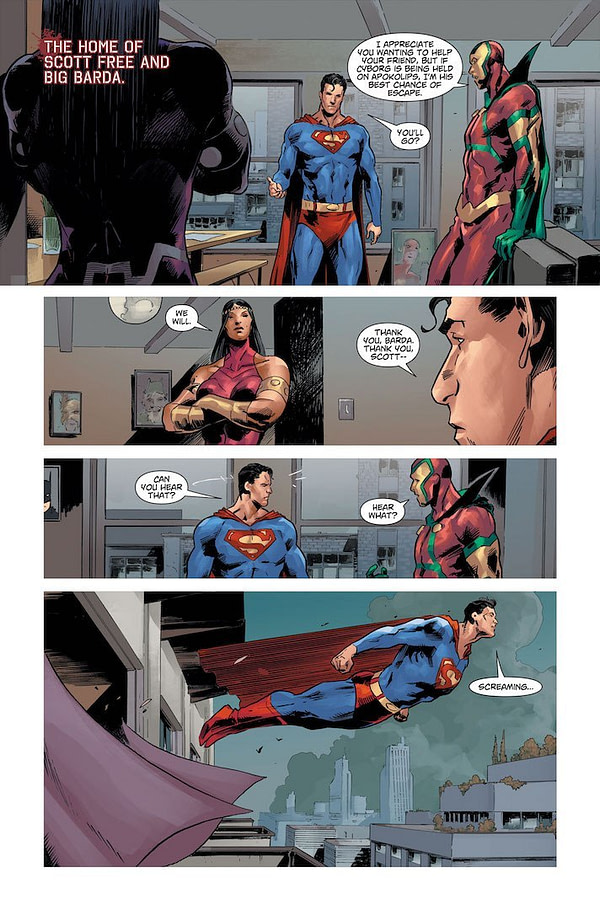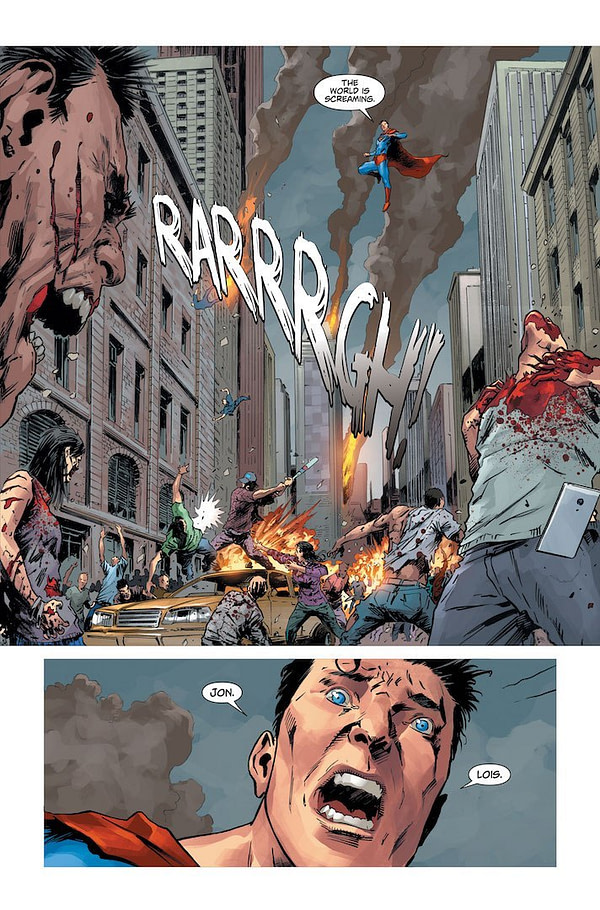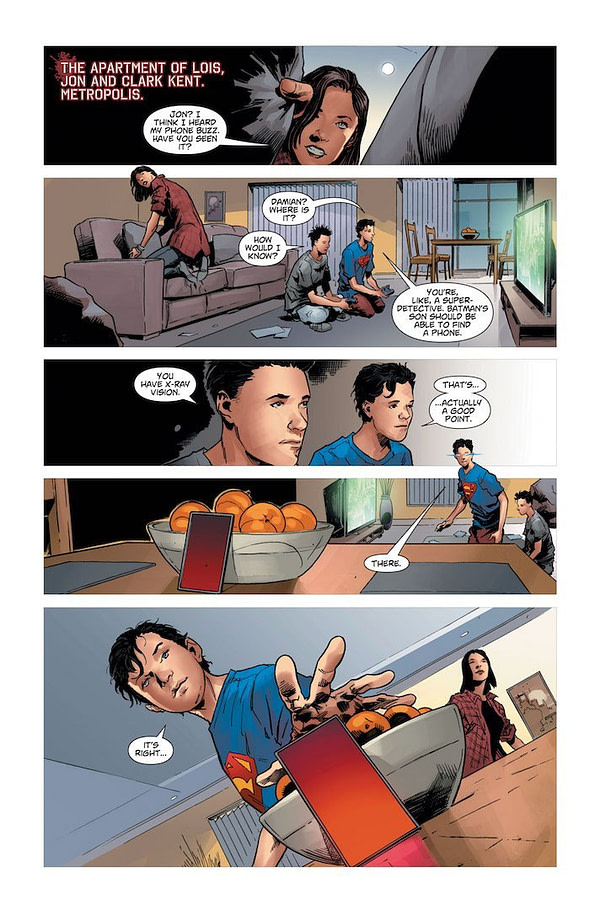 I am going to guess that Superman's not going to be save everything with a singing wish machine this time.
DCEASED #1 (OF 6)
(W) Tom Taylor (A) Trevor Hairsine, James Harren, Stefano Guadiano (CA) Greg Capullo
"I looked, and there before me was a pale horse! Its rider was Death, and Hades was following close behind him."-Revelation 6:8
A mysterious techno-virus has been released on Earth, infecting 600 million people and turning them instantly into violent, monstrous engines of destruction.
The heroes of the DCU are caught completely unprepared for a pandemic of this magnitude and struggle to save their loved ones first…but what happens to the World's Greatest Heroes if the world ends?
New York Times best-selling writer Tom Taylor (INJUSTICE) returns with a terrifying new tale and is joined by artists Trevor Hairsine (LEGENDS OF THE DARK KNIGHT) and Stefano Gaudiano (The Walking Dead).
In Shops: May 01, 2019
Final Orders Due: Apr 08, 2019
SRP: $3.99

DCEASED #2 (OF 6) VAR ED
(W) Tom Taylor (A) Trevor Hairsine, Stefano Guadiano (CA) Francesco Mattina
Millions are dying every minute. Heroes and villains alike are falling. Can the Justice League unite to find a way to stop the spread of death? Can they save humanity from extinction? Can they even save themselves? The key to survival may hinge on the last moments of one of the World's Finest Heroes…
RATED T+In Shops: Jun 05, 2019
SRP: $3.99