This is how Batman #70 was solicited, beginning the Fall And The Fallen storyline by Tom King and Mikel Janin, leading into The City Of Bane by Tom King and Tony Daniel. With this cover showing one Batman dragging another along through the desert under a beating sun.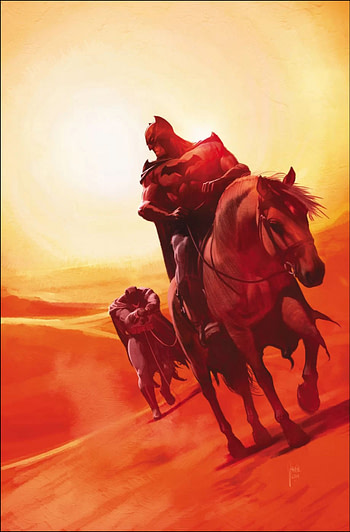 BATMAN #70
written by TOM KING
art and cover by MIKEL JANIN
variant cover by LEINIL YU
"The Fall and the Fallen" begins! This is the one you've been waiting for! Now that Batman has escaped the "Knightmares," he's starting to see the forces rallying against him—and that his father from another universe has joined the other side. The Caped Crusader finally digs into the mystery of how Thomas Wayne, a.k.a. the Flashpoint Batman, escaped the collapse of his dimension and ended up in this part of the Multiverse. Get all the answers in this new five-part story paving the way for the next big BATMAN event!
ON SALE 05.01.19
The variant cover by Yu remains, it's still by King and Janin, but there are changes afoot. Here's the new cover by Andy Kubert and new solicitation. Colours are, apparently, not final…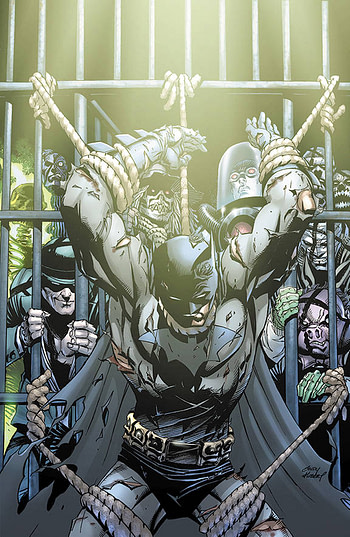 In chapter one of "The Fall and the Fallen," Batman escapes his Knightmares only to wind up in a whole other bad dream. He's locked in Arkham Asylum with his worst enemies, and the only way to get out is to fight them all. It's a gladiatorial game of madness and mayhem, all for the amusement of Bane!
Nothing about Thomas Wayne, the Flashpoint Batman, the father dedicated to stopping his son being Batman, anymore. Sorry, looks like you are getting a grand total of none of the answers about him previously promised…