Matthew Snyder writes,
Welcome to the ComiXology Bestseller list, your guide to see how well your favorite titles are selling digitally. Every week I'll post the ranking of every new title, plus a ranking of the best selling volumes & graphic novels. As always, I hope you find it interesting and informative.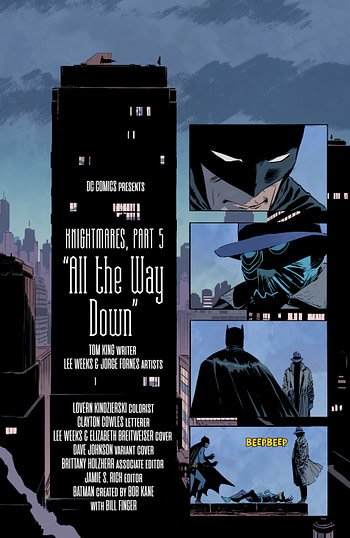 So it's the third week of the month, which is usually DC's weakest. Seriously, Marvel had 7 books compared to DC's 3. But wait, we have a new points system! And since Batman and Justice League took the top two spots, maybe that could…
Nope, Marvel still wins 33-22. No doubt about it they had a great week, but admittedly against weaker competition than the first week of the month. Batman and Justice League dominated that week as well, but Naomi is no Young Justice, and Nightwing is no Green Lantern. They do well, but they aren't the Marvel killers DC wants them to be. So, barring a big change in DC's release schedule, DC will continue to lose the third week of the month to Marvel.
We have quite a few drops for many titles this week. Now I won't focus on books that were already cancelled (West Coast Avengers) or miniseries (Wolverine: Infinity Watch), so I'll just talk about two significant drops for ongoing titles: Aquaman and Friendly Neighborhood Spider-Man.
Right after a crossover with Justice League and around the time of the movie, DC gave Aquaman a fresh start (albeit with the same numbering) with a new writer and artist in Kelly Sue DeConnick and Robson Rocha giving fans a perfect jumping-on point. And it worked for the first few issues, as Aquaman cracked the Top 10 in January. Unfortunately, it's been on a slide, losing 8 spots in two issues. Now to be fair, it's now roughly where the Dan Abnett run was, so maybe this is just the area of the sales chart Aquaman is most likely to end up, regardless of the writer. But if it keeps bleeding readers, Aquaman might soon join recently departed DC titles Suicide Squad and Green Arrow in limbo.
Meanwhile, Tom Taylor and Juann Cabal's Friendly Neighborhood Spider-Man took a 6 point drop in just one issue, landing in the 20's in the New Issue Rankings. And again, to be fair, that's how well the last secondary Spider-title was doing (Chip Zdarsky and Adam Kubert's Peter Parker: The Spectacular Spider-Man). But that kind of drop is always cause for concern, because it could always be the beginning of a bigger exodus of digital readers.
So Aquaman and Friendly Neighborhood Spider-Man are on Drop Watch. I'm not pushing the panic button yet, but if they don't stabilize in the next few months, they'll be in very serious danger.
#bringbackblade
Top 25 Overall:
Batman #67
Justice League #20
Uncanny X-Men #14
Avengers #17
Immortal Hulk #15
Thor #11
Star Wars #63
The Wild Storm #21
Guardians of the Galaxy #3
Miles Morales: Spider-Man #4
Spider-Man: Life Story #1
Lazarus: Risen #1
Naomi #3
Monstress #21
Nightwing #58
Captain Marvel #3
Venom #12
Aquaman #46
Teen Titans #28
West Coast Avengers #9
Avengers: No Road Home #6
Friendly Neighborhood Spider-Man #4
Jessica Jones: Purple Daughter #3 (Marvel Digital Original)
The Batman Who Laughs: The Grim Knight #1
Wolverine: Infinity Watch #2
New Issue Rankings:
Batman #67
Justice League #20
Uncanny X-Men #14
Avengers #17
Immortal Hulk #15
Thor #11
Star Wars #63
The Wild Storm #21
Guardians of the Galaxy #3
Miles Morales: Spider-Man #4
Spider-Man: Life Story #1
Lazarus: Risen #1
Naomi #3
Monstress #21
Nightwing #58
Captain Marvel #3
Venom #12
Aquaman #46
Teen Titans #28
West Coast Avengers #9
Avengers: No Road Home #6
Friendly Neighborhood Spider-Man #4
Jessica Jones: Purple Daughter #3 (Marvel Digital Original)
Wolverine: Infinity Watch #2
Age of X-Man: Next Gen #2
Criminal #3
Age of X-Man: The Amazing Nightcrawler #2
Savage Sword of Conan #3
Invisible Kingdom #1
Lucifer #6
Archie #705
Marvel's Spider-Man: City at War #6
Teenage Mutant Ninja Turtles #92
Firefly: Bad Company #1
Meet the Skrulls #2
B.P.R.D.: The Devil You Know #14
Pearl #7
Lumberjanes #60
Electric Warriors #5
Middlewest #5
The Goon #1 (Digital delay)
High Level #2
Farmhand #6
Damage #15
Bloodborne #10
James Bond 007 #5
X-O Manowar #25
Bitter Root #5
Solo: A Star Wars Story Adaptation #6
Dark Red #1
Gold Digger #261
Outpost Zero #8
The Warning #5
League of Legends: Ashe: Warmother Special Edition #4
Deliver #2
Stronghold #2
Kaijumax Season Four #5
Rainbow Brite #5
Black Badge #8
Black Butler #150
Avatar: Tsu'tey's Path #3
Sparrowhawk #5
DC Super Hero Girls: Spaced Out #63 (99-cent digital first)
StarCraft: Soldiers #3
Evolution #15
Goblin Slayer Side Story: Year One #22
Athena Voltaire #8
Miss Vicky & Her Cutie Commandos #1
Dead Mount Death Play #27
Gretel #1
Old Issue Rankings:
The Batman Who Laughs: The Grim Knight #1
Superman #9
Amazing Spider-Man #17
Magnificent Ms. Marvel #1
Buffy the Vampire Slayer #3
Doomsday Clock #9
Justice League Dark #9
Uncanny X-Men: Winter's End #1
Age of X-Man: The Marvelous X-Men #2
Avengers: No Road Home #5
Age Of X-Man: Apocalypse & The X-Tracts #1
Umbrella Academy: Hotel Oblivion #5
Wonder Twins #2
Star Wars: Age of Republic- General Grievous
X-Force #4
Best Selling Collections & Graphic Novels:
Hellboy Omnibus Vol. 1: Seed of Destruction (47% off)
Batman: White Knight (62% off)
Hellboy Omnibus Vol. 2: Strange Places (47% off)
Hellboy Omnibus Vol. 3: The Wild Hunt (47% off)
Hellboy Omnibus Vol. 4: Hellboy in Hell (47% off)
Hellboy: The Complete Short Stories Vol. 2 (67% off)
Umbrella Academy Vol. 2: Dallas
Umbrella Academy Vol. 1: Apocalypse Suite
Hellboy: The Complete Short Stories Vol. 1 (67% off)
Batman: The Dark Knight- The Master Race (75% off)
Captain Marvel (2014) Vol. 1: Faster, Further, More
Dark Nights: Metal- Deluxe Edition (75% off)
Batman: The Complete Hush (71% off)
Sunstone Vol. 6 (35% off)
West Coast Avengers (2018) Vol. 1: Best Coast (64% off)
Captain Marvel (2014) Vol. 3: Alis Volat Propriis
Batman by Azzarello & Risso Deluxe Edition (83% off)
Batman: The Long Halloween (71% off)
Captain Marvel (2012) Vol. 2: Down
Batman (2016) Vol. 8: Cold Days (62% off)
Hellboy and the B.P.R.D.: 1955 (58% off)
Immortal Hulk Vol. 2: The Green Door
Hellboy and the B.P.R.D.: 1953 (62% off)
Ms. Marvel (2015) Vol. 9: Teenage Wasteland
Batman and The Outsiders (1983) Vol. 1 (86% off)
Hellboy and the B.P.R.D.: 1954 (55% off)
Hellboy and the B.P.R.D.: 1952 (55% off)
The Life of Captain Marvel
Captain Marvel (2014) Vol. 2: Stay Fly
Dark Nights: Metal- Dark Knights Rising (20% off)
Avengers by Jason Aaron Vol. 2: World Tour
Death of The Inhumans
Captain Marvel (2012) Vol. 1: In Pursuit of Flight
Batman: Year 100 & Other Tales- Deluxe Edition (75% off)
Hellboy: Weird Tales (62% off)
Batman: Whatever Happened To the Caped Crusader? (58% off)
Amazing Spider-Man by Nick Spencer Vol. 2: Friends and Foes
Ms. Marvel (2015) Vol. 8: Mecca
Ms. Marvel (2014) Vol. 4: Last Days
Ms. Marvel (2015) Vol. 6: Civil War II
Ms. Marvel (2014) Vol. 3: Crushed
Return of Wolverine
The Mighty Captain Marvel Vol. 2: Band of Sisters
The Mighty Captain Marvel Vol. 3: Dark Origins
Star Wars: Darth Vader (2017) Vol. 4: Fortress Vader
Batman: Gotham by Gaslight (New Edition) (62% off)
Ms. Marvel (2015) Vol. 5: Super Famous
Avengers: The Enemy Within
Batman: Ego and Other Tails Deluxe Edition (83% off)
Marvel Knights: Marvel Boy by Morrison & Jones