We looked at the top ten and the December marketshare for comic books ordered by direct market comic book stores in North America in Febryary 2019 – what can we learn from the Top 500 charts?
We get to see a disparity emerging again between the quantity ordered rank against the dollars spent rank, even for comics with the same cover price.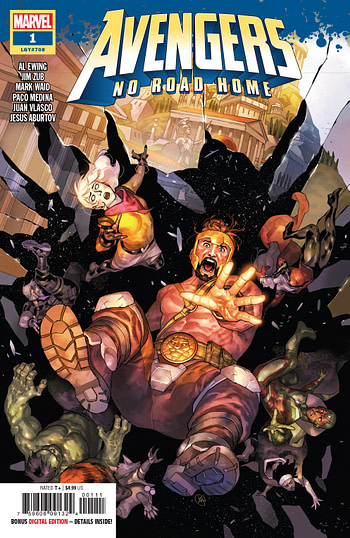 Avengers: No Road Home#1 and Amazing Spider-Man #16, both $4.99 titles, sold similar amounts but Amazing Spider-Man brought in more money. This indicated a heavy discount of orders on Avengers #1, and that lots of retailers took advantage of it. Something similar happened with Return Of Wolverine #5 as well.
Oh and an Uncanny X-Men Annual at $4.99 brought it more than Batman #64 at $3.99…
It also looks like the Millar/Bianchi launch title Sharkey The Bounty Hunter #1 also benefitted from discounting or overshipping too…
Top 500 Comics ordered by North American comic book stores in February 2019
| | | | | | |
| --- | --- | --- | --- | --- | --- |
| Quantity Rank | Retail Rank | Index | Product | Price | Publisher |
| 1 | 1 | 108.96 | BATMAN WHO LAUGHS #3 | $4.99 | DC |
| 2 | 3 | 100.00 | BATMAN #64 | $3.99 | DC |
| 3 | 4 | 95.42 | BATMAN #65 | $3.99 | DC |
| 4 | 5 | 90.90 | VENOM #11 | $3.99 | MAR |
| 5 | 7 | 84.59 | HEROES IN CRISIS #6 | $3.99 | DC |
| 6 | 9 | 76.45 | AMAZING SPIDER-MAN #15 | $3.99 | MAR |
| 7 | 10 | 73.49 | UNCANNY X-MEN #12 | $3.99 | MAR |
| 8 | 12 | 72.50 | FLASH #64 | $3.99 | DC |
| 9 | 2 | 71.69 | UNCANNY X-MEN #11 | $7.99 | MAR |
| 10 | 11 | 69.06 | AVENGERS NO ROAD HOME #1 | $4.99 | MAR |
| 11 | 6 | 68.73 | AMAZING SPIDER-MAN #16 | $4.99 | MAR |
| 12 | 14 | 67.40 | DETECTIVE COMICS #999 | $3.99 | DC |
| 13 | 13 | 65.92 | DAREDEVIL #1 | $4.99 | MAR |
| 14 | 17 | 65.44 | WOLVERINE INFINITY WATCH #1 | $3.99 | MAR |
| 15 | 15 | 64.72 | DETECTIVE COMICS #998 | $3.99 | DC |
| 16 | 16 | 64.27 | FLASH #65 | $3.99 | DC |
| 17 | 8 | 63.50 | RETURN OF WOLVERINE #5 | $4.99 | MAR |
| 18 | 18 | 61.14 | JUSTICE LEAGUE #17 | $3.99 | DC |
| 19 | 19 | 59.94 | JUSTICE LEAGUE #18 | $3.99 | DC |
| 20 | 20 | 59.29 | FANTASTIC FOUR #7 | $3.99 | MAR |
| 21 | 22 | 54.04 | SUPERMAN #8 | $3.99 | DC |
| 22 | 23 | 53.72 | GREEN LANTERN #4 | $3.99 | DC |
| 23 | 25 | 52.34 | AVENGERS #14 | $3.99 | MAR |
| 24 | 27 | 51.45 | AVENGERS #15 | $3.99 | MAR |
| 25 | 21 | 50.77 | SAVAGE SWORD OF CONAN #1 | $4.99 | MAR |
| 26 | 28 | 49.26 | WONDER WOMAN #65 | $3.99 | DC |
| 27 | 29 | 49.11 | WONDER WOMAN #64 | $3.99 | DC |
| 28 | 30 | 47.75 | WALKING DEAD #188 (MR) | $3.99 | IMA |
| 29 | 31 | 47.20 | ACTION COMICS #1008 | $3.99 | DC |
| 30 | 32 | 46.75 | GUARDIANS OF THE GALAXY #2 | $3.99 | MAR |
| 31 | 34 | 44.99 | AGE OF X-MAN MARVELOUS X-MEN #1 | $3.99 | MAR |
| 32 | 35 | 43.36 | IMMORTAL HULK #13 | $3.99 | MAR |
| 33 | 33 | 43.34 | STAR WARS #61 | $3.99 | MAR |
| 34 | 36 | 42.24 | THOR #10 | $3.99 | MAR |
| 35 | 37 | 41.38 | CAPTAIN AMERICA #8 | $3.99 | MAR |
| 36 | 26 | 41.20 | HULKVERINES #1 | $4.99 | MAR |
| 37 | 39 | 40.98 | CONAN THE BARBARIAN #3 | $3.99 | MAR |
| 38 | 38 | 40.58 | SHAZAM #3 | $3.99 | DC |
| 39 | 42 | 40.02 | CAPTAIN MARVEL #2 | $3.99 | MAR |
| 40 | 41 | 39.70 | YOUNG JUSTICE #2 | $3.99 | DC |
| 41 | 44 | 38.97 | AVENGERS NO ROAD HOME #2 | $3.99 | MAR |
| 42 | 43 | 38.55 | HARLEY QUINN #58 | $3.99 | DC |
| 43 | 46 | 38.29 | DAREDEVIL #2 | $3.99 | MAR |
| 44 | 47 | 37.91 | MILES MORALES SPIDER-MAN #3 | $3.99 | MAR |
| 45 | 49 | 37.30 | AVENGERS NO ROAD HOME #3 | $3.99 | MAR |
| 46 | 51 | 36.34 | TONY STARK IRON MAN #8 | $3.99 | MAR |
| 47 | 50 | 35.93 | JUSTICE LEAGUE DARK #8 | $3.99 | DC |
| 48 | 52 | 34.65 | CATWOMAN #8 | $3.99 | DC |
| 49 | 48 | 34.60 | STAR WARS AOR COUNT DOOKU #1 | $3.99 | MAR |
| 50 | 54 | 34.45 | AGE OF X-MAN AMAZING NIGHTCRAWLER #1 | $3.99 | MAR |
| 51 | 55 | 34.32 | AGE OF X-MAN NEXTGEN #1 | $3.99 | MAR |
| 52 | 63 | 33.73 | OLD MAN QUILL #1 | $3.99 | MAR |
| 53 | 45 | 33.62 | SHARKEY BOUNTY HUNTER #1 (MR) | $3.99 | IMA |
| 54 | 53 | 33.55 | DEADPOOL #9 | $3.99 | MAR |
| 55 | 56 | 33.22 | SUPERIOR SPIDER-MAN #3 | $3.99 | MAR |
| 56 | 61 | 32.91 | AGE OF X-MAN X-TREMISTS #1 | $3.99 | MAR |
| 57 | 57 | 32.79 | STAR WARS AOR ANAKIN SKYWALKER #1 | $3.99 | MAR |
| 58 | 58 | 32.65 | DEAD MAN LOGAN #4 | $3.99 | MAR |
| 59 | 60 | 32.15 | SAVAGE SWORD OF CONAN #2 | $3.99 | MAR |
| 60 | 59 | 31.95 | BATGIRL #32 | $3.99 | DC |
| 61 | 62 | 30.88 | CAPTAIN MARVEL BRAVER & MIGHTIER #1 | $3.99 | MAR |
| 62 | 85 | 30.64 | SPAWN #294 | $2.99 | IMA |
| 63 | 65 | 29.87 | FRIENDLY NEIGHBORHOOD SPIDER-MAN #3 | $3.99 | MAR |
| 64 | 64 | 29.53 | WONDER TWINS #1 | $3.99 | DC |
| 65 | 67 | 28.74 | NIGHTWING #57 | $3.99 | DC |
| 66 | 69 | 28.70 | X-FORCE #3 | $3.99 | MAR |
| 67 | 68 | 28.39 | FEMALE FURIES #1 | $3.99 | DC |
| 68 | 71 | 28.15 | AQUAMAN #45 | $3.99 | DC |
| 69 | 72 | 28.10 | JUSTICE LEAGUE ODYSSEY #6 | $3.99 | DC |
| 70 | 73 | 27.67 | X-23 #9 | $3.99 | MAR |
| 71 | 66 | 26.64 | BUFFY THE VAMPIRE SLAYER #2 | $3.99 | BOO |
| 72 | 75 | 26.45 | SPIDER-GWEN GHOST SPIDER #5 | $3.99 | MAR |
| 73 | 70 | 25.48 | FIREFLY #4 | $3.99 | BOO |
| 74 | 76 | 25.38 | PUNISHER #8 | $3.99 | MAR |
| 75 | 77 | 25.15 | DOCTOR STRANGE #11 | $3.99 | MAR |
| 76 | 78 | 24.77 | TEEN TITANS #27 | $3.99 | DC |
| 77 | 80 | 24.68 | BLACK PANTHER #9 | $3.99 | MAR |
| 78 | 79 | 24.55 | TITANS #34 | $3.99 | DC |
| 79 | 83 | 24.04 | STAR WARS DOCTOR APHRA #29 | $3.99 | MAR |
| 80 | 82 | 24.02 | MARTIAN MANHUNTER #3 | $3.99 | DC |
| 81 | 74 | 23.97 | MAGIC ORDER #6 (MR) | $3.99 | IMA |
| 82 | 86 | 22.75 | OLD MAN QUILL #2 | $3.99 | MAR |
| 83 | 87 | 21.98 | OBLIVION SONG BY KIRKMAN & DE FELICI #12 (MR) | $3.99 | IMA |
| 84 | 88 | 21.39 | SUPERGIRL #27 | $3.99 | DC |
| 85 | 24 | 21.18 | MAN AND SUPERMAN 100 PAGE SUPER SPECTACULAR #1 | $9.99 | DC |
| 86 | 93 | 21.17 | INVADERS #2 | $3.99 | MAR |
| 87 | 90 | 21.09 | BLACK PANTHER VS DEADPOOL #5 | $3.99 | MAR |
| 88 | 89 | 20.99 | DEATHSTROKE #40 | $3.99 | DC |
| 89 | 91 | 20.95 | ADVENTURES OF THE SUPER SONS #7 | $3.99 | DC |
| 90 | 92 | 20.93 | RED HOOD OUTLAW #31 | $3.99 | DC |
| 91 | 238 | 20.89 | TRUE BELIEVERS CAPTAIN MARVEL MS MARVEL #1 | $1.00 | MAR |
| 92 | 94 | 20.61 | WOLVERINE LONG NIGHT ADAPTATION #2 | $3.99 | MAR |
| 93 | 96 | 20.29 | CHAMPIONS #2 | $3.99 | MAR |
| 94 | 40 | 20.26 | MARVELS ANNOTATED #1 | $7.99 | MAR |
| 95 | 95 | 20.16 | HAWKMAN #9 | $3.99 | DC |
| 96 | 97 | 19.81 | BLACK ORDER #4 | $3.99 | MAR |
| 97 | 81 | 19.76 | MARVEL COMICS PRESENTS #2 | $4.99 | MAR |
| 98 | 84 | 19.26 | RED SONJA #1 | $3.99 | DE |
| 99 | 101 | 19.09 | SPIDER-MAN DEADPOOL #46 | $3.99 | MAR |
| 100 | 99 | 18.94 | GREEN ARROW #49 | $3.99 | DC |
| 101 | 102 | 18.83 | BLACK WIDOW #2 | $3.99 | MAR |
| 102 | 98 | 18.79 | SPAWN KILLS EVERYONE TOO #3 | $3.99 | IMA |
| 103 | 100 | 18.77 | DIE #3 (MR) | $3.99 | IMA |
| 104 | 104 | 18.01 | HIGH LEVEL #1 (MR) | $3.99 | DC |
| 105 | 106 | 17.68 | MR AND MRS X #8 | $3.99 | MAR |
| 106 | 107 | 17.59 | STAR WARS HAN SOLO IMPERIAL CADET #4 | $3.99 | MAR |
| 107 | 109 | 17.48 | ASGARDIANS OF THE GALAXY #6 | $3.99 | MAR |
| 108 | 108 | 17.32 | BATMAN BEYOND #29 | $3.99 | DC |
| 109 | 115 | 17.31 | CRIMINAL #2 (MR) | $3.99 | IMA |
| 110 | 105 | 17.31 | GIDEON FALLS #11 (MR) | $3.99 | IMA |
| 111 | 110 | 17.12 | DREAMING #6 (MR) | $3.99 | DC |
| 112 | 141 | 17.04 | TERRIFICS #13 | $2.99 | DC |
| 113 | 111 | 16.96 | NAOMI #2 | $3.99 | DC |
| 114 | 113 | 16.75 | SEVEN TO ETERNITY #13 | $3.99 | IMA |
| 115 | 112 | 16.68 | OLD LADY HARLEY #5 | $3.99 | DC |
| 116 | 262 | 16.52 | TRUE BELIEVERS CAPTAIN MARVEL BETRAYED #1 | $1.00 | MAR |
| 117 | 114 | 16.52 | PRODIGY #3 (MR) | $3.99 | IMA |
| 118 | 103 | 16.08 | HIT-GIRL SEASON TWO #1 (MR) | $3.99 | IMA |
| 119 | 273 | 15.67 | TRUE BELIEVERS CAPTAIN MARVEL EARTHS MIGHTIEST HERO #1 | $1.00 | MAR |
| 120 | 118 | 15.64 | WINTER SOLDIER #3 | $3.99 | MAR |
| 121 | 119 | 15.63 | LOVE ROMANCES #1 | $3.99 | MAR |
| 122 | 274 | 15.54 | TRUE BELIEVERS CAPTAIN MAR-VELL#1 | $1.00 | MAR |
| 123 | 122 | 15.19 | IRONHEART #3 | $3.99 | MAR |
| 124 | 123 | 14.87 | BOOKS OF MAGIC #5 (MR) | $3.99 | DC |
| 125 | 126 | 14.60 | WEST COAST AVENGERS #8 | $3.99 | MAR |
| 126 | 124 | 14.58 | FREEDOM FIGHTERS #3 | $3.99 | DC |
| 127 | 127 | 14.53 | GUNHAWKS #1 | $3.99 | MAR |
| 128 | 129 | 14.39 | STAR WARS SOLO ADAPTATION #5 | $3.99 | MAR |
| 129 | 125 | 14.36 | LUCIFER #5 (MR) | $3.99 | DC |
| 130 | 128 | 14.12 | KICK-ASS #12 (MR) | $3.99 | IMA |
| 131 | 135 | 14.03 | SHURI #5 | $3.99 | MAR |
| 132 | 130 | 13.97 | UNNATURAL #7 (MR) | $3.99 | IMA |
| 133 | 131 | 13.93 | WILLIAM GIBSON ALIEN 3 #4 | $3.99 | DAR |
| 134 | 121 | 13.61 | MIGHTY MORPHIN POWER RANGERS #36 | $3.99 | BOO |
| 135 | 120 | 13.57 | FIGHT CLUB 3 #2 (MR) | $3.99 | DAR |
| 136 | 293 | 13.55 | TRUE BELIEVERS CAPTAIN MARVEL SPIDER-MAN & MS MARVEL #1 | $1.00 | MAR |
| 137 | 137 | 13.25 | MS MARVEL #38 | $3.99 | MAR |
| 138 | 136 | 13.18 | WILD STORM #20 | $3.99 | DC |
| 139 | 295 | 13.15 | TRUE BELIEVERS CAPTAIN MARVEL NEW MS MARVEL #1 | $1.00 | MAR |
| 140 | 138 | 12.92 | MONSTRESS #20 (MR) | $3.99 | IMA |
| 141 | 297 | 12.91 | TRUE BELIEVERS CAPTAIN MARVEL BINARY #1 | $1.00 | MAR |
| 142 | 302 | 12.70 | TRUE BELIEVERS CAPTAIN MARVEL KREE SKRULL WAR #1 | $1.00 | MAR |
| 143 | 190 | 12.60 | CAPTAIN MARVEL #1 | $4.99 | MAR |
| 144 | 116 | 12.46 | SONIC THE HEDGEHOG #13 | $4.99 | IDW |
| 145 | 142 | 12.38 | HOUSE OF WHISPERS #6 (MR) | $3.99 | DC |
| 146 | 143 | 12.24 | MIDDLEWEST #4 (MR) | $3.99 | IMA |
| 147 | 145 | 12.15 | EAST OF WEST #41 | $3.99 | IMA |
| 148 | 144 | 12.15 | UMBRELLA ACADEMY HOTEL OBLIVION #5 | $3.99 | DAR |
| 149 | 139 | 12.13 | SONIC THE HEDGEHOG #14 | $3.99 | IDW |
| 150 | 309 | 11.98 | TRUE BELIEVERS CAPTAIN MARVEL AVENGER #1 | $1.00 | MAR |
| 151 | 310 | 11.90 | TRUE BELIEVERS CAPTAIN MARVEL VS RONAN #1 | $1.00 | MAR |
| 152 | 147 | 11.80 | DIE DIE DIE #8 (MR) | $3.99 | IMA |
| 153 | 146 | 11.58 | MARVEL ACTION AVENGERS #2 | $3.99 | IDW |
| 154 | 140 | 11.55 | JOHN WICK #5 | $3.99 | DE |
| 155 | 150 | 11.43 | KILLMONGER #4 | $3.99 | MAR |
| 156 | 171 | 11.37 | GUARDIANS OF THE GALAXY #1 | $4.99 | MAR |
| 157 | 133 | 11.06 | SUICIDE SQUAD BLACK FILES #4 | $4.99 | DC |
| 158 | 151 | 11.04 | BLACK HAMMER AGE OF DOOM #8 | $3.99 | DAR |
| 159 | 149 | 10.72 | TMNT ONGOING #91 | $3.99 | IDW |
| 160 | 153 | 10.66 | SCOOBY APOCALYPSE #34 | $3.99 | DC |
| 161 | 154 | 10.62 | OUTCAST BY KIRKMAN & AZACETA #39 (MR) | $3.99 | IMA |
| 162 | 148 | 10.62 | RICK & MORTY #47 | $3.99 | ONI |
| 163 | 223 | 10.54 | MARVEL COMICS PRESENTS #1 | $4.99 | MAR |
| 164 | 158 | 10.39 | RUNAWAYS #18 | $3.99 | MAR |
| 165 | 187 | 10.31 | SIDEWAYS #13 | $2.99 | DC |
| 166 | 157 | 10.24 | ALIENS RESISTANCE #2 | $3.99 | DAR |
| 167 | 159 | 10.08 | MARVELS AVENGERS ENDGAME PRELUDE #3 | $3.99 | MAR |
| 168 | 152 | 10.00 | GO GO POWER RANGERS #17 | $3.99 | BOO |
| 169 | 156 | 9.94 | STAR WARS ADVENTURES #18 | $3.99 | IDW |
| 170 | 160 | 9.82 | BLACKBIRD #5 | $3.99 | IMA |
| 171 | 161 | 9.81 | DAMAGE #14 | $3.99 | DC |
| 172 | 155 | 9.66 | VAMPIRELLA DEJAH THORIS #5 | $3.99 | DE |
| 173 | 162 | 9.58 | WICKED & DIVINE #42 (MR) | $3.99 | IMA |
| 174 | 169 | 9.12 | SHATTERSTAR #5 | $3.99 | MAR |
| 175 | 163 | 9.07 | HELLBOY AND BPRD 1956 #4 | $3.99 | DAR |
| 176 | 170 | 8.89 | SILENCER #14 | $3.99 | DC |
| 177 | 132 | 8.71 | BATMAN WHO LAUGHS #1 | $4.99 | DC |
| 178 | 166 | 8.59 | STAR TREK Q CONFLICT #2 | $3.99 | IDW |
| 179 | 174 | 8.55 | UNBEATABLE SQUIRREL GIRL #41 | $3.99 | MAR |
| 180 | 168 | 8.51 | STAR TREK VS TRANSFORMERS #5 | $3.99 | IDW |
| 181 | 176 | 8.28 | CEMETERY BEACH #6 (MR) | $3.99 | IMA |
| 182 | 165 | 8.26 | JIM HENSON LABYRINTH CORONATION #11 | $3.99 | BOO |
| 183 | 177 | 8.16 | ICE CREAM MAN #10 (MR) | $3.99 | IMA |
| 184 | 175 | 8.15 | INCURSION #1 | $3.99 | VAL |
| 185 | 167 | 8.14 | BETTIE PAGE #2 | $3.99 | DE |
| 186 | 117 | 8.09 | MARVEL TALES BLACK WIDOW #1 | $7.99 | MAR |
| 187 | 180 | 8.03 | MAN-EATERS #6 | $3.99 | IMA |
| 188 | 219 | 8.01 | CURSE OF BRIMSTONE #11 | $2.99 | DC |
| 189 | 191 | 8.01 | FORGOTTEN QUEEN #1 | $3.99 | VAL |
| 190 | 182 | 7.87 | MYSTERY SCIENCE THEATER 3000 #4 | $3.99 | DAR |
| 191 | 185 | 7.82 | BITTER ROOT #4 (MR) | $3.99 | IMA |
| 192 | 186 | 7.78 | MSH ADVENTURES SPIDER-MAN WEB OF INTRIGUE #1 | $3.99 | MAR |
| 193 | 173 | 7.69 | ARMY OF DARKNESS BUBBA HOTEP #1 | $3.99 | DE |
| 194 | 183 | 7.69 | ARCHIE #702 | $3.99 | ARC |
| 195 | 178 | 7.44 | X-O MANOWAR (2017) #24 | $3.99 | VAL |
| 196 | 196 | 7.25 | VINDICATION #1 (MR) | $3.99 | IMA |
| 197 | 199 | 7.22 | HEX WIVES #5 (MR) | $3.99 | DC |
| 198 | 197 | 7.16 | RAT QUEENS #14 (MR) | $3.99 | IMA |
| 199 | 198 | 7.13 | MURDER FALCON #5 | $3.99 | IMA |
| 200 | 202 | 7.11 | DAZZLER #1 FACSIMILE EDITION | $3.99 | MAR |
| 201 | 184 | 7.04 | GIRL IN THE BAY #1 (MR) | $3.99 | DAR |
| 202 | 164 | 6.98 | GI JOE SIERRA MUERTE #1 | $4.99 | IDW |
| 202 | 201 | 6.98 | OLIVER #2 | $3.99 | IMA |
| 204 | 134 | 6.93 | MAGE HERO DENIED #15 | $7.99 | IMA |
| 205 | 189 | 6.90 | JIM HENSON BENEATH DARK CRYSTAL #7 | $3.99 | BOO |
| 206 | 194 | 6.89 | GI JOE A REAL AMERICAN HERO #259 | $3.99 | IDW |
| 207 | 179 | 6.75 | DOCTOR WHO 13TH #4 | $3.99 | TTN |
| 208 | 479 | 6.74 | SPAWN #293 | $2.99 | IMA |
| 209 | 207 | 6.73 | UNITED STATES VS MURDER INC #6 (MR) | $3.99 | DC |
| 210 | 192 | 6.73 | JAMES BOND ORIGIN #6 | $3.99 | DE |
| 211 | 193 | 6.70 | JAMES BOND 007 #4 | $3.99 | DE |
| 212 | 208 | 6.67 | GODDESS MODE #3 (MR) | $3.99 | DC |
| 213 | 195 | 6.63 | INVADER ZIM #40 | $3.99 | ONI |
| 214 | 181 | 6.58 | STRONGHOLD #1 | $3.99 | AFT |
| 215 | 200 | 6.42 | VAMPIRELLA REANIMATOR #2 | $3.99 | DE |
| 216 | 215 | 6.29 | BPRD DEVIL YOU KNOW #13 | $3.99 | DAR |
| 217 | 209 | 6.28 | TMNT URBAN LEGENDS #10 | $3.99 | IDW |
| 217 | 216 | 6.28 | UNSTOPPABLE WASP #5 | $3.99 | MAR |
| 219 | 213 | 6.24 | BLOODSHOT RISING SPIRIT #4 | $3.99 | VAL |
| 220 | 217 | 6.14 | ELECTRIC WARRIORS #4 | $3.99 | DC |
| 221 | 204 | 6.13 | ARCHIE 1941 #5 | $3.99 | ARC |
| 222 | 218 | 6.07 | AMERICAN CARNAGE #4 (MR) | $3.99 | DC |
| 223 | 211 | 6.01 | BARBARELLA DEJAH THORIS #2 | $3.99 | DE |
| 224 | 224 | 5.99 | MOON GIRL AND DEVIL DINOSAUR #40 | $3.99 | MAR |
| 225 | 222 | 5.90 | REALM #11 (MR) | $3.99 | IMA |
| 226 | 212 | 5.90 | JUGHEAD THE HUNGER #12 (MR) | $3.99 | ARC |
| 227 | 214 | 5.78 | STRANGERS IN PARADISE XXV #10 | $3.99 | ABS |
| 228 | 221 | 5.75 | LIVEWIRE #3 | $3.99 | VAL |
| 229 | 172 | 5.73 | LADY DEATH APOCALYPTIC ABYSS #1 (MR) | $4.99 | COF |
| 230 | 203 | 5.63 | ROBOTECH #17 | $3.99 | TTN |
| 231 | 188 | 5.54 | VAMPIRELLA VALENTINES DAY SPECIAL #1 | $4.99 | DE |
| 232 | 210 | 5.51 | LIFE IS STRANGE #4 (MR) | $3.99 | TTN |
| 233 | 206 | 5.49 | OBERON #1 | $3.99 | AFT |
| 234 | 220 | 5.44 | PROJECT SUPERPOWERS #6 | $3.99 | DE |
| 235 | 225 | 5.40 | DICK TRACY DEAD OR ALIVE #4 | $3.99 | IDW |
| 236 | 230 | 5.34 | AVATAR TSU TEYS PATH #2 | $3.99 | DAR |
| 237 | 235 | 5.22 | OUTER DARKNESS #4 (MR) | $3.99 | IMA |
| 238 | 236 | 5.16 | EXORSISTERS #5 | $3.99 | IMA |
| 239 | 316 | 5.15 | AMAZING SPIDER-MAN #789 | $3.99 | MAR |
| 239 | 228 | 5.15 | DUCKTALES #18 | $3.99 | IDW |
| 241 | 227 | 5.04 | MARS ATTACKS #5 | $3.99 | DE |
| 242 | 233 | 4.94 | GO-BOTS #4 | $3.99 | IDW |
| 243 | 240 | 4.84 | GOD OF WAR #4 | $3.99 | DAR |
| 244 | 237 | 4.73 | TUROK #2 | $3.99 | DE |
| 245 | 248 | 4.70 | ANTHEM #1 | $3.99 | DAR |
| 246 | 245 | 4.64 | ROSE #17 | $3.99 | IMA |
| 247 | 241 | 4.52 | BETTY & VERONICA #3 | $3.99 | ARC |
| 248 | 329 | 4.51 | SPIDER-GWEN #25 | $3.99 | MAR |
| 249 | 251 | 4.46 | HARDCORE #3 (MR) | $3.99 | IMA |
| 250 | 252 | 4.44 | TERMINATOR SECTOR WAR #3 | $3.99 | DAR |
| 251 | 253 | 4.43 | SELF MADE #3 (MR) | $3.99 | IMA |
| 252 | 243 | 4.43 | BONE PARISH #7 | $3.99 | BOO |
| 253 | 294 | 4.40 | SCOOBY DOO WHERE ARE YOU #97 | $2.99 | DC |
| 254 | 255 | 4.40 | CURSE WORDS #20 (MR) | $3.99 | IMA |
| 255 | 244 | 4.40 | PETER CANNON THUNDERBOLT #2 | $3.99 | DE |
| 256 | 242 | 4.39 | JUDGE DREDD TOXIC #4 | $3.99 | IDW |
| 257 | 234 | 4.37 | BLOODBORNE #9 SONG OF CROWS (MR) | $3.99 | TTN |
| 258 | 229 | 4.34 | SWORD DAUGHTER #6 | $4.99 | DAR |
| 259 | 249 | 4.14 | HACK SLASH VS CHAOS #3 (MR) | $3.99 | DE |
| 260 | 261 | 4.06 | WYRD #2 | $3.99 | DAR |
| 261 | 226 | 4.05 | STEVEN UNIVERSE ONGOING #25 | $4.99 | BOO |
| 262 | 263 | 4.02 | FREEZE #3 (MR) | $3.99 | IMA |
| 263 | 254 | 4.00 | ADVENTURE TIME SEASON 11 #5 | $3.99 | BOO |
| 264 | 265 | 3.98 | GUNNING FOR HITS #2 (MR) | $3.99 | IMA |
| 265 | 267 | 3.98 | CRIMSON LOTUS #4 | $3.99 | DAR |
| 266 | 272 | 3.92 | NAOMI #1 | $3.99 | DC |
| 267 | 256 | 3.90 | CODA #9 | $3.99 | BOO |
| 268 | 257 | 3.88 | BATTLESTAR GALACTICA TWILIGHT COMMAND #1 | $3.99 | DE |
| 269 | 232 | 3.84 | WWE #25 | $4.99 | BOO |
| 270 | 276 | 3.80 | SAVAGE DRAGON #242 (MR) | $3.99 | IMA |
| 271 | 247 | 3.80 | ROBYN HOOD OUTLAW #1 | $3.99 | ZEN |
| 272 | 258 | 3.80 | ADVENTURE TIME MARCY & SIMON #2 | $3.99 | BOO |
| 273 | 284 | 3.78 | DETECTIVE COMICS #995 | $3.99 | DC |
| 274 | 205 | 3.72 | GRIMM FAIRY TALES 2019 GIANT SIZE #1 | $5.99 | ZEN |
| 275 | 250 | 3.71 | CONAN THE BARBARIAN #1 | $4.99 | MAR |
| 276 | 264 | 3.68 | LONE RANGER VOL 3 #5 | $3.99 | DE |
| 277 | 283 | 3.64 | WITCHER #3 OF FLESH & FLAME | $3.99 | DAR |
| 278 | 268 | 3.63 | DARK ARK #14 | $3.99 | AFT |
| 279 | 287 | 3.62 | DETECTIVE COMICS #996 | $3.99 | DC |
| 280 | 270 | 3.61 | BLACK BADGE #7 | $3.99 | BOO |
| 281 | 359 | 3.58 | PETER PARKER SPECTACULAR SPIDER-MAN #297 | $3.99 | MAR |
| 282 | 289 | 3.55 | DETECTIVE COMICS #994 | $3.99 | DC |
| 283 | 338 | 3.55 | EXCITING COMICS #1 | $1.99 | ANT |
| 284 | 281 | 3.52 | UNCLE SCROOGE #42 | $3.99 | IDW |
| 285 | 231 | 3.52 | ZODIAC #1 | $4.99 | ZEN |
| 286 | 291 | 3.50 | IMMORTAL HULK #2 | $3.99 | MAR |
| 287 | 282 | 3.48 | RISE OF THE TMNT #5 | $3.99 | IDW |
| 288 | 275 | 3.47 | RAINBOW BRITE #4 | $3.99 | DE |
| 289 | 259 | 3.42 | NIGHTMARE BEFORE CHRISTMAS ZEROS JOURNEY #7 | $3.99 | TOK |
| 290 | 290 | 3.37 | WARNING #4 (MR) | $3.99 | IMA |
| 291 | 292 | 3.35 | REDLANDS #11 (MR) | $3.99 | IMA |
| 292 | 288 | 3.20 | EMPTY MAN #4 | $3.99 | BOO |
| 293 | 277 | 3.16 | BARBIE #1 | $3.99 | NBM |
| 294 | 377 | 3.11 | UNBEATABLE SQUIRREL GIRL #27 | $3.99 | MAR |
| 295 | 305 | 3.09 | CONAN THE BARBARIAN #2 | $3.99 | MAR |
| 296 | 246 | 3.06 | LADY DEATH THE RECKONING #1 25TH ANNIV ED (MR) | $4.99 | COF |
| 297 | 303 | 3.04 | HALO LONE WOLF #2 | $3.99 | DAR |
| 298 | 298 | 2.90 | RELAY #4 | $3.99 | AFT |
| 299 | 286 | 2.89 | YOUNG JUSTICE #1 | $4.99 | DC |
| 300 | 266 | 2.88 | VAMPBLADE SEASON 3 #9 (MR) | $4.99 | ACT |
| 301 | 301 | 2.85 | LUMBERJANES #59 | $3.99 | BOO |
| 302 | 390 | 2.80 | CHAMPIONS #1 | $4.99 | MAR |
| 303 | 304 | 2.76 | FATHOM VOL 7 #7 | $3.99 | ASP |
| 304 | 278 | 2.74 | VAMPBLADE SEASON 3 #10 (MR) | $4.99 | ACT |
| 305 | 299 | 2.63 | VAN HELSING SWORD OF HEAVEN #4 | $3.99 | ZEN |
| 306 | 300 | 2.61 | WRONG EARTH #6 | $3.99 | AHO |
| 307 | 311 | 2.55 | PUNKS NOT DEAD LONDON CALLING #1 | $3.99 | IDW |
| 308 | 318 | 2.51 | WHISPERING DARK #4 | $3.99 | DAR |
| 309 | 312 | 2.50 | DEAD KINGS #3 | $3.99 | AFT |
| 310 | 324 | 2.50 | MILES MORALES SPIDER-MAN #2 | $3.99 | MAR |
| 311 | 307 | 2.50 | GFT TALES OF TERROR VOL 4 #12 | $3.99 | ZEN |
| 312 | 313 | 2.45 | BUFFY THE VAMPIRE SLAYER #1 | $3.99 | BOO |
| 313 | 325 | 2.37 | OUTPOST ZERO #7 | $3.99 | IMA |
| 314 | 327 | 2.31 | TOM CLANCYS DIVISION EXTREMIS MALIS #2 | $3.99 | DAR |
| 315 | 322 | 2.27 | ASPEN VISIONS FATHOM SPINNING OUR FATE #1 | $3.99 | ASP |
| 316 | 335 | 2.25 | IMMORTAL HULK #11 | $3.99 | MAR |
| 317 | 323 | 2.22 | CRACKDOWN #1 | $3.99 | DE |
| 318 | 285 | 2.22 | DISNEY AFTERNOON GIANT #3 | $5.99 | IDW |
| 319 | 314 | 2.18 | PUNCHLINE #4 | $3.99 | ANT |
| 320 | 339 | 2.16 | IMMORTAL HULK #3 | $3.99 | MAR |
| 321 | 317 | 2.13 | EDGAR ALLAN POE`S SNIFTER OF TERROR #5 (MR) | $3.99 | AHO |
| 321 | 342 | 2.13 | SUPERIOR SPIDER-MAN #1 | $3.99 | MAR |
| 323 | 326 | 2.13 | AVANT-GUARDS #2 | $3.99 | BOO |
| 324 | 517 | 2.13 | WRATH ETERNAL WARRIOR #1 DOLLAR DEBUT | $1.00 | VAL |
| 325 | 328 | 2.12 | LAST SPACE RACE #3 | $3.99 | AFT |
| 326 | 319 | 2.10 | WULFBORNE #1 | $3.99 | SCO |
| 327 | 368 | 2.10 | ARCHIE & FRIENDS MUSIC JAM #1 | $2.99 | ARC |
| 328 | 340 | 2.08 | EVOLUTION #14 (MR) | $3.99 | IMA |
| 329 | 280 | 2.08 | KNIGHTS OF THE DINNER TABLE #262 | $5.99 | KEN |
| 330 | 331 | 2.04 | ATOMIC ROBO & DAWN OF NEW ERA #2 | $3.99 | IDW |
| 331 | 350 | 2.02 | VENOM #10 | $3.99 | MAR |
| 332 | 320 | 2.00 | WHITE WIDOW #1 | $3.99 | RED |
| 333 | 336 | 1.99 | GIANT DAYS #47 | $3.99 | BOO |
| 334 | 321 | 1.97 | LAGUARDIA #3 (MR) | $4.99 | DAR |
| 335 | 308 | 1.97 | CONSPIRACY #3 | $4.99 | ZEN |
| 336 | 334 | 1.95 | DEVILS #1 (MR) | $3.99 | ANT |
| 337 | 351 | 1.92 | DIE DIE DIE #7 (MR) | $3.99 | IMA |
| 338 | 341 | 1.89 | SIM CITY #1 DAVE TO KILL FOR | $4.00 | AAR |
| 339 | 355 | 1.89 | HEROES IN CRISIS #5 | $3.99 | DC |
| 340 | 358 | 1.88 | DETECTIVE COMICS #997 | $3.99 | DC |
| 341 | 360 | 1.88 | IMMORTAL HULK #7 | $3.99 | MAR |
| 342 | 356 | 1.87 | DIE #2 (MR) | $3.99 | IMA |
| 343 | 330 | 1.87 | BREAKNECK #3 (MR) | $3.99 | TTN |
| 344 | 333 | 1.84 | MEGA GHOST #3 | $3.99 | ALB |
| 345 | 345 | 1.83 | WIZARD BEACH #3 | $3.99 | BOO |
| 346 | 346 | 1.83 | ATOMIC ROBO & DAWN OF NEW ERA #3 | $3.99 | IDW |
| 347 | 348 | 1.80 | SHADOW ROADS #6 | $3.99 | ONI |
| 348 | 364 | 1.78 | MIDDLEWEST #2 (MR) | $3.99 | IMA |
| 349 | 337 | 1.77 | THESE SAVAGE SHORES #3 (MR) | $3.99 | VAU |
| 350 | 353 | 1.75 | HOT LUNCH SPECIAL #5 (MR) | $3.99 | AFT |
| 350 | 354 | 1.75 | LOLLIPOP KIDS #3 | $3.99 | AFT |
| 352 | 315 | 1.74 | TRUMPS TITANS VS THE END #1 | $4.99 | KEE |
| 353 | 371 | 1.73 | AMAZING SPIDER-MAN #10 | $3.99 | MAR |
| 354 | 343 | 1.72 | GRUMBLE #4 | $3.99 | ALB |
| 355 | 369 | 1.69 | GASOLINA #15 (MR) | $3.99 | IMA |
| 356 | 370 | 1.65 | STARCRAFT SOLDIERS #2 | $3.99 | DAR |
| 357 | 361 | 1.64 | SOULFIRE VOL 7 #8 | $3.99 | ASP |
| 358 | 372 | 1.64 | DIE #1 (MR) | $3.99 | IMA |
| 359 | 349 | 1.63 | CARSON OF VENUS FLAMES BEYOND #2 | $3.99 | AME |
| 360 | 363 | 1.63 | RICK & MORTY #44 | $3.99 | ONI |
| 361 | 362 | 1.62 | SWEETIE #1 | $3.99 | ACT |
| 362 | 375 | 1.57 | DEATH ORB #5 | $3.99 | DAR |
| 363 | 376 | 1.57 | AUNTIE AGATHAS HOME FOR WAYWARD RABBITS #4 | $3.99 | IMA |
| 364 | 378 | 1.55 | LIGHTSTEP #4 | $3.99 | DAR |
| 365 | 357 | 1.54 | HONOR AND CURSE #1 | $3.99 | MAD |
| 366 | 470 | 1.51 | INCREDIBLE HULK #709 | $3.99 | MAR |
| 367 | 387 | 1.49 | HEROES IN CRISIS #4 | $3.99 | DC |
| 367 | 271 | 1.49 | THRESHOLD ALLURE #1 NUDE (MR) | $7.99 | AVA |
| 369 | 475 | 1.47 | GENERATIONS MORALES & PARKER SPIDER-MAN #1 | $4.99 | MAR |
| 370 | 296 | 1.46 | AMAZING WORLD GUMBALL SPRING BREAK SMASH #1 | $7.99 | BOO |
| 371 | 393 | 1.44 | AMAZING SPIDER-MAN #11 | $3.99 | MAR |
| 372 | 480 | 1.43 | AMAZING SPIDER-MAN RENEW YOUR VOWS #1 | $4.99 | MAR |
| 373 | 483 | 1.40 | X-MEN BLUE #3 | $3.99 | MAR |
| 374 | 381 | 1.39 | BY NIGHT #8 | $3.99 | BOO |
| 375 | 484 | 1.39 | SECRET EMPIRE #7 | $3.99 | MAR |
| 376 | 394 | 1.38 | SHAZAM #2 | $3.99 | DC |
| 377 | 385 | 1.37 | BLACK AF DEVILS DYE #2 (MR) | $3.99 | BLA |
| 378 | 373 | 1.36 | CASPERS GHOSTLAND #2 | $3.99 | AME |
| 378 | 487 | 1.36 | FALCON #1 | $3.99 | MAR |
| 380 | 396 | 1.35 | ERRAND BOYS #5 | $3.99 | IMA |
| 381 | 388 | 1.34 | GOLD DIGGER #260 | $3.99 | ANT |
| 382 | 490 | 1.33 | GUARDIANS OF GALAXY #146 | $3.99 | MAR |
| 383 | 391 | 1.29 | SNAP FLASH HUSTLE #2 (MR) | $3.99 | BLA |
| 384 | 395 | 1.25 | SEX DEATH REVOLUTION #3 (MR) | $3.99 | BLA |
| 385 | 495 | 1.25 | IRON FIST #1 | $3.99 | MAR |
| 386 | 382 | 1.25 | GOD OF BAD MEN #1 | $3.99 | AMI |
| 386 | 383 | 1.25 | ZORRO LEGENDARY ADVENTURES #3 | $3.99 | AME |
| 388 | 498 | 1.24 | CAPTAIN AMERICA STEVE ROGERS #15 | $3.99 | MAR |
| 389 | 386 | 1.23 | FEARSCAPE #4 (MR) | $3.99 | VAU |
| 390 | 502 | 1.21 | INCREDIBLE HULK #710 | $3.99 | MAR |
| 391 | 347 | 1.20 | THRESHOLD ALLURE #1 (MR) | $5.99 | AVA |
| 392 | 504 | 1.20 | X-MEN GOLD #1 | $4.99 | MAR |
| 393 | 503 | 1.20 | VENOM #6 | $3.99 | MAR |
| 394 | 384 | 1.20 | BATMAN WHO LAUGHS #2 | $4.99 | DC |
| 395 | 505 | 1.19 | DOCTOR STRANGE #12 | $3.99 | MAR |
| 396 | 506 | 1.18 | CHAMPIONS #13 | $3.99 | MAR |
| 397 | 508 | 1.18 | BLACK WIDOW #3 | $3.99 | MAR |
| 398 | 510 | 1.18 | HOWARD THE DUCK #3 | $4.99 | MAR |
| 399 | 511 | 1.17 | UNCANNY AVENGERS #28 | $3.99 | MAR |
| 400 | 408 | 1.16 | SMOOTH CRIMINALS #4 | $3.99 | BOO |
| 401 | 514 | 1.16 | CAGE #1 | $3.99 | MAR |
| 402 | 512 | 1.15 | CAPTAIN MARVEL #125 | $3.99 | MAR |
| 403 | 516 | 1.15 | IRON FIST #73 | $3.99 | MAR |
| 404 | 400 | 1.12 | JOHN CARPENTER TALES OF SCI FI TWITCH #3 (MR) | $3.99 | STO |
| 405 | 523 | 1.10 | ULTIMATE END #5 | $4.99 | MAR |
| 406 | 423 | 1.10 | BATMAN #63 | $3.99 | DC |
| 407 | 412 | 1.09 | DEVIL WITHIN #3 (MR) | $3.99 | BLA |
| 408 | 522 | 1.09 | X-MEN GOLD #13 | $3.99 | MAR |
| 409 | 527 | 1.09 | CHAMPIONS #5 | $3.99 | MAR |
| 410 | 397 | 1.09 | JUSTICE LEAGUE ANNUAL #1 | $4.99 | DC |
| 411 | 525 | 1.08 | GWENPOOL #21 | $3.99 | MAR |
| 412 | 344 | 1.07 | VAMPIRELLA #11 | $3.99 | DE |
| 412 | 404 | 1.07 | INVADERS #1 | $4.99 | MAR |
| 414 | 352 | 1.07 | MAGICAL BEATDOWN #1 (MR) | $6.00 | SIL |
| 414 | 432 | 1.07 | SHURI #2 | $3.99 | MAR |
| 416 | 530 | 1.06 | SHIELD #2 | $3.99 | MAR |
| 417 | 533 | 1.06 | X-MEN GOLD #2 | $3.99 | MAR |
| 418 | 374 | 1.06 | EXCITING COMICS #1 TERROR RETURNS VAR CVR | $4.99 | ANT |
| 419 | 529 | 1.06 | ICEMAN #6 | $3.99 | MAR |
| 420 | 534 | 1.06 | X-MEN BLUE #2 | $3.99 | MAR |
| 421 | 407 | 1.05 | APPALACHIAN APOCALYPSE #2 | $3.99 | CAV |
| 421 | 434 | 1.05 | SPIDER-GEDDON #4 | $3.99 | MAR |
| 423 | 537 | 1.03 | ALL NEW WOLVERINE #19 | $3.99 | MAR |
| 424 | 538 | 1.03 | X-MEN GOLD #3 | $3.99 | MAR |
| 425 | 420 | 1.03 | NULL FAERIES #2 | $3.99 | ACT |
| 426 | 543 | 1.00 | MONSTERS UNLEASHED #7 | $3.99 | MAR |
| 427 | 414 | 1.00 | SHADOWPLAY #2 | $3.99 | SCO |
| 428 | 545 | 0.99 | INVINCIBLE IRON MAN #8 | $3.99 | MAR |
| 429 | 416 | 0.99 | GEORGE MCDONALDS LIGHT PRINCESS #1 | $3.99 | CAV |
| 430 | 426 | 0.99 | OH S#!T ITS KIM & KIM #5 (MR) | $3.99 | BLA |
| 430 | 544 | 0.99 | DAREDEVIL #595 | $3.99 | MAR |
| 432 | 428 | 0.98 | SUKEBAN TURBO #4 | $3.99 | IDW |
| 432 | 547 | 0.98 | WEAPON X #3 | $3.99 | MAR |
| 434 | 548 | 0.98 | VENOM #150 | $5.99 | MAR |
| 435 | 441 | 0.97 | UNCANNY X-MEN #5 | $3.99 | MAR |
| 436 | 417 | 0.97 | CAVEWOMAN A WIZARD A SORCERESS AND MERIEM #1 | $3.99 | AMR |
| 437 | 556 | 0.97 | CAPTAIN AMERICA STEVE ROGERS #2 | $3.99 | MAR |
| 438 | 555 | 0.97 | DARTH VADER #22 | $3.99 | MAR |
| 439 | 559 | 0.96 | SILK #2 | $3.99 | MAR |
| 440 | 557 | 0.96 | X-MEN BLUE #13 | $3.99 | MAR |
| 441 | 554 | 0.96 | CAPTAIN AMERICA #695 | $3.99 | MAR |
| 442 | 563 | 0.95 | SQUADRON SUPREME #2 | $3.99 | MAR |
| 443 | 560 | 0.95 | BLACK PANTHER #166 | $3.99 | MAR |
| 444 | 446 | 0.93 | UNCANNY X-MEN #8 | $3.99 | MAR |
| 445 | 433 | 0.93 | SURVIVAL FETISH #5 (MR) | $3.99 | BLA |
| 446 | 567 | 0.93 | VENOMVERSE #1 | $4.99 | MAR |
| 447 | 422 | 0.92 | CAVEWOMAN RAZORS RUN #1 (MR) | $3.99 | AMR |
| 448 | 577 | 0.91 | AMAZING SPIDER-MAN RENEW YOUR VOWS #8 | $3.99 | MAR |
| 448 | 576 | 0.91 | AMERICA #2 | $3.99 | MAR |
| 450 | 449 | 0.90 | FLASH #63 | $3.99 | DC |
| 451 | 569 | 0.89 | MSH ADVENTURES CAPTAIN MARVEL FIRST DAY OF SCHOOL #1 | $3.99 | MAR |
| 452 | 430 | 0.88 | ANCIENT DREAMS #3 | $3.99 | ROT |
| 453 | 447 | 0.88 | HEROES IN CRISIS #1 | $3.99 | DC |
| 454 | 427 | 0.88 | KNIGHTS OF THE GOLDEN SUN #4 | $3.99 | MAD |
| 455 | 451 | 0.88 | CRIMINAL #1 (MR) | $3.99 | IMA |
| 455 | 429 | 0.88 | FRIENDO #4 (MR) | $3.99 | VAU |
| 455 | 401 | 0.88 | GOD MODE #1 | $4.99 | KEE |
| 458 | 586 | 0.87 | WEAPON X #2 | $3.99 | MAR |
| 459 | 454 | 0.87 | UNCANNY X-MEN #7 | $3.99 | MAR |
| 460 | 452 | 0.87 | AVENGERS #13 | $3.99 | MAR |
| 460 | 589 | 0.87 | TOTALLY AWESOME HULK #20 | $3.99 | MAR |
| 462 | 431 | 0.86 | ZINNOBER #7 | $3.99 | SCO |
| 463 | 592 | 0.86 | CIVIL WAR II #2 | $4.99 | MAR |
| 464 | 458 | 0.85 | UNCANNY X-MEN #6 | $3.99 | MAR |
| 465 | 332 | 0.84 | THRESHOLD ALLURE #0 NUDE (MR) | $7.99 | AVA |
| 466 | 463 | 0.84 | SHURI #3 | $3.99 | MAR |
| 467 | 595 | 0.84 | SPIDER-MAN #234 | $3.99 | MAR |
| 468 | 598 | 0.84 | DOCTOR STRANGE #381 | $3.99 | MAR |
| 469 | 438 | 0.83 | BLOSSOMS 666 #1 | $3.99 | ARC |
| 470 | 425 | 0.82 | WASTED SPACE #6 (MR) | $3.99 | VAU |
| 471 | 460 | 0.81 | AMAZING SPIDER-MAN #14 | $3.99 | MAR |
| 472 | 379 | 0.81 | UNCANNY X-MEN 3D #1 | $7.99 | MAR |
| 473 | 389 | 0.80 | GRUMBLE #4 CVR B | $5.99 | ALB |
| 474 | 392 | 0.80 | BATMAN DAMNED #2 (MR) | $6.99 | DC |
| 475 | 439 | 0.79 | AM ARCHIVES THREE STOOGES #1 | $3.99 | AME |
| 476 | 472 | 0.79 | IRONHEART #2 | $3.99 | MAR |
| 477 | 609 | 0.78 | SPIDER-MEN II #1 | $3.99 | MAR |
| 478 | 442 | 0.77 | WASTED SPACE #7 (MR) | $3.99 | VAU |
| 479 | 443 | 0.77 | NICE #3 | $3.99 | AME |
| 480 | 616 | 0.76 | ROYALS #9 | $3.99 | MAR |
| 481 | 614 | 0.76 | AVENGERS #672 | $3.99 | MAR |
| 482 | 444 | 0.75 | OGRE #1 (MR) | $3.99 | SOU |
| 483 | 461 | 0.75 | ALBERT EINSTEIN TIME MASON #5 | $3.99 | ACT |
| 484 | 625 | 0.74 | CLONE CONSPIRACY #3 | $3.99 | MAR |
| 485 | 448 | 0.74 | LITTLE GIRL #4 (MR) | $3.99 | DEV |
| 486 | 445 | 0.73 | FLASH ANNUAL #2 | $4.99 | DC |
| 487 | 627 | 0.73 | X-MEN GOLD #4 | $3.99 | MAR |
| 488 | 619 | 0.73 | MIGHTY THOR #700 | $5.99 | MAR |
| 489 | 415 | 0.72 | BELLADONNA FIRE FURY #11 (MR) | $5.99 | AVA |
| 490 | 628 | 0.72 | MOON KNIGHT #4 | $3.99 | MAR |
| 491 | 468 | 0.71 | IMPOSSIBLE INC #4 | $3.99 | IDW |
| 492 | 486 | 0.70 | AQUAMAN #44 | $3.99 | DC |
| 493 | 455 | 0.70 | ANCIENT DREAMS #8 | $3.99 | ROT |
| 493 | 630 | 0.70 | INVINCIBLE IRON MAN #9 | $3.99 | MAR |
| 495 | 489 | 0.69 | HEROES IN CRISIS #2 | $3.99 | DC |
| 496 | 453 | 0.69 | FRIENDLY NEIGHBORHOOD SPIDER-MAN #1 | $4.99 | MAR |
| 497 | 791 | 0.69 | TRUE BELIEVERS KING CONAN #1 | $1.00 | MAR |
| 498 | 633 | 0.69 | AMAZING SPIDER-MAN #20 | $3.99 | MAR |
| 499 | 403 | 0.67 | ARCHIE JUMBO COMICS DIGEST #296 | $6.99 | ARC |
| 500 | 800 | 0.67 | TRUE BELIEVERS CONAN SECRET OF SKULL RIVER #1 | $1.00 | MAR |
Top 500 Graphic Novels ordered by North American comic book stores in February 2019
| | | | | | |
| --- | --- | --- | --- | --- | --- |
| Quantity Rank | Dollar Rank | Index | Publication | Price | Publisher |
| 1 | 1 | 8.99 | MISTER MIRACLE TP (MR) | $24.99 | DC |
| 2 | 7 | 3.53 | SPIDER-GEDDON TP | $24.99 | MAR |
| 3 | 5 | 3.18 | INFINITY WARS TP | $34.99 | MAR |
| 4 | 13 | 3.13 | IMMORTAL HULK TP VOL 02 GREEN DOOR | $15.99 | MAR |
| 5 | 30 | 3.07 | MY HERO ACADEMIA GN VOL 17 | $9.99 | VIZ |
| 6 | 21 | 2.73 | DEADPOOL MPGN TP SECRET AGENT DEADPOOL | $14.99 | MAR |
| 7 | 28 | 2.72 | MAN-EATERS TP VOL 01 | $12.99 | IMA |
| 8 | 6 | 2.65 | INFINITY GAUNTLET TP DELUXE EDITION | $34.99 | MAR |
| 9 | 19 | 2.36 | CAPTAIN AMERICA TP VOL 01 WINTER IN AMERICA | $17.99 | MAR |
| 10 | 26 | 2.33 | AMAZING SPIDER-MAN BY NICK SPENCER TP VOL 02 | $15.99 | MAR |
| 11 | 67 | 2.18 | DEADLY CLASS TP VOL 01 REAGAN YOUTH (MR) | $9.99 | IMA |
| 12 | 33 | 2.05 | PUNISHER TP VOL 01 WORLD WAR FRANK | $15.99 | MAR |
| 13 | 56 | 1.96 | SHAZAM ORIGINS TP NEW ED | $12.99 | DC |
| 14 | 31 | 1.90 | MARVELS CAPTAIN MARVEL PRELUDE TP | $17.99 | MAR |
| 15 | 35 | 1.77 | OLD MAN HAWKEYE TP VOL 02 WHOLE WORLD BLIND | $17.99 | MAR |
| 16 | 62 | 1.77 | BULLY WARS TP VOL 01 | $12.99 | IMA |
| 17 | 76 | 1.72 | MY HERO ACADEMIA GN VOL 01 | $9.99 | VIZ |
| 18 | 39 | 1.72 | SPIDER-GEDDON TP COVERT OPS | $17.99 | MAR |
| 19 | 36 | 1.71 | WEATHERMAN TP VOL 01 (MR) | $17.99 | IMA |
| 20 | 57 | 1.69 | AQUAMAN SUICIDE SQUAD SINK ATLANTIS TP | $14.99 | DC |
| 21 | 20 | 1.69 | SUPERMAN HC VOL 01 THE UNITY SAGA | $24.99 | DC |
| 22 | 43 | 1.66 | MR AND MRS X TP VOL 01 LOVE AND MARRIAGE | $17.99 | MAR |
| 23 | 32 | 1.66 | SHAZAM THE MONSTER SOCIETY OF EVIL TP NEW ED | $19.99 | DC |
| 24 | 73 | 1.64 | MS MARVEL GN-TP KAMALA KHAN | $12.99 | MAR |
| 25 | 47 | 1.58 | SKYWARD TP VOL 02 HERE THERE BE DRAGONFLIES | $16.99 | IMA |
| 26 | 61 | 1.58 | BIRTHRIGHT TP VOL 07 | $14.99 | IMA |
| 27 | 23 | 1.57 | BLACKEST NIGHT SAGA ESSENTIAL EDITION TP | $24.99 | DC |
| 28 | 38 | 1.55 | TITANS TP VOL 05 THE SPARK | $19.99 | DC |
| 29 | 94 | 1.53 | SAGA TP VOL 01 (MR) | $9.99 | IMA |
| 30 | 48 | 1.53 | SONIC THE HEDGEHOG TP VOL 02 FATE DR EGGMAN | $15.99 | IDW |
| 31 | 78 | 1.45 | MOON GIRL AND DEVIL DINOSAUR GN TP VOL 01 BEGINNING | $12.99 | MAR |
| 32 | 45 | 1.44 | DAUGHTERS OF DRAGON MPGN TP | $19.99 | MAR |
| 33 | 15 | 1.44 | FIREFLY LEGACY EDITION TP VOL 02 | $29.99 | BOO |
| 34 | 29 | 1.42 | GREEN LANTERN BY GEOFF JOHNS TP BOOK 01 | $24.99 | DC |
| 35 | 71 | 1.42 | HIT-GIRL TP VOL 03 ROME (MR) | $14.99 | IMA |
| 36 | 49 | 1.40 | UMBRELLA ACADEMY TP VOL 01 APOCALYPSE SUITE | $17.99 | DAR |
| 37 | 58 | 1.39 | WEST COAST AVENGERS TP VOL 01 BEST COAST | $17.99 | MAR |
| 38 | 46 | 1.35 | BPRD DEVIL YOU KNOW TP VOL 02 PANDEMONIUM | $19.99 | DAR |
| 39 | 108 | 1.34 | MONSTRESS TP VOL 01 (MR) | $9.99 | IMA |
| 40 | 75 | 1.34 | SAGA TP VOL 09 (MR) | $14.99 | IMA |
| 41 | 63 | 1.33 | REDNECK TP VOL 03 LONGHORNS (MR) | $16.99 | IMA |
| 42 | 52 | 1.31 | TRANSMETROPOLITAN TP BOOK 01 (MR) | $19.99 | DC |
| 43 | 66 | 1.30 | COLD SPOTS TP (MR) | $16.99 | IMA |
| 44 | 3 | 1.29 | CAPTAIN MARVEL MS MARVEL A HERO IS BORN OMNIBUS HC | $100.00 | MAR |
| 45 | 14 | 1.26 | BLACK PANTHER EPIC COLL TP REVENGE BLACK PANTHER | $39.99 | MAR |
| 46 | 80 | 1.26 | TOKYO GHOUL RE GN VOL 09 | $12.99 | VIZ |
| 47 | 27 | 1.23 | INFINITY WARPS TP TWO-IN-ONE | $29.99 | MAR |
| 48 | 18 | 1.21 | DC THE NEW FRONTIER TP NEW ED BLACK LABEL | $34.99 | DC |
| 49 | 105 | 1.18 | DISNEY PIXARS INCREDIBLES 2 TP VOL 01 CRISIS MIDLIFE & OTHER | $10.99 | DAR |
| 50 | 44 | 1.18 | CAPTAIN MARVEL EARTHS MIGHTIEST HERO TP VOL 05 | $24.99 | MAR |
| 51 | 119 | 1.14 | ONE PIECE GN VOL 89 | $9.99 | VIZ |
| 52 | 68 | 1.11 | SANDMAN TP VOL 05 A GAME OF YOU 30TH ANNIV ED (MR) | $19.99 | DC |
| 53 | 11 | 1.10 | BERSERK DELUXE EDITION HC VOL 01 (MR) | $49.99 | DAR |
| 54 | 17 | 1.10 | CONAN CHRONICLES EPIC COLLECTION TP DARKSOME HILLS | $39.99 | MAR |
| 55 | 74 | 1.09 | UMBRELLA ACADEMY TP VOL 02 DALLAS | $17.99 | DAR |
| 56 | 87 | 1.08 | IMMORTAL HULK TP VOL 01 OR IS HE BOTH | $15.99 | MAR |
| 57 | 70 | 1.08 | NEIL GAIMANS & CHARLES VESS STARDUST TP NEW ED (MR) | $19.99 | DC |
| 58 | 34 | 1.07 | BATMAN THE CAPED CRUSADER TP VOL 02 | $29.99 | DC |
| 59 | 89 | 1.06 | PETER PARKER SPECTACULAR SPIDER-MAN TP VOL 05 | $15.99 | MAR |
| 60 | 136 | 1.05 | WICKED & DIVINE TP VOL 01 THE FAUST ACT (MR) | $9.99 | IMA |
| 61 | 81 | 1.05 | BOMBSHELLS UNITED TP VOL 03 TAPS | $16.99 | DC |
| 62 | 99 | 1.04 | RWBY OFFICIAL MANGA ANTHOLOGY GN VOL 04 | $12.99 | VIZ |
| 63 | 55 | 1.04 | DECADES MARVEL 50S TP CAPTAIN AMERICA STRIKES | $24.99 | MAR |
| 64 | 95 | 1.02 | SUICIDE SQUAD HELL TO PAY TP | $14.99 | DC |
| 65 | 22 | 1.02 | PUNISHER EPIC COLLECTION TP KINGPIN RULES | $39.99 | MAR |
| 66 | 90 | 1.00 | GIANT DAYS TP VOL 09 | $14.99 | BOO |
| 67 | 85 | 1.00 | RUMBLE TP VOL 05 THINGS REMOTE (MR) | $16.99 | IMA |
| 68 | 77 | 0.98 | WATCHMEN TP NEW ED | $19.99 | DC |
| 69 | 88 | 0.97 | BEAUTY TP VOL 05 (MR) | $16.99 | IMA |
| 70 | 4 | 0.97 | VENOMNIBUS HC VOL 02 | $125.00 | MAR |
| 71 | 9 | 0.96 | MMW LUKE CAGE POWER MAN HC VOL 03 | $75.00 | MAR |
| 72 | 25 | 0.94 | IRON FIST DEADLY HANDS KUNG FU TP COMPLETE COLLECTION (MR) | $39.99 | MAR |
| 73 | 10 | 0.94 | WONDER WOMAN BY PHIL JIMINEZ OMNIBUS HC | $75.00 | DC |
| 74 | 64 | 0.93 | INFINITY GAUNTLET TP | $24.99 | MAR |
| 75 | 103 | 0.90 | COSMIC GHOST RIDER TP BABY THANOS MUST DIE | $15.99 | MAR |
| 76 | 37 | 0.90 | GHOST RIDER TP BOOK 01 WAR FOR HEAVEN | $34.99 | MAR |
| 77 | 40 | 0.88 | BATGIRL YEAR ONE DELUXE ED HC | $34.99 | DC |
| 78 | 172 | 0.86 | PAPER GIRLS TP VOL 01 | $9.99 | IMA |
| 79 | 2 | 0.86 | HE MAN & THE MASTERS OF THE UNIVERSE OMNIBUS HC | $150.00 | DC |
| 80 | 101 | 0.85 | HEY KIDS COMICS TP (MR) | $16.99 | IMA |
| 81 | 170 | 0.84 | SNOTGIRL TP VOL 01 GREEN HAIR DONT CARE | $9.99 | IMA |
| 82 | 117 | 0.84 | SAGA TP VOL 02 (MR) | $14.99 | IMA |
| 83 | 83 | 0.84 | BPRD VAMPIRE SECOND EDITION TP | $19.99 | DAR |
| 84 | 79 | 0.84 | URUSEI YATSURA GN VOL 01 | $19.99 | VIZ |
| 85 | 184 | 0.83 | SKYWARD TP VOL 01 MY LOW-G LIFE | $9.99 | IMA |
| 86 | 100 | 0.83 | DAYS OF HATE TP VOL 02 (MR) | $17.99 | IMA |
| 87 | 135 | 0.82 | SHEETS GN | $12.99 | LIO |
| 87 | 124 | 0.82 | WOLVERINE TP LOGAN | $14.99 | MAR |
| 89 | 91 | 0.82 | HIGH CRIMES TP (MR) | $19.99 | IMA |
| 89 | 167 | 0.82 | KIM POSSIBLE ADVENTURES MOZZARELLO | $9.99 | IDW |
| 91 | 178 | 0.80 | I HATE FAIRYLAND TP VOL 01 MADLY EVER AFTER (MR) | $9.99 | IMA |
| 92 | 182 | 0.80 | PLANTS VS ZOMBIES HC DINO-MIGHT | $9.99 | DAR |
| 93 | 168 | 0.78 | AMAZING SPIDER-MAN EDGE OF SPIDER-VERSE TP | $15.99 | MAR |
| 94 | 50 | 0.78 | PUNISHER WAR JOURNAL FRACTION TP VOL 01 COMPLETE COLLECTION | $34.99 | MAR |
| 95 | 42 | 0.78 | EXCALIBUR EPIC COLLECTION TP GIRLS SCHOOL HECK | $39.99 | MAR |
| 96 | 86 | 0.77 | JOJOS BIZARRE ADV 3 STARDUST CRUSADERS HC VOL 10 | $19.99 | VIZ |
| 96 | 188 | 0.77 | SEVEN TO ETERNITY TP VOL 01 | $9.99 | IMA |
| 98 | 130 | 0.76 | SAGA TP VOL 08 (MR) | $14.99 | IMA |
| 99 | 93 | 0.76 | ETHER II TP VOL 02 COPPER GOLEMS | $19.99 | DAR |
| 100 | 53 | 0.75 | ELSEWORLDS JUSTICE LEAGUE TP VOL 03 | $34.99 | DC |
| 101 | 96 | 0.74 | SIMPSONS COMICS SHOWSTOPPER TP | $16.99 | HAR |
| 102 | 187 | 0.73 | MY HERO ACADEMIA GN VOL 02 | $9.99 | VIZ |
| 103 | 113 | 0.73 | MY SOLO EXCHANGE DIARY GN VOL 02 (MR) | $14.99 | ST. |
| 104 | 211 | 0.72 | DC SUPER HERO GIRLS SEARCH FOR ATLANTIS TP | $9.99 | DC |
| 105 | 127 | 0.72 | ADVENTURE TIME MARCELINE PIRATE QUEEN ORIGINAL GN | $14.99 | BOO |
| 106 | 59 | 0.71 | DEADPOOL CLASSIC TP VOL 23 MERCS FOR MONEY | $34.99 | MAR |
| 107 | 146 | 0.71 | NEW SUPER MAN & THE JUSTICE LEAGUE OF CHINA TP | $14.99 | DC |
| 108 | 60 | 0.71 | DC UNIVERSE BY LEN WEIN HC | $34.99 | DC |
| 109 | 141 | 0.70 | SAGA TP VOL 03 (MR) | $14.99 | IMA |
| 110 | 138 | 0.69 | INFINITY WARS TP SLEEPWALKER | $15.99 | MAR |
| 110 | 134 | 0.69 | STEVEN UNIVERSE ONGOING TP VOL 04 JUST RIGHT | $14.99 | BOO |
| 112 | 140 | 0.69 | SPIDER-MAN MILES MORALES TP VOL 01 | $15.99 | MAR |
| 113 | 128 | 0.69 | MONSTRESS TP VOL 03 (MR) | $16.99 | IMA |
| 114 | 109 | 0.68 | DARK NIGHTS METAL TP | $19.99 | DC |
| 115 | 144 | 0.68 | LIFE OF CAPTAIN MARVEL TP | $15.99 | MAR |
| 115 | 177 | 0.68 | TYPHOID FEVER TP | $12.99 | MAR |
| 117 | 65 | 0.66 | WONDER WOMAN REBIRTH DLX COLL HC BOOK 03 | $34.99 | DC |
| 118 | 92 | 0.65 | BATMAN SHADOW OF THE BAT TP VOL 04 | $24.99 | DC |
| 119 | 110 | 0.65 | I AM A HERO OMNIBUS TP VOL 09 | $19.99 | DAR |
| 120 | 107 | 0.65 | SABRINA CHILLING ADVENTURES TP VOL 01 (MR) | $17.99 | ARC |
| 121 | 72 | 0.64 | JUNGLE GIRLS HC | $29.99 | IDW |
| 122 | 121 | 0.63 | BLACK LIGHTNING BRICK CITY BLUES TP | $19.99 | DC |
| 123 | 123 | 0.62 | UNEXPECTED CALL OF THE UNKNOWN TP | $19.99 | DC |
| 124 | 191 | 0.62 | AMAZING SPIDER-MAN TP VOL 03 SPIDER-VERSE | $24.99 | MAR |
| 125 | 98 | 0.62 | MARVEL KNIGHTS PUNISHER BY PEYER & GUTIERREZ TP TAXI WARS | $24.99 | MAR |
| 126 | 195 | 0.61 | MILES MORALES ULTIMATE SPIDER-MAN TP VOL 01 REVIVAL | $17.99 | MAR |
| 127 | 41 | 0.61 | SPIDER-VERSE TP | $50.00 | MAR |
| 128 | 137 | 0.61 | BATMAN THE KILLING JOKE SPECIAL ED HC | $17.99 | DC |
| 129 | 161 | 0.61 | WORLDS END HAREM GN VOL 04 (MR) | $12.99 | SEV |
| 130 | 162 | 0.60 | SAGA TP VOL 07 (MR) | $14.99 | IMA |
| 131 | 24 | 0.60 | WALKING DEAD COMPENDIUM TP VOL 03 (MR) | $59.99 | IMA |
| 132 | 222 | 0.60 | MY HERO ACADEMIA GN VOL 03 | $9.99 | VIZ |
| 133 | 133 | 0.59 | THANOS WINS BY DONNY CATES TP | $19.99 | MAR |
| 134 | 114 | 0.59 | CORTO MALTESE GN THE SECRET ROSE | $19.99 | IDW |
| 135 | 129 | 0.58 | STAR TREK NEW VISIONS TP VOL 08 | $17.99 | IDW |
| 136 | 8 | 0.58 | STAR WARS BY JASON AARON OMNIBUS HC | $125.00 | MAR |
| 137 | 69 | 0.57 | UNCANNY X-MEN BY GILLEN COMPLETE COLLECTION TP VOL 01 | $39.99 | MAR |
| 138 | 122 | 0.56 | BLOOM GN (MR) | $17.99 | ST. |
| 139 | 120 | 0.56 | FULLMETAL ALCHEMIST FULLMETAL EDITION HC VOL 04 | $19.99 | VIZ |
| 140 | 174 | 0.55 | ANCIENT MAGUS BRIDE GN VOL 10 | $12.99 | ST. |
| 141 | 247 | 0.55 | FOOD WARS SHOKUGEKI NO SOMA GN VOL 28 | $9.99 | VIZ |
| 142 | 166 | 0.55 | GREAT WIZ & RUCKUS ORIGINAL GN | $14.99 | BOO |
| 143 | 169 | 0.54 | ARCHIE 1000 PAGE COMICS PARTY TP | $14.99 | ARC |
| 144 | 163 | 0.53 | INFIDEL TP (MR) | $16.99 | IMA |
| 145 | 165 | 0.53 | MONSTRESS TP VOL 02 (MR) | $16.99 | IMA |
| 146 | 104 | 0.53 | HELLBOY OMNIBUS TP VOL 01 SEED OF DESTRUCTION | $24.99 | DAR |
| 147 | 288 | 0.53 | GIDEON FALLS TP VOL 01 BLACK BARN (MR) | $9.99 | IMA |
| 148 | 192 | 0.53 | SAGA TP VOL 04 (MR) | $14.99 | IMA |
| 149 | 242 | 0.52 | DEADLY CLASS TP VOL 03 THE SNAKE PIT (MR) | $14.99 | IMA |
| 150 | 190 | 0.52 | AMAZING SPIDER-MAN BY NICK SPENCER TP VOL 01 BACK BASICS | $15.99 | MAR |
| 151 | 51 | 0.52 | EC ARCHIVES HC PIRACY | $49.99 | DAR |
| 151 | 290 | 0.52 | MIRACULOUS TALES LADYBUG & CAT NOIR TP S2 VOL 05 GOTCHA | $8.99 | ACT |
| 153 | 125 | 0.52 | TO LOVE RU GN VOL 11-12 (MR) | $19.99 | SEV |
| 154 | 143 | 0.51 | JOKER HC | $19.99 | DC |
| 155 | 150 | 0.51 | SANDMAN TP VOL 01 PRELUDES & NOCTURNES 30TH ANNIV ED | $19.99 | DC |
| 156 | 199 | 0.50 | SAGA TP VOL 06 (MR) | $14.99 | IMA |
| 157 | 82 | 0.50 | SCUD THE DISPOSABLE ASSASSIN WHOLE SHEBANG TP | $34.99 | IMA |
| 158 | 323 | 0.49 | MIRACULOUS TALES LADYBUG & CAT NOIR TP S2 VOL 04 NO EVIL DOI | $8.99 | ACT |
| 158 | 155 | 0.49 | TMNT BEBOP & ROCKSTEADY HIT THE ROAD TP | $17.99 | IDW |
| 160 | 248 | 0.49 | DEADLY CLASS TP VOL 07 LOVE LIKE BLOOD (MR) | $16.99 | IMA |
| 161 | 281 | 0.48 | MY HERO ACADEMIA GN VOL 04 | $9.99 | VIZ |
| 162 | 126 | 0.48 | TORSO TP NEW ED (MR) | $24.99 | DC |
| 163 | 237 | 0.48 | PAPER GIRLS TP VOL 02 | $12.99 | IMA |
| 163 | 183 | 0.48 | SLEEPLESS TP VOL 01 | $16.99 | IMA |
| 165 | 131 | 0.48 | KID GLOVES NINE MONTHS OF CAREFUL CHAOS GN | $19.99 | ST. |
| 166 | 282 | 0.48 | MY HERO ACADEMIA VIGILANTES GN VOL 01 | $9.99 | VIZ |
| 167 | 16 | 0.47 | HULK HC DOGS OF WAR | $100.00 | MAR |
| 167 | 210 | 0.47 | SAGA TP VOL 05 (MR) | $14.99 | IMA |
| 169 | 296 | 0.47 | MY HERO ACADEMIA GN VOL 05 | $9.99 | VIZ |
| 170 | 149 | 0.46 | TRANSFORMERS OPTIMUS PRIME TP VOL 05 | $19.99 | IDW |
| 171 | 196 | 0.46 | BURNOUTS TP (MR) | $16.99 | IMA |
| 172 | 152 | 0.45 | EUTHANAUTS TP VOL 01 GROUND CONTROL | $19.99 | IDW |
| 173 | 340 | 0.45 | UNNATURAL TP VOL 01 AWAKENING (MR) | $9.99 | IMA |
| 174 | 218 | 0.45 | PAPER GIRLS TP VOL 05 | $14.99 | IMA |
| 175 | 309 | 0.45 | PROMISED NEVERLAND GN VOL 08 | $9.99 | VIZ |
| 176 | 84 | 0.45 | CABLE & X-FORCE TP ONSLAUGHT | $39.99 | MAR |
| 177 | 106 | 0.44 | DARK NIGHTS METAL DELUXE ED HC | $29.99 | DC |
| 177 | 306 | 0.44 | MY HERO ACADEMIA GN VOL 06 | $9.99 | VIZ |
| 179 | 321 | 0.44 | GARFIELD HOMECOMING TP | $9.99 | BOO |
| 180 | 324 | 0.44 | FAITH DREAMSIDE TP | $9.99 | VAL |
| 181 | 320 | 0.44 | BLACK CLOVER GN VOL 14 | $9.99 | VIZ |
| 181 | 227 | 0.44 | BLACK HAMMER TP VOL 01 SECRET ORIGINS | $14.99 | DAR |
| 181 | 231 | 0.44 | FIRE TP NEW ED | $14.99 | DC |
| 181 | 156 | 0.44 | LOST IN SPACE COUNTDOWN TO DANGER HC GN VOL 01 | $17.99 | POC |
| 185 | 229 | 0.44 | TO LOVE RU DARKNESS GN VOL 09 (MR) | $12.99 | SEV |
| 185 | 217 | 0.44 | WALKING DEAD TP VOL 01 DAYS GONE BYE | $14.99 | IMA |
| 187 | 261 | 0.44 | BATMAN & THE JUSTICE LEAGUE MANGA TP VOL 01 | $12.99 | DC |
| 188 | 153 | 0.43 | MARVEL LEGACY OF JACK KIRBY SLIPCASE HC | $49.99 | MAR |
| 189 | 244 | 0.43 | GLINT GN BOOK 01 CLOUD RAIDERS | $12.99 | LIO |
| 189 | 209 | 0.43 | NINJA-K TP VOL 03 FALLOUT | $14.99 | VAL |
| 191 | 207 | 0.43 | FEATHERS ORIGINAL GN | $14.99 | BOO |
| 192 | 201 | 0.43 | SPIDER-GWEN TP VOL 01 GREATER POWER | $17.99 | MAR |
| 193 | 225 | 0.43 | SWORD ART ONLINE HOLLOW REALIZATION GN VOL 02 | $13.00 | YEN |
| 194 | 378 | 0.42 | SPIDER-MAN SPIDER-VERSE GN TP MILES MORALES | $9.99 | MAR |
| 195 | 203 | 0.42 | SUB-MARINER TP DEPTHS (NEW PTG) | $17.99 | MAR |
| 196 | 329 | 0.42 | MY HERO ACADEMIA GN VOL 15 | $9.99 | VIZ |
| 196 | 249 | 0.42 | STAR WARS TP VADER DOWN | $19.99 | MAR |
| 198 | 206 | 0.42 | SPIDER-MAN 2099 CLASSIC TP VOL 01 | $24.99 | MAR |
| 199 | 194 | 0.42 | STARCRAFT TP VOL 01 | $17.99 | DAR |
| 200 | 102 | 0.42 | MILES MORALES ULT SPIDER-MAN ULT COLL TP BOOK 01 | $34.99 | MAR |
| 201 | 239 | 0.41 | PAPER GIRLS TP VOL 04 | $14.99 | IMA |
| 202 | 349 | 0.41 | BLACK TORCH GN VOL 03 | $9.99 | VIZ |
| 203 | 319 | 0.41 | DEADLY CLASS TP VOL 04 DIE FOR ME (MR) | $14.99 | IMA |
| 204 | 259 | 0.41 | CHI SWEET ADVENTURES GN VOL 03 | $11.95 | RAN |
| 205 | 213 | 0.40 | WALKING DEAD TP VOL 30 NEW WORLD ORDER (MR) | $16.99 | IMA |
| 206 | 148 | 0.40 | ADVENTURE ZONE GN VOL 01 HERE THERE BE GERBLINS | $19.99 | ST. |
| 207 | 346 | 0.40 | MY HERO ACADEMIA GN VOL 14 | $9.99 | VIZ |
| 208 | 385 | 0.40 | OBLIVION SONG BY KIRKMAN & DE FELICI TP VOL 01 (MR) | $9.99 | IMA |
| 209 | 366 | 0.39 | CARNAGE TP VOL 01 ONE THAT GOT AWAY | $15.99 | MAR |
| 210 | 111 | 0.39 | CAPTAIN HARLOCK CLASSIC COLLECTION GN VOL 03 | $27.99 | ST. |
| 211 | 115 | 0.39 | DISNEY MASTERS HC VOL 06 CARPI SCROOGE GOLDEN RIVER | $29.99 | FAN |
| 212 | 358 | 0.39 | MY HERO ACADEMIA GN VOL 07 | $9.99 | VIZ |
| 213 | 418 | 0.39 | DC SUPER HERO GIRLS OUT OF THE BOTTLE TP | $9.99 | DC |
| 214 | 223 | 0.39 | BATMAN TP VOL 07 THE WEDDING REBIRTH | $16.99 | DC |
| 214 | 250 | 0.39 | OVERLORD GN VOL 09 (MR) | $13.00 | YEN |
| 216 | 343 | 0.38 | DEADLY CLASS TP VOL 05 CAROUSEL (MR) | $14.99 | IMA |
| 216 | 416 | 0.38 | MILES MORALES ULTIMATE SPIDER-MAN TP VOL 02 REVELATIONS | $19.99 | MAR |
| 218 | 185 | 0.38 | LONG CON TP VOL 01 (MR) | $19.99 | ONI |
| 218 | 186 | 0.38 | LONG ROAD TO LIQUOR CITY GN (MR) | $19.99 | ONI |
| 218 | 228 | 0.38 | STAR WARS DARTH VADER DARK LORD SITH TP VOL 01 IMPERIAL MACH | $17.99 | MAR |
| 221 | 313 | 0.38 | MINISTRY OF SPACE TP | $12.99 | IMA |
| 222 | 233 | 0.37 | EAST OF WEST TP VOL 01 THE PROMISE (NEW PTG) | $16.99 | IMA |
| 223 | 308 | 0.37 | EDENS ZERO VOL 02 | $10.99 | RAN |
| 224 | 160 | 0.37 | BATMAN HUSH COMPLETE TP | $24.99 | DC |
| 225 | 252 | 0.37 | PRINCELESS RAVEN PIRATE PRINCESS TP VOL 06 GOLDEN ROCK | $14.99 | ACT |
| 226 | 335 | 0.37 | DEADLY CLASS TP VOL 06 (MR) | $16.99 | IMA |
| 227 | 171 | 0.37 | MENAGE A 3 GN VOL 03 (MR) | $19.99 | UDO |
| 227 | 139 | 0.37 | POWERS TP BOOK 03 NEW EDITION (MR) | $29.99 | DC |
| 229 | 246 | 0.36 | MADE IN ABYSS GN VOL 05 | $13.99 | ST. |
| 230 | 387 | 0.36 | MY HERO ACADEMIA VIGILANTES GN VOL 02 | $9.99 | VIZ |
| 231 | 268 | 0.36 | AMAZING SPIDER-MAN EPIC COLLECTION TP ROUND ROBIN | $34.99 | MAR |
| 232 | 269 | 0.36 | NEW KID GN | $12.99 | HAR |
| 233 | 212 | 0.36 | BARBARELLA TP VOL 02 HARD LABOR (MR) | $17.99 | DYN |
| 233 | 197 | 0.36 | DAMNED TP VOL 03 PRODIGAL SONS (MR) | $19.99 | ONI |
| 233 | 257 | 0.36 | MOBILE SUIT GUNDAM THUNDERBOLT GN VOL 10 | $14.99 | VIZ |
| 233 | 236 | 0.36 | WICKED & DIVINE TP VOL 07 MOTHERING INVENTION (MR) | $17.99 | IMA |
| 237 | 221 | 0.35 | BIG TROUBLE IN LITTLE CHINA OLD MAN JACK TP VOL 03 | $16.99 | BOO |
| 238 | 374 | 0.35 | ARCHIE 3000 TP | $10.99 | ARC |
| 239 | 151 | 0.35 | CAPTAIN MARVEL EARTHS MIGHTIEST HERO TP VOL 01 | $29.99 | MAR |
| 240 | 392 | 0.35 | DRAGON BALL SUPER GN VOL 01 | $9.99 | VIZ |
| 240 | 336 | 0.35 | PAPER GIRLS TP VOL 03 | $12.99 | IMA |
| 242 | 411 | 0.34 | MY HERO ACADEMIA GN VOL 08 | $9.99 | VIZ |
| 243 | 317 | 0.34 | GOLDEN KAMUY GN VOL 08 (MR) | $12.99 | VIZ |
| 243 | 224 | 0.34 | SPIDER-MAN BIG TIME TP VOL 01 COMPLETE COLLECTION | $39.99 | MAR |
| 245 | 234 | 0.34 | THRILLING ADVENTURE HOUR MARTIAN MANHUNT TP | $16.99 | BOO |
| 246 | 147 | 0.34 | PTSD GN | $24.99 | ST. |
| 247 | 312 | 0.34 | RWBY OFFICIAL MANGA ANTHOLOGY GN VOL 01 RED LIKE ROSES | $12.99 | VIZ |
| 248 | 285 | 0.34 | MISS KOBAYASHIS DRAGON MAID ELMA DIARY GN VOL 01 | $12.99 | ST. |
| 249 | 370 | 0.33 | FARMHAND TP VOL 01 (MR) | $12.99 | IMA |
| 250 | 294 | 0.33 | HOW NOT TO SUMMON DEMON LORD GN VOL 03 | $12.99 | ST. |
| 251 | 436 | 0.33 | DEADLY CLASS TP VOL 02 KIDS OF THE BLACK HOLE (MR) | $16.99 | IMA |
| 251 | 12 | 0.33 | INCAL OVERSIZED DLX LTD ED | $125.00 | HUM |
| 251 | 435 | 0.33 | MY HERO ACADEMIA GN VOL 10 | $9.99 | VIZ |
| 251 | 426 | 0.33 | STEPHEN MCCRANIES SPACE BOY TP VOL 03 | $10.99 | DAR |
| 255 | 277 | 0.33 | FLASHPOINT TP | $16.99 | DC |
| 256 | 452 | 0.33 | RECORD OF GRANCREST WAR GN VOL 02 (MR) | $9.99 | VIZ |
| 256 | 265 | 0.33 | SPIDER-MAN DEADPOOL TP VOL 01 ISNT IT BROMANTIC | $17.99 | MAR |
| 258 | 450 | 0.32 | MY HERO ACADEMIA GN VOL 09 | $9.99 | VIZ |
| 259 | 509 | 0.32 | WYTCHES TP VOL 01 (MR) | $9.99 | IMA |
| 260 | 434 | 0.32 | ONE PUNCH MAN GN VOL 01 | $9.99 | VIZ |
| 261 | 316 | 0.32 | MEG JO BETH & AMY MODERN RETELLING LITTLE WOMEN GN | $12.99 | HAC |
| 262 | 241 | 0.31 | KINGDOM COME TP | $19.99 | DC |
| 262 | 240 | 0.31 | Y THE LAST MAN TP BOOK 01 (MR) | $19.99 | DC |
| 264 | 297 | 0.31 | SHAZAM TP VOL 01 (N52) | $16.99 | DC |
| 265 | 287 | 0.31 | BEAUTY & BEAST GIRL GN (MR) | $13.99 | ST. |
| 266 | 176 | 0.31 | DARWIN VOYAGE OF HMS BEAGLE GN | $22.95 | RAN |
| 266 | 97 | 0.31 | WALLY WOOD DARE DEVIL ACES HC | $39.95 | VAN |
| 268 | 302 | 0.31 | RAN & GRAY WORLD GN VOL 02 | $14.99 | VIZ |
| 268 | 457 | 0.31 | SHIELD BY LEE AND KIRBY COMPLETE COLLECTION TP | $24.99 | MAR |
| 270 | 256 | 0.31 | BLACK HAMMER TP VOL 03 AGE OF DOOM PART I | $19.99 | DAR |
| 271 | 463 | 0.31 | MY HERO ACADEMIA GN VOL 12 | $9.99 | VIZ |
| 272 | 325 | 0.31 | KINOS JOURNEY BEAUTIFUL WORLD GN VOL 01 | $12.95 | RAN |
| 272 | 181 | 0.31 | VOYAGE TO THE DEEP HC | $24.99 | IDW |
| 274 | 347 | 0.30 | BATMAN YEAR ONE DELUXE SC | $14.99 | DC |
| 275 | 253 | 0.30 | DARK KNIGHT RETURNS TP | $19.99 | DC |
| 276 | 495 | 0.30 | JOHNNY BOO HC VOL 09 JOHNNY BOO IS KING | $9.99 | IDW |
| 277 | 303 | 0.30 | BATMAN TP VOL 01 I AM GOTHAM (REBIRTH) | $16.99 | DC |
| 278 | 488 | 0.30 | MY HERO ACADEMIA GN VOL 13 | $9.99 | VIZ |
| 278 | 409 | 0.30 | SUPER SONS TP VOL 01 WHEN I GROW UP (REBIRTH) | $12.99 | DC |
| 280 | 307 | 0.29 | CYBER FORCE AWAKENING TP VOL 02 (MR) | $16.99 | IMA |
| 280 | 173 | 0.29 | DARK NIGHTS METAL DARK KNIGHTS RISING HC | $29.99 | DC |
| 280 | 492 | 0.29 | PROMISED NEVERLAND GN VOL 01 | $9.99 | VIZ |
| 283 | 255 | 0.29 | SPIDER-MAN COMPLETE ALIEN COSTUME SAGA TP BOOK 02 | $44.99 | MAR |
| 284 | 267 | 0.29 | STAR WARS DARTH VADER TP VOL 01 VADER | $19.99 | MAR |
| 285 | 553 | 0.29 | DESCENDER TP VOL 01 TIN STARS (MR) | $9.99 | IMA |
| 285 | 500 | 0.29 | MY HERO ACADEMIA GN VOL 11 | $9.99 | VIZ |
| 287 | 506 | 0.29 | BORUTO GN VOL 01 NARUTO NEXT GENERATIONS | $9.99 | VIZ |
| 288 | 208 | 0.29 | BATMAN THE LONG HALLOWEEN TP | $24.99 | DC |
| 289 | 118 | 0.28 | LUMBERJANES TO MAX ED HC VOL 05 | $39.99 | BOO |
| 290 | 357 | 0.28 | MAKER COMICS GN BAKE LIKE A PRO | $12.99 | ST. |
| 291 | 232 | 0.28 | SABAN POWER RANGERS SOUL DRAGON ORIGINAL GN | $19.99 | BOO |
| 291 | 270 | 0.28 | SANDMAN TP VOL 02 THE DOLLS HOUSE 30TH ANNIV ED (MR) | $19.99 | DC |
| 293 | 273 | 0.28 | V FOR VENDETTA NEW EDITION TP (MR) | $19.99 | DC |
| 293 | 359 | 0.28 | WINGS OF FIRE SC GN VOL 02 LOST HEIR | $12.99 | SCH |
| 295 | 283 | 0.28 | STAR WARS DARTH VADER DARK LORD SITH TP VOL 04 FORTRESS VADE | $19.99 | MAR |
| 296 | 295 | 0.28 | BEDTIME GAMES TP | $17.99 | DAR |
| 296 | 219 | 0.28 | CIVIL WAR TP | $24.99 | MAR |
| 296 | 226 | 0.28 | PRISON SCHOOL GN VOL 12 (MR) | $20.00 | YEN |
| 296 | 361 | 0.28 | SNOTGIRL TP VOL 02 CALIFORNIA SCREAMING | $15.99 | IMA |
| 300 | 368 | 0.28 | MISS KOBAYASHIS DRAGON MAID KANNA DAILY LIFE GN VOL 04 | $12.99 | ST. |
| 300 | 333 | 0.28 | NEXTWAVE AGENTS OF HATE COMPLETE COLLECTION TP | $34.99 | MAR |
| 302 | 371 | 0.27 | MAKER COMICS GN FIX A CAR | $12.99 | ST. |
| 303 | 515 | 0.27 | MY HERO ACADEMIA GN VOL 16 | $9.99 | VIZ |
| 304 | 145 | 0.27 | ARCHIE VARSITY ED HC VOL 01 | $34.99 | ARC |
| 305 | 539 | 0.27 | MAGI GN VOL 34 | $9.99 | VIZ |
| 306 | 284 | 0.27 | BATMAN WHITE KNIGHT TP | $19.99 | DC |
| 307 | 428 | 0.27 | BLACK PANTHER TP BOOK 01 NATION UNDER OUR FEET | $16.99 | MAR |
| 308 | 202 | 0.27 | LOIS LOWRY GIVER GN | $22.99 | HOU |
| 308 | 238 | 0.27 | SPIDER-MAN SPIDER-ISLAND TP | $34.99 | MAR |
| 310 | 291 | 0.27 | PREACHER TP BOOK 01 (MR) | $19.99 | DC |
| 311 | 383 | 0.26 | IS WRONG PICK UP GIRLS DUNGEON FAMILIA LYU GN VOL 02 MANGA ( | $13.00 | YEN |
| 312 | 441 | 0.26 | SPIDER-MEN TP | $19.99 | MAR |
| 313 | 353 | 0.26 | EAST OF WEST TP VOL 08 | $16.99 | IMA |
| 314 | 423 | 0.26 | DEADPOOL KILLS MARVEL UNIVERSE TP | $14.99 | MAR |
| 314 | 566 | 0.26 | WE NEVER LEARN GN VOL 02 | $9.99 | VIZ |
| 316 | 505 | 0.26 | FATE ZERO TP VOL 08 | $11.99 | DAR |
| 317 | 348 | 0.26 | JUSTICE LEAGUE TP VOL 01 THE TOTALITY TP | $17.99 | DC |
| 318 | 179 | 0.25 | DEADLY CLASS DLX HC VOL 01 (MR) | $49.99 | IMA |
| 318 | 352 | 0.25 | SPIDER-GWEN TP VOL 05 GWENOM | $17.99 | MAR |
| 320 | 216 | 0.25 | AMAZING SPIDER-MAN EPIC COLL TP RETURN OF SINISTER SIX | $39.99 | MAR |
| 320 | 601 | 0.25 | INJECTION TP VOL 01 (MR) | $9.99 | IMA |
| 320 | 400 | 0.25 | PANDORA IN THE CRIMSON SHELL GHOST URN GN VOL 11 (MR) | $12.99 | ST. |
| 320 | 417 | 0.25 | TOKYO GHOUL GN VOL 01 | $12.99 | VIZ |
| 324 | 200 | 0.25 | WALLY WOOD DARE DEVIL ACES SC | $24.95 | VAN |
| 325 | 164 | 0.25 | WRATH OF FANTOMAS HC (MR) | $29.99 | TIT |
| 326 | 315 | 0.25 | BLACK HAMMER TP VOL 02 THE EVENT | $19.99 | DAR |
| 326 | 318 | 0.25 | SAGA OF THE SWAMP THING TP BOOK 01 (MR) | $19.99 | DC |
| 328 | 413 | 0.25 | CERTAIN SCIENTIFIC RAILGUN ASTRAL BUDDY GN VOL 01 | $12.99 | ST. |
| 328 | 393 | 0.25 | CLANKILLERS TP VOL 01 | $14.99 | AFT |
| 328 | 327 | 0.25 | DISNEY MANGA NIGHTMARE CHRISTMAS ZEROS JOURNEY TP VOL 01 | $15.99 | TOK |
| 328 | 415 | 0.25 | FAIRY TALE BATTLE ROYALE GN VOL 02 (MR) | $12.99 | ST. |
| 332 | 455 | 0.24 | EGG CREAM GN VOL 01 (MR) | $11.99 | SIL |
| 333 | 419 | 0.24 | FINAL FANTASY LOST STRANGER GN VOL 02 | $13.00 | YEN |
| 333 | 367 | 0.24 | FLASH TP VOL 01 LIGHTNING STRIKES TWICE (REBIRTH) | $17.99 | DC |
| 335 | 395 | 0.24 | BILLIE THE BEE HC | $14.99 | FAN |
| 335 | 331 | 0.24 | STAR WARS DARTH VADER DARK LORD SITH TP VOL 03 BURNING SEAS | $19.99 | MAR |
| 337 | 689 | 0.24 | AMAZING SPIDER-MAN TP VOL 02 SPIDER-VERSE PRELUDE | $17.99 | MAR |
| 337 | 369 | 0.24 | GIRLS LAST TOUR GN VOL 06 | $15.00 | YEN |
| 337 | 159 | 0.24 | SUPERIOR SPIDER-MAN TP VOL 01 COMPLETE COLLECTION | $39.99 | MAR |
| 340 | 258 | 0.24 | STAR WARS DARTH VADER HC VOL 01 | $34.99 | MAR |
| 340 | 372 | 0.24 | SUPERMAN RED SON TP NEW EDITION | $17.99 | DC |
| 342 | 215 | 0.24 | WOLVERINE OLD MAN LOGAN TP | $29.99 | MAR |
| 343 | 460 | 0.24 | BERSERK TP VOL 01 BLACK SWORDSMAN (MR) | $14.99 | DAR |
| 343 | 396 | 0.24 | WALK THROUGH HELL TP VOL 01 | $14.99 | AFT |
| 345 | 399 | 0.24 | BATMAN TP VOL 01 THE COURT OF OWLS (N52) | $16.99 | DC |
| 345 | 403 | 0.24 | DOOM PATROL TP VOL 01 BRICK BY BRICK (MR) | $16.99 | DC |
| 347 | 697 | 0.24 | SPIDER-MAN SPIDER-VERSE GN TP SPIDER-MEN | $9.99 | MAR |
| 347 | 622 | 0.24 | YONA OF THE DAWN GN VOL 16 | $9.99 | VIZ |
| 349 | 401 | 0.23 | KASE SAN & CHERRY BLOSSOMS GN | $13.99 | ST. |
| 349 | 279 | 0.23 | RICK & MORTY TP VOL 01 | $19.99 | ONI |
| 349 | 576 | 0.23 | YOUNG MARVEL TP LITTLE X-MEN LITTLE AVENGERS BIG TROUBLE | $24.99 | MAR |
| 352 | 254 | 0.23 | HELLBOY OMNIBUS TP VOL 03 THE WILD HUNT | $24.99 | DAR |
| 353 | 676 | 0.23 | BLACK SCIENCE TP VOL 01 HOW TO FALL FOREVER (MR) | $9.99 | IMA |
| 353 | 448 | 0.23 | TRINITY SEVEN 7 MAGICIANS GN 15.5 (MR) | $13.00 | YEN |
| 355 | 595 | 0.23 | DRAGON BALL SUPER GN VOL 04 | $9.99 | VIZ |
| 356 | 278 | 0.23 | AMAZING SPIDER-MAN EPIC COLLECTION TP GHOSTS OF PAST | $34.99 | MAR |
| 357 | 275 | 0.23 | GFT DAY OF THE DEAD TP VOL 01 | $19.99 | ZEN |
| 357 | 641 | 0.23 | INVINCIBLE TP VOL 01 FAMILY MATTERS | $12.99 | IMA |
| 359 | 263 | 0.23 | SPIDER-MAN DEADPOOL TP VOL 00 DONT CALL IT TEAM UP | $34.99 | MAR |
| 360 | 220 | 0.22 | CRISIS ON INFINITE EARTHS TP | $29.99 | DC |
| 361 | 397 | 0.22 | CAPTAIN MARVEL TP VOL 01 HIGHER FURTHER FASTER MORE | $17.99 | MAR |
| 362 | 443 | 0.22 | BETROTHED TP VOL 01 LOVE OR DIE | $14.99 | AFT |
| 363 | 54 | 0.22 | CONAN THE BARBARIAN OMNIBUS HC VOL 01 | $125.00 | MAR |
| 363 | 512 | 0.22 | HINAMATSURI GN VOL 02 | $11.95 | SCB |
| 365 | 422 | 0.22 | LUMBERJANES TP VOL 01 | $14.99 | BOO |
| 366 | 272 | 0.21 | HELLBOY OMNIBUS TP VOL 02 STRANGE PLACES | $24.99 | DAR |
| 366 | 483 | 0.21 | INSIDE MARI GN VOL 02 | $12.95 | DEN |
| 366 | 332 | 0.21 | VAGRANT QUEEN TP VOL 01 | $17.99 | VAU |
| 369 | 214 | 0.21 | DEADLY CLASS DLX HC VOL 02 (MR) | $49.99 | IMA |
| 369 | 501 | 0.21 | FUTARIBEYA MANGA GN VOL 03 ROOM FOR TWO | $12.99 | TOK |
| 371 | 193 | 0.21 | SPIDER-VERSE HC | $75.00 | MAR |
| 372 | 433 | 0.21 | EXTERMINATION TP | $17.99 | MAR |
| 372 | 334 | 0.21 | INFINITY 8 HC VOL 03 GOSPEL ACCORDING TO EMMA | $19.99 | LIO |
| 374 | 439 | 0.21 | AVENGERS BY JASON AARON TP VOL 01 FINAL HOST | $17.99 | MAR |
| 374 | 779 | 0.21 | SPIDER-MAN SPIDER-VERSE GN TP SPIDER-GWEN | $9.99 | MAR |
| 374 | 376 | 0.21 | THOR EPIC COLLECTION TP GOD OF THUNDER | $34.99 | MAR |
| 374 | 517 | 0.21 | WICKED & DIVINE TP VOL 02 FANDEMONIUM (MR) | $14.99 | IMA |
| 378 | 767 | 0.21 | KILL OR BE KILLED TP VOL 01 (MR) | $9.99 | IMA |
| 378 | 752 | 0.21 | RAT QUEENS TP VOL 01 SASS & SORCERY (MR) | $9.99 | IMA |
| 380 | 305 | 0.21 | FREEZING OMNIBUS GN VOL 12 (MR) | $19.99 | ST. |
| 381 | 398 | 0.21 | LETTERS TO SURVIVORS GN | $15.95 | RAN |
| 381 | 503 | 0.21 | SPIDER-GWEN TP VOL 02 WEAPON OF CHOICE | $15.99 | MAR |
| 381 | 446 | 0.21 | STAR WARS DARTH VADER DARK LORD SITH TP VOL 02 LEGACYS END | $17.99 | MAR |
| 384 | 705 | 0.20 | JUNI TAISEN ZODIAC WAR GN VOL 03 | $9.99 | VIZ |
| 384 | 406 | 0.20 | NIMONA GN | $14.99 | HAR |
| 386 | 394 | 0.20 | HELLBLAZER TP VOL 01 ORIGINAL SINS NEW ED (MR) | $19.99 | DC |
| 387 | 472 | 0.20 | STAR WARS LEGENDS EPIC COLLECTION RISE OF SITH TP VOL 01 | $34.99 | MAR |
| 388 | 230 | 0.20 | UZUMAKI 3IN1 DLX ED HC JUNJI ITO (MR) | $27.99 | VIZ |
| 389 | 471 | 0.20 | RAT QUEENS TP VOL 05 COLOSSAL MAGIC NOTHING (MR) | $16.99 | IMA |
| 390 | 826 | 0.20 | MARVEL SUPER HERO ADVENTURES GN TP CAPTAIN MARVEL | $9.99 | MAR |
| 390 | 523 | 0.20 | MS MARVEL TP VOL 01 NO NORMAL | $15.99 | MAR |
| 392 | 805 | 0.20 | LOW TP VOL 01 THE DELIRIUM OF HOPE (MR) | $9.99 | IMA |
| 392 | 470 | 0.20 | WALKING DEAD TP VOL 29 LINES WE CROSS | $16.99 | IMA |
| 394 | 721 | 0.20 | BORUTO GN VOL 02 NARUTO NEXT GENERATIONS | $9.99 | VIZ |
| 394 | 344 | 0.20 | THROUGH A LIFE GN | $18.95 | RAN |
| 396 | 487 | 0.19 | UNBEATABLE SQUIRREL GIRL BEATS UP MARVEL UNIVERSE OGN HC | $24.99 | MAR |
| 396 | 351 | 0.19 | UPGRADE SOUL GN | $19.99 | LIO |
| 396 | 462 | 0.19 | VENOM BY DONNY CATES TP VOL 01 REX | $17.99 | MAR |
| 399 | 677 | 0.19 | MR WOLFS CLASS GN VOL 02 MYSTERY CLUB | $9.99 | SCH |
| 400 | 712 | 0.19 | DRAGON BALL SUPER GN VOL 02 | $9.99 | VIZ |
| 400 | 116 | 0.19 | KAIJUMAX DELUXE ED HC VOL 01 (MR) | $59.99 | ONI |
| 402 | 204 | 0.19 | BATTLE ANGEL ALITA DELUXE ED HC VOL 01 | $29.99 | RAN |
| 402 | 560 | 0.19 | CRIMINAL TP VOL 01 COWARD (MR) | $14.99 | IMA |
| 404 | 493 | 0.19 | DRAGON BALL 3IN1 TP VOL 01 | $14.99 | VIZ |
| 404 | 264 | 0.19 | JUSTICE LEAGUE THE DARKSEID WAR DC ESSENTIAL ED TP | $29.99 | DC |
| 406 | 425 | 0.19 | DARK DAYS ROAD TO METAL TP | $19.99 | DC |
| 406 | 546 | 0.19 | YURI BEAR STORM MANGA GN VOL 02 YURIKUMA (MR) | $12.99 | TOK |
| 408 | 587 | 0.19 | DINOSAUCERS TP VOL 01 REPTILON | $12.99 | LIO |
| 408 | 725 | 0.19 | ONE PUNCH MAN GN VOL 02 | $9.99 | VIZ |
| 408 | 765 | 0.19 | SLEEPY PRINCESS IN DEMON CASTLE GN VOL 05 | $9.99 | VIZ |
| 411 | 345 | 0.19 | BOOBIES & TWITCHY STICKY WEENIES GN (A) | $19.95 | FAK |
| 411 | 476 | 0.19 | KAKEGURUI TWIN GN VOL 01 (MR) | $15.00 | YEN |
| 411 | 549 | 0.19 | WALKING DEAD TP VOL 02 MILES BEHIND US (NEW PTG) | $14.99 | IMA |
| 414 | 504 | 0.19 | DEATH NOTE BLACK ED TP VOL 01 | $14.99 | VIZ |
| 414 | 761 | 0.19 | STAR WARS EPISODE V HC EMPIRE STRIKES BACK | $24.99 | MAR |
| 416 | 865 | 0.19 | CHEW TP VOL 01 (MR) | $9.99 | IMA |
| 416 | 519 | 0.19 | DESCENDER TP VOL 06 WAR MACHINE | $16.99 | IMA |
| 416 | 390 | 0.19 | LOWLIFES TP | $19.99 | IDW |
| 416 | 734 | 0.19 | STAR WARS PRINCESS LEIA TP | $16.99 | MAR |
| 416 | 444 | 0.19 | WORLD OF WARCRAFT CURSE OF THE WORGEN GN | $14.95 | PUB |
| 421 | 785 | 0.18 | AO HARU RIDE MANGA GN VOL 03 | $9.99 | VIZ |
| 421 | 524 | 0.18 | BATMAN TP VOL 02 I AM SUICIDE (REBIRTH) | $16.99 | DC |
| 421 | 754 | 0.18 | WEB WARRIORS OF SPIDER-VERSE TP VOL 01 ELECTROVERSE | $15.99 | MAR |
| 424 | 356 | 0.18 | GIMMIE THAT SEMEN GN (A) | $19.95 | FAK |
| 424 | 274 | 0.18 | NEW GODS BY JACK KIRBY TP | $29.99 | DC |
| 426 | 355 | 0.18 | HELLBOY COMPLETE SHORT STORIES TP VOL 01 | $24.99 | DAR |
| 426 | 180 | 0.18 | MY FAVORITE THING IS MONSTERS GN VOL 01 | $39.99 | FAN |
| 426 | 243 | 0.18 | PUNISHER MAX TP COMPLETE COLLECTION VOL 01 (MR) | $34.99 | MAR |
| 426 | 548 | 0.18 | STAR WARS LEGENDS EPIC COLLECTION NEW REPUBLIC VOL 01 | $34.99 | MAR |
| 430 | 594 | 0.18 | LITTLE TAILS ON THE FARM HC VOL 05 | $14.99 | LIO |
| 430 | 565 | 0.18 | NARWHAL & JELLY HC GN VOL 04 OTTER FRIEND | $12.99 | RAN |
| 430 | 314 | 0.18 | STAR WARS LEGENDS EPIC COLLECTION INFINITIES TP | $39.99 | MAR |
| 433 | 442 | 0.18 | HEAD LOPPER TP VOL 01 ISLAND OR A PLAGUE OF BEASTS (MR) | $19.99 | IMA |
| 433 | 581 | 0.18 | LAID BACK CAMP GN VOL 05 | $13.00 | YEN |
| 433 | 328 | 0.18 | SHIVER HC JUNJI ITO | $22.99 | VIZ |
| 433 | 142 | 0.18 | SILVER AGE CLASSICS TALES OF MYSTERIOUS TRAVELER HC VOL 02 ( | $44.99 | DIA |
| 437 | 919 | 0.18 | DC SUPER HERO GIRLS TP VOL 01 FINALS CRISIS | $9.99 | DC |
| 437 | 373 | 0.18 | DEEP BLUE STATIC GN (A) | $19.95 | FAK |
| 437 | 365 | 0.18 | INJUSTICE GODS AMONG US YEAR ONE COMPLETE COLL TP | $24.99 | DC |
| 437 | 205 | 0.18 | OUTCAST BY KIRKMAN & AZACETA HC BOOK 02 (MR) | $39.99 | IMA |
| 437 | 507 | 0.18 | PLEASE TELL ME GALKO CHAN GN VOL 05 | $14.99 | ST. |
| 442 | 551 | 0.18 | AMULET SC VOL 01 STONEKEEPER | $12.99 | SCH |
| 442 | 298 | 0.18 | INFINITY WAR TP | $29.99 | MAR |
| 442 | 580 | 0.18 | LITTLE DEVILS GN VOL 02 | $12.99 | ST. |
| 442 | 537 | 0.18 | MY HEROES HAVE ALWAYS BEEN JUNKIES HC (MR) | $16.99 | IMA |
| 446 | 458 | 0.18 | BATMAN TP VOL 04 THE WAR OF JOKES & RIDDLES (REBIRTH) | $19.99 | DC |
| 446 | 543 | 0.18 | BATMAN TP VOL 08 COLD DAYS | $16.99 | DC |
| 446 | 585 | 0.18 | SPIDER-GEDDON TP EDGE OF SPIDER-GEDDON | $15.99 | MAR |
| 449 | 839 | 0.17 | BANANA FISH GN VOL 01 | $9.95 | VIZ |
| 449 | 928 | 0.17 | VENOM VS CARNAGE TP | $9.99 | MAR |
| 451 | 825 | 0.17 | BORUTO GN VOL 03 NARUTO NEXT GENERATIONS | $9.99 | VIZ |
| 451 | 606 | 0.17 | EAST OF WEST TP VOL 02 WE ARE ALL ONE | $14.99 | IMA |
| 451 | 410 | 0.17 | FULLMETAL ALCHEMIST FULLMETAL ED HC VOL 01 | $19.99 | VIZ |
| 451 | 634 | 0.17 | STAR WARS TP VOL 02 SHOWDOWN ON THE SMUGGLERS MOON | $19.99 | MAR |
| 451 | 609 | 0.17 | TOKYO GHOUL GN VOL 02 | $12.99 | VIZ |
| 451 | 157 | 0.17 | WALT DISNEY DONALD DUCK HC BOX SET SHACKTOWN & TRICK TREAT ( | $49.99 | FAN |
| 457 | 478 | 0.17 | SANDMAN TP VOL 04 SEASON OF MISTS 30TH ANNIV ED (MR) | $19.99 | DC |
| 458 | 375 | 0.17 | DARK NIGHTS METAL THE RESISTANCE TP | $24.99 | DC |
| 458 | 802 | 0.17 | DRAGON BALL SUPER GN VOL 03 | $9.99 | VIZ |
| 458 | 927 | 0.17 | SEX CRIMINALS TP VOL 01 (MR) | $9.99 | IMA |
| 458 | 260 | 0.17 | VENOM CARNAGE UNLEASHED TP | $34.99 | MAR |
| 462 | 555 | 0.17 | BATMAN TP VOL 02 THE CITY OF OWLS (N52) | $16.99 | DC |
| 462 | 639 | 0.17 | BLACK PANTHER TP BOOK 06 INTERG EMPIRE WAKANDA PT 01 | $17.99 | MAR |
| 462 | 807 | 0.17 | GIANT DAYS TP VOL 01 | $9.99 | BOO |
| 462 | 750 | 0.17 | VENOM SPACE KNIGHT TP VOL 01 AGENT OF COSMOS | $17.99 | MAR |
| 466 | 816 | 0.17 | MY HERO ACADEMIA VIGILANTES GN VOL 03 | $9.99 | VIZ |
| 466 | 572 | 0.17 | SCOOBY APOCALYPSE TP VOL 01 | $16.99 | DC |
| 466 | 529 | 0.17 | SHIBUYA GOLDFISH GN VOL 03 (MR) | $15.00 | YEN |
| 466 | 608 | 0.17 | TOKYO TARAREBA GIRLS GN VOL 05 | $12.99 | RAN |
| 470 | 271 | 0.17 | CAPTAIN MARVEL CAROL DANVERS TP VOL 01 MS MARVEL YEARS | $34.99 | MAR |
| 470 | 545 | 0.17 | HARLEY QUINN TP VOL 01 HARLEY VS APOKOLIPS | $16.99 | DC |
| 470 | 6511 | 0.17 | OUTCAST BY KIRKMAN & AZACETA HC BOOK 01 (MR) | $39.99 | IMA |
| 470 | 408 | 0.17 | STAR WARS HC VOL 01 CASSADAY CVR | $34.99 | MAR |
| 474 | 536 | 0.17 | BIGBY BEAR HC | $14.95 | HUM |
| 474 | 568 | 0.17 | WICKED & DIVINE TP VOL 06 IMPERIAL PHASE PART 2 (MR) | $16.99 | IMA |
| 476 | 382 | 0.16 | MAN OF STEEL BY BRIAN MICHAEL BENDIS HC | $24.99 | DC |
| 477 | 582 | 0.16 | BATMAN TP VOL 03 I AM BANE (REBIRTH) | $16.99 | DC |
| 477 | 863 | 0.16 | PROMISED NEVERLAND GN VOL 02 | $9.99 | VIZ |
| 479 | 326 | 0.16 | DOOM PATROL TP BOOK 01 (MR) | $29.99 | DC |
| 479 | 968 | 0.16 | LAZARUS TP VOL 01 (MR) | $9.99 | IMA |
| 479 | 593 | 0.16 | RE ZERO SLIAW LIGHT NOVEL SC VOL 09 | $14.00 | YEN |
| 482 | 896 | 0.16 | BORUTO GN VOL 04 NARUTO NEXT GENERATIONS | $9.99 | VIZ |
| 482 | 571 | 0.16 | RIPLEYS BELIEVE IT OR NOT TP | $15.99 | ZEN |
| 484 | 132 | 0.16 | ABSOLUTE FLASHPOINT HC | $75.00 | DC |
| 484 | 431 | 0.16 | ALIENS ESSENTIAL COMICS TP VOL 01 | $24.99 | DAR |
| 484 | 591 | 0.16 | BATMAN TP VOL 03 DEATH OF THE FAMILY (N52) | $16.99 | DC |
| 484 | 616 | 0.16 | I HEAR THE SUNSPOT GN VOL 01 ORIGINAL VOLUME | $12.95 | SCB |
| 484 | 280 | 0.16 | SECRET WARS TP | $34.99 | MAR |
| 489 | 322 | 0.16 | BEST OF STAR WARS INSIDER TP VOL 08 SAGA BEGINS | $24.99 | TIT |
| 489 | 575 | 0.16 | NARUTO 3IN1 TP VOL 01 | $14.99 | VIZ |
| 491 | 158 | 0.16 | PRE CODE CLASSICS HAND OF FATE HC VOL 02 | $44.99 | DIA |
| 492 | 612 | 0.16 | BATMAN THE BLACK MIRROR TP | $16.99 | DC |
| 492 | 235 | 0.16 | TOMIE COMPLETE DLX ED HC JUNJI ITO (MR) | $34.99 | VIZ |
| 494 | 522 | 0.16 | BLACK MONDAY MURDERS TP VOL 01 ALL HAIL GOD MAMMON (MR) | $19.99 | IMA |
| 494 | 605 | 0.16 | SONIC THE HEDGEHOG TP VOL 01 FALLOUT | $15.99 | IDW |
| 494 | 936 | 0.16 | TAKANE & HANA GN VOL 07 | $9.99 | VIZ |
| 494 | 112 | 0.16 | WALLY WOOD DARE DEVIL ACES DLX SLIPCASE ED | $69.95 | VAN |
| 498 | 831 | 0.15 | MOB PSYCHO 100 TP VOL 01 | $11.99 | DAR |
| 498 | 665 | 0.15 | VENOMVERSE TP | $15.99 | MAR |
| 500 | 354 | 0.15 | CAPTAIN MARVEL EARTHS MIGHTIEST HERO TP VOL 02 | $29.99 | MAR |
| 500 | 541 | 0.15 | DAREDEVIL TP BORN AGAIN | $19.99 | MAR |
| 500 | 597 | 0.15 | PETER PARKER SPECTACULAR SPIDER-MAN TP VOL 01 INTO TWILIGHT | $17.99 | MAR |