Artist and writer Becky Cloonan had no idea when she took the job drawing an issue of Batman that she would be the first woman to pencil the iconic book, she told moderator Mike Avila at the ECCC's DC Celebrates Batman 80th panel on Saturday.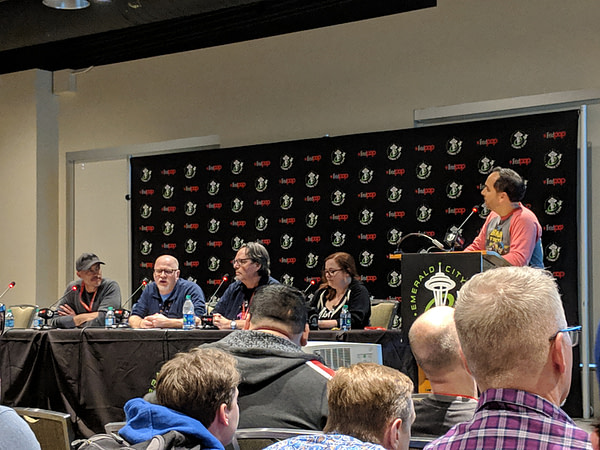 Although a busy schedule almost led Cloonan to pass on the offer to draw an issue of Batman for writer Scott Snyder, a friend talked her into inadvertently making history. "I didn't know anything about that until afterwards," she said, noting that it wasn't until somebody mentioned it on Twitter that the distinction was apparent.
And while Cloonan has embraced the title of First Woman on Batman, she pointed out that there are some caveats to the claim, and that it's not the only thing that she wants people to know about her work.
"I mean there's been women who have inked it and have worked on the title. So it's just a weird thing that I didn't even know it at the time, and it's probably gonna go on my gravestone, and I've done all this other stuff," she said. "It's a weird thing too, you know. Batman's only in it for like three pages."
Cloonan is returning to Batman with Detective Comics #1000, where she draws a short story penned by Warren Ellis. She wouldn't give much detail away though. "It's only 10 pages, I can't tell you anything, I'll give the whole thing away!" Ellis had already completed the script by the time she was brought onboard, Cloonan said.
Artists Alex Sinclair, Cully Hamner, and Tim Sale were also part of the panel honoring the 80th birthday of DC's greatest character.
Enjoyed this article? Share it!