Last week's episode of AMC's The Walking Dead pretty much lived up to its name: "Chokepoint." Situations go from bad to a slow-growing worse with Daryl (Norman Reedus) and Beta (Ryan Hurst) facing off in the first of what now appears to be several more rounds to come. After, Daryl brought Connie (Lauren Ridloff), Henry (Matt Lintz), and Lydia (Cassady McClincy) to Alexandria for a breather before heading off… somewhere.
Meanwhile, Ezekiel (Khary Payton) and Carol (Melissa McBride) made The Highwaymen an offer they couldn't refuse – an offer we definitely didn't see coming. Meanwhile, the Trade Fair inches closer… so why can't we shake this "Red Wedding" feeling?
In the following preview for this week's episode "Scars," the detour to Alexandria offers a moment Walking Dead fans have been waiting for since the time jump following Rick's (Andrew Lincoln) "death": some quality one-on-one time between Daryl and Judith (Cailey Fleming). Daryl tries to convince Judith that Michonne's (Danai Gurira) right about the communities remaining closed off and how things are better off if he leaves with Lydia and the others.
Except Judith was raised a Grimes, so she would rather have her "family" stay and fight.
Like they did against the Saviors.
And just to make sure she got her point across, she ends it with a simple yet brutally truthful question:
The Walking Dead s09e13 "Scars": An outsider's arrival forces Alexandria to rehash devastating old wounds; eye-opening secrets from the past are revealed.
Only 3 more episodes left. Stream #TWD On Demand or the AMC app: https://t.co/Ks8lFDHTLP pic.twitter.com/PxrlD35RIa

— The Walking Dead (@WalkingDead_AMC) March 11, 2019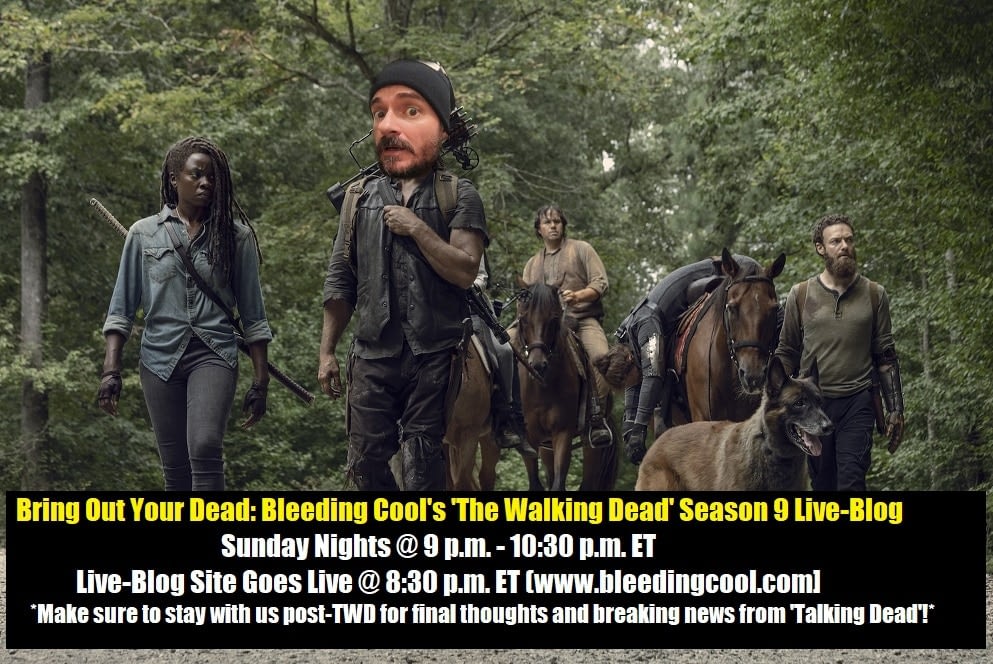 That's right! Bring Out Your Dead: Bleeding Cool's The Walking Dead Live-Blog is back each and every Walking Dead Sunday night – starting with a little "pre-game" at 8:30 p.m ET (live-blog goes live on our website) before charging head-long into our live-blog coverage beginning at 9 p.m. ET. After the show, hang out with us a little longer as we share our thoughts on the night's developments and offer up some predictions on what's still to come – and to see if Chris Hardwick has any news to break on Talking Dead.
AMC's The Walking Dead airs Sunday nights at 9 p.m. ET.