Mondo will have four new posters on sale today, celebrating Edgar Wright's Cornetto Trilogy and the underrated Halloween 3: Season of the Witch. All three Cornetto Trilogy posters will have art by artist Johnny Dombrowski, with Shaun of the Dead limited to 300 pieces, Hot Fuzz 225, and The World's End at just 200 pieces available. Each will cost $45. Halloween 3 is by artist Alan Hynes, is limited to 225 pieces, and will also cost $45. All four will be available at a random time today, so be sure to keep an eye on their Twitter page for when they go on sale.
Check out all four posters below. They can be purchased here.
Today we have an excellent set of posters based on Edgar Wright's Cornetto Trilogy by Johnny Dombrowski! We're continually blown away by Johnny's illustrative prowess and his note-perfect interpretations of modern films as classic comic book covers. As iconic genre staples, SHAUN OF THE DEAD (horror), HOT FUZZ (crime), and THE WORLD'S END (fantasy) lend themselves beautifully to EC-inspired comic cover treatment.
Additionally, we'll also have a new poster for HALLOWEEN III: SEASON OF THE WITCH by the brilliant Alan Hynes. Featuring glow in the dark inks, Alan's poster for arguably the second best film in the franchise is based on his mind-bendingly awesome artwork for our vinyl release of the soundtrack last year.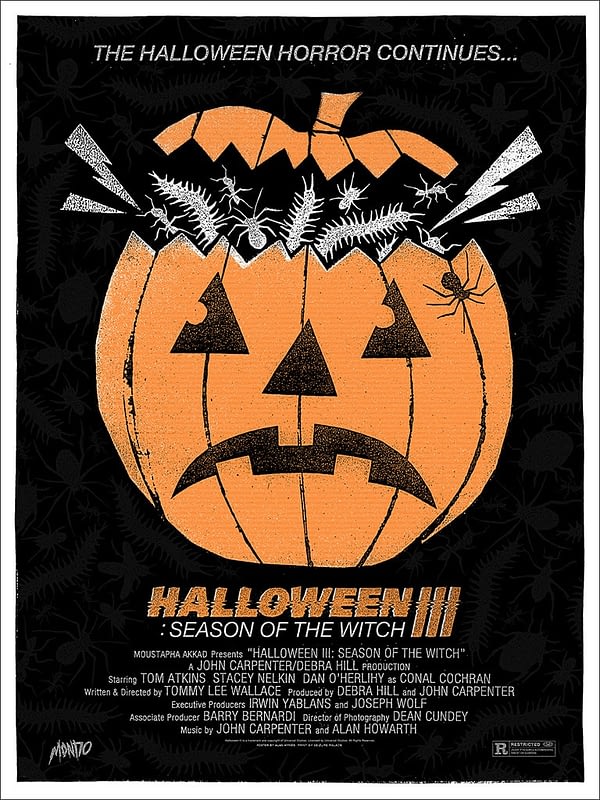 (Last Updated
March 14, 2019 12:48 am
)
Related Posts
None found