Never, never, never believe your parents when they tell you there's no money in playing video games, especially if your nickname is Ninja. Reuters is reporting today that Electronic Arts paid Tyler "Ninja" Blevins a cool $1 million to play Apex Legends on his stream and promote that he was doing so. The news comes from an anonymous source, which at best guess would be someone at EA with knowledge of the deal. Here's a snippet from the piece, along with a photo of what we would like to believe Ninja looked like as soon as the check arrived.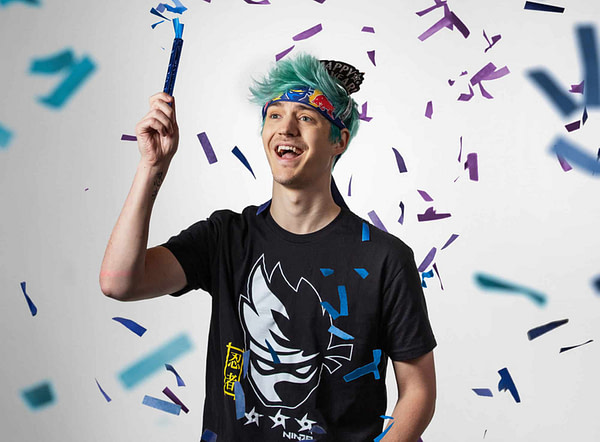 The 27-year-old, famous for his hair color changes – currently a bright, turquoise hue – tweeted about the free-to-play game early on Feb. 5 and streamed the action to his more than 13 million followers on game-streaming site Twitch. For this he was paid around $1 million, a source told Reuters.

The amount underlines the increasingly cut-throat fight for dominance of the free-to-play battle royale genre that, through Epic Games' global smash hit "Fortnite", has pushed major publishers like Electronic Arts to change how they do business.

Representatives for EA and Ninja declined to comment on how much he had been paid, but the amount named by the source is more than twice media reports of Ninja's monthly earnings from streaming his regular appearances on Fortnite and way above what was speculated on a number of internet discussion boards.
If the deal is real, good on Ninja, but that's an insane amount to pay a streamer for one day's worth of gaming with some social media behind it. It also makes you wonder how many others got paid to do the same thing. Remember, when Apex Legends launched after the Super Bowl, a number of battle royale Twitch streamers were revealed to have been invited by Respawn Entertainment and EA to come check out the game in secret before it kicked off, and were all playing that game nonstop for a week. It wouldn't be that hard to imagine them writing a couple extra checks for some of the more high-profile people they brought out to promote it. We'll see if that anonymous source sends a few more names to Reuters.