Three comics from three different publishers all going to new printings.
We have Appalachian Apocalypse #1 by Billy Tucci and Ethan Nicolle, the launch title from a new spirtitually strong publisher Cave Pictures Publishing, out on the 17th of April.
Die #4, the role playing-made-flesh comic by Kieron Gillen and Stephanie Hans goes to a second printing, from Image Comics, out on the 10th of April.
And Firefly #3, the new Boom Studios Whedonesque title by Greg Pak and Dan McDaid is getting a third printing for the 10th of April.
We have the cover for the first one. Will update with the others…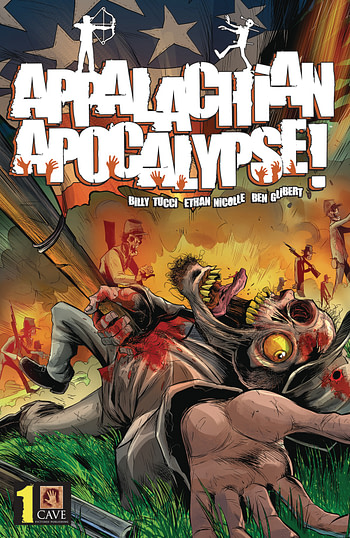 APPALACHIAN APOCALYPSE #1 2ND PTG
(W) Billy Tucci (A/CA) Ethan Nicolle
After the ancient staff of Lilith, mother of the damned, reanimates the dead, country boy J.B. and his estranged upper-crust wife Anne must come together to stop the zombie hordes and save the people of Appalachia! This is the 2nd printing of this exciting comic!

DIE #4 2ND PTG (MR)
(W) Kieron Gillen (A/CA) Stephanie Hans
"FANTASY HEARTBREAKER," Part Four-Our heroes reach the civilization of Glass Town and do what heroes have always done upon reaching civilization. As in, go to the pub. As it's DIE, you can guess people don't exactly get happy drunk.
10/4

FIREFLY #3 (3RD PTG)
(W) Greg Pak (A) Dan McDaid (CA) Lee Garbett
With the Unificators closing in, Mal and Zoe must take some big risks to try to throw the enemy off their scent, as the crew of the Serenity start to grapple with the fact that their captain and first mate might not be who they say they are