With the second season of YouTube Original's Cobra Kai right around the corner, series executive producers Jon Hurwitz (Harold & Kumar Go to White Castle), Josh Heald (Hot Tub Time Machine), and Hayden Schlossberg (The Pact) are making the rounds to tease fan expectations for when the Karate Kid prequel series starring Ralph Macchio (Daniel LaRusso) and William Zabka (Johnny Lawrence) returns.
Sitting down with EW, the trio offered some interesting insights into what life will be like post All Valley tournament – and if there's room enough in the world of Cobra Kai for two dojo? Here are some of the highlights (as well as some exclusive images, courtesy of the fine folks at EW):
● With Daniel keeping his season-ending promise to reopen the Miyagi-do dojo, viewers should expect Daniel and Johnny to bond over their mutual love of martial arts…right? Not quite…
"So season 2 is definitely going to deliver on Daniel's promise to reopen Miyagi-do as a full dojo, as a karate school. And what we can tease from dojo vs. dojo is that as we saw in season 1 with Johnny it's not always easy to fill your dojo with students right away and make an immediate success of a karate dojo in the valley. And with those growing pains, comes more rivalry."

– Heald
● While it should come to no surprise that Sam (Mary Mouser) has found her love for karate again and will begin training with her father, Hurwitz revealed that the younger LaRusso will end up in a situation very familiar to Daniel and now Robby (Tanner Buchanan): "Samantha Larusso will have a rival of her own."
● While the Romeo and Juliet-like dynamic between Miguel (Xolo Mariduena) and Sam will be one of the second season's main focuses, Schlossberg emphasized that there are interesting relationship dynamics on both sides of the dojo divide to examine:
"I think we get caught up in the soap opera of the young characters as much as anybody and I think part of the fun of having these two rival dojos is allowing us to play with the love triangles and new people getting into the mix. It just gets even more complicated and we get to draw on classic teen drama and action like the Outsiders and West Side Story where you have the Montagues and the Capulets, but there's sort of relationships on both sides. It's all the fun of soap opera with the action of martial arts."
● We learn from Hurwitz that Daniel and Johnny will be "in several scenes together," so what about the dynamic duo becoming friends and burying the karate chop? Heald doesn't rule out the possibility down the road – but that "road" needs to get a little bumpier beofre that happens:
"Johnny and Daniel are very complicated characters and they are like oil and water at times, and they're like peanut butter and jelly at other times. And it's those moments where they can come together and do come together in the series that are really fun for us to write and witness also, because their camaraderie — both in real life and between these characters in that they have so much shared history, both good and bad — but this rivalry runs deep and I think there's probably a long road ahead before they can be reconciled."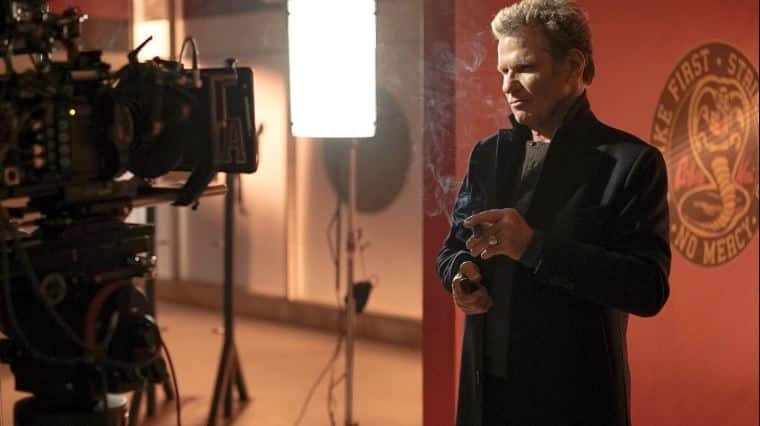 ● And then there's Kreese (Martin Kove), who re-entered Johnny's – and viewers' – lives at the end of season 2. While it's been some time since we saw the sadistic sensei, Kove's Kreese will be making up for lost time in a big way with season 2:
"Sensei Kreese has an enormous role in season 2. We've taken the original sensei and run him into the mix in Johnny's world, and this is somebody who has a loaded relationship with Johnny. He's a father figure and a mentor and he's also been a guy who has disappointed him greatly and literally tried to choke him to death — the last time that we saw them on screen together. They have a very complicated relationship. You'll get to see more sides of Kreese this year and I think what I would say is that Martin Kove's performance is fantastic this year.

I think it's one of the revelations of season two that I think people are going to be talking about — kind of in the way where when you watched season one were sort of surprised and enjoyed seeing Billy Zabka return as Johnny Lawrence in kind of a different way than you had seen before, and the performance was so great — the same can be said about Martin Kove in season 2. He's excellent and kind of commands the screen whenever he's there, and it's fun watching his dynamic with the other characters in the series."

– Hurwitz
For Schlossberg, it's about getting fans to look at this character in ways the films never had a chance to do in the past. but the series will have time to develop:
"I think the big difference between season 1 and season 2 is his presence and everything that he brought to the original Karate Kid, he is bringing to this show — so if you're a fan of the original it's like, Darth Vader is back! But because this is a series, like last season, you have more time to go through the layers to understand the character in ways that you maybe will look back on the original movie and think a little differently. It's going to be fun for fans."
But Hurwitz wants to make one thing clear: just because we get to know Kreese more doesn't necessarily mean we're going to like him more: "Just because you see more of the layers of somebody doesn't necessarily mean, now they're the good guy, you know? That's what we tried to do with Johnny too — you see his side of the story, but it doesn't necessarily mean that he's good. It's still an ongoing debate."
● So what's the series deal with Daniel's ex-girlfriend Ali (Elisabeth Shue)? While she was referenced by Daniel and Johnny during the first season, is there a chance she could be making a return this season?
Let's leave this one to Heald, who found a way to craft a very wordy "no comment" that will have viewers glued for even the possibility of her appearance (and no waiting until the last minutes of the season 2 finale, dammit!):
"Ali is one of those characters from the movies and in this universe that is very, very important and very integral to the relationship and the rivalry and the dynamic and the history between these characters, and I can say no more than that. [laughs]"
In the highly anticipated return of two iconic characters, the arch-rivals from the legendary Karate Kid film series reunite over 30 years after the events of the 1984 All Valley Karate Tournament. Now living in the affluent hills of Encino, Daniel LaRusso (Ralph Macchio) leads an enviable life with his beautiful family, while running a successful string of car dealerships throughout the valley.

Meanwhile, his high school adversary, Johnny Lawrence (William Zabka), whose life has taken a rocky turn, seeks redemption by reopening the infamous Cobra Kai karate dojo. Their lives inevitably become intertwined and the rivalry is reignited, setting forth the next generation of "karate kids" in COBRA KAI, a YouTube Red Original Series.

COBRA KAI also stars Courtney Henggeler (Mom, Fixed) as Daniel's wife, Amanda; Vanessa Rubio (How to Be Single) as Carmen, single mother and Johnny's girlfriend; Xolo Maridueña as Carmen's son, Miguel; Mary Mouser as Samantha LaRusso, Daniel's daughter; and Tanner Buchanan (Designated Survivor) as Robby, a Cobra Kai recruit (against his wishes) with an agenda of his own.
Enjoyed this article? Share it!