TMNT #91
6 / 10 Reviewer
{{ reviewsOverall }} / 10 Users (0 votes)
Summary
Written By: Kevin Eastman, Bobby Curnow, and Tom Waltz Art: Michael Dialynas Colors: Ronda Pattison Letters: Shawn Lee Editor: Bobby Curnow Publisher: IDW Publishing Release Date: February 13th, 2019 Cover Price: $3.99 32 pages.
IDW's current run of Teenage Mutant Ninja Turtles isn't out to light the world on fire, and in this case, that's a good thing.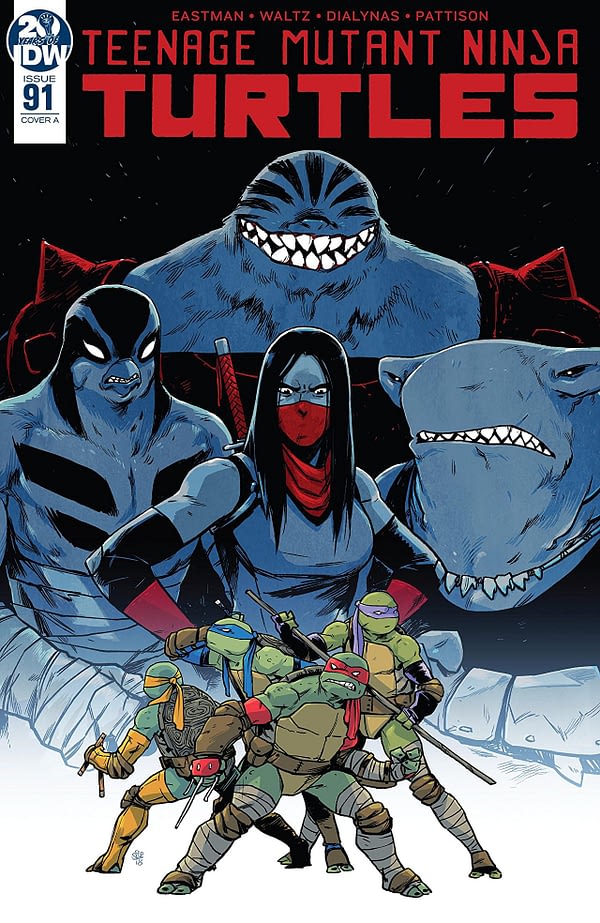 Karai has returned to New York City to claim her right to lead the Foot Clan, which has been under the watchful eye of Master Splinter since the Shredder's death. Leo worries that Karai, who arrived with her own band of mutated muscle, will resort to violence to get what she wants.
There's also the problem presented in Raphael's tendency to argue with his fists, compounded by Ocho, a giant mutant who keeps taunting the temperamental turtle.
Teenage Mutant Ninja Turtles is a big, comfy blanket of nostalgia to read, due largely to Kevin Eastman's participation in the storyline. Some of the plot-points have changed since the original telling, but the essential themes of family and honor shine through wonderfully.
Bobby Curnow and Tom Waltz co-write TMNT with Eastman, and we'll give credit where credit is due: there's a lot to read in this issue, with the internecine complexities of family honor, clan history, and character evolution at play. This isn't your typical "fights and tights" read, where your $3.99 nets you 10 minutes of escape time. There's a story to tell, and this writing team intends to do it right.
The art from Michael Dialynas isn't ground-breaking, but it does emote that classic TMNT style well and supports the story nicely. We're not looking at the big, bold, and chunky line work of the original series, or the sublime, intricate art Mateus Santolouco conjured up for Shredder in Hell, but it works.
Long term Turtles fans will find plenty to like with IDW's take on the classic series, and we're happy to see the franchise in such capable hands.
SUMMARY: Written By: Kevin Eastman, Bobby Curnow, and Tom Waltz; Art: Michael Dialynas; Colors: Ronda Pattison; Letters: Shawn Lee; Editor: Bobby Curnow; Publisher: IDW Publishing; Release Date: February 13th, 2019; Cover Price: $3.99, 32 pages.
What people say...
Leave your rating
Order by:
Be the first to leave a review.
Show more
Enjoyed this article? Share it!