Earlier this year, former California Governor Arnold Schwarzenegger signed some copies of the upcoming relaunch title, "Conan The Barbarian" #1. Just this morning over on the actor's Facebook page, he shared a video of himself holding the aforementioned comic issue, focusing on the likeness of the variant cover (himself as young Conan).
In the video, Schwarzenegger points out how great the comic is, and how much he REALLY wants to make the Conan the Conqueror storyline film happen.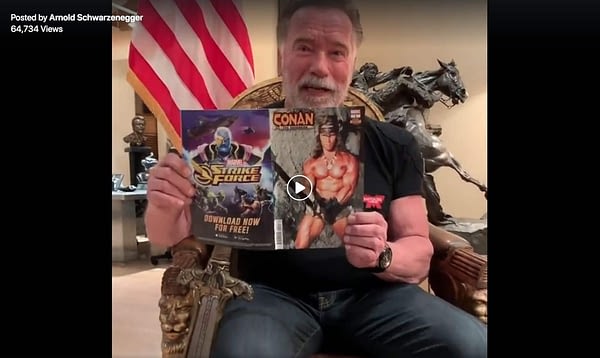 "It's a movie I've wanted to do for a long time," he says, while sitting in a throne and holding a Cimmerian-style sword.
The new run featured this as it's synopsis in the January solicits from Marvel:
BY CROM, THE GREATEST SWORD-AND-SORCERY HERO RETURNS TO MARVEL!

From an age undreamed…hither came Conan the Cimmerian, black-haired, sullen-eyed, sword in hand, a thief, a reaver, a slayer, with gigantic melancholies and gigantic mirth, to tread the jeweled thrones of the Earth under his sandaled feet…
Robert E. Howard's creation returns to comics, in an epic tale as only MARVEL could bring you!  Conan's travels have brought him to the far reaches of the unkown, from his birthplace in Cimmeria to the kingdom of Aquilonia and all in between. As his fighting prowess allows him to carve his way through life, so too does it attract the forces of death!
This isn't the first time talk of an older King Conan film has happened, but maybe the current pro-high fantasy movie industry roll will renew plans.
We'll let you know what we hear about it, Schwarzenegger will next appear in Tim Miller's Terminator 6: Dark Fate which should release on November 1st, 2019.
Enjoyed this article? Share it!