"The Man" Becky Lynch will be coming to Monday Night Raw once again tonight, presumably to continue her WrestleMania program with Ronda Rousey that we're all praying WWE will resist the urge to add Charlotte Flair to. But if these two do face off in the ring for another war of words, will it have any hope of surpassing the confrontations the two have been having on Twitter?
Rousey's promo on last week's episode of Raw was shakey, and though Lynch is solid enough on the mic, we all know it's her Twitter game that's really on fire. She knows it. We know it. Even WWE knows it.
Be careful before stepping up to #TheMan @BeckyLynchWWE on @Twitter. You WILL get burned! https://t.co/pKxnwFNavw

— WWE (@WWE) February 2, 2019
And just as they've been doing since Survivor Series, Lynch and Rousey have continued to feud on the social media service this week. Check out their latest exchange below:
Enough though I've had just 6 singles PPV matches since my WWE debut (Ronnie has 7) – I've changed this whole damn business. Overrated? The Man is underrated af. pic.twitter.com/iNmw7uFP39

— The Man (@BeckyLynchWWE) February 4, 2019
Of course, you dope. I run/limp towards the biggest threats in my business, unlike you did in yours. pic.twitter.com/pgQAn7GCKr

— The Man (@BeckyLynchWWE) February 4, 2019
While exceeding their Twitter game will be tough work for Lynch and Rousey, especially with Lynch working a knee "injury," it could be that Stephanie McMahon, who was the one to officially invite Lynch back to Raw tonight, could have another twist to add to their rivalry, probably by inserting herself prominently into it. Though Lynch says the invitation was unnecessary.
Yeah, tell her thanks but I was coming anyway. https://t.co/LSm6OEMY2N

— The Man (@BeckyLynchWWE) February 2, 2019
Other notable segments advertised for tonight's show include Kurt Angle addressing his future after his recent losing streak, Sasha Banks and Bayley taking on Nikki Cross and Alicia Fox for the final Raw slot in the Elimination Chamber match for the Sasha Banks and Bayley inaugural WWE Women's Tag Team Championships, and a match between Jeff Jarrett and Elias.
Raw kicks off at 8PM on the USA Network. We'll be watching, but we're not-so-secretly looking forward to what happens on Twitter after it's over more than the show itself.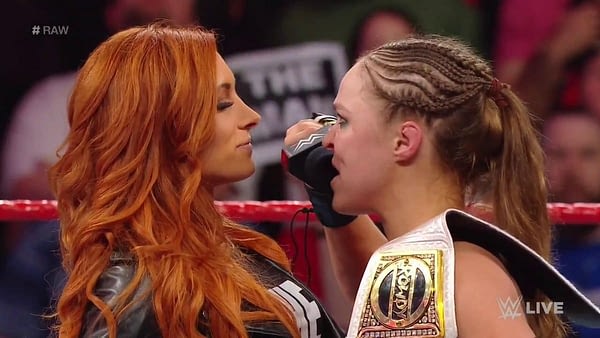 Enjoyed this article? Share it!