Earlier today, Treyarch dropped a few new details about the next update coming to Black Ops 4, as well as the CWL Season and League Play. First off, they released an entire set of details of how the competitions will play out moving forward, which includes a complete update of the rules to accommodate what's in the game and how things are allowed and restricted. You can read the entire ruleset and information here, which includes a must-read on the evolution of League Play.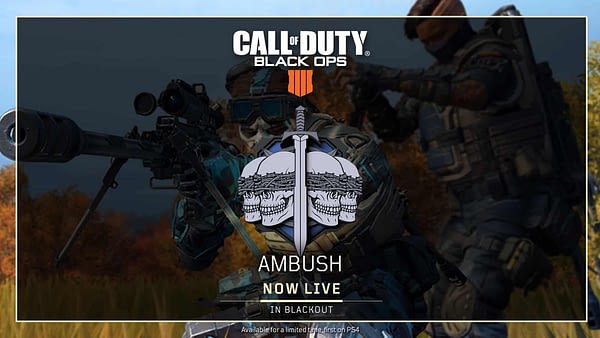 Meanwhile, the company rolled out the 1.12 update on console and PC for Black Ops 4, which you can read the full details on Reddit here. We have the overall changes for Multiplayer and Blackout below, but they also have a detailed explanation of how the new Ambush mode will go.
Multiplayer

Our 1.12 update brings new gameplay improvements and Featured Playlists to Multiplayer, including Blackjack's Gun Game featuring the new KAP 45 auto-pistol in the mix, and the debut of Hardcore Moshpit in the Featured category. Endurance Chaos Moshpit also returns by popular demand, joining Mercenary Capture Moshpit and Safeguard in the Featured category.

Looking ahead, our next Multiplayer weapon balancing pass is underway and planned for our upcoming 1.13 update slated for February. This is planned to include weapon balance in both Core and Hardcore, potential tuning changes for Attachments, and more.

Blackout

We've made a new round of tuning changes with this update focusing on Armor, Concussion Grenades, and Cluster Grenades in Blackout. These include reductions in the damage mitigation percentages of all three levels of Armor, removed explosive and melee protections for Level 3 Armor, reduced status effect duration and radius for Concussions, increased fuse time and mini-cluster damage for the Cluster Grenade, and more. See below for the full list of changes and let us know what you think after you've spent some time in-game.
Enjoyed this article? Share it!